Honda CRF300L Rally Review (Mods, Speed, Horsepower, and more)
BraapAcademy.com earns a small commission from qualifying purchases.
This does NOT cost you extra.
Are you looking at a Honda CRF300L Rally dual sport? Here's a Honda CRF300L Rally review that will cover all of the need-to-know specs and details before (or after) you buy one. By the end, you should be able to determine whether this is the right dual sport motorcycle for you.
What is a Honda CRF300L Rally?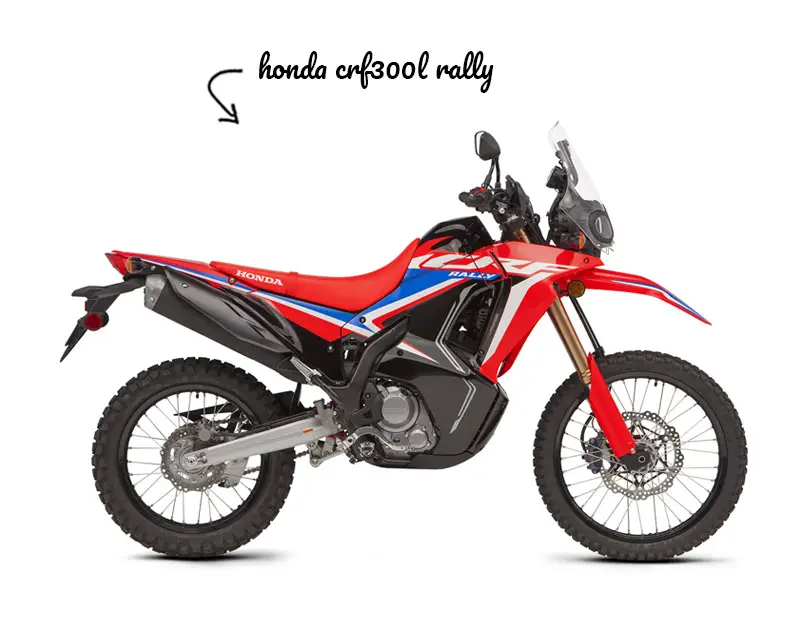 The Honda CRF 300L Rally dual sport came out in 2021 to replace the CRF250L Rally model. Although you would assume that Honda just bumped up the engine from a 250cc to a 300cc and called it good, that is not the case.
History
The first year for the Honda CRF300L Rally was 2021 when they made their debut in the United States. Since then, they've quickly gained popularity in this class of street bikes.
Here's a little snippet I grabbed from Honda that offers their take on the motorcycle… along with a little hype (as you'd expect from the manufacturer).
"The nimble design and plentiful low-end power combine with smart features for an ideal transportation solution through busy streets and bumpy trails."
With the CRF 300 Rally's unique (pretty-killer!) design inspired by the CRF450R and Dakar Rally race bikes, thee motorcycles definitely turn heads. But these bikes are more than just good looking. They perform MUCH better than the CRF250L that proceeded it.
Honda wanted to make something fun and exciting… did they pull it off? Yes, they did.
Honda CRF300L Rally Specs
The following Honda CRF300L Rally specs were taken from the corporate website.
Model
CRF300L Rally
Engine Type
286cc liquid-cooled single-cylinder four-stroke
Horsepower
27 hp
Bore and Stroke
76mm x 63mm
Compression Ratio
10.7:1
Valve Train
DOHC; four-valve
Induction
PGM-FI, 38mm throttle body
Ignition
Computer-controlled digital transistorized with electronic advance
Transmission
Six-speed
Final Drive
#520 chain; 14T/40T
Suspension
Front: 43mm inverted fork; 10.2 inches of travel
Rear:Pro-Link® single shock with spring; 10.2 inches of travel
Brakes
Front: Single 296mm disc with twin-piston caliper
Rear: Single 220mm disc
Tires
Front: 80/100-21
Rear: 120/80-18
Wheelbase
57.2 inches
Rake (Caster Angle)
27°30′
Trail
4.3 inches (109mm)
Seat Height
35.2 inches
Ground Clearance
10.9 inches
Wet Weight
331 pounds
Fuel Capacity
3.4 gallons, including 0.6-gallon reserve
Color
Red
I've picked out the main specs that most of us are looking for, and added a few more.
Manufacturer: Honda
Model Name: CRF300L Rally, CRF 300 L Rally, CRF 300L Rally, CRF300LR
Type: Dual Sport Motorcycle
Years Made: 2021-2023 (present)
Seat Height: 35.2" (94cm)
Weight: 331 lbs (full tank of fuel, ready to ride)
Engine size: 286cc (considered 300cc)
Oil Capacity: 1.8L (1.9 quarts)
Top Speed: ~80 mph
Horsepower: 27 hp
---
Honda CRF300cc Engine & Transmission
Just about every Honda dirt bike ever made is known for being durable and dependable. Nothing has changed here.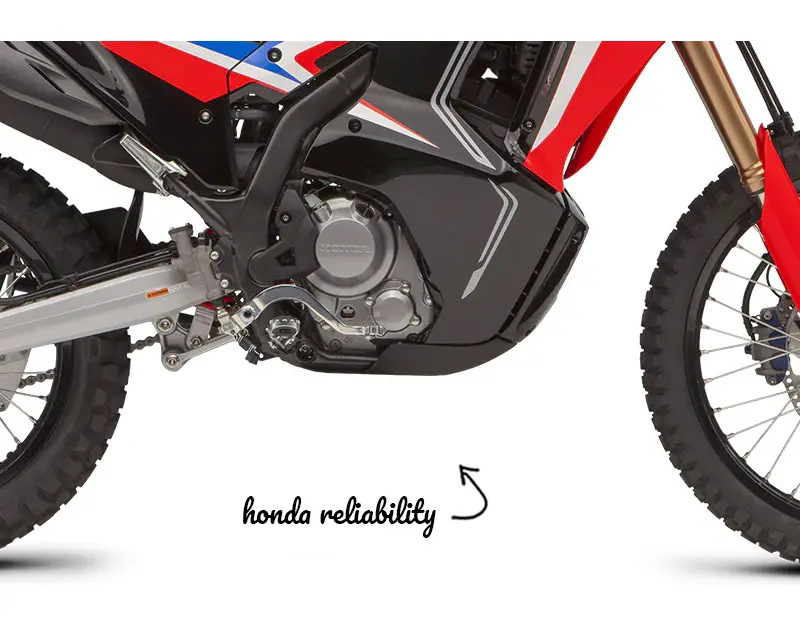 The even-better news is that the Honda 300cc Rally engine is a joy to maintain compared to a typical motocross bike. This means that keeping this Honda engine running like a Honda engine does, isn't going to take much time or money.
In addition to being well-made, the street legal Honda four stroke is great for beginners and intermediate riders. They aren't the fastest dual sport, nor do they have the most horsepower (27 hp), but when it comes to ride-ability, versatility, and fun… these things really pull ahead of the pack. (yes, lame pun intended)
Horsepower
As mentioned, the Honda CRF300L Rally horsepower is 27 HP. That is about 5 more horsepower than the 250L Rally that this bike replaced.
But that added horsepower isn't the entire story either. When you pair the added horsepower with the lighter chassis, this Honda 300 Rally bike performs MUCH better than the 250 Rally.
Of course, there are forums and websites dedicated to different Honda CRF300L mods, and which mods provide the most bang for the buck. So, there are ways to add even more horsepower to the bike, if you'd like.
Here are the most popular Honda CRF300L Rally mods:
Suspension upgrade
Better terrain-specific tires
Most of these are optional. Okay, let's get real… they are ALL optional. These are just the mods for CRF300L Rally motorcycles that most people make first. If you're a beginner (or you don't need the "best" of everything) this bike is GREAT right off of the showroom floor.
Top Speed
Back to what we all want to know… how fast is a Honda CRF300L Rally? One of these goes about 85 mph stock.
However, that is stock. The top speed of these bikes can be altered.
Depending on your riding preferences, you may or may not want to gear down this bike. But you've got to remember, that gearing plays a significant role in how fast a Honda CRF300L Rally can go. If it's geared more for off-road riding, they bike may be slower. Of course, you could also gear it to go faster.
Recommendation: Before you go out and spend money changing the gearing, exhaust, tires, or anything else, rid the bike. Spend some time on it and get a feel for how it is currently, as-is. Once you do this, then you'll be able to decide what's most pressing and what will move the needle the most for you.
Engine Specs
Engine Size: 286cc (known as 300cc)
Horsepower: 27 HP
Engine Type: 286cc liquid-cooled single-cylinder four-stroke
Valve Train: DOHC; four-valve
Transmission: Six-speed
Starting: Electric start
Fuel Capacity: 3.4 gallons (12.8 liters)
Fuel Type: Petrol / Gasoline
Induction: PGM-FI, 38mm throttle body
Oil Capacity: 1.9 qt (1.8L)
What motor oil does a Honda CRF300L Rally use? Honda GN4 10W-30 Oil.
---
Honda CRF300L Rally Handling
This is one of the areas where this bike excels. Okay, so it's one of the "other" areas where the CRF 300L Rally excels.
Combined with the light weight chassis and swingarm, the powerband delivery, and fairly low seat height make this a pleasure to ride on and off-road.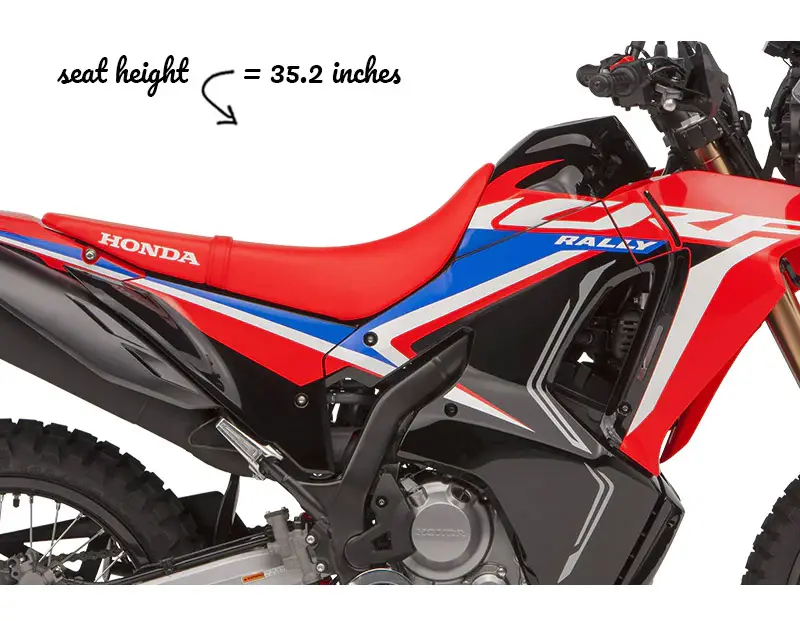 Weight
As shown in the specs above, the Honda CRF 300LR wet weight is 331 pounds. But what's "wet" weight? It just a way to say "curb" weight, or the weight the Honda dual sport motorcycle as it is next to the curb, waiting for you to ride it home.
With gas = Wet/curb weight.
Without gas = Dry weight
Really, none of that even matters as long as you are using the same weight to compare one dirt bike to another. If you're comparing dry-weight to dry-weight, and wet-weight to wet-weight, you'll be fine.
Seat Height
The Honda CRF300L Rally seat height measures 35.2 inches from the ground.
If you buy a used Honda 300, it is possible that the previous owner made some adjustments to the suspension to lower the seat. Not likely, but possible. Either way, there are lowering kits you can get for these bikes, although I've never ridden a bike with one of these kits installed on it.
Having said all of that, if you're concerned about the size of the bike, the non-rally version is 25 pounds lighter and a half-inch shorter.
Suspension
Front Suspension: 43mm inverted fork; 10.2 inches of travel
Rear Suspension: Pro-Link® single shock with spring; 10.2 inches of travel
Handling Specs
Chasis
Frame Type: Steel
Brakes
Front Brake: Single 296mm disc with twin-piston caliper
Rear Brake: Single 220mm disc
Wheels and Tires
Front Tire Size: 80/100-21
Rear Tire Size: 120/80-18
---
Is a Honda CRF300L Rally any Good?
Yes, definitely.
Are they perfect? No, definitely not.
There really isn't one "perfect bike" for everyone and every situation. But after having said that, this 300cc Honda Rally bike is a solid choice for anyone who fits the size and riding-style this bike was made for.
Here's who should, and who should not, buy one of these motorcycles:
Yes, buy a CRF300L Rally:
If you're in the market for a fun and fairly-lightweight dual sport that is capable on and off-road, this is a great option.

It looks cool thanks to the Dakar styling and it is a nice, road-worthy dual sport that has worthy off-road ability.

No, do not buy:
If you'd like a street legal dirt bike, this is not the best option. The CRF300L (non-rally) is one to look at. It's lighter and has less plastics to damage.

On the other hand, you if you're looking for a full-on Adventure bike, or a comfy street cruiser, this wouldn't be my personal option either.
These bikes are awesome, but they aren't designed to excel in just terrain specifically. Again, this is both a good thing and a bad thing.
They do everything well, but aren't designed to do one thing great. Unless… you're looking for a multi-terrain, one-bike-to-do-it-all, then this might be the best at that.
Positive Reviews
Good size gas tank (3.4 gallons)
Smooth ride on the road (even long distances)
Windshield helps!
Looks aggressive, and fun (oh, it actually is too)
Great for beginners (and anyone looking for a smooth, enjoyable ride)
Fully capable on and off road
Relatively low maintenance
Decent 300cc power and delivery
The styling!
Negative Reviews
Stock tires are too universal (buy street OR dirt tires for yourself)
Too slow for as much fun as it should be (under-powered)
Taller seat height not as good for shorter riders
Where to Buy?
Hopefully, this review of the Honda CRF300LR (Rally) has given you a better idea of whether this is the right dual sport.
Assuming you know you want one, where do you go to buy a used one for sale (if you don't want to spend the full $6k)
I have a feeling these aren't new to you, but I have three go-to options I always try:
Yes, there are more than a few more other places to search for a used Honda CRF300L Rally motorcycle for sale, but I like these.
With either one of these options, you can check out the motorcycle in person needing to travel far. When buying a used dirt bike (of any brand), you always want to see it in person first. Hopefully they kept the motorcycle stored under cover, kept up on maintenance, and kept up on oil changes.
Oh… you also get to skip dealing with some pushy salesman when you buy used. Win-win.
How much is a CRF300L Rally worth?
Although you can't pull up Kelley Blue Book for pricing on this model, we do still have a good idea of how much they cost used.
I did a quick search on Facebook, and although I only looked at results for Oregon and Washington, you're looking at $6,500-$7,500. Of course, this will depend on the what the hours read on the meter read, the condition of the bike, and exactly where it is that the bike is located.
Also, I noticed that quite a few CRF250L models come up, for quite a bit less money. So, just in case you skimmed the top section, these are NOT just smaller versions of the 300. They aren't nearly as good and I actually don't recommend them unless you're looking for something a little under powered… which isn't necessarily a "negative" in every situation.