Universal Motorcycle Cruise Controls (Assists and Throttle Locks)
BraapAcademy.com earns a small commission from qualifying purchases.
This does NOT cost you extra.
Motorcycle riders can avoid discomfort in their wrists, arms and hands by using a cruise control when riding. These devices help the rider to avoid that burning and cramping sensation that's usually experienced when riding a bike for a long period of time. While there are many accessories out there, finding good motorcycle cruise controls can be a bit of a challenge.
As I'll get into below, I'd recommend trying a CrampBuster first. They're cheap and awesome – not a combo you see everyday.
No products found.
Types of Cruise Controls for Motorcycles
Universal Wrist Rest
The wrist rest cruise controls extend the throttle and make it possible to apply pressure when the hand is relaxed. In this case, the hand, arm, wrist and fingers do not feel the pressure. One of the nice aspects about these motorcycle cruise controls is that they do not require a lot of maintenance… just set and forget!
Electronic Cruise Controls
Electronic cruise controls function like those in your car. By the push of a button, these devices can set a speed you see fit. They are also easier and quick to turn off; simply by hitting the brakes or the clutch. Since they can actually set the speed, they are regarded as true cruise controls.
Throttle Lock
Typically, motorcycle throttle locks are attached to the handlebar. These lock the throttle to prevent it from returning back when you're not firmly gripping the throttle. To release the throttle, the device must be turned off. These devices are mostly fitted at the meeting point between the front brake lever, control housing and the hand grip. It works by providing friction resistance, therefore creating a resisting force to the return of the throttle.
3 Best Motocycle Cruise Controls
MCCruise Motorcycle Cruise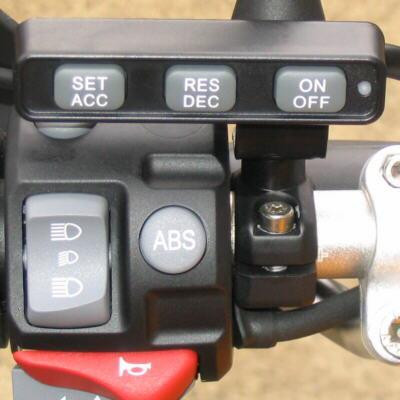 Made by MCCruise, this device is termed as the best in the electronic category since it is fully electronic and works in a similar manner as those devices found on motor vehicles. The device has been in the market for 15 years now and is durable since devices fitted in 1997 are said to be still working. It is easy to diagnose problems on this device as it comes with built-in diagnostic functions. They are easy to diagnose and can be done by the motorcycle owner with help from company support via phone. This device is safe. It will disengage automatically on applying brakes and/disengaging the clutch. It is designed for Honda Valkyrie and a number of other applications. With an automatic disengagement, the device works perfect during emergencies.
Unfortunately for motorcyclist, this category of a cruise control is the most expensive. Today, types of throttle lock devices compete with them in regards to quality and design. These devices are fairly complicated. Although instructions can be followed to install them, you will not only need to disassemble wire connections and other parts of the bike when installing, but you will also need to do some minor fabrications in certain cases.
Vista Universal Cruise Control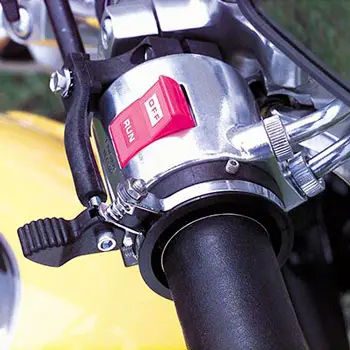 Unlike electronic cruise control devices, the Vista Cruise Control is easier to install.
It can be done by a motorist without much mechanical experience and with use of a motorcycle torque wrench and a few other simple tools.
Some motorcycle cruise controls have an automatic disengage feature that works when front brake is applied. Because of this, most require a manual release of the throttle. This is an important thing to consider because this contributes to potential danger. An injury, death or a crash can occur easily if the throttle is not disengaged manually.
Cruse control devices can fit many applications including Honda, Kawasaki, Suzuki and Yamaha. However, which device you get will also determine how much fuel usage and economic-benefits you see.
CrampBuster (Recommended)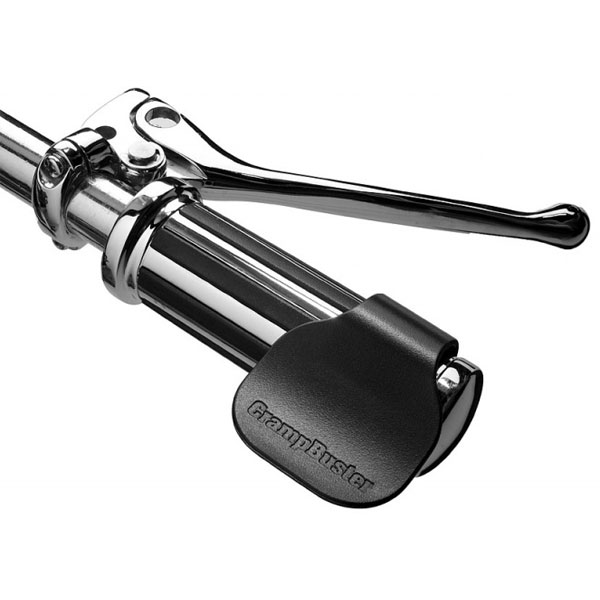 The CrampBuster is a cruise assist/control device and works only as a throttle assist. It is offered in different styles to achieve different grips: wide, wide over-sized and oversize grips. One can also get wide chrome and wide chrome over-sized designs. This device acts only as a throttle assist. It competes with other throttle locks and comes out as the easiest to install. Unlike the electronic versions, no repairs, replacement or disassemble is necessary when installing the device. The driver or owner will also not require any tools to install it. This means you will not need to take it to a mechanic or buy any tools for maintenance.
No products found.
Compared to all other universal motorcycle cruise controls, CrampBuster is the easiest and cheapest to maintain. The device is also among the most affordable throttle locks. It is sold with a warranty for the replacement of defective and damaged parts. This is crucial since most throttle lock companies avoid offering warranties as their devices work differently for different motorbikes.