The Best ATV Battery Tender (Better Than a Trickle and a Float Charge)
BraapAcademy.com earns a small commission from qualifying purchases.
This does NOT cost you extra.
It's cold in Oregon this time of year, and that means I would normally get to look forward to dead quad batteries. However, this year is different. I FINALLY spent the money on an ATV battery tender so that I don't have that problem. The best part, it's already paid off.
Having your four wheeler battery on tender (sometimes incorrectly referred to as a float charge, or trickle charge) is an easy, and cost-effective way to maintain your batteries. Plus, I've been able to alternate the battery tender between my riding lawnmower, my daughter's ATV, and my wife's ATV. As I type this out, I'm questioning whether I need another. Maybe.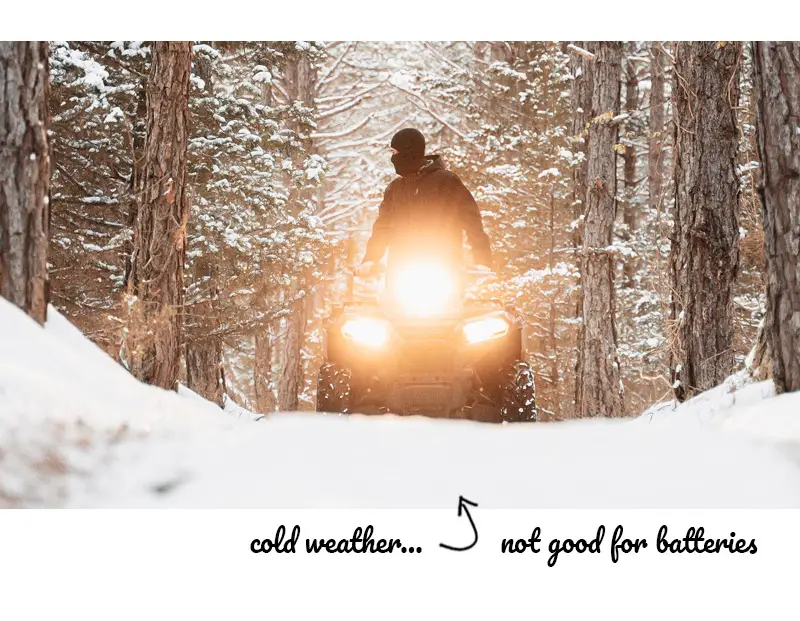 Either way, below are a few of my picks for the best battery tender for ATV and, apparently, lawnmower use. If you're like me, and you have one quad in the garage and another outside under cover, you may want to think about picking up two, or maybe just an appropriate extension cord (details below).
---
Best ATV Battery Tender
Deltran Battery Tender Plus (2 Bank)
This two-bank battery tender by Deltran fully charges a battery and maintains the charge (at proper storage voltage) without the damaging effects of over-charging. When you hear the term "trickle charge" you may cringe, but you don't have to worry with one of these battery tenders for ATV applications because it both will maintain a PROPER charge on your four wheeler battery, whether it's flooded and sealed, maintenance free, AGM, or lead acid.
These multi-bank battery tenders really are cool. I just picked one up a month or two ago and wish that I would have bought one sooner. I did not, however, get one of these multi-bank ones. I got the "good" model I've listed below this one.
This 2-bank (as well as the 4, 5, or 10 bank tender), really is one of the best ATV battery tender options on the market, especially if you're looking for a battery tender for multiple batteries at the same time.
Features, Specs, and Highlights
Solid state two-color LED indicates the stage of charger
Spark proof and reverse polarity protected
Two independent charging stations, each providing 12 volts/1.25 amps (unless you buy a version with more banks)
Temperature compensation (helps to optimize the charge voltage)
Allows for optimization of battery power, without overcharging
Good for all AGM, sealed maintenance free, and flooded batteries
2-year limited warranty
Positive Reviews
can be mounted to the wall or any flat surface
Ideal for 1 or 2 batteries that need a tender.
They do sell extended leads that can be added to each side to extend the reach
Save money in the long run
Super EASY (plug-n-play)
Multi-use (boat, lawn mower, ATV, motorcycle, UTV, etc.)
Connects safely to the battery while it's plugged in
Negative Reviews
Best at "keeping" a charge, and not "charging" (although it does/can work as a charger)
Not meant to "jump start" a quad (although I have used mine to do so)
Not cheap
My last $.02 – If I had to do it over again, I would have bought the 4 bank system. I bout the following "good" single tender, which is awesome and I don't regret having it… I'd just like to not alternate through each battery every few days, or every other week. Not a big deal, just a "would-have, could-have, and should-have."
Click here to view pricing and read reviews on Amazon.
---
Good ATV Battery Tender
Four Wheeler Battery Tender (6V/12V)
As I already mentioned, this is the ATV battery tender I use to maintain the charge on our quads and lawnmower. If what you need is an ATV battery maintainer that is simple to use and not very expensive, this is a great option. At least with my quad batteries, this Deltran tender does not take long to get the battery ready to start if you have neglected to keep it hooked up to the tender.
Also, for anyone who uses their quad(s) for hunting or yard work, and has a winch on their quad or any other battery-draining accessories, one of these tenders is a great way to prolong the life of your batteries… and actually, save money in the long run.
Features, Specs, and Highlights
Fully charges your ATV battery and then automatically switches to float mode
Delivers 50% more charging power than the Deltran ATV Battery Tender Junior (quicker charge)
Lightweight and universal battery charger
Compatible with lead-acid, flooded, and sealed maintenance-free batteries (AGM and gel cell)
Spark-proof during lead connection
Automatically detects reverse polarity to ensure a proper connection before providing power
5 Year Industry Leading Warranty
Positive Reviews
Fast and easy to use
Affordable
Good customer service (if needed)
Does not boil your battery
Connects safely to the battery while it's plugged in
Multi-use (boat, lawnmower, ATV, UTV, motorcycle, snowmobile, etc.)
Negative Reviews
Not for Lithium Ion batteries
Best at "keeping" a charge, and not "charging" (although it does/can work as a charger)
Not meant to "jump start" a quad (although I have used mine to do so)
Click here to view pricing and read reviews on Amazon.
---
Extension Cord for Battery Tender
ATV Battery Tender Extension Cable
Note from the manufacturer: Not for use with Battery Tender products that use hard-wired clips; do not use with 6 Volt Battery Tender Plus or units with white quick-disconnect plugs.
Compatible with the following: Battery Tender Chargers; Battery Tender Junior, Plus, 2-Bank, 4-Bank, 5-Bank, and 10-Bank.
Features, Specs, and Highlights
12 ft extension cable, or 25 ft extension cable, options
Quick disconnect harness
Available in as a single cable or packs of 4
Positive Reviews
Well-insulated, thick cord
Quick connects
Makes remote locations easy
Keeps tender safe while charging
Negative Reviews
A little expensive for what it is
Click here to view pricing and read reviews on Amazon.
---
How Does a Battery Tender Work?
An ATV battery tender works by supplying the quad with just the right amount of charge. It keeps batteries operational for longer and makes for worry-free startups in the cold and winter months.
The main difference between a battery charger for ATV and a battery maintainer is that a charger sends a constant charge and does not stop sending the charge. This means that you would need to unplug the charger from your ATV battery once it has been fully charged so that it doesn't ruin the battery. Therefore, you can't leave battery chargers connected to your quad (or other) unattended for long periods of time.
Having said that, some ATV battery chargers do include a maintenance feature that can prevent overcharging… the battery tenders above do NOT overcharge your battery.
A battery maintainer (like the tenders listed above) will charge the battery when needed. Because of this, it is safe to leave them connected and unattended for longer periods of time.
What Size Battery Tender for an ATV?
In order to figure out which size battery tender you need, you'll first need to identify the battery type and size. After doing so, you'll have the information you need to choose the best battery maintainer for ATV, or whatever else you're needing to maintain.
Battery Types
Here are the main types of batteries out there, and you'll need to identify which one is yours:
Lithium
AGM (Absorbed Glass Matt)
GEL
Flooded (or wet) batteries
Maintenance free Calcium batterie
EFB (Enhanced Flooded Battery)
Automotive AGM
The four wheeler battery tender needs to match the type of battery, which should be clearly visible on the label – located on the top or side of the battery.
Generally, the ATV battery tender should be 1-3 amps, despite what type of battery it is.
How Long Can You Leave a Battery Maintainer On?
This is the good part. As long as you are using a battery tender for your ATV, you can leave it on all the time.
You do NOT want to leave a battery "charger" on all the time, but these "tenders" are designed to be left on and to not over-charge or damage your battery. In fact, they're meant to prolong the life of the battery.