Best ATV Covers (Waterproof, Heavy Duty, and Trailerable)
BraapAcademy.com earns a small commission from qualifying purchases.
This does NOT cost you extra.
Owning an ATV is great… but keeping up on one isn't cheap. Fortunately, owning (and using) one of these ATV covers is an easy, and inexpensive way of keeping your quad nice. This is especially true if you're storing your four wheeler outdoors or in regions with extreme weather.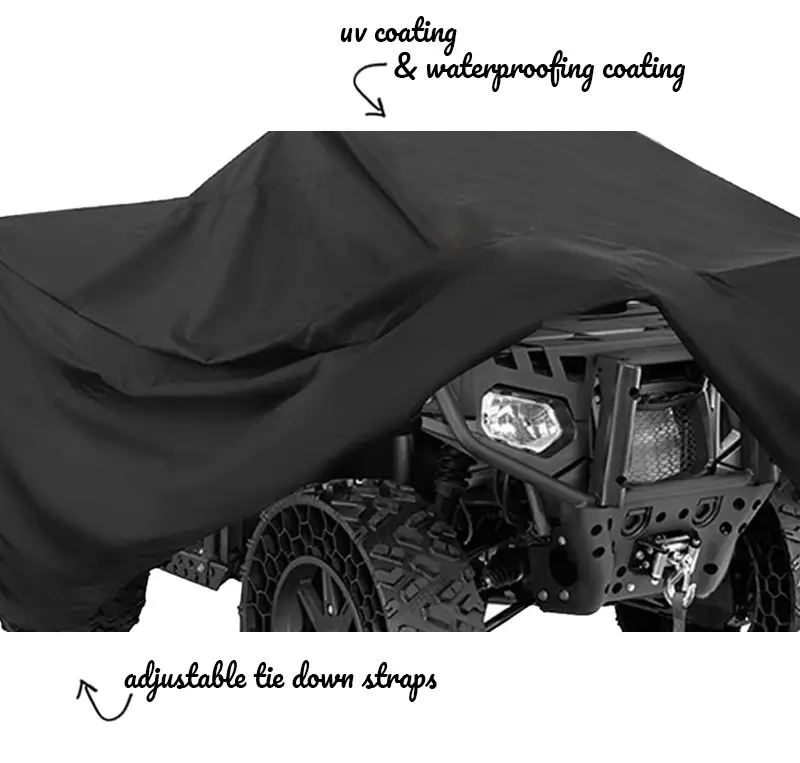 The best ATV covers to buy should be well stitched, weatherproof (or at least weather-resistant), and provide lasting protection. Whether they're designed for heavy duty application or to protect your quad during winter, these covers for four wheelers are all good options.
I've put together this list of what I consider to be some of the best ATV covers for the money. Most of these covers are interchangeable as far as needing one that is waterproof, versus needing a trailerable cover.
---
Best Heavy Duty Waterproof ATV Cover
ClawsCover Waterproof ATV Covers
If you're looking for a heavy duty ATV cover that will keep the rain at bay, this one from ClawsCover is a solid option for protecting your quad. It's durable enough to withstand harsh winds while also letting any water slide off and away from your ATV.
Highlights
One nice thing about this cover is that it's available in a selection of sizes, so you should have no problem finding one that fits your ATV. While it's great at keeping the cold out, it also features covered air vents that offer breathability to prevent moisture from ruining your ATV.
You'll also find two windproof buckle straps that are secured at the bottom of the ATV, providing protection from the wind. Also, the reflective stripe design that ClawsCover included on this cover makes it much easier to see your buggy in the dark… if that matters to you.
Positive Reviews
Here's a quick overview of all of the good and bad that the ClawsCover heavy-duty ATV cover offers.
Waterproof properties offer good water protection
Provides great insulation to ATVs
Double closure security at the bottom
Covered vents to prevent moisture buildup
Elastic hems allow for a snug fit on the buggy
Negative Reviews
Expensive compared to other options
If you're looking to keep the rain away from your four wheeler, the ClawsCover heavy-duty waterproof cover is a great choice.
Click here to view pricing and read reviews on Amazon.
---
Best ATV Cover for Trailering
Budge Sportsman Trailerable ATV Covers
If you're planning on trailering your ATV, you'll need a durable cover that will be able to withstand the elements as you tow your quad behind you. Budge Sportsman makes one of the best covers for ATV riders who what to take care of their quad, while also taking care of their bank account.
Simplicity is the name of the game when it comes to this trailerable ATV cover from Budge Sportsman. It comes in two different sizes so that you can find the one that fits your ATV best. The material is made from high-quality polyester that resists wear and tear, making this quad cover an excellent choice.
Highlights
These four wheeler covers by Budge Sportsman come with straps and buckles that you can use to secure the cover to your quad. This double closure system also means that you're getting twice as much security in the cover, so you won't have to worry about it flying off in the wind when towing your ATV.
There's also a good degree of waterproofing that's been done to this cover. So, if you're going on a road trip you don't have to worry as much about the weather.
Recommended: Check out these pull behind ATV trailers if you're in the market for a good firewood hauling trailer, or other yard work style ATV.
Positive Reviews
It's hard to find anything to dislike about this cover, but nothing is without its flaws.
Two sizes to choose from
Heavy-duty polyester construction
Double closure security
Decent waterproofing offers good protection
Slick appearance looks great
Negative Reviews
Not in stock often, so have to buy quickly
Not the cheapest option
If you're going to be trailering your quad, this trailerable ATV cover is an excellent choice.
Click here to view pricing and read reviews on Amazon.
---
Best ATV Cover for Winter
Badass Moto Heavy Duty ATV Covers
This heavy duty ATV cover from Badass Moto works wonders for protecting your ATV. The cold is something that many overlook, but it can actually damage your ATV.
One of the things I like most about these ATV covers is that they're made with firm, elastic hems that stay put during outdoor storage. The covers also come with three removable buckle tie downs that really help keep the cover secured and in place. As for its appearance, Badass Moto opted for an all-black design that compliments just about any quad.
Highlights
A definite bonus on this cover is that it comes with reflective yellow stripes for high visibility when it gets dark – no more accidentally bumping into your bike at night. An easy-access zipper panel also makes reaching the gas tank, handlebars, and console a piece of cake, and you don't even have to take the cover off.
The seams are taped, so any gaps that might be in the stitching are sealed off with adhesive. This helps make the waterproofing a little more thorough, which is always a bonus when it starts to rain.
Positive Reviews
There's a lot to like about the Badass Moto cover, but it's not without its flaws. Here's a quick breakdown of the pros and cons:
It is highly durable and strong
Very secure and won't come off
Buckle tie-downs keep the cover in place
It is waterproof and water-resistant
It features a great appearance
Negative Reviews
A little more on the expensive side compared to similar options
There is not much color variety to choose from
If you're looking to keep the rain away from your bike, the Badass Moto heavy-duty waterproof cover is a great choice.
Click here to view pricing and read reviews on Amazon.