3 Best Dirt Bike Tie Down Straps – Soft, Cheap, and Good Quality
BraapAcademy.com earns a small commission from qualifying purchases.
This does NOT cost you extra.
True story: My father-in-law found a cool bike on Craigslist that he wanted to buy. After the typical haggling on the phone was over, he decided to make the 30 mile drive down the highway to take a look. I asked him if he wanted to borrow a pair of my nice dirt bike tie down straps… you know… just in case.
"Nah, I'm good." he said.
Famous last words.
On his way back he called me to let me know the news. Maybe not what you think. Yeah, he got the bike, but the cheap tie downs he used didn't do the job. The bike ended up on it's side in the trailer on the second-to-last turn.
I didn't think an "I told you so" was a good idea, so I bit my tongue. 😉
Now, don't get me wrong. I USED to use whatever cheap tie down straps I had lying around. If it wasn't for me selling my dirt bike and deciding not to get another bike (again, famous last words), I'd still be rocking my red and blue tie downs that I'd have to tie multiple times to keep from slipping.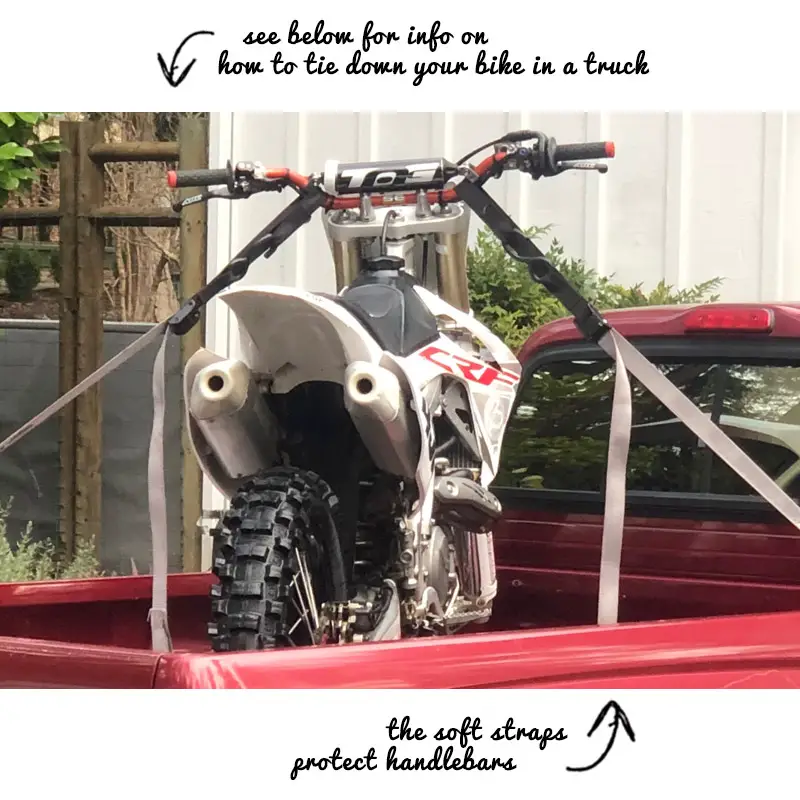 As it turns out, I ended up buying a used Supermoto bike and what-do-you-know… I needed some new tie downs to get it home.
This time, I bucked up and got some good tie downs for my motorcycle. I went with the motorcycle handlebar tie down straps that don't scratch and scuff up your bike. They aren't as "fancy" as the strapless tie down systems like the Lock-N-Load Pro by Risk Racing, but I like them quite a bit and they're easy to use whenever I tie down my dirt bike in a truck bed.
Anyway, here's what I recommend you look for if you're in the market for buying tie downs for a dirt bike.
Top Dirt Bike Tie Down Straps
There are quite a few different options for tie downs these days. There are options ranging from locking tie downs, ratchet tie downs, soft tie down straps, cam lock tie downs, and more.
Cam Lock Tie Downs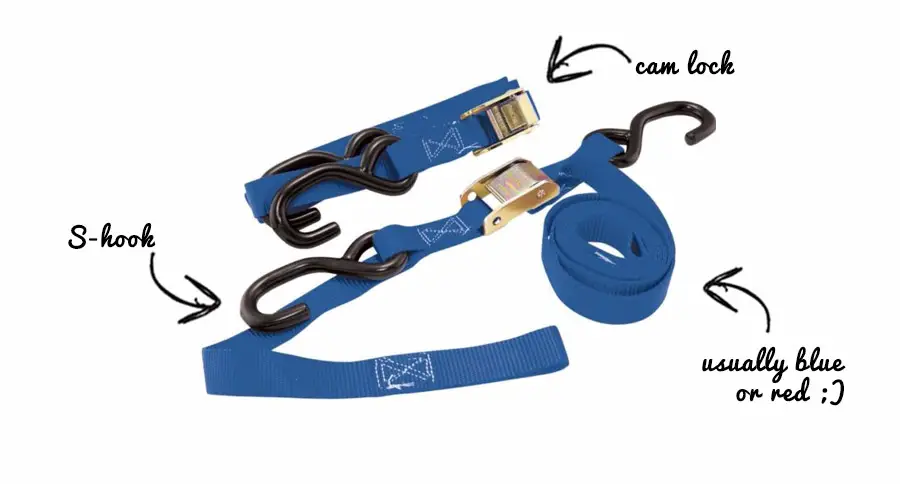 The cam locking tie downs are probably the most common – and my favorite. These are the ones that have been around for a while now. And to tell you the truth, if you get a good, quality pair, they work just fine. What's nice is that you can find these with the soft loop (as described below) almost everywhere now. I actually recommend these over all others because of their ease-of-use and durability.
These "soft tie down straps" below are the ones I recommend…
Soft Tie Downs (recommended)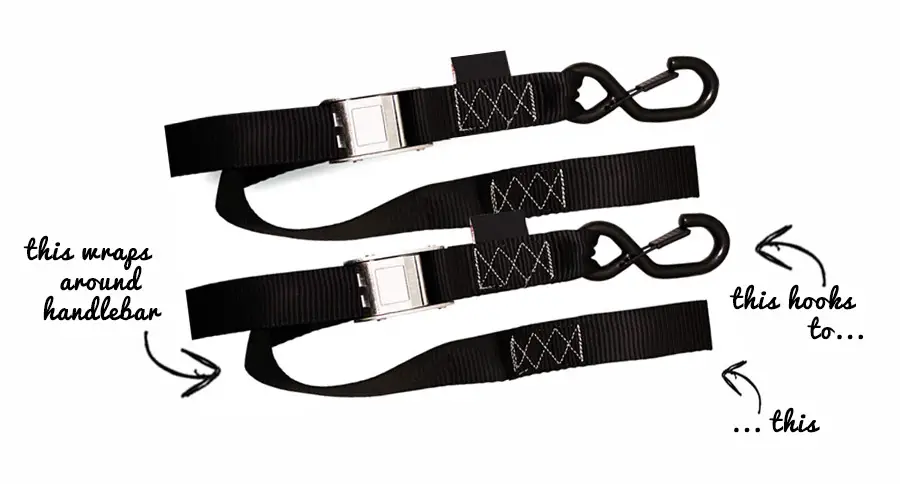 These are almost a "must get" now that they're so widely available. A soft tie down strap attaches to the dirt bike's handlebar with a soft tie down loop rather than a metal S-hook. These are great for tying down dirt bikes with oversized handlebars and it makes getting in and around your clutch and brake levers, or cross bar.
I recommend these ones on Amazon…
Locking Tie Downs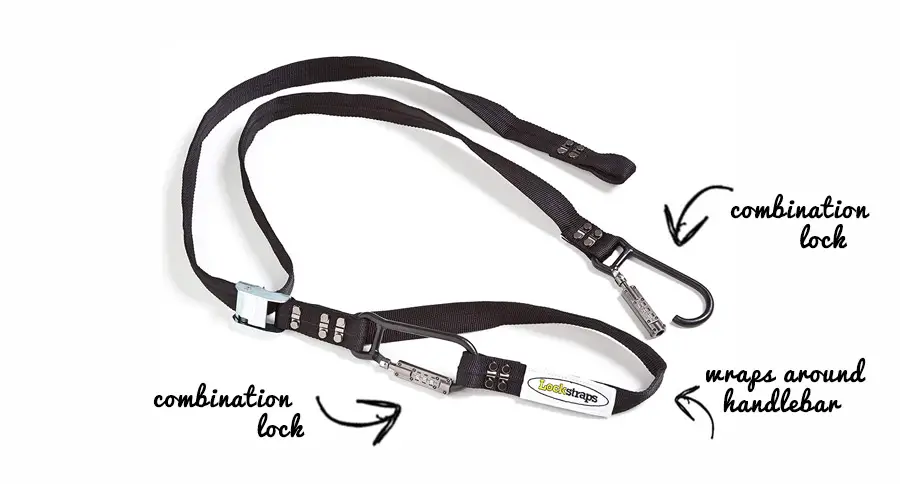 The locking, anti theft tie downs are very cool. These offer multiple layers of theft prevention, including a type of lock (usually combination lock) as well as a high quality, hard-to-cut material. In addition, these often feature the soft strap attachment loop that goes around your handlebars so that you don't have to worry about scratching up your dirt bike.
I recommend these ones on Amazon…
Ratchet Tie Downs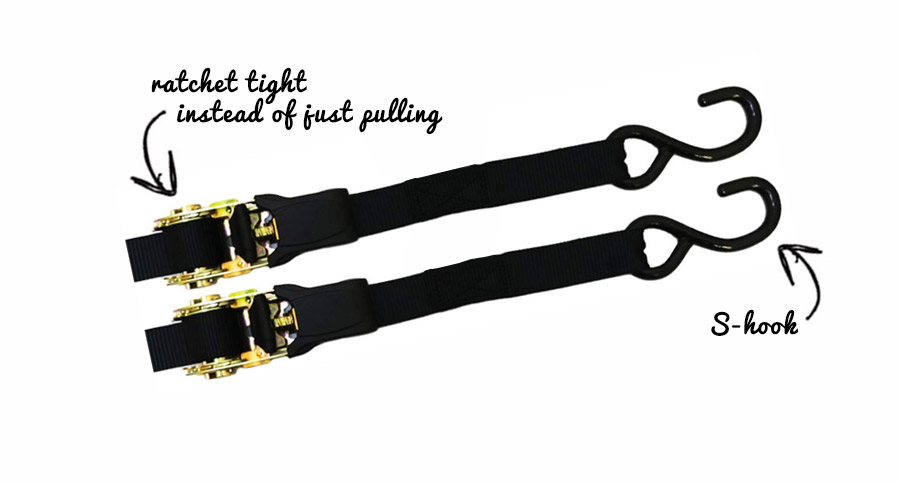 I've got to say, I have a love/hate relationship with ratchet ties downs. Yes, they can be great and they definitely provide a secure and tight hold. However, they can be a little annoying and hard to work with at times. For most dirt bike applications, a ratchet tie down is probably a little bit more than you need, but for those who always go overboard with with their purchases… these are great 😉
I recommend these ones on Amazon…
Picking the Best Tie Down Straps for a Dirt Bike
In addition to picking which type of tie down strap you're going with, there are a few other things to consider. Of course, budget and individual needs will ultimately determine what you buy.
Here are a few things to consider, no-matter which type of tie down you choose:
Length
This may seem like an obvious one, but make sure you get the right length for the application you need. I would look at getting the shortest option available for what will still work for you. I personally, don't like dealing with a 15′ strap if 7′ or 8′ is enough.
Break Strength
The break strength is how much pull, or resistance, the tie down strap can bare before breaking. In reality, as long as you buy a decent pair you should be fine. Most good dirt bike tie downs are rated at 3,000+ pounds… which is plenty.
Quality
This one goes without saying. If you've ever gone from a cheap pair to a quality pair, you can tell the difference. You won't get that frayed edge, and you won't have to worry about every corner you take.
Recommended Tie Downs
As discussed above, I have three different recommendations.
Cam lock (soft loop) Tie Down Straps
Ratchet Tie Down Straps
Locking Tie Down Straps
RHINO USA Motorcycle Tie Down Straps with Integrated Soft Loops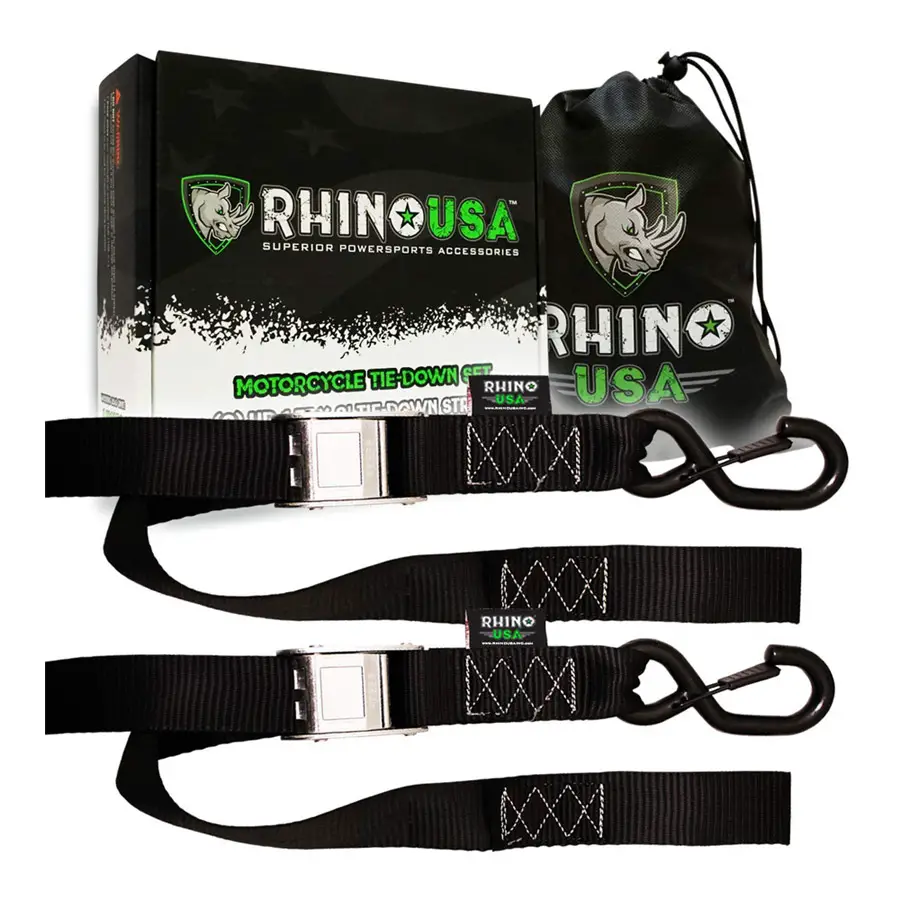 If you don't prefer a locking or ratchet tie down, I recommend these.
Rhino USA makes a very good product and they don't break the bank. As of writing this, you can get the Rhino tie downs in black, blue, green, orange, red, or yellow.
What I like:
High quality straps cambucke and hook
Easy to use
Durable
Trustworthy / secure
Satisfaction guarantee
Click here to view pricing and reviews on Amazon…
---
RHINO USA Motorcycle Ratchet Tie Down Strap Kit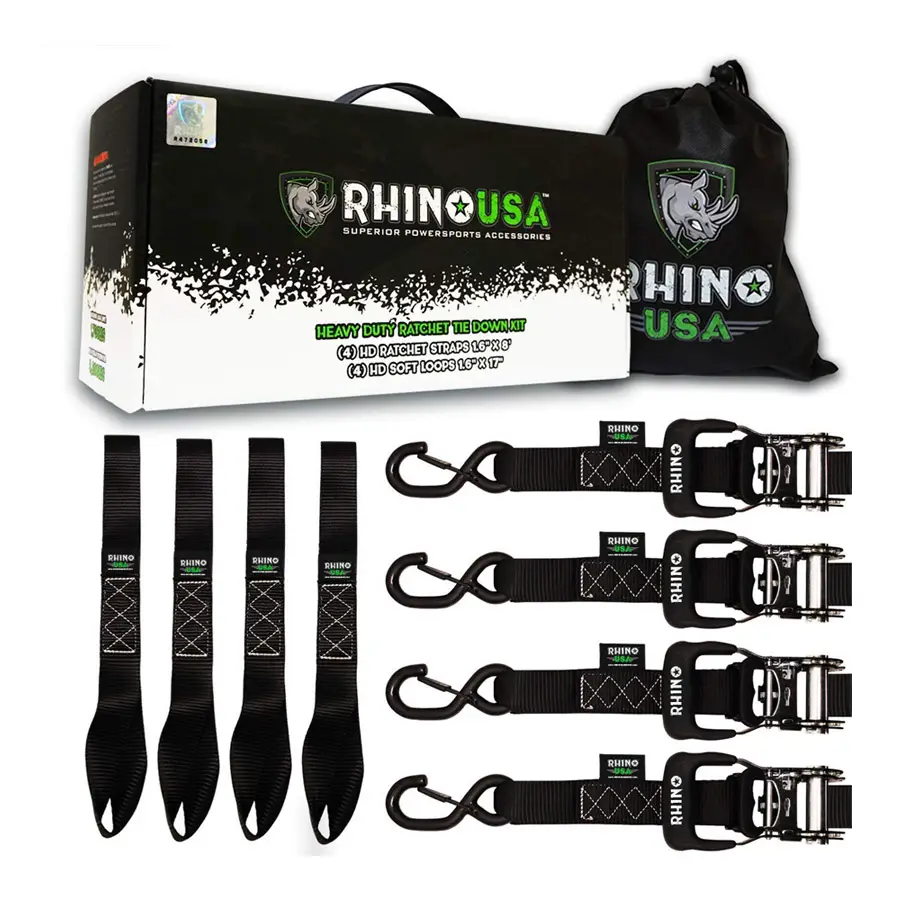 Unlike the standard Rhino tie downs, this kit only comes in black. But let's be real… black is the best anyway.
What I like:
High quality strap, ratchet and hooks
Kit includes soft loops
Ultra secure / stable
Satisfaction guarantee
Click here to view pricing and reviews on Amazon…
---
Lockstraps Locking Tie Downs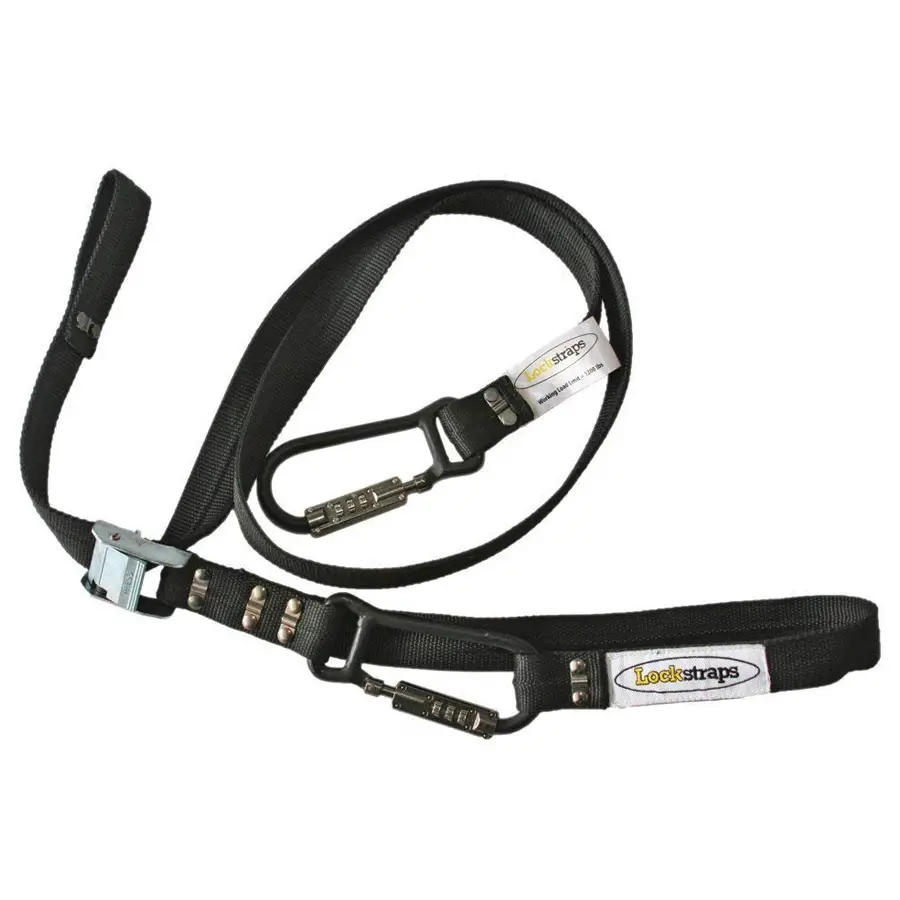 Lockstraps seem pretty cool. However, I've never used or seem them in-person. Heck, I didn't even know these existed until I was doing some research on the top dirt bike tie down straps for handlebar applications. A very cool feature on these is the stainless steel cable inside the strap. These really are focused on being the best anti theft dirt bike straps.
What I like:
Look like really good quality
Smart security features – 2 locks + stainless steel cable
100% satisfaction guarantee
Click here to view pricing and reviews on Amazon…
Where to Buy Tie Downs
Don't get me wrong, there's something to be said about going down to the bike shop and looking around.
And smell of all the new dirt bikes and their new knobbies, love it!
However, most dirt bike shops are either going to sell you a generic tie down strap that they have on floor, or they'll end up ordering you a set online. You'll end up paying a little more, but that's just the way it is.
Heck, you could go down to your local Lowe's, Home Depot or Harbor Freight and probably end up finding a set of tie downs that you could use for your dirt bike. But you know as well as I do, you get what you pay for, and I'll tell you straight – my brother-in-law got some from Harbor Freight and he's not happy with them.
I recommend buying from a trusted website (like Amazon or a name-brand dirt bike store) and save yourself the hassle.
If you want a good quality tie down strap that was designed with hauling dirt bikes in-mind, I recommend checking out these recommended tie downs that you can get with a money back guarantee from Amazon. They'll last longer and work better.