The Best ATV Mud Tires (Aggressive Sets of 4, Pairs, and Singles)
BraapAcademy.com earns a small commission from qualifying purchases.
This does NOT cost you extra.
I don't know about where you live, but I can tell you that Oregon's weather is shaping up to be a bit wet for this 2022 winter. We're expecting a lot of rain and snow… and you know what that means: MUD! Because of this, I did some research on what the best ATV mud tires to buy are and came up a list of possibilities. (shared below)
The best mud tires for ATV are aggressive enough to clear out and maintain traction, no matter the terrain. Unless you're specifically going mud bogging, you should put a set of four, well-rounded mud tires on your quad for the best results.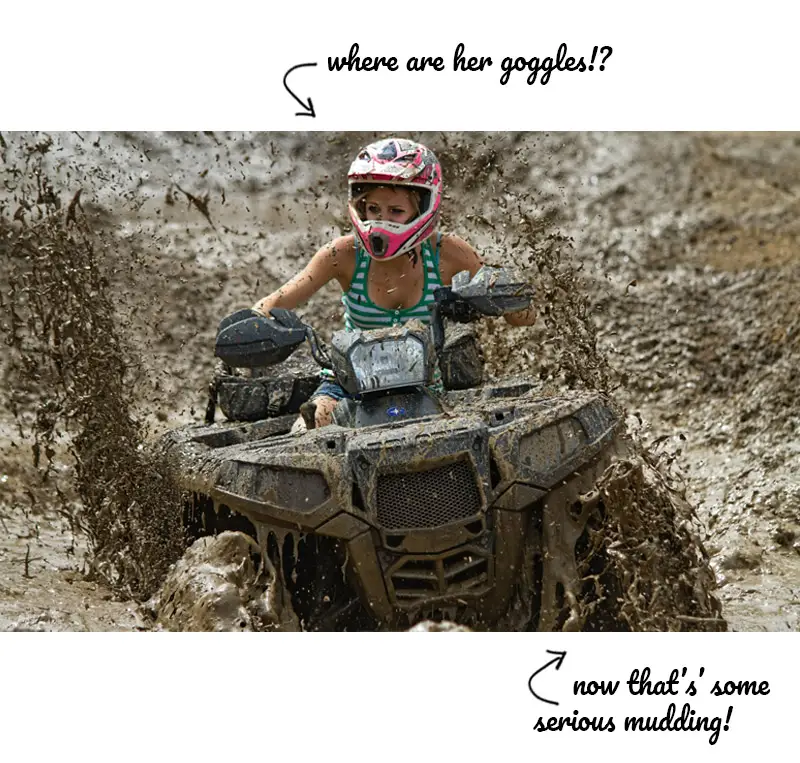 So, what do you do if you're looking for some high-quality tires and you're not sure which ones are the "best" to buy for the money? Answer: check Braap Academy for the best ATV mud tires available in 2022, of course. 😉
---
Best ATV Mud Tires (Set of 4)
SUNF Warrior ATV Mud Tires
Starting things off are these beasts – the SUNF Warrior ATV mud tires, which are some of the most durable and grippy ATV tires on the market. They're available in a few different sizes, so you'll surely be able to find the set that fits your quad. Also, it's not too often that you find ATV tires that don't have an "inflated" price tag these days. Yes, pun intended.
One of the things I like most about these tires is their directional 'V' angled knobby tread design. This special tread pattern works well in various terrains, not just mud, though they perform quite well in mud and loose dirt environments.
SUNF also included heavy six-ply rated construction on their Warrior tires so that they are better able to resist abrasions and punctures, and they are great for heavier loads like hauling around your ATV trailer. After all, is there anything worse than having a blast racing around on your ATV, only for a tire to give in and burst on you? I think not.
Positive Reviews
There's a lot to like about these tires, and they've certainly earned their title as one of the best. But, nothing in this world is without its flaws. Let's take a quick look at the good (and bad) that SUNF has to offer with these tires.
Self-cleaning action offers improved traction over rough terrain
Aggressive shoulder knobs provide great side-bite
They are resistant to abrasions and punctures for peace of mind
They feature unique tread design grips loose dirt and mud
Durable construction will last for many years
Negative Reviews
Expensive compared to similar options
If you're looking for a set of four mud tires that will allow your ATV to move through mud like a tank, then I think you'll appreciate the SUNF Warrior mud tires.
Click here to view pricing and read reviews on Amazon.
---
Best ATV Tires for Mud (Pair of 2)
WANDA ATV Tires
WANDA knows what they're doing when it comes to making high-quality ATV tires, and they certainly didn't disappoint with this set of two mud tires. They're not as bulky as the SUNFs, but they're great for getting your ATV across difficult, muddy terrain that it might not be able to navigate otherwise. And if you're not looking to buy a complete set, you'll be happy to know that these tires come in pairs.
There's a lot to like about when it comes to these mud ATV tires from Wanda. Most notably, they are highly durable, and can withstand some really tough terrain without puncturing or bursting. A huge bonus.
Moreover, they are very lightweight, so you won't feel like they're weighing your ATV down after installing them, which is often an issue for chunkier tires. They also feature a smooth rolling design that provides quicker braking, acceleration, and an easier and lighter loading experience when riding up your ATV ramp (best ones here) into your truck… although you'll have to confirm whether that's actually the case with the way YOU ride.
Positive Reviews
Here's a quick breakdown of all the good and bad that comes with this pair of tires:
High max loading capacity adds to overall durability
They are extremely durable for how lightweight they are
Smooth-rolling design minimizes bumping
Deep, widely spaced tread bars shed mud
They are suitable for various difficult terrains
Negative Reviews
While these are some solid tires, you will need to purchase two sets if you're looking to fit your quad with a set of four new tires. That's not the end of the world, but it could be challenging if you're working on a budget.
Click here to view pricing and read reviews on Amazon.
---
Most Aggressive ATV Mud Tire
Kenda K538 Executioner ATV Tire
The bid dogs! If you're looking to do some serious mudding, you're going to need some serious tires. Luckily, that's exactly the area that Kenda specializes in – their K538 Executioner tires are some of the most durable out there and are specially made for riding in tough, muddy terrains. They're actually somewhat affordable and come in a wide range of sizes that suit various ATV makes and models.
The Executioner tires don't hold the title of "most aggressive" for nothing – with a name like "Executioner," how could they not be the most aggressive ATV mud tires? They can meet the demands of even the most difficult 4×4 terrain. If you're someone who enjoys carving a new path through ALL terrains… I think you'll pair nicely with what Kenda has to offer. Yes, again… pun intended 🙂
The nice thing about these tires is that they come with reinforced knobs that reduce knob rollover at low pressures, which works to improve the comfort of your ride while also increasing the longevity of the treads. That's something you'll benefit from greatly if you're frequently riding on rough or muddy terrains.
The dimple tread pattern also improves traction on drying terrains, so the Executioners aren't just good for mud. Overall, this is a very nice tire that you could get a lot of use from doing a lot of rough and/or muddy riding.
Positive Reviews
The Executioners are more than just a cool name – here are some of the most prominent pros and cons of these tires.
Unique tread design improves deep traction in muddy conditions
Reinforced knobs for added durability
Available in various sizes for convenience
2 + 2 casting for increased puncture resistance
Increased tread longevity
Negative Reviews
Only available individually
NOTE: I don't think this is actually a "con," however you should know: they actually do fling mud on your passenger. If you're mud bogging with someone on your ATV's passenger seat, they're gonna' get muddy.
There's much to enjoy about the Kenda Executioners, but you'll have to decide whether the advantages outweigh the fact that you'll have to buy each tire individually. If you have the money and want an aggressive tire, go for it! Otherwise, sick with the the SUNF tires for a set of four, or the WANDA tires for sets of two.
Click here to view pricing and read reviews on Amazon.