Best Beginner Dirt Bike for Adults (Motocross and Trail Riding)
BraapAcademy.com earns a small commission from qualifying purchases.
This does NOT cost you extra.
Wouldn't it be nice if there was just one dirt bike you should buy? You know, the "best" dirt bike.
"Oh, you're looking for the best beginner dirt bike for adults? – Great, buy this one."
Well, in case you didn't already know – you're going to get a lot of different opinions on which one you should buy. And the best part – most of those opinions will be quite a bit different… and most will have some valid arguments.
What it really comes down to is more than just one opinion or angle. You've got to consider who you're buying for, what you want to pay, and (possibly) most important – what type of riding you're going to do. Is it for trail riding or motocross? Dessert or hill climbs? All of these questions come into play.
So, if you're up to it, I was thinking we could look at each type of riding and each type of rider. You know, the "best" bike for the right application. Sound good?
Picking the Best Dirt Bike for You
Let's look what I believe are the the top beginner dirt bikes for adults based on the following categories:
Trail riding
Motocross
The term "adult" gets used where it maybe shouldn't.
For example, I'm considered an adult. I'm 38 years old and have a wife and two kids. See, I'm an "adult."
But am I really an adult? Maybe. Sometimes I just think I'm an oversized kid. Anyway…
If we're being real here, I would say that the best beginner dirt bike for adults is probably not a motocross bike. But then again, it honestly just depends on the type of riding you want to do… or look like you do. 😀
Best Trail Dirt Bike for Beginners
This is probably the category that most of my readers will want to pay attention to. Because let's face it, us "adults" are probably not going to be motocross racers. And while it's true, I have raced motocross, I honestly enjoy trail riding much more… although I do love hitting the track every now and then.
If I were to be thrown into a trail riding race, I would choose a Honda CRF450X over anything else. However, if I had to go out and buy a bike for this race, I'd look for a used Honda XR400r. They handle amazing, they're predictable, and they can get you through a variety of terrain easier (quicker) than most race bikes.
Spoiler alert: I'm sticking with the Honda dirt bikes on this one, although you could make an argument for a Yamaha, KTM, Suzuki, Kawasaki, or a few others.
The best trail bike overall would be a Honda CRF450X, in my opinion. However, because we're talking for a beginner, it may not be the wisest choice to go out and spend $10k on a new dirt bike. And if you're on the smaller side, a 450 might not be the best bet either.
Here are what I'd call the best trail bikes based on three different scenarios:
Honda CRF450X
Ideal for a full-size adult who doesn't mind spending some money, and who wants to look cool… and have no concerns (whatsoever) about out-growing the bike.
Honda XR400R
This is my personal favorite as a "beginner" trail bike. Read: I wish I had one and probably will someday! This bike would be well suited for a full-size adult looking for a used bike that provides plenty of low end power and will make you a better rider than you probably are.

Honda CRF230F
This has to be THE beginner bike. The CRF230F is great for just about any size adult (just not too big) looking for a true, easy-to-ride, beginner bike. It's reliable, smooth, consistent and predictable. You really can't go wrong here.

Honda CRF450X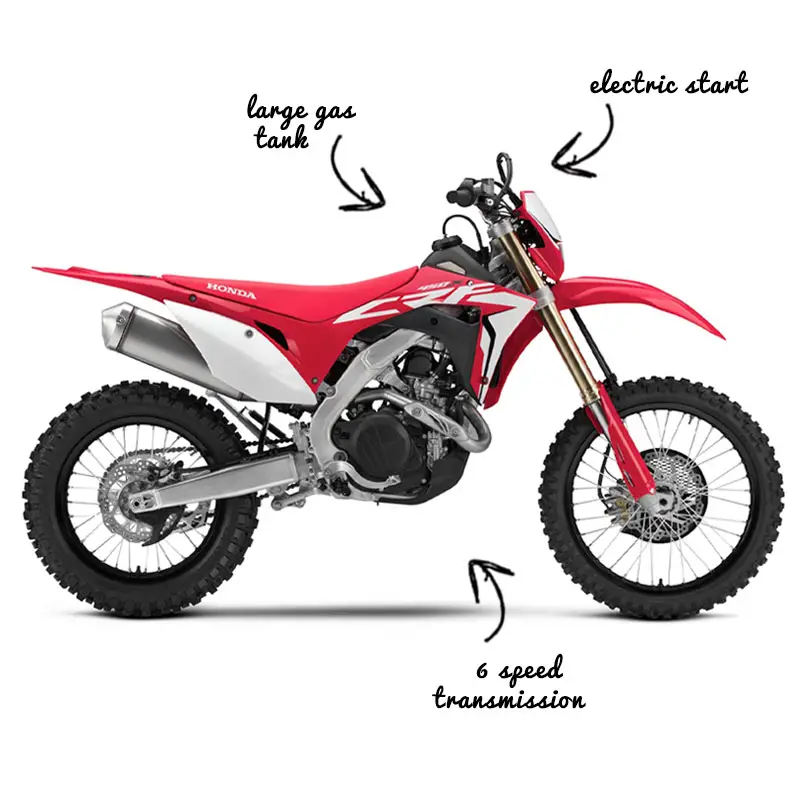 The CRF450X is an awesome bike, no doubt. This bike is geared more for a beginner rider than the 450R model… but to say it's actually a beginner dirt bike might be a stretch. This thing is far-from tamed. These bikes are competition bikes and are plenty, even for seasoned riders.
One of the other beginner-friendly aspects is that it's a Honda, and Hondas are quite sturdy machines. Maintenance is fairly easy, and tasks like tightening the CRF450 chain is as easy as any bike out there.
I would recommend this bike if you are a bigger guy who doesn't mind spending some money on a bike that you know you're going to drop, scratch, and de-beautify. It's awesome but I'm not sure that it really is a "beginner" bike.
Honda XR400R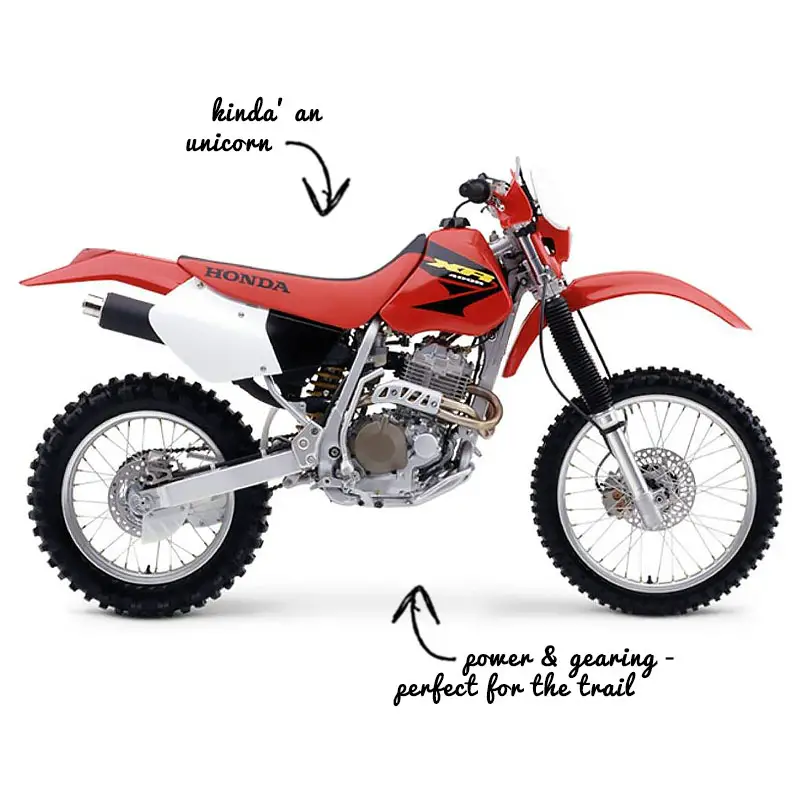 This has got to be the ultimate trail bike. I'm about 99.98% sure this bike would have my vote as the top dirt bike for trails if they still made them today. The power and handling of the XR dirt bikes were dialed in, controllable, and user-friendly. Especially for beginners.
Although it's a "400" doesn't mean that it's close to a modern-day 450. Not even close. But I think that's a good thing. These bikes are easy to ride and when you jump on a bike that's easy to ride – you usually ride better.
I want one!
Honda CRF230F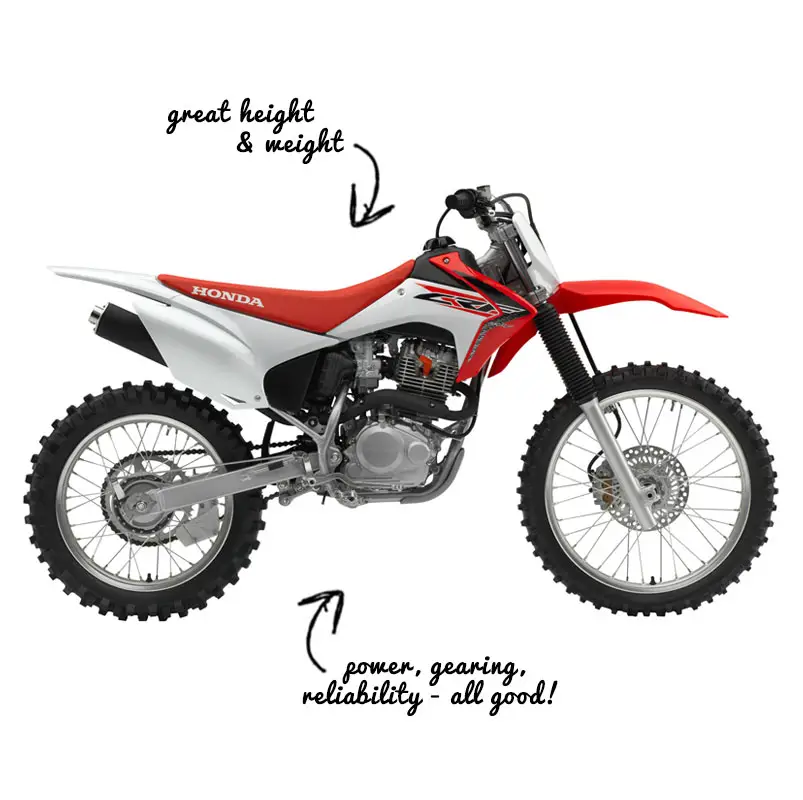 And now we've come to the rightful winner of the class. If I had ONE recommendation for the best beginner dirt bike for adults; it's the Honda CRF230F. I'm not (quite) as in love with it as I am the XR400 but don't worry about my stupid opinion on this one. This is an AWESOME bike. Go buy one 😉
Best Motocross Bike for Beginners
Again, this is all just my opinion. If you're looking to get a new MX bike, don't stress too much over the decision. In reality, it'll be an awesome bike.
Having said that, I'd go with a Honda or a Yamaha… I'd be good with a KTM as well but for some reason, I (personally) don't like the feel of the orange bikes as much as the red or blue bikes.
Motocross is a much different beast than trail riding. A little too much power isn't so bad when riding on a trail. But riding on a track is entirely different. I've said over-and-over again to my riding buddies that if I were to go back into racing I'd probably jump on a four stroke 250.
They're frickin great.
They're light, powerful and handle like a dream. Honestly, I wouldn't even consider a 450 if you're a beginner wanting to get into racing.
Since I already eluded to my colors of choice (red or blue) it probably won't come as a surprise that I'm going to recommend either a Honda CRF250R or a YZ250F.
You can't go wrong with either.
Here's my criteria for how you should choose:
Honda CRF250R
If you like the color red or if you think dual exhaust pipes looks cool.
Yamaha YZ250F
If you like the color blue or you don't want to replace two pipes after you crash.
That's about it. If you're truly a beginner, that's all you've got to worry about.
Honda CRF250R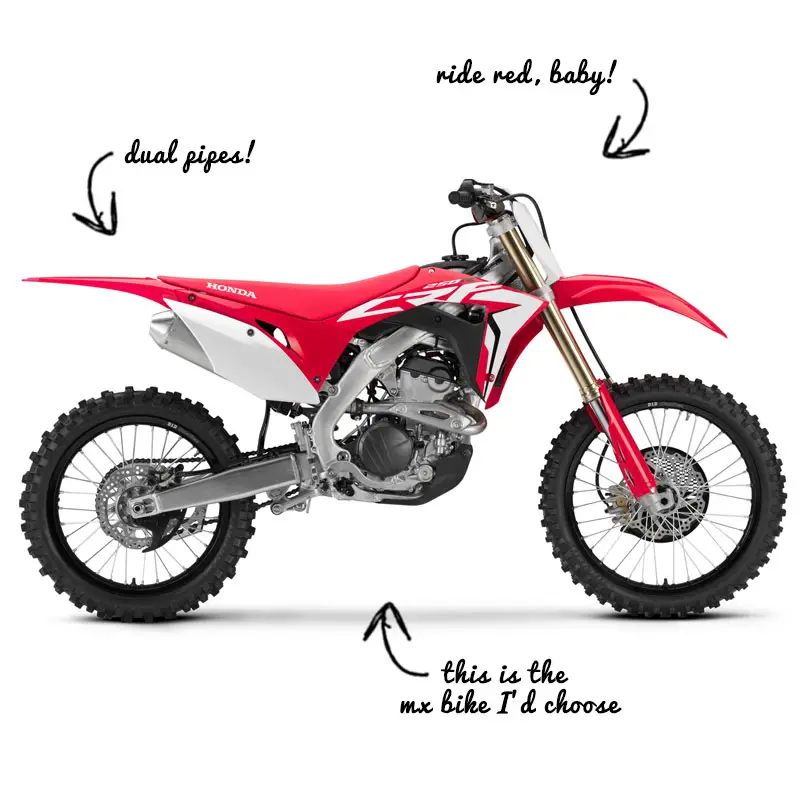 This bike is super nice. If you're in the market for a MX bike… and you're a new to racing… this is the best motocross bike for beginners. No need to look any further.
Buy, ride, be happy.
Yamaha YZ250F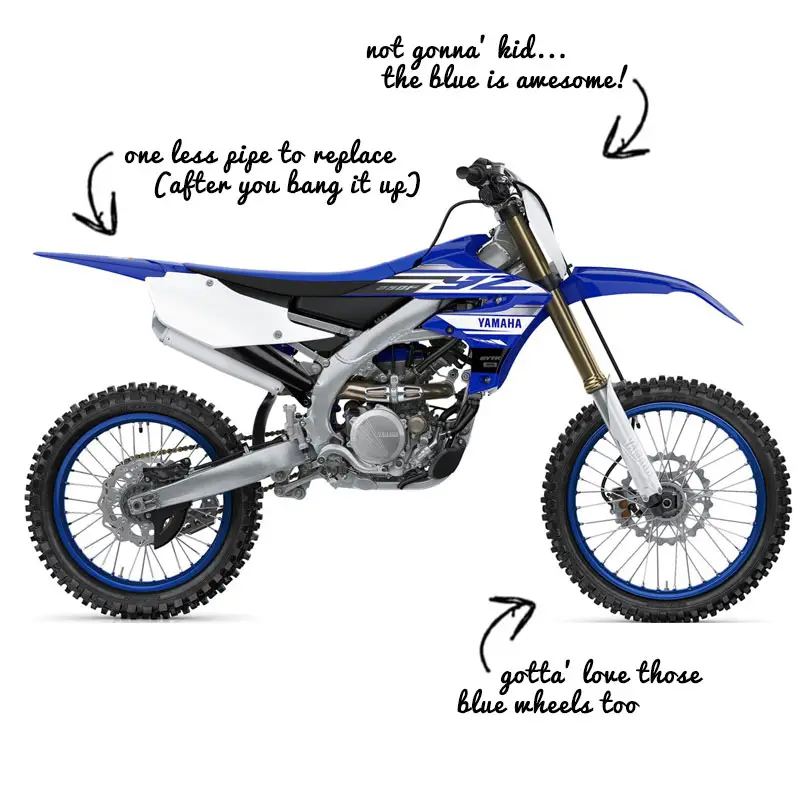 Ok, ok, ok… time for a reality check.
When it comes down to blue VS red, it's mostly preference and riding style. I'd lean towards the Honda for overall ride-ability and I'd rank Yamaha a bit higher for motor-output. But when it comes down to it, both are solid and both are more-than-enough bike for any newbie.
Just pick the one you get the best deal on… unless, you know, you've got to have those dual pipes. However… I will warn you; it might be better to have just one pipe to replace.