Dirt Bike Gas Can – Pick From the Best 1, 3, or 5 Gallon Options
BraapAcademy.com earns a small commission from qualifying purchases.
This does NOT cost you extra.
Pull my finger. Okay, my bad… pretty dang corny, huh!? But, how else am I supposed to start a boring list of gas cans? Either way, here is a list of the three best dirt bike gas can options I could find. My personal choice would be the 5 Gallon VP Racing can, but depending on your circumstances or needs, you may want to go with one of the smaller fuel cans below.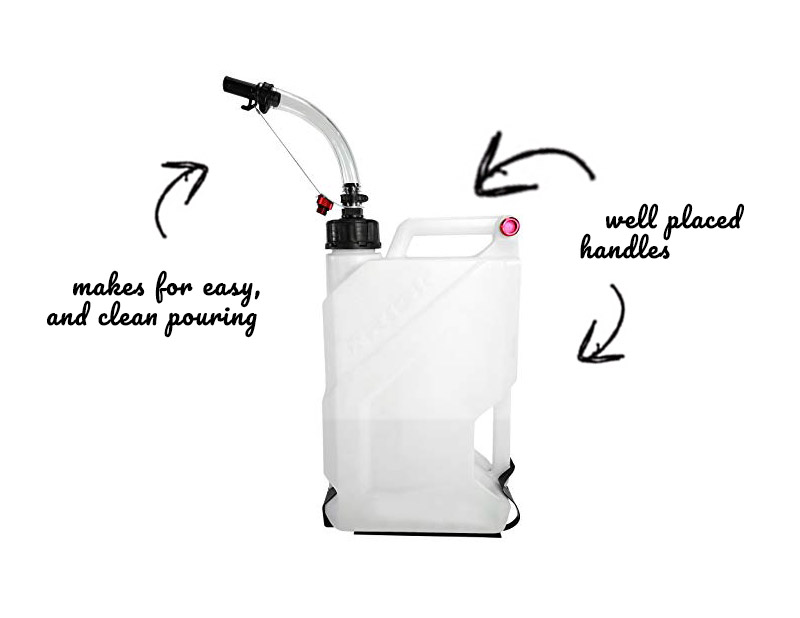 In the end, just make sure that it's the right size for you, and that it has a decent pour spout/nozzle… which these all do.
Also, make sure to check out the little "travel sized" fuel bottle at the end.
Best Small Dirt Bike Gas Can (1 Gallon)
No products found.
The seamless design of this gas can makes it a bit safer to use when you carry extra gas for your dirt bike… although, it's more intended for street cruisers and other on-road motorcycles.
With an anti-fall design, this gas can will not easily break if you accidentally drop it even from high heights.
Features
It comes with a double-wall design to make it a bit safer to use for gas. A sturdy one-piece vent valve will increase the safety factor to keep it from blowing up.
Positive Reviews
It is made with durable construction, so it will not easily get damaged and will last much longer than cans of lesser quality.
The can comes with two strong clamps included to mount it to the frame of your bike easily.
A strong nozzle is included with the can to make it easier to refill your dirt bike when you need to.
Negative Reviews
It will hold only 1.3 gallons of fuel, so you will not have a lot if you want to stay longer.
The spout included with this gas can is a bit stiff and will not easily bend, which may lead to gas spills while pouring it if not careful.
Overview/Summary
Strong and durable materials were used in its construction
A key is included with the mounting brackets for increased safety
It is high pressure resistant and explosion-proof
Click here to No products found. on Amazon
---
Best 3 Gallon Dirt Bike Gas Can
The transparent design of this gas can make it easy to identify the fuel type and see the fuel level in the gas can.
The three handles installed on this gas can make it easy to pour and safely hold it when pouring.
Features
The lanyard setup creates a natural bend in the spout for easy pouring.
A double thick wall of durable plastic increases the safety factor of this gas can.
It can hold up to 3 gallons of fuel.
Positive Reviews
You get a lot of extras included with this combo set, making life a bit easier for you out there.
These gas cans are available in a larger 5-gallon size and a 3-gallon size to give you a better choice of gas cans.
It is straightforward to use this gas can when you need to add some more fuel to your dirt bike to keep it running.
Negative Reviews
It comes with quite a high price tag attached to it which makes it difficult to afford by many dirt bike riders out there.
The O-ring included for the breather is not sufficient and some fuel may still leak out there even if properly closed.
Overview/Summary
It comes with strong and durable caps and breather valves
The gas can is capable of locking to keep your fuel safe from theft
A universal mount is included for easy storage options
Click here to view pricing and read reviews on Amazon
---
NOTE: Just like a gas can, a decent dirt bike stand is a must-have. Check out these: Best Dirt Bike Stand – Lift, Box, Hydraulic, or Scissors?
---
5 Gallon VP Racing Gas Can
The square design of this gas can and the standard red color make it easy to transport and stand out.
The can itself is made with lightweight materials that do not add a lot to the overall weight of a full can.
Features
It is designed to safely transport and store flammable materials for a long time.
This gas can's large capacity can make it easy to have enough fuel available when out there with your dirt bike.
With a very low price tag attached, you get far more than your money's worth with this gas can.
Positive Reviews
This VP Racing Fuels gas can is made from strong and durable materials that will last for a very long time.
An ergonomically shaped handle makes it easier to pour gas and to hold it safely without getting tired.
Negative Reviews
You must make sure the breather hole is on top while pouring… otherwise it'll leak a little.
The can is quite large and can become too heavy and difficult to handle for smaller people.
Overview/Summary
This gas can is well built and will keep your fuel safe
A strong and durable cap is included that seals properly
It has a huge capacity of up to 5 gallons of gas
Click here to view pricing and read reviews on Amazon
---
Motorcycle Fuel Bottle (Carry Extra Fuel)
The gas bottle can be carried with you on the bike to use as a backup just in case you drive too far.
The fuel-resistant interior coating will keep your reserved gas bottle safe from erosion for a long time.
Features
Will keep up to 1.5 liters of emergency gas for your dirt bike to keep you from getting stranded.
The strong cap will help keep the fuel from leaking out while you are transporting it.
One can also use it to carry other fuel types for a gas stove and more.
Positive Reviews
It is made from lightweight materials to keep the overall weight of the bottle low for easy transport options.
The design of the bottle makes it look like a nice water bottle, so it will display nicely when mounted.
Negative Reviews
This bottle is meant for absolute emergencies with only one-third of a gallon capacity of gas it can hold.
It does not include a carrier, so you need to improvise if you want to take it with you on your dirt bike.
Overview/Summary
The thick aluminum materials will keep it safe for a long time
Great sealing cap that will prevent fuel from leaking out
It can be secured to the frame of your bike to keep it away from your body
Click here to view pricing and read reviews on Amazon