Best Dirt Bike Stand – Lift, Box, Hydraulic, or Scissors?
BraapAcademy.com earns a small commission from qualifying purchases.
This does NOT cost you extra.
One of the first purchases you'll want to make after picking up a bike is a quality dirt bike stand. And worry-not, there are some good, cheap dirt bike stands as well as some full-featured maintenance stands.
Whether you're planning on just propping your bike up in the corner of the garage, or if you want a stand for washing and working on your motorcycle, here you go. I put together a list of some of the best options out there. And take it from me, having a proper motorcycle stand makes maintaining your dirt bike much easier and safer.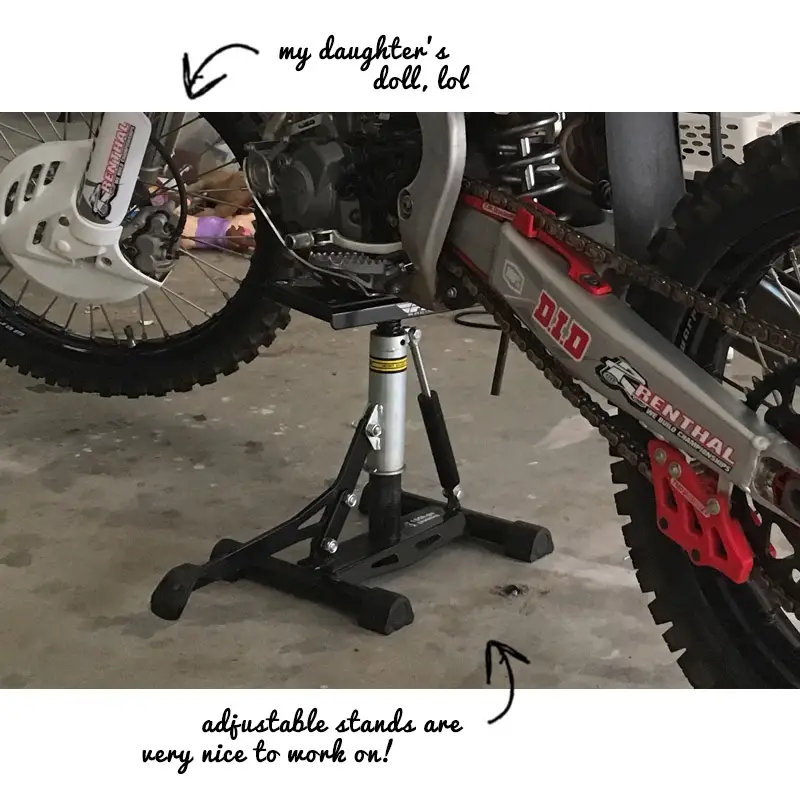 Let me know if you have any questions.
Top Adjustable Dirt Bike Stand on Amazon
Are you looking for the best adjustable bike stand? I've got you covered with this lift stand by Tusk. This is a solid option for any dirt bike. Because they're nicely built with solid steel, these stands are able to carry a weight of about 300 lbs. In addition, there's a lock nut that ensures the safety of the bike and can be used to fit different bikes.
Each package comes in a dimension of 12.8 x 12.4 x 11 inches. This adjustable stand comes weight just over 14 lbs.
Who Should Buy This Stand?
Those wanting a solid stand for dirt bike maintenance. To get the most out of the stand, keep your bike in place when not in use, such as during cleaning and repairs. This stand can be adjusted from between 25.2 and 46 cm, giving you more comfort as you work on your bike. It perfectly prevents the bikes from slipping once they have been placed on the stand.
When Not to Use
Bikes of weight above 300 lbs should not be used on it because that's the maximum capacity it can carry.This bike stand is perfect for use outdoors, thus should not be used indoors.
What to Look For
Seeking a cool adjustable bike stand? You should purchase stands that are easy to adjust, which gives you an edge over nonadjustable stands. They are more comfortable to use and easy to install.Pick adjustable stands that are constructed with steel, which could make them last longer and be capable of withstanding the weight of your bikes. Also, go for affordable and high-quality adjustable dirt bike stands.
Are They Worth Buying?
Yes, they are. These stands provide the best position wherein bikes can easily rest without slipping over.They also give you the ability to clean and maintain the bike easily, change tires, and prevent wheeling issues.
---
Tusk Dirt Bike Lift Stand
Made of solid materials, this hoist provides support for your bike when outdoors in a repair position.
Pros
Easy to assemble
Highly durable and lasts for long periods
Possesses anti-slip technology
Can be adjusted to fit bikes properly
Cons
It seem a little wobbly (does hold bike safely)
Click here to view pricing and read reviews on Amazon.
---
Dirt Bike Box Stand
Are you looking for a good dirt bike box stand? This is definitely for you. It was designed for stability and ease-of-use. The stand is constructed with high-quality aluminum which increases its durability.
It is the perfect stand for easily changing oil without making a mess due to the presence of a rubber pad that is resistant to oil. It also possesses trays that are just perfect for use during the almost all maintenance tasks.
Ideal Use Case
The motorcycle box stand has a resistant rubber pad on its surface, which gives room during the cleaning, maintenance, and repair of bikes.Due to its sturdiness, it can be used to fit most bikes, and it is fit for any weather conditions, as it can withstand rusting. These stands can withstand a weight capacity of 300 lbs.
When Not to Use
For maximum use of the stand, do not use it in small spaces, and ensure that the weight of your dirt bike does not exceed the maximum weight of the stand (300lbs).
What To Look For
This perfect stand is necessary for all your repairs. You should go for sturdy and durable stands that are constructed with sturdy aluminum. Also, look for stands that have extra accessories for your convenience.
Are They Worth Buying?
Yes, they are. They are perfect for keeping your bike safe and comfortable. These stands can also be used in harsh weather conditions, during which they maintain and withstand wear and tear.
---
Universal Motor Cycle Stand
Made of durable high-quality materials, this is a stand that won't chip easily or wear off due to rust. It provides great support for bikes weighing up to 300lbs.
Pros
Perfect for most road bikes
It is sturdy and durable
It has a great height
Gas and oil resistant pads
Gusset feet to prevent sinking
Cons
Click here to view pricing and read reviews on Amazon.
---
Recommended Hydraulic Bike Lift
Hydraulic bike stands are capable of withstanding harsh weather conditions, and the rubber pad prevents scraping and scratching.
You sure will appreciate having a lift table to help place your bike. It is just perfect for lifting your bike, and allows you to perform your routine maintenance and cleaning with ease.
The bike stand does not corrode or rust easily due to its red powder coating. This excellent stand can carry bikes of the right weight (not above 300 lbs) and prevents you from overstretching yourself to reach your bike.
Ideal Use Case
With the perfect table, this will decrease the stress of bending or kneeling when carrying out maintenance or repair on your dirt bike.
When Not to Use
Pretty straightforward here. Only use if your bike fits on the stand correctly – it should fit fine, just double check. Also, as long as the weight is within range.
What To Look For
When you want to purchase a bike stand, you should go for this hydraulic stand because it is constructed with heavy-duty steel, which makes it stable and withstand harsh weather conditions.
---
Hydraulic Motorcycle Lift Table
Constructed with heavy steel, this lift table is reliable and sturdy. You won't regret getting this with its foot pedal for smooth operations when lifting bikes onto the stands.
Lift tables are superb for maintaining and cleaning your bike without having to kneel, bend, or stoop low in the process.
The stand is ideal for effectively lifting different bikes of 300 lbs, but not above a height of 13 – 34.5 inches from the floor.
Pros
Foot pedal for smooth lifting operation
High carrying capacity
A bar to secure the desired height
Resists corrosion and rust
Avoids stress of bending too low
Cons
Jack cradle a little close to floor
Click here to view pricing and read reviews on Amazon.
---
Popular Scissor Lift for Dirt Bikes
Scissor lifts are awesome. I do't have one, but I'd love to pick one up soon. These lifts carry up to 3000 lbs and can take the bike as high as 13 – 36 inches off the floor. Your bike is safe due to its solid construction: a very thick metal gauge and rubber pad that helps to prevent corrosion.
Excellently, it possesses a hydraulic lift which eases lowering and lifting of your bike on or off the stand.
Ideal Use Case
You can use this stand to raise your bike to about 13 – 36 inches off the ground perfectly. It also makes cleaning easy and a breeze. The stand also possesses locking wheels, which enables flexibility in its movement towards different angles.
When Not to Use
Do not use it if the hydraulic lift does not function perfectly. It should easily control the lifting of your bike. Avoid use if the bike's weight exceeds the maximum carrying capacity.
What To Look For
When trying to purchase a dirt bike stand, make sure to look for products that are durable and long-lasting.
---
Scissor Floor Jack Lift
This dirt bike stand has foot pedals incorporated to aid you in lifting it effortlessly and has great wheels that provide added stability as well as flexibility. It easily lifts bikes weighing up to 300lbs.
Pros
Adjustable height
Highly durable
Flexible castor wheels for better range of motion
The stand has safety loops
Maximizes space
Cons
Slight wobble at full height (does hold bike safely)
Interesting lever angle for foot pedals
Click here to view pricing and read reviews on Amazon.
---
Are Triangle Stands OK To Use for Dirt Bikes?
Yes, triangle stands are a very good decision for your bike. This is an amazing steel product that is durable and prevents corrosion and rust due to its zinc plating.
It fits in perfectly to the axles of kid dirt bikes from 80cc minis to adult dirt bikes including the 500cc rippers. The stand is efficient for use anywhere, with only 1.8 lbs as its weight. It has dimensions of 13.8 x 6.4 x 0.3 inches.
Ideal Use Case
This great stand is effective for use with an easy-to-fix welded tip that aids fixing on any bike. It allows you to clean and maintain your bike comfortably.
When Not to Use
If your bike exceeds the weight limit.
What To Look For
Triangle shape. Quality materials.
---
Universal Triangle Stand for Dirt Bikes
Triangle stands are here to stay. They may not be the most capable, however they are very convenient. Also, these tend to fit just about any dirt bike out there.
Pros
Easy to transport and install
Highly durable and lasts for long periods of time
Prevents corrosion and rust
Sturdy and space saving
Cons
Click here to view pricing and read reviews on Amazon.