The Best Dirt Bike Hitch Carrier (Reviews and Options)
BraapAcademy.com earns a small commission from qualifying purchases.
This does NOT cost you extra.
It doesn't matter how much you love to ride… it's not like you're always on your bike. To transport a motorcycle, or dirt bike, without a trailer leaves you with only a handful of options. Option one, throw your bike in the back of your truck, or option two, haul it on trailer. Okay, so maybe you have a box van or something other idea. Moving onto hitch carriers. Loading your bike onto the back of your truck (not in your truck bed, like this), RV, car, or whatever other vehicle type, becomes a viable option with these motorcycle and dirt bike hitch carrier options.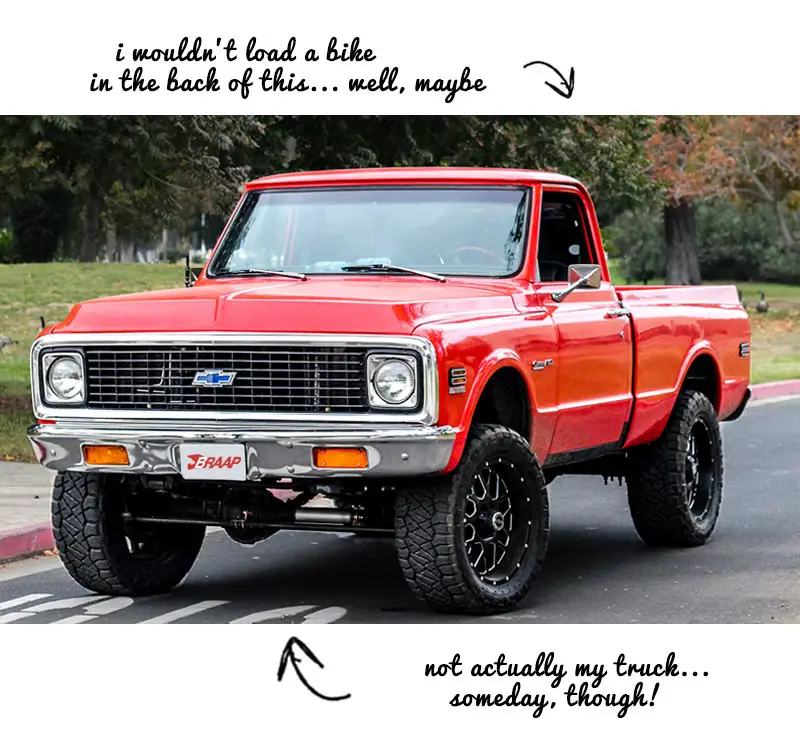 When picking one, there are several things to consider, including the type of bike you have, its dimensions, the type of vehicle to which you will connect the carrier, and other travel circumstances. To find the best dirt bike hitch carriers, here are reviews of a few of the best options I could find.
Best Trailer Hitch Dirt Bike Carrier
Black Widow – Hitch Mounted Motorcycle Carrier (Aluminum)
The Black Widow AMC400 Hitch Mount is a lightweight replacement for the steel MX600X Black Widow. Aluminum motorcycle tow bar brackets lack the durability of steel brackets, but if you own a lightweight dirt bike, a rugged design may not be desirable.
Features
The main advantage is that it does not have corrosion problems over time and is light in weight, making it easy to install and remove. However, the coupling frame is made of steel. The ramp is mounted on either side of the beam, allowing it to roll up and down, making loading and unloading easier.
When not in use, the lamp can be easily stowed in the carrier with two wing nuts. The AMC400 also has a fall prevention lock system that prevents the bike from wobbling on the road and a spacer rod adapter for loading 5080cc youth bikes. It is intended for 2" class III or IV receivers. The distance from the center of the hitch to the center of the ramp is about 18 inches.
Positives
If you choose the lightest aluminum rack, the dirt bike hitch carrier Black Widow AMC400 beats all the competition. Black Widow is extremely lightweight and sturdy due to its construction made of aircraft aluminum. You can safely transport up to 400 pounds of motocross.
In addition, this dirt bike trailer is equipped with 2-inch Class III and IV towbars. The luggage rack is 75 inches long and 6.75 inches wide. A tow bar pin is also included. Useful for tires up to 5.5 inches wide, it also comes with 45.5-inch self-storage lamps which make loading and unloading easy.
Negatives
You will want to invest in an extra security device as the anti-rattling part of this product isn't ideal.
Important Specifications
Offers a weight capacity of 400 pounds
Supports bikes that have wheels that are up to 5.5" wide
Simple to load/unload
Comes with a self-storing ramp
Click here to view pricing and read reviews on Amazon.
---
Best Dirt Bike Hitch Carrier for Two
Rage Powersports – Double Dirt Bike Carrier
Another great option is the Rage Powersports Black Widow AMC6002 Aluminum Double Motorcycle Rack. The product has a load capacity of 600 pounds, but if you are using it as a dirt bike hitch carrier for two, the weight of a single one shouldn't exceed 400 pounds.
Features
The AMC6002 is not intended for use on road bikes, cruisers, or sportbikes. However, it can be used to transport off-road bikes and motocross bikes. It fits 2-inch trailer hitch classes IV and III while the maximum width of a motorcycle tire is 5.5 inches.
The product access lamp can be attached or fixed to the right or left of the towing vehicle carrier during transportation and can be used for loading and unloading bicycles.
The trailer hitch carrier AMC6002 is made of lightweight aluminum and comes with a rattling prevention tool. When the tow bar is complete, most cars will need an air bumper or larger springs to prevent sagging.
Positives
The main difference between this carrier and the other carriers on the list is the ability to hold two motorcycles at the same time. We like the self-contained slope that fits easily into the luggage rack while traveling. The aluminum construction of this motorcycle rack makes it a lightweight ship suitable for transporting bicycles while maintaining strength and durability.
It is especially great for the fact that the ramps are bidirectional and allow smooth entry and exit. Gadget Prevention Gadgets are a great feature for reducing street noise. Overall, this is a fantastic choice when it comes to double dirt bike hitch carriers.
Negatives
The biggest downside is that the torque load is pretty high which makes this carrier not ideal for beginners. Other than that, there is not much to say against it.
Important Specifications
Ideal for two dirt bikes
Offers a load capacity of 600 pounds
Comes with a lightweight aluminum construction
Supports bikes that have wheels up to 5.5" (width)
Enhanced security with an anti-rattle device
Click here to view pricing and read reviews on Amazon.
---
Best Motorcycle Hitch Carrier (Heavy Street Bikes)
SPECSTAR – Heavy Duty Carrier
The SPECSTAR Heavy Duty Motorcycle Rack carries up to 450 lbs and contains all the features and accessories you need. With its properties, it will satisfy you. This motorcycle rack is suitable for a variety of terrain, including mountainous areas.
Features
The rails are well designed and come with a rack that allows the wheels to snuggle up perfectly and be wedged. The truck can accommodate wheels up to 5.5 inches wide. You can load your bike from either side of the route. It is equipped with a Class III or IV coupling receiver.
This carrier is all made of aluminum. It can be pulled up to 450 pounds. This is a reasonable weight limit for most motorcycles. The body does not rust. Adjustable screws on both sides of the rail help prevent falls as much as possible.
Positives
Because it is lighter than you may expect, you can easily carry the entire package. This motorcycle carrier makes transporting your motorcycle both quick and simple. Aside from that, the SPECSTAR Heavy Duty Motorcycle Carrier is reasonably priced.
Negatives
The user's guide isn't as explanatory as it should be.
Important Specifications
Offers a load capacity of up to 450 pounds
Supports bikes with wheels that are up to 5.5 inches in width
Suitable for hitch receivers class III and class IV
Lightweight, sturdy design (100% aluminum, rust-resistant)
Click here to view pricing and read reviews on Amazon.
---
Most Popular Option for a Car
ECOTRIC – Rack Hitch
If you are looking for a sturdy and professional towbar trailer to transport your pit bike, this eco-trick transporter has the potential to be the perfect aluminum towbar dirt bike hitch carrier for your future trips. This steel device offers a load capacity of 600 lbs, which is more than enough to transport almost any motorcycle.
Features
This 79-inch rack has several well-placed slots for connecting straps for more stable transportation. It also comes with a 72″ x 7.5″ lamp for easy access. This sturdy slope can be mounted on either side of the rack for easy loading and unloading of the bike. This ramp is small enough to fit near the support frame.
Positives
It is highly regarded for compatibility with Class II to V vehicles equipped with a 2-inch square receiver. The 18-inch coupling tube keeps the bike away from the car window while traveling. The device is also equipped with tilt protection to prevent wobbling. In addition, this product is very easy to assemble and install and is lightweight, so you can install it yourself. It holds fat bike tires up to 7 inches wide.
Negatives
Once again, the assembly directions aren't great. Other than that, there aren't any major issues.
Important Specifications
Comes with a 79-inch long rail
Features a 72″ x 7.5" loading ramp (somewhat similar to these atv ramps)
The capacity of up to 600 lbs
Supports vehicles from Class II to Class V
Click here to view pricing and read reviews on Amazon.