The Best Dirt Bike Hydration Pack (Enduro, Trail, Motocross, Woods)
BraapAcademy.com earns a small commission from qualifying purchases.
This does NOT cost you extra.
It only takes a ride or two to realize that having some water with you on a long ride is quite nice. Admittedly, it took me much longer than just two rides to realize this, but I did eventually come around and got a dirt bike hydration pack for when I go trail riding on hot days.
The following three hydration backpacks are all very well designed and thought out. Each has its own pros and cons, and one may be more suitable for you than the others. With all that said, it's worth picking a good one. I've had one that leaked on me the whole time I was riding. Not cool. So, these are what I feel are the best dirt hydration packs for enduro, trail riding, and even practicing motocross.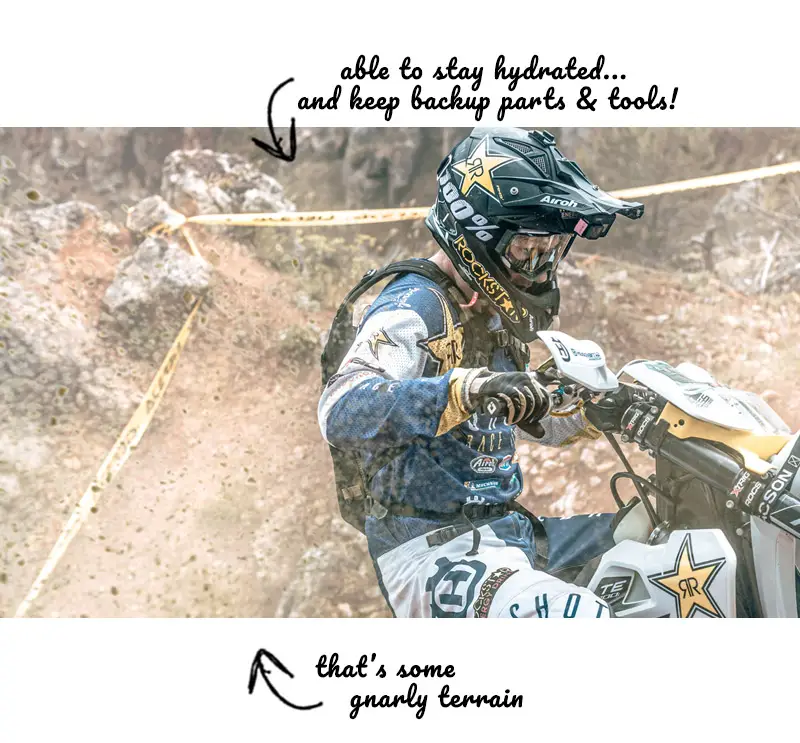 What's a Good Hydration Dirt Bike Pack?
There are a couple of essential factors that you should be considering when on the hunt for your next hydration pack. Some of the most important include:
Comfort and Durability
Your hydration pack should feel absolutely comfortable while it's on your back and needs to be strong enough to resist damage when being thrashed around.

Armor
If you wear armor on the trail, you'll need to invest in a 2-in-1 hydration system that combines both armor and the hydration pack together to keep you protected.
Capacity
It's important to make sure that your pack is able to store enough water to last you your entire riding session (preferably, it should last longer than that).
Weight
You don't want a pack that's too heavy for you, or you could experience some major discomfort that could hurt your riding performance.
---
Best Dirt Bike Hydration Pack
Next on our list is the OGIO hydration pack, which, in our opinion, is the best dirt bike hydration pack on the market right now. It has all of the features that you'd want from a hydration pack without being clunky and overbearing.
OGIO Dirt Bike Hydration Pack Review
The OGIO hydration pack features two stretch-mesh pockets on its shoulder straps that make it easier to store GEL packets and/or bite valve docking stations. The pack itself is ergonomically padded, which means that it will keep you comfortable even during your longest riding sessions – no more worrying about your pack damaging your back.
The shoulder straps are air-meshed to help wick moisture away from the body, ensuring that you're always cool and dry, even when the sun beats down. The raised air mesh pod back panels help to direct airflow, cooling your body down while also transporting moisture away from your skin to keep you dry.
OGIO included a large main compartment for storing excess layers of clothing, any tool kit you may bring with you, as well as additional gear that you take to your riding sessions. There's also another small compartment with a mesh organizer that provides you with easy access to your gear.
One problem with OGIO's hydration pack is its price – the higher price tag puts the pack out of reach from more beginner riders.
Positives
Ergonomic padding
Moisture-wicking shoulder straps
Keeps body cool & dry
Large storage compartment
Smaller auxiliary compartment
Negatives
Click here to view pricing and read reviews on Amazon.
---
Best Overall Hydration Backpack
First on our list is the TETON Sports Oasis hydration pack, which can hold an impressive 18 liters of water. That's more than enough to get you through several biking sessions, but the pack is still lightweight and compact.
TETON Hydration Backpack Review
The TETON Sports Oasis pack is wonderfully lightweight and comfortable and feels like practically nothing when you've got it on your back. It makes for a terrific companion for your day-long (or overnight) motocross or enduro rides… and is a great option for experienced and beginner riders.
While perhaps not the most affordable hydration pack on the market, the Sports Oasis does come with a durable 2-liter water bladder… for free. 😉
It's got a kink-free sip tube and a push-lock cushioned bite valve to maintain durability. There's also a large 2-inch opening at the top of the water bladder to make adding ice super easy, as well as to make the cleaning process seamless.
The great thing about the Sports Oasis hydration pack is that it adjusts to fit all frames comfortably, so you can use it no matter your shape or size. It features a notched foam stabilizer and mesh covering that allows the pack to be worn for hours on end with no discomfort.
The only major gripe that we have with this pack is that it doesn't fit women very well, especially women who are shorter with larger chests and broader shoulders.
Positive Reviews
Lightweight and comfortable
Compact form factor
Large capacity
Free water bladder
Adjusts to all frames
Negative Reviews
Not the best choice for women
Click here to view pricing and read reviews on Amazon.
---
Cheap Enduro Hydration Pack (Still Good!)
No products found.
Last, but certainly not least, we have the Local Lion cycling backpack, which is the most affordable pack on this list. It's a great option for beginners who are just getting into trail riding, motocross or enduro riding.
Local Lion Hydration Pack Review
This backpack makes for an ideal all around sporting backpack… not just for riding. What's cool about that, is that you can use it for other things like hiking, climbing, jogging, camping, etc.
Local Lion's breathable back material is mesh padded to provide maximum heat dissipation and comfort, keeping your body cool and dry. The adjustable mesh shoulder straps feature plenty of sponge padding to make sure that your shoulders don't feel fatigued during long riding sessions.
Made from high-quality waterproof material, the Local Lion backpack is built to last. It has a durable form factor that is capable of withstanding many harsh weather and temperature conditions.
Positive Reviews
Versatile
Breathable and comfortable
Convenient design
Highly durable
Affordable
Negative Reviews
Click here to No products found. on Amazon.
---
Is a Hydration Pack Worth Buying?
Yes.
Whether you're a professional or just out having fun, make sure to pick up a dirt bike hydration pack that will suite your style of riding. They're certainly worth having and one of the staples of riding gear.