Best KLX 140 Exhaust (FMF, Pro Circuit, Two Brothers, etc.) – Any Worth Buying?
BraapAcademy.com earns a small commission from qualifying purchases.
This does NOT cost you extra.
Choosing the right aftermarket exhaust for a KLX 140 dirt bike isn't as cut and dry as one might think. While there are plenty to choose from, if you're looking for the best exhaust system for your bike, you'll want to stick with the to top brands only.
After a ton of research, I've put together a list of what I consider to be the best KLX 140 exhaust systems, pipes, slip-ons, etc.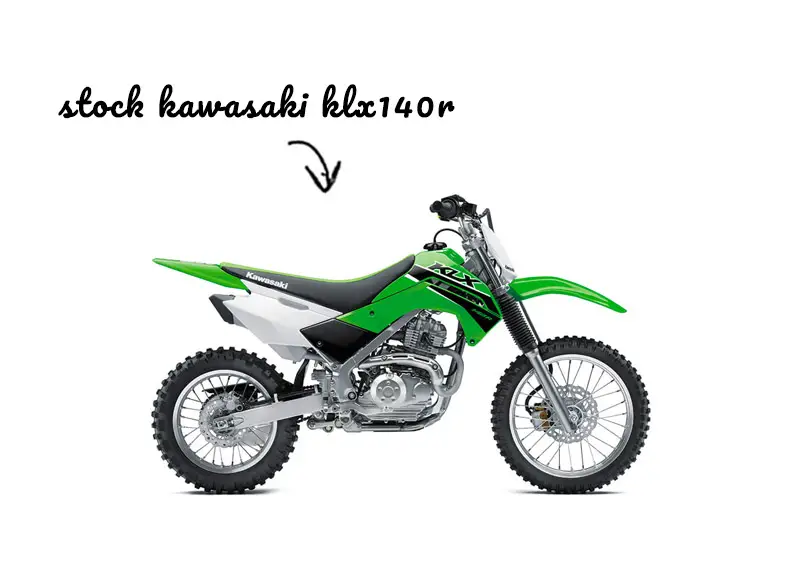 Having said that, it's ultimately up to you which one is the best exhaust for you and what you're looking to get out of it. For instance, some of the exhaust pipes offer a significant improvement to the low-end and midrange, while others are better for increasing the top-end power.
In the end, you have to decide which upgrade is most important to you. Do you want:
More all-around power
Faster top-end speed
Increased low-end pull
Improved throttle response
Unfortunately, you can't have the best of all worlds (overall, low-end, and top-end), but you can improve all aspects to some degree while focusing on just the top or bottom.
Below are the top KLX 140 exhaust upgrades. We'll take a look at what most people consider to be the best performance exhaust, the loudest, the quietest, and a decent cheap exhaust.
In the end, not everyone is looking to improve the KLX 140 top speed because some would prefer more low-end torque or midrange power. If that's the case with you, we've got a few different options below.
Whichever you choose, adding an aftermarket exhaust, airbox, and air filter are three of the best KLX140 mods that you can do to give these more power.
---
Yoshimura RS-9 Exhaust
Even among other brands that are known for their exhaust systems, Yoshimura is at the front of the pack, and for good reason.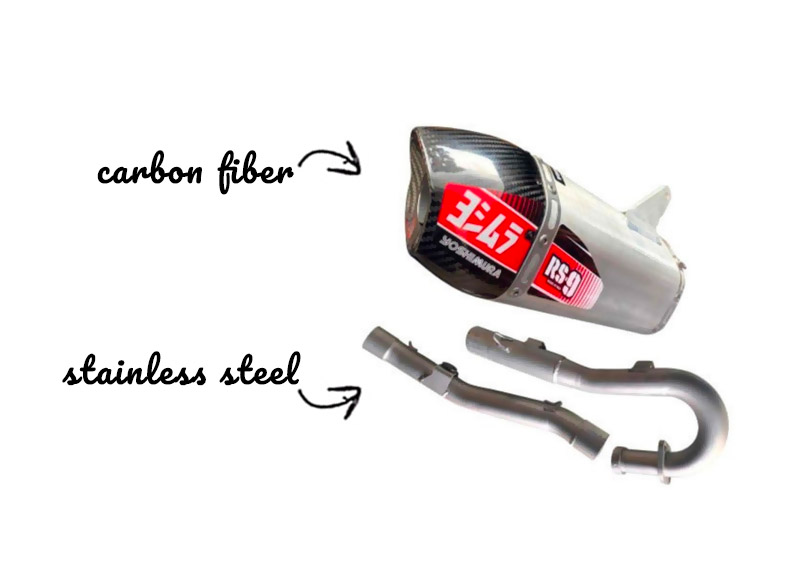 The KLX 140 Yoshimura exhaust comes from the original TRC exhaust, and it is engineered to provide more power, better power delivery, and crisp throttle response.
Overall, the Yoshimura KLX140 exhaust is my favorite. Not only does it make more power, it weighs less than stock and the sound is unmistakable (in a good way).
It's hard to go wrong with a Yoshimura exhaust system because they improve performance, look good, and sound good. If you do add one of these exhausts to your Kawasaki 140, you should notice your bike "come alive" as far as performance.
Features & Highlights
Unique diamond-shaped sleeve
Large core and increased muffler packing volume (not too loud)
Stainless steel cone end-cap
Stainless steel header and tail-pipe
Spark arrester included (USFS Approved)
Positive Reviews
Improved low-end
Quality build
Looks very nice
Weighs less than stock
Not overly loud
Improved throttle response
Easy installation
Good for stock 140cc
Works with big bore kit
Negative Reviews
Expensive
Other modifications needed after installing exhaust (new jetting)
Although choosing the best KLX 140 exhaust can be subjective, I still say that this one takes the top spot… at least for me. And no, this isn't too big of a surprise considering Yoshimura makes a great KLX 110 exhaust as well.
Not only are they built solid, but they also look and sound great, and they improve throttle response and increase power.
Click here to view pricing and read reviews on the yoshimura-rd.com.
---
Pro Circuit T6 Exhaust
As another one of the industry leaders in aftermarket exhausts, Pro Circuit has been producing some of the best exhausts for KLX140 dirt bikes available.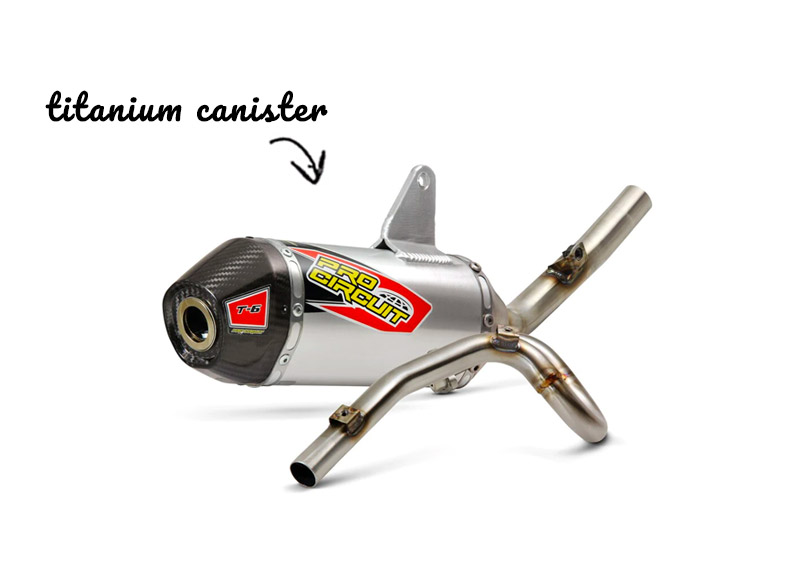 The Pro Circuit T-6 exhaust system is made from stainless steel and brushed aluminum, along with a carbon fiber end cap.
Not only do these Pro Circuit exhausts make the Kawasaki KLX 140 sound better, but they also improve performance.
Pro Circuit knows how to create a quality exhaust system. I've run one and loved it. They even make some of the best CRF50 exhaust systems that you can buy.
Unimportant (related) story: My first aftermarket exhaust ever was a Pro Circuit Works pipe on my 1999 YZ250. It was awesome. Unfortunately, after just a few weeks I found myself cased against a tree with my pipe pinned flat against it. It wasn't my proudest dirt biking moment (although not my worst).
Features & Highlights
Improves performance throughout RPMs
Titanium canister
Stainless steel header
Uniquely shaped muffler allows for more packing (quieter without loss of performance)
Carbon fiber end-cap
Removable USFS approved spark arrestor
Positive Reviews
Good sound (throaty tone)
Top-of-the-line quality
Improved performance throughout RPMs
Easy installation
Increased airflow
Improved backpressure
Negative Reviews
Not cheap
Need to re-jet for maximum performance
Can be a little loud with the insert removed
The Pro Circuit KLX140 exhaust is absolutely one of the best options out there. Again, determining the "best" option for you is subjective, so it just depends on what you're looking for.
Either way, Pro Circuit exhausts are very well-built, look killer, and sound great.
Click here to view pricing and read reviews on Faster-Minis.com.
---
FMF Powercore 4 Exhaust (Slip-On)
Surprisingly, I've never owned a bike that had an aftermarket FMF exhaust on it. However, I have been around plenty.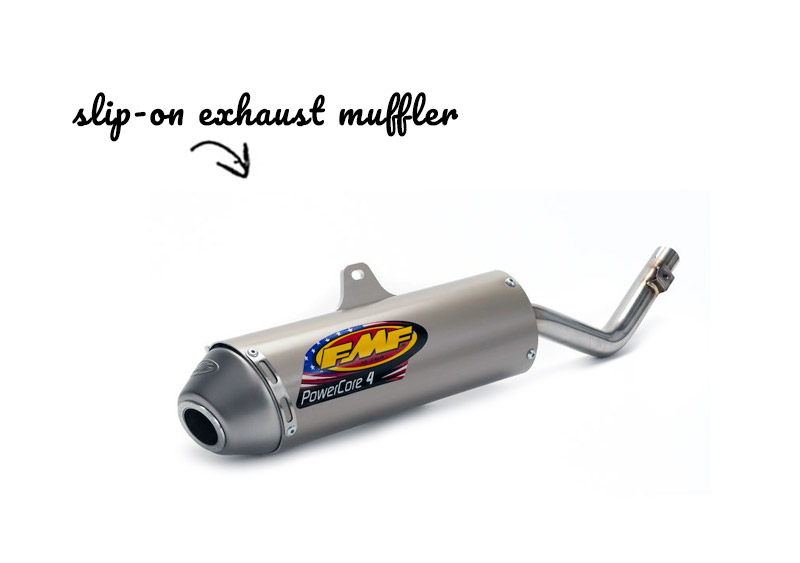 There is no doubt that FMF makes a good exhaust for dirt bikes. In fact, these may be one of the most popular brands for "average" riders like us (non-professional, just having-fun riders). The slip-on FMF exhaust for KLX 110 dirt bikes is no different.
The FMF pipes aren't just some of the best CRF 110 exhaust systems, they also make great slip-ons for Yamaha, and yes, Kawasaki. These KLX140 FMF mufflers sound great, deliver solid performance gains, and are less expensive than some of the others that deliver similar results.
In case you're wondering how this could be such a cheap KLX140 exhaust, it's because this is the muffler only. It does not come with the head pipe.
While just having a slip-on may not be quite as "cool" as getting a full exhaust system, it's much more affordable and still delivers improved performance and sound.
Features & Highlights
Easy to repack
Lightweight
Works well with a wide range of years
Increase in overall power and torque
Positive Reviews
Cheap price
Sounds great (deep and throaty)
Noticeable performance increase in low to mid
Improved throttle response
Quicker acceleration
High-quality build
Easy to install
Negative Reviews
Not a huge increase in horsepower
It does not include a new head pipe
If you're looking for an inexpensive option to improve your dirt bike's low-end and mid-range power, the FMF Powercore 4 slip-on is a solid option.
Click here No products found. on Amazon.
---
Other KLX140 Exhaust Systems
No, those are not all of the options. In fact, there are other exhaust systems that would also make for a great addition to your KLX140.
Here are some of the other popular brands:
Pro-Circuit (T4)

Best "bang for your bug" for a full system. It's fairly loud.

BBR Exhaust (D3)

Good for stock / removable insert for QUIET operation

Big Gun Evo

Cheap exhaust, better than stock, Impressive performance gains for the price.
B01FILFD3O
KLX140 Jetting for Aftermarket Exhaust
After installing an aftermarket exhaust on a KLX140, you're going to need to reject the carb to get the most out of the new pipe. (I recommend upgrading the KLX140 air filter as well so that you can re-jet for the pipe and filter at the same time)
To get the jetting dialed in on your KLX140, you'll want to make incremental adjustments and test after each one. More often than not, you're going to need to run your bike a little richer after adding a new pipe and/or air filter.
Therefore, you need to figure out if your bike is running rich or lean.
Once you have that figured out, you can adjust accordingly.
If it turns out that your bike is running a little lean after adding a new pipe (it most likely is), adjust the jetting one setting richer at a time and then test. Repeat until your bike reaches its peak performance.
Should you change jetting on your KLX 110?
Yes, rejetting your bike is a good idea.
Even if you have the same exhaust on the same bike as your buddy, you may need different settings or completely different jets for your KLX 140… okay, probably not different jets (although possible), but not too uncommon to need different settings.
Here are the main symptoms of needing to adjust the jetting on your carburetor:
Poor throttle response
Easily overheats
High idle
Bogs down
Spark plug fouling often
Hard to start
Loss of power
Sputters easily
How to know if you're jetting is too rich
If you are just now adding a new exhaust for your Kawasaki KLX 140 then chances are that your bike is NOT going to be running rich.
However, here are the symptoms of a dirt bike that is running too rich:
Hard to start (when hot)
Sputters or hesitates (at high RPMs)
Fouled spark plug (or fouls often)
Poor throttle response overall
Loss of power
How to know if you're jetting is too lean
If you're KLX110 is running too lean, here a few symptoms that you should notice:
Hard to start (when cold)
Cuts out/bogs down when trying to "snap" throttle
Idles high