Best Exhaust for KLX110 (FMF, Pro Circuit, Yoshi, etc.) – Is it Worth an Upgrade?
BraapAcademy.com earns a small commission from qualifying purchases.
This does NOT cost you extra.
There are quite a few options to choose from if you're looking to buy an aftermarket exhaust for a KLX110 dirt bike. However, it depends on what exactly you're after that determines which exhaust system is best for you and your dirt bike.
After doing LOTS of research for my next pit bike (hopefully sooner than later), I've put together what I consider to be a list of the best KLX110 exhaust systems, pipes, and upgrades.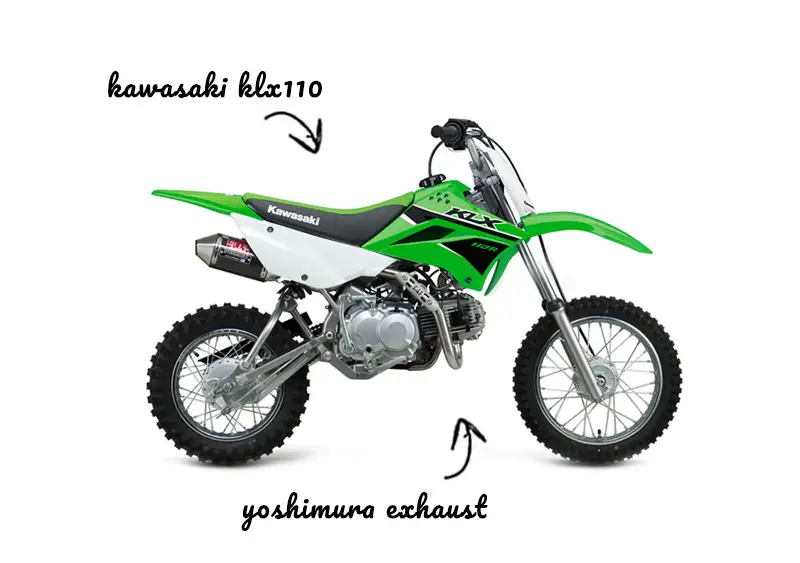 The best exhaust for KLX110 dirt bikes is determined by the performance you're looking for. You will need to decide if you want to add more low-end, midrange, or top-end power. Also, you have to remember that you may sacrifice a little top-end speed for low-end torque, and vice versa.
With that said, below are the top KLX110 exhaust systems for different situations. We'll look at what most people consider to be the overall "best" exhaust, and we'll also take a look at the highest-performing exhaust, the loudest, the quietest, and a decent budget-friendly option. In the end, not everyone is looking to improve the KLX110 top speedbecause some would prefer more low-end torque or midrange power.
NOTE: Please be aware of the differences and requirements between a stock KLX110 and a highly modded 110. For example, a stock motor will do better with one pipe, while a bored-out motor will do better with a completely different pipe. We'll look at that too.
---
Yoshimura RS-2 Exhaust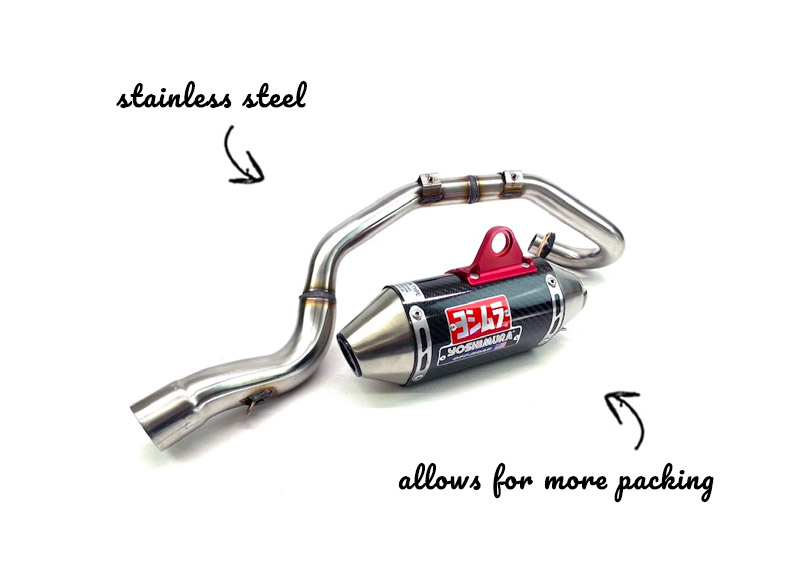 When it comes to exhaust systems for motorcycles, Yoshimura exhausts are almost always mentioned as one of the best options. Nothing different here. The KLX110 Yoshimura RS2 exhaust comes from the original TRC exhaust, and it is engineered to provide more power and better power delivery.
Overall, the Yoshimura KLX110 exhaust is my favorite, plus it is well-built and looks great. Having said that, it isn't necessarily the "best" pipe for you. If you're not going to do a big bore and/or upgrade the intake, you may want to consider another pipe.
It's hard to go wrong with this exhaust pipe because it improves the performance of a completely stock KLX110, and it also really helps the bike to come alive after doing a few other mods. Either way, it performs well, looks amazing, and sounds great.
Features & Highlights
Unique diamond-shaped sleeve
Large core and increased muffler packing volume (not too loud)
Stainless steel cone end-cap
Stainless steel header and tail-pipe
Spark arrester included (USFS Approved)
Positive Reviews
Good low-end snap
Quality build
Looks very nice
Lightweight
Not too loud
Improved throttle response
Easy to install
Works with most big-bore kits
Negative Reviews
Fairly expensive
Recommended gasket (mentioned in installation instructions) is not included
Other modifications recommended with this pipe (new jetting)
Again, this is my top choice. While there may not technically be a best KLX110 exhaust, this is the one that I'm considering the best overall. Not only are these well-built, but they also look great and sound great, and they improve the throttle response as well as the overall power delivery from the 110cc dirt bike.
Click here to view pricing and read reviews on Revzilla.
---
Pro Circuit T6 Exhaust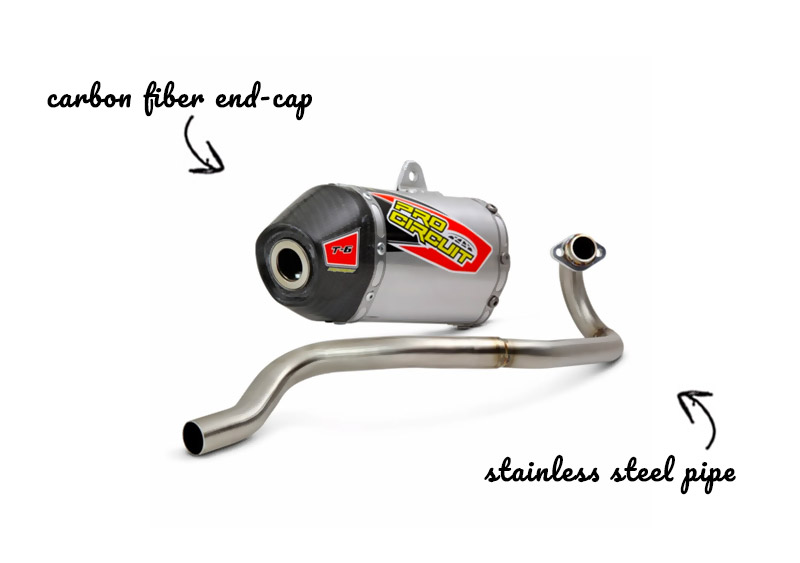 As one of the true leaders in aftermarket exhausts, Pro Circuit delivers a solid exhaust for KLX110 dirt bikes. The Pro Circuit T-6 exhaust system includes a stainless steel head pipe and mid pipe, a brushed aluminum canister, and a carbon fiber end cap.
Not only do these aftermarket pipes make the Kawasaki KLX110 sound better, but they also look great too. Pro Circuit knows how to create an exhaust system. I had a Pro Circuit Works pipe on my YZ250 and it was quite nice. Sadly, it only took me a few weeks to smash it flat against a tree. Not my proudest dirt biking moment… but not my worst either.
Features & Highlights
Improves overall performance
Uniquely shaped muffler allows for more packing (quieter without loss of performance)
Includes removable USFS-approved spark arrestor
Stainless steel construction throughout the head pipe
Brushed aluminum canister
Carbon fiber end-cap
Positive Reviews
Nice sound (good deep "braap" tone)
Top-of-the-line quality
Improved performance throughout the RPM range
Easy to install (although some disagree)
Better airflow
Improved backpressure
Negative Reviews
Not easy to install (although… see above for the exact opposite!)
Not cheap
Need to re-jet for maximum performance
Not ideal for a KLX110 with a big bore kit
Overall, the Pro Circuit KLX110 exhaust is one of the best options. Whether it is actually the "best" option for you, depends on what you're looking for. As mentioned, Pro Circuit exhausts are very well-built, look killer, and sound great.
Click here to view pricing and read reviews on Faster Minis.
---
FMF Powercore 4 Exhaust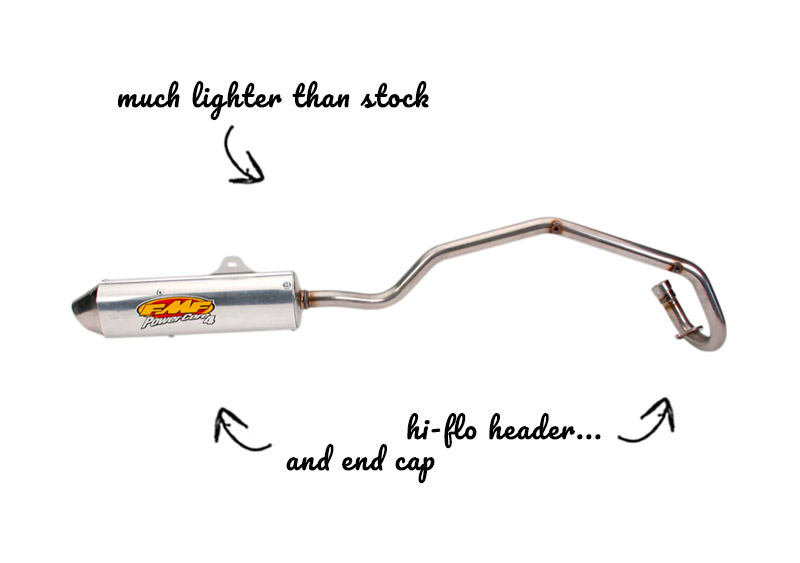 Although I've never personally owned a dirt bike with an FMF exhaust, I have been around plenty. They are great, no doubt about it. The Flying Machine Factory (FMF) brand is basically synonymous with high-performance exhausts for dirt bikes, and this FMF exhaust for KLX 110 dirt bikes is no different.
Despite being a fairly cheap KLX110 exhaust system, the FMF 4 exhaust delivers in a big way. It may not have the sophisticated looks of a Yoshi pipe, or the "works" look of the Pro Circuit, but it still sounds killer and works great.
Features & Highlights
Complete exhaust system (header and muffler)
Easy to repack
Lightweight
Works well with a wide range of years
Positive Reviews
Great price
Great sound (deep and throaty)
Improved power performance throughout RPM range
Improved throttle response
Quicker acceleration
Quality build from a trusted brand
Lightweight
Negative Reviews
Not super easy to install (although some say that it is)
Re-jetting is recommended (but not required)
Not cheap for the amount of HP increase
If you're looking for an inexpensive option to improve your dirt bike's low-end and mid-range power, the FMF Powercore 4 is a solid option.
Click here to No products found. on Amazon.
---
Other KLX110 Exhaust Systems
As you probably know, there are several other aftermarket exhausts for Kawasaki KLX 110 dirt bikes. Here are some of the other popular brands:
Dr. D
BBR

Good for stock / not good for big Big-Bore kits

Rocket Chubby

Unique/different option that sounds and looks great

Two Brothers M6

Good price, and good sound. I had one on my YZ426F and it sounded amazing!

Piranha T4

Cheap exhaust, better performance than stock

Bill's Pipes RE 13

Nice power gains throughout

Big Gun Evo

Cheap exhaust, better than stock
KLX110 Jetting for Aftermarket Exhaust
You might think that installing your aftermarket exhaust on your Kawasaki KLX 110 is all you'd have to do after you buy it, but that's not necessarily true. For most of these exhaust pipes, you'll also want to re-jet your bike, and probably upgrade your dirt bike air filter.
Unfortunately, your location, more specifically – your altitude, is a contributing factor to which jets you should run. Because of this, the exact jets for your KLX 110 are not necessarily going to be the same as somebody else's.
In order to get the best jetting for your KLX110, you will have to go at it in baby steps. Basically, you're going to want to assess how your bike is running currently.
Is it running a little rich?
Maybe it's running a little lean?
Once you figure out whether it's running rich or lean (see below for how-to identify) you can adjust accordingly.
You'll want to go up or down gradually, step-by-step, to determine what's best for your bike. For example, if you notice your bike is running a little lean after adding a new pipe, simply adjust the jetting one setting richer at a time. Do this until your bike reaches its peak performance.
Should you change jetting on your KLX 110?
Yes, you should "play" with the jetting on your bike to get it dialed in as best as possible. Even if you have the same bike as your buddy, you may need different settings or completely different jets for your KLX 110.
But, before you start "playing" with the jetting on your dirt bike, here are a few things to look out for:
Poor throttle response (especially if after a new exhaust)
Overheats easily
Idles high
Bogs down
Fouled spark plug (or fouls often)
Hard to start
Loss of power
Sputters easily (especially at low RPMs)
How to know if you're jetting is too rich
Whether you're changing the jets on your Kawasaki KLX 110 or not, here are a few symptoms of a dirt bike that is running too rich:
Hard to start when hot
Sputters or hesitates at high RPMs
Poor response on the top-end
Fouled spark plug (or fouls often)
Poor throttle response
Loss of power
How to know if you're jetting is too lean
If you're KLX110 is running too lean, here a few symptoms that you should notice:
Hard to start when cold
Bogs down when trying to "snap" the throttle
Idles high