Kawasaki KLX 110 Review (Top Speed, Height, Horsepower, etc.) – Worth Buying?
BraapAcademy.com earns a small commission from qualifying purchases.
This does NOT cost you extra.
Are you looking to buy a Kawasaki KLX110 or do you already have one and you'd like some more info on it? Yes/No? Either way, here's a full Kawasaki KLX 110 review that will cover all of the important specs and need-to-knows.
We'll not only look at things like the seat height, top speed, horsepower (and more), we'll also go over the maintenance and other positives and negatives that come along with owning and riding one of this legendary dirt bikes.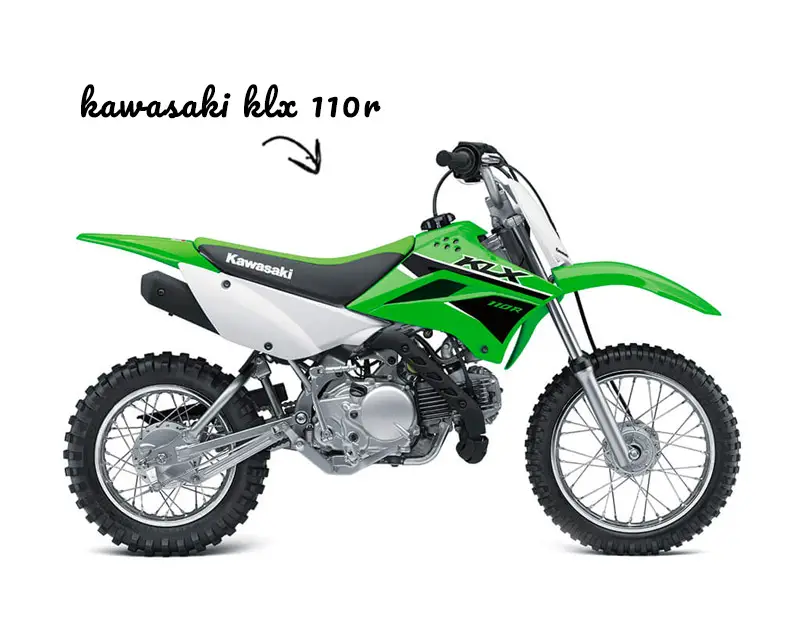 The Kawasaki KLX 110 really is a great dirt bike. However, it's not the right bike for everyone, or every type of riding. So… we'll look at the options, why it may or may not be a good fit for you, and what you need to know about buying (and owning) one of these dirt bikes.
---
What is a Kawasaki KLX 110?
The Kawasaki KLX 110 is a 112cc 4 stroke dirt bike made for beginners and trail riding.
Kawasaki first started making these in 2002 as a way to scoop up some of the market that the Honda 100cc dirt bike (the XR100) basically had a Monopoly on. Once this beginner-friendly dirt bike finally gained popularity, it formed a cult-like following for riders of all ages and sizes.
For adults, the KLX110 is great for cruising around your property, racing your buddies on a mini-moto track, and for using as one of the best pit bikes around. But that's not all… it's also great for young riders. Go figure, huh!
KLX 110R versus KLX 110R L
A Kawasaki KLX 110 is a good beginner dirt bike. In fact, Kawasaki has two KLX 110 models to choose from, making it even easier to get the right sizing. The two different models are the KLX110R and the KLX110R L.
The main differences between the two are in sizing, suspension, and a manual clutch.
The smaller KLX110R has a seat height of 26.8 inches while the taller KLX110R L has a seat height of 28.7 inches. The taller "L" model also has more ground clearance, longer suspension travel, bigger wheels/tires, and it comes with a manual clutch.
Basically, the KLX 110R L is for larger riders. This includes an adult using it as a pit bike, a beginner rider that isn't quite ready for a "bigger" dirt bike, or a tall child.
Who Should Buy?
Overall, the Kawasaki KLX 110 is a great little (or not so little "L" model) dirt bike and is one of the best beginner dirt bikes out there. If you're looking for a good bike to learn on (and you're sized and aged appropriately) this is a solid choice.
Depending on your personality and age (or your child's) this could be a great dirt bike to learn on.
My first dirt bike was a 1970's Honda XL175… not a good bike to learn on. The suspension was terrible for off road and the bike was just not set up for learning how to ride trails. Eventually, I moved on to riding my dad's 1980's XR200. That was MUCH easier to ride than the older XL.
What's my point? The Kawasaki KLX 110 is actually sized, geared, and powered for easy riding and learning. It's a great choice for young riders and a good alternative to a Honda CRF110F or a Yamaha TTR125.
History
As mentioned, the Kawasaki KLX 110 history dates back to 2002 when they were first available to buy. Throughout the years, there haven't been many changes, except for a major overhaul in 2010.
In 2010 Kawasaki released a completely redesigned KLX 110 as well as an additional, taller, option. The two new bikes where then labeled as a Kawasaki KLX110R and a Kawasaki KLX110R L. The "L" model has more suspension travel, a taller seat height, and a manual clutch.
Since the 2010 redesign, the KLX 110 dirt bikes are some of the fastest 110cc bikes out there.
Kawasaki KLX 110 Specs
Here are the Kawasaki KLX 110R specifications that I grabbed from the Kawasaki website:
Model
KLX110R
Engine Type
4-stroke single, SOHC, air-cooled
Bore and Stroke
53.0 x 50.6mm
Compression Ratio
9.5:1
Fuel System
18mm Keihin carburetor and screw type throttle limiter on grip housing
Ignition
DC-CDI
Transmission
4-speed, return shift, automatic centrifugal and wet, multi-disc clutch
Final Drive
Chain
Suspension
Front: 30mm hydraulic telescopic fork (4.3 inches of travel)
Rear: Swingarm with single hydraulic shock (4.3 inches of travel)
Brakes
Front: 90mm mechanical drum (cable actuated)
Rear: 110mm mechanical drum (rod actuated)
Tires
Front: 2.50×14
Rear: 3.00×12
Wheelbase
42.3 inches (1074mm)
Rake (Caster Angle)
24.8°
Trail
2 inches (50mm)
Seat Height
26.8 inches (680mm)
Ground Clearance
8.5 inches (216mm)
Curb Weight
167.5 pounds (76kg)
Fuel Capacity
1 gallon
Color
Lime Green
I've picked out the important KLX 110 specs that most of us are looking for, and added a few of the missing ones here:
Manufacturer: Kawasaki
Model Name: KLX110, KLX110R, KLX 110, KLX 110R
Common Name: Kawasaki KLX 110
Dirt Bike Type: Offroad, Trail dirt bike
Years Made: 2002-2023 (present)
Seat Height: 26.8"
Wet Weight: 167.5 lbs. (all fuel, fluids, etc.)
Top Speed: 45-50 mph
Horsepower: 6 hp (from factory)
---
KLX 110cc Engine & Transmission
These Kawasaki dirt bikes are very-well-known for being durable, dependable, and easy to maintain. In addition, these 110cc dirt bikes are easy to ride and great to learn on.
Even though the KLX dirt bikes aren't the fastest or best jumping Kawasaki dirt bikes, they more than hold their own in this class.
Horsepower
A stock Kawasaki KLX 110 has 6 horsepower from the factory.
Yes, LOL… 6 HP. And according to this dyno video, it's even less to the wheel.

You're wondering if that is enough, right? Surprisingly, it is enough.
These small dirt bikes are not designed to produce impressive horsepower numbers. Instead, they're designed to produce useable horsepower that is easy to roll-on and control.
The 110 KLX definitely won't send the same roost as some of the other motocross dirt bikes, but the roll-on the power and control this bike offers makes for an enjoyable ride.
In fact, it's this type of power and delivery that will help beginner riders to be confident and fast on trails. And if you're looking to buy one of these to use a pit bike, there are plenty of modifications that will significantly boost the power from these 110cc dirt bikes.
Top Speed
Okay, so how fast does a KLX 110 go? A Kawasaki KLX 110 top speed is about 50 mph.
Is 50 mph the maximum speed a KLX 110 can go? Nope! One of the easiest and quickest ways to make a Kawasaki 110 KLX go faster is by altering the gearing. Changing a dirt bike's gearing is as simple as replacing the rear sprocket, front sprocket, or both… checkout the front and rear sprocket gear ratio chart that I put together for details on gearing.
Just remember, the main draw back to increasing a dirt bike's top speed (by only changing the gearing) is that you will lose low-end power. It isn't isn't usually worth the sacrificing power on one of these smaller dirt bikes.
Long-story-short, if a stock Kawasaki KLX 110 motorcycle has stock gearing and no mods done to it, it should go about 50 MPH. That's plenty fast for a small trail bike.
Engine Specs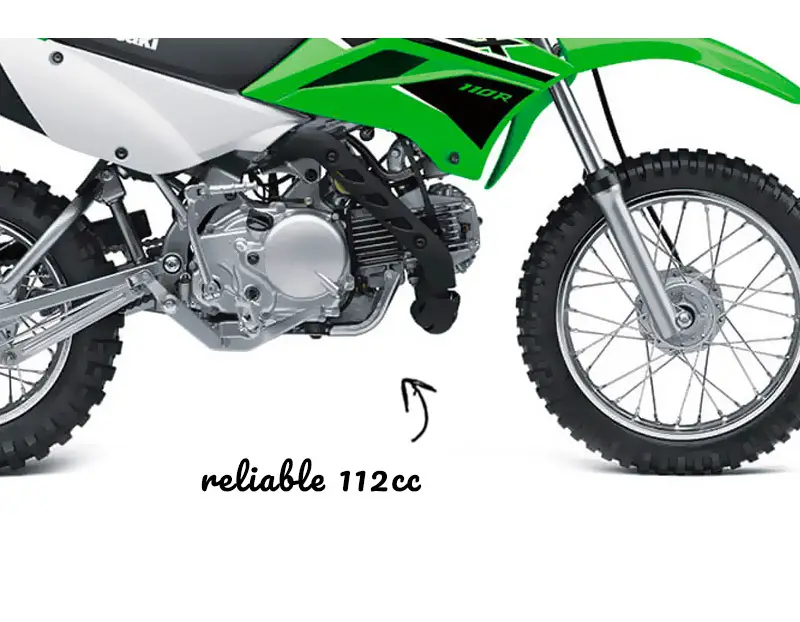 Engine Size: 112cc (considered a 110cc)
Horsepower: 6 HP
Engine Type: 4-stroke single, SOHC, air-cooled

Transmission: 4-speed (automatic or manual clutch)
Starting: Electric start and Kick start
Cooling System: Air-cooled
Fuel Capacity: 1 Gallon
Fuel Type: Petrol / Gasoline
Supply: Carburetor
What motor oil does a Kawasaki KLX 110 use? Kawasaki Performance 4-Stroke Oil – 10Wx40
Oil Capacity:
0.9 L (1.0 US qt) (When filter is not removed)
1.0 L (1.1 US qt) (When filter is removed)
1.1 L (1.2 US qt) (When engine is completely dry)
Maintenance
The minimal Kawasaki KLX110R dirt bike maintenance schedule is one of the bike's better selling points. These 110cc trail bikes don't need anywhere near as much maintenance as the average MX dirt bike.
Here is the maintenance list that I took from the owner's manual. This will at least give us a clear view of what the maintenance requirements for this dirt bike are.
How much maintenance does a KLX 110 need?
Spark plug – clean and inspect
Clutch plates – inspect
Clutch – inspect
Valve clearance – inspect
Air cleaner element – clean
Idle speed – inspect
Throttle cable – inspect and adjust
Fuel tap – clean
Spark arrester – clean
Engine sprocket – inspect
Fuel hose, connections – inspect
Brake – adjust
Brake lining wear – inspect
Brake camshaft – lubricate
Spoke tightness and rim runout – inspect
Drive chain – inspect and adjust
Drive chain – lubricate
Drive chain wear – inspect
Drive chain guide and slipper – inspect
Front fork – clean and inspect
Front fork oil – inspect
Nuts, bolts, fasteners – inspect
Steering play – inspect
Steering stem bearing – lubricate
Rear sprocket – inspect
Battery – inspect
Battery terminal – inspect
General lubrication – perform
Side stand – inspect
Wheel bearing – inspect
Swingarm pivots – inspect
Rear shock absorber – inspect
Frame – inspect
Wheels/tires – inspect
Cable – inspect
Looks like a lot, doesn't it!? It's actually a lot less than it seems.
Every dirt bike comes with an owner's manual that will give you ALL of the maintenance to-dos. What's nice about these KLX 110's is that the frequency in which you're expected to perform these inspections and adjustments are MUCH less frequent than a race bike.
For example, most of the items listed above are required after the initial (first) 5 hours of riding. After that, the schedule calls for most of the items to be inspected and/or adjusted after every 50 hours of riding. By contrast, my Honda CRF450R requires most of these items to be inspected and/or adjusted after every 2.5 hours or riding. Quite a difference!
---
Kawasaki KLX 110R Handling
The KLX110R is good, but not the absolute "best" at everything. It's suspension and handling is somewhere in the middle of great and not good.
Even though this 110 Kawasaki dirt bike may not be the "best" handling motorcycle on the market today, there really aren't many glaring negatives… and it really is a good dirt bike for beginners.
What it does have going for it is the low center of gravity and low seat height. This makes the KLX110 one of the best small dirt bikes for kids since it's easy to turn, control, and maneuver.
In most cases, kids will learn to ride a smaller bike, some use dirt bike training wheels to make it easier, some don't. Either way, once a child graduates from a 50cc (or similar), this 110cc is a great next step.
Weight
The Kawasaki KLX 110 weight is 167.5 pounds wet, while the "dry" weight is actually a bit less. In the end though, you really only need to focus on one weight (dry or wet) when comparing to other dirt bikes.
Rest assured… the KLX's 167 (and a half) lbs "wet" weight is quite low.
What is wet weight on a dirt bike?
The difference between "wet weight" and "dry weight" have to do with the "fluids" in the dirt bike… mostly the fuel.
This means that the "dry weight" of a dirt bike does not take into account the added weight of a full tank of fuel. Alternatively, the "wet weight" of a dirt bike does take the fuel and oils into consideration.
Either way, it doesn't really matter which weight you're using to compare dirt bikes. Just make sure to compare dry-to-dry, or wet-to-wet.
What's the KLX 110 weight limit?
The Kawasaki KLX110R weight limit is between 115-155 lbs.
If you weigh more than this, you can still ride the bike but it will not perform nearly as well. The first things you'll want to do (other than beef up the engine) is upgrade the suspension. A heavier rider will find the suspension too soft and it will bottom out all over the place.
Seat Height
The Kawasaki KLX 110R seat height measures 26.8 inches off the ground… making this the perfect size dirt bike for a 12 year old, or anyone else who "should" be (according to the statistics) 4'10" – 5′ tall.
If you're taller, the KLX 110R-L is the taller option, with a seat height of 28.7 inches off of the ground.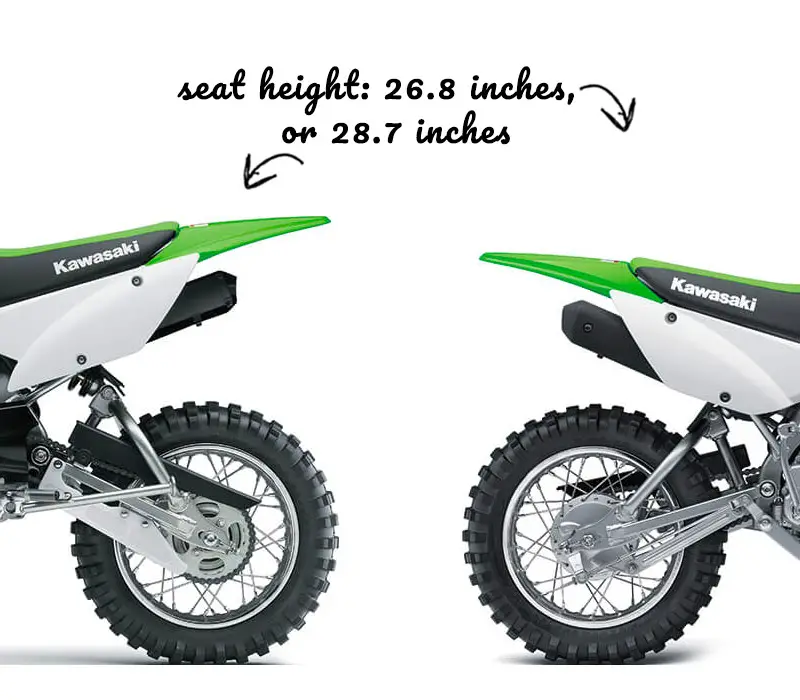 As long as you're buying a new KLX110 (R or RL), or the previous owner didn't make and adjustments to a used one, this will give you an idea on what size rider would fit these dirt bikes.
NOTE: The low seat height, mild powerband, and durable engine on this dirt bike makes it a favorite for many new riders. If you're an adult and are looking for a fun pit bike, these are great. I'd recommend putting on some new enduro tires if you're going to ride it around the property as well. Pure MX tires don't last nearly as long.
Suspension
Depending on your weight (rather, the weight of the rider) and the type of riding you do (or want to do), the KLX 110 suspension is okay.
This dirt bike is designed for light(er than most) humans and again, its certainly not one of Kawasaki's motocross dirt bikes. Instead, the suspension is soft for an adult, but it's great for a small, young rider who is learning the basics.
A soft suspension works great and is forgiving for slow speeds and non-aggressive riding. On the other hand, these softer, trail-riding setups are not anywhere near as effective for "pounding" whoops, clearing doubles, or many other types of aggressive riding that racing bikes like the CRF150R suspension have to offer.
KLX 110R Model:
Front suspension: 30mm hydraulic telescopic fork; 4.3″ travel
Rear suspension: Swingarm with single hydraulic shock; 4.3″ travel
KLX 110R L Model:
Front suspension: 30mm hydraulic telescopic fork; 5.5″ travel
Rear suspension: Swingarm with single hydraulic shock; 5.2″ travel
If you're looking for a small dirt bike that you can also jump and rip around on the track, this will work, but it will take a few mods. Of course, it'll take a few more expensive mods to make this an adult-ready, mini-moto track bike than it will to make race-ready for a child. But either way, it can be done.
Handling Specs
Chasis
Frame Type: Backbone frame, high-tensile steel
Brakes
Front Brake: 90mm mechanical drum, cable actuated
Rear Brake: 110mm mechanical drum, rod actuated
Wheels and Tires (KLX 110R model)
Front Tire Size: 2.50×14
Rear Tire Size: 3.00×12
---
Is the Kawasaki 110 a Good Dirt Bike?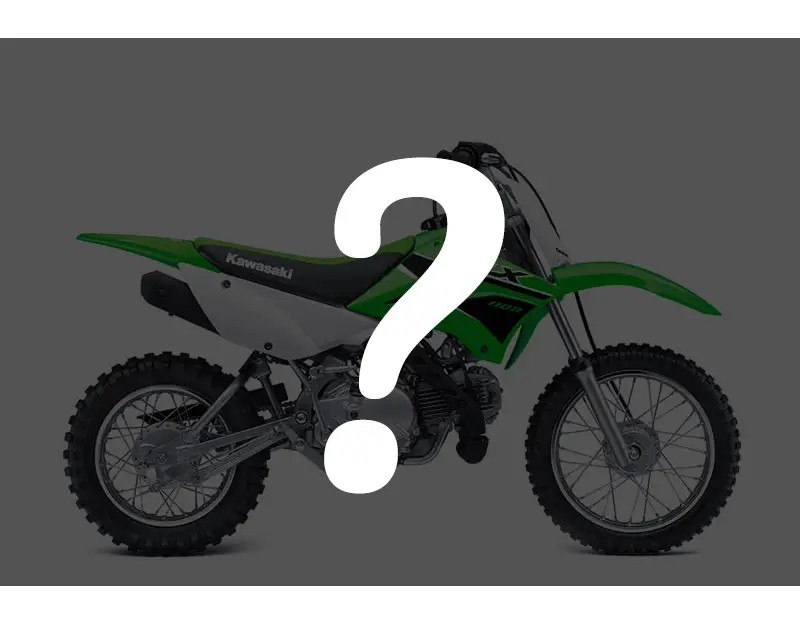 Yes, the Kawasaki 110 is a good dirt bike to buy, own, and ride. Of course, it isn't the right pick for everyone, so here is a quick review of reasons one would (or wouldn't) want to buy one.
Considering buying one if:
You want a good dirt bike to learn on and take trail dirt riding
It's a good dirt bike for kids 4'10 to about 5′ tall (KLX 110R)
You want a small bike that's a little taller (KLX 110R L)
You're not looking for a motocross bike
You'd like a killer pit bike (after a few mods)
A buddy of yours is selling you one and… why not!?
Pass on buying one if:
You need a motocross, track-ready dirt bike for a kid
Finding one in good condition can be tough… hold out for a nice one
Not good for adults who aren't looking to do a few mods
Positive Reviews
Okay, overall the Kawasaki 110 KLX is a great dirt bike for a wide-range of riders. Here are a few of the main (good) things this bike is known for:
Proven reliability
Beginner-friendly power and handling
Good power and torque for beginner riders
Simple to work on and maintain
Smooth, controllable power from the Kawasaki 110cc
Electric start
Negative Reviews
As touched on already, there are a few things that some riders would like to change, even though those are also the same things that are appealing to other riders. Here are a few of the (bad) things about this dirt bike:
Suspension isn't good for big or aggressive riders
Many used KLX 110 dirt bikes have been neglected (need minimal maintenance)
Hard to find newer models for sale
Famous for being pit bikes… but need mods to be good ones
Buyers Guide (Best Year, Pricing, etc.)
I hope this Kawasaki KLX 110 review has provided you the info you were looking for.
Now that you've done your research, where do you find one for sale? You can purchase a brand new model from your local dealer, or you can most-likely find a used KLX for sale online. Whenever looking to buy used dirt bike (a Kawasaki KLX 110R, in this case) I stick to these three options:
Kawasaki Dealer (near you)
Yes, there are many more places to find a used 110 Kawasaki KLX for sale, but I like checking those first. You really should see a dirt bike in person, start it up, ride it, and inspect it before buying it.
What is the best year for a Kawasaki KLX 110 dirt bike?
Honestly, any year is a good year because they're all so similar, but a newer one does have it's advantages.
With the exception of the main redesign in 2010, Kawasaki hasn't needed to make many changes to these bikes throughout the years. After all, why "fix" something if it isn't broken. These are popular just the way they are and they're quite affordable for most.
In the end, if you can find a 2010 or newer, that would be ideal. After that, you're basically just looking for overall condition of the bike and trying to read the previous owner to figure out whether the bike has been well kept.
How much does a new Kawasaki KLX 110R cost?
A brand new 2023 Kawasaki KLX 110R costs $2,649, while the KLX 110R L is priced at $2,849 (plus misc. charges). Here's the pricing snippet I grabbed straight from the Kawasaki website:
MSRP:$2,649 ($2,849 for the "L" model)
Destination Charge: $245
Freight and Materials Surcharge: $200
Dealer sets the actual destination charge, your price may vary.
Specifications and pricing are subject to change.
How much is a used Kawasaki KLX 110 worth?
In order to get an accurate value for a used 110 Kawasaki KLX, all we have to do is a little research.
First, we can check Kelley Blue Book and see that it lists a 2020 Kawasaki KLX 110 value at $2,335 for "Typical Listing Price" and $1,570 for the "Trade-In Value" price.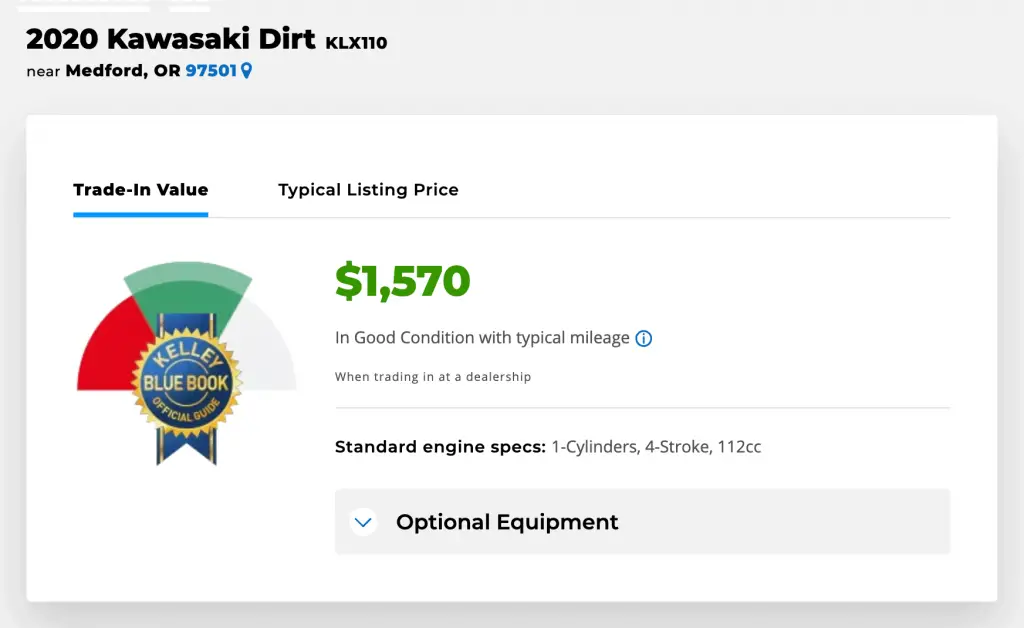 Now that we have that price range, we can do a quick search on Facebook Marketplace to compare. With that, I was able to find a handful of for sale. Unfortunately, none were within 200 miles of me, so I'll be using examples that are out-of-state… but still give us an idea.
Here are the used KLX 110 dirt bikes that I found for sale on Marketplace:
2002 – listed for $4,500 (fully built for adults)
2004 – $1,800 (needs rear brakes)
2008 – $2,500 (needs tlc but has 143 big bore kit)
2016 – $2,800 (looks new, <10 hours on it)
2019 – $3,000 (also looks new and has less than 6 hours on it)
2021 – $4,000 (brand new / road princess)
2022 – $3,500 (very good deal. No issues with bike)
I also decided to check Craigslist to see how the price range compared. I was only able to find one of these dirt bikes for sale. It was a 2017 Kawasaki 110R L (taller version) that was listed for $3,600, and it looked nice. Here's the ad:
2017 KLX 110L – $3,600

100 main jet
Tb air filter
Tb cam/valve covers
Mika metals high bars
ASV clutch lever
DNM wide pegs
DNM 250lb rear shock
Heavy duty front springs
BBR tall seat
Faster minis sprocket guard
Tusk heavy duty clutch
Two bros chain slider
Dr.D exhaust
Pax shifter
UFO black plastics
Powder coated back fender brace
Is the Kelley Blue Book dirt bike pricing accurate?
KBB is usually on the low end, and that appears to be the case here too. As we can see from the price ranges that these bikes were listed between $1,800-$4,500.
But, when you take into account that the two cheapest bikes on the list both need a little work, we can see that there aren't really any available for $2,500 or less.
An accurate value for a used KLX 110 falls somewhere between $2,500 -$4,500, depending on the condition and any aftermarket parts. If I was looking to buy one for my kids, the 2016 KLX 110R that I found on Marketplace for $2,800 would be the one that I would check out first.
Here's the ad for it:
"This is my Kawasaki klx110 I'm selling because I really don't use it because I don't have time to go out. LOWEST $2500 SEND OFFERS Original owner (title in hand) Driven less than 10 hours New Carburetor and battery."
It seems like a very nice, stock dirt bike. Alternatively, if I was going to buy one of these for myself, I'd probably hold out for one that had quite a few of the mods done to it already. Perhaps the 2017 KLX110R L that was listed on Craigslist would be a good one.