How to Fix a Sticky Throttle on a Dirt Bike – Cheap, Easy, and Fast Solution
BraapAcademy.com earns a small commission from qualifying purchases.
This does NOT cost you extra.
I've ridden more than one dirt bike that had a sticky throttle – it's not fun.
There are quite a few different reasons your throttle could be sticking. If you went down and your handlebars got jammed, got dirt or mud in there, or maybe… you've never cleaned out the throttle tub or handlebar.
Just a few weeks ago my father-in-law picked up a used dirt bike. He got a 1996 XR650. Pretty darn cool bike, actually.
But, within 2.7 seconds (ish) of riding it, I could tell that the throttle needed some attention.
It had a definite and annoying stick at the start. Not only was the dirt bike throttle sticking, it was not snapping back and it seemed like the throttle wouldn't return. Although it would, eventually.
And forget "rolling it on" slow and smooth. Nope. You had to crank that thing to break it free.
And you know what that means. Legs flying off to the side… popping a wheelie (on accident)… looking and feeling like a complete noob. Thankfully, the throttle wasn't sticking wide open.
Either way, not cool.
The good news? I had a hunch as to why the throttle was ticking in the first place.
So, you might understand my excitement when I was able to show my father-in-law a thing or two on his dirt bike. Usually he's the one schooling me on stuff, so this was a nice change.
What Causes the Throttle to Stick?
I've fixed a few stuck throttles over the years. It doesn't matter if you're trying to fix a four stroke or a two stoke, it's usually because of the same reasons.
A throttle tube with some, or all, of the following is what usually makes your throttle stick.
I've crashed so many times that I've filled a few throttle tubes with dirt and mud – leaving residue and burrs that contribute to a sticky throttle.
I knew just what to do.
Fixing a Sticky Throttle
Don't worry. If you've ever wondered how to fix a sticky throttle on a a dirt bike, this is surprisingly easy.
All you need are some shop towels, a Scotch-Brite Pad, a light grease (WD-40 works), and a few wrenches.
A good torque wrench is recommend in the owner's manual for a few of the bolts, but honestly, probably not necessary.
Remove Throttle Tube
The first thing I recommend is taking the throttle tube off and cleaning the handlebar and inside of the throttle tube.
In order to remove the throttle tube you'll need to remove the two bolts that clamp your throttle tube to the handlebar, remove the throttle cables from the pulley and attachment (mine is the white piece in the second picture below) and then slide the throttle tube off of the handlebar.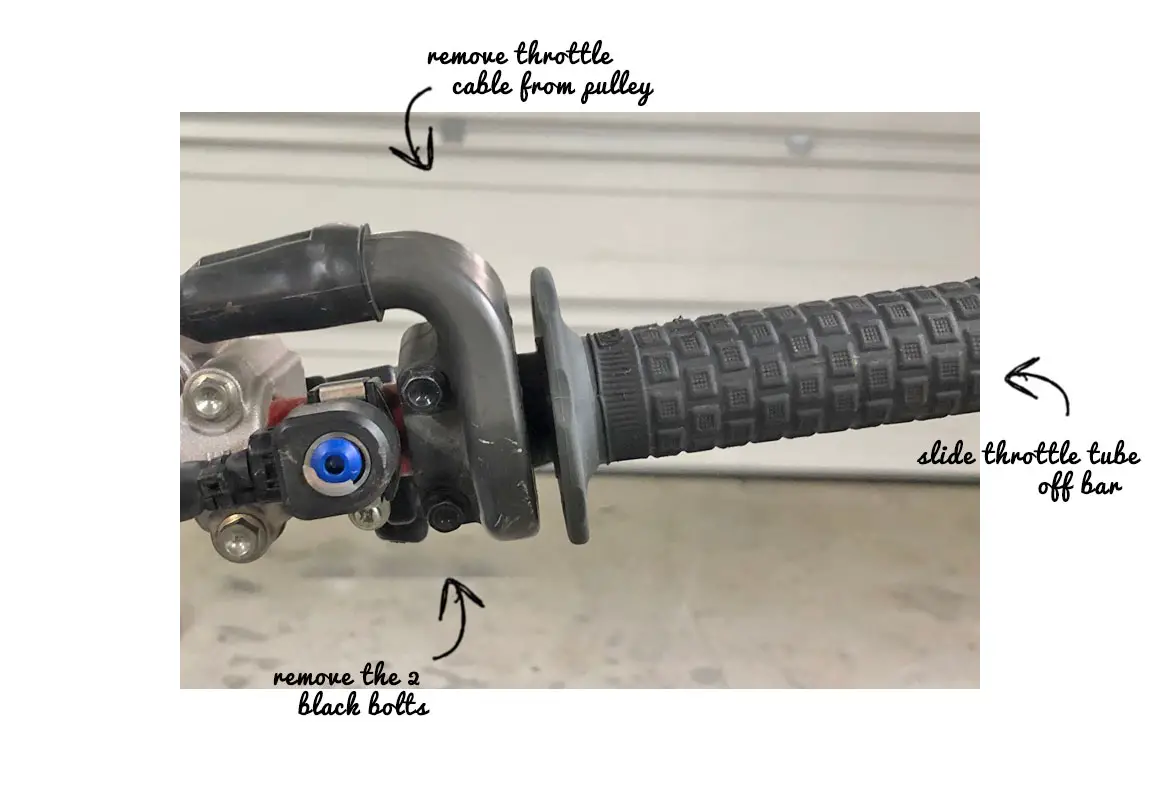 Wipe Down Handlebar and Throttle Tube
Once you've removed the throttle tube off of the handlebar, you'll want to wipe everything down.
I like to wipe off the handlebar with a shop towel and then I like to wrap a towel around something and stick it in the throttle tube and wipe the inside of the throttle tube down.
Inspect the tube for any cracks and if you see any, you'll need to replace it.
Scotch-Brite Handlebar and Throttle Tube
After wiping off any grease, dirt and debris from the handlebar and out of the throttle tube, you'll need to grab a Scotch-Brite Pad.
Wipe down the handlebar and inside of the throttle tube with the Scotch-Brite Pad to remove any burrs, sand, chunks, etc.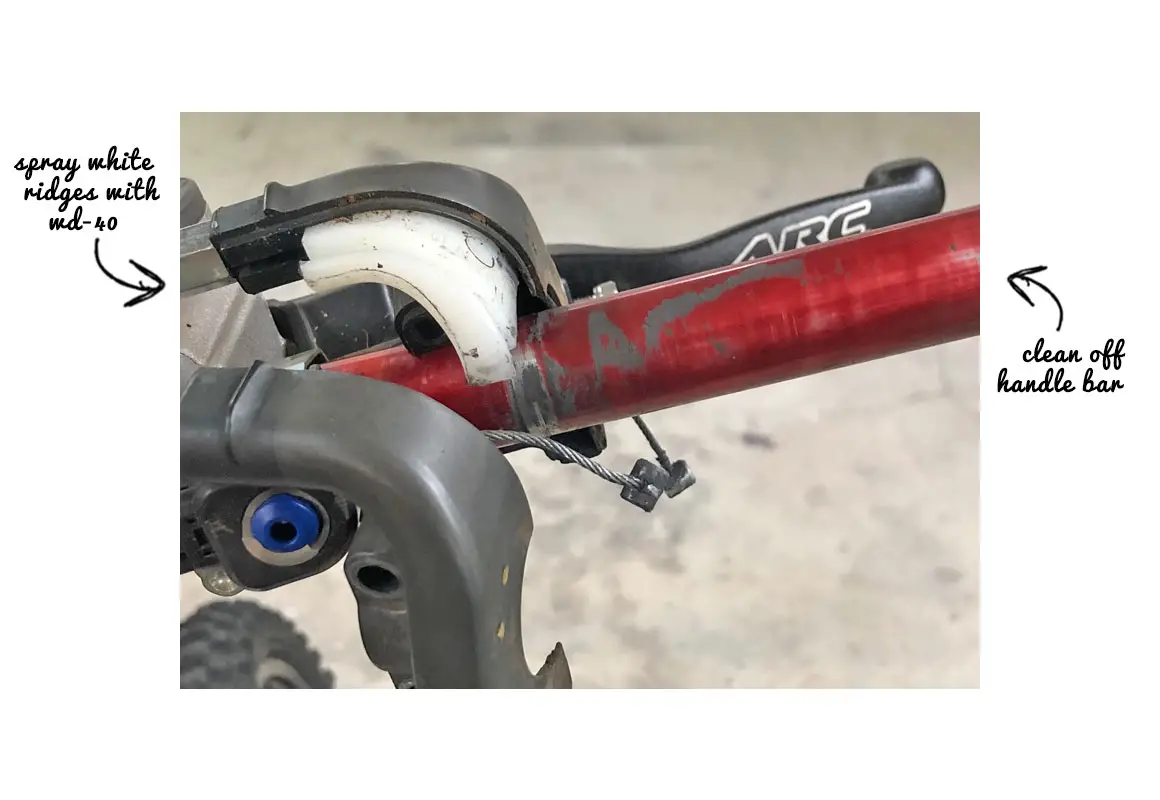 Apply Small Amount of Grease
Almost done. Now that everything is clean and smooth, it's time to put it all back together.
Before reassembling though, apply a very thin layer of grease or WD-40 to the handlebar and inside of the throttle tube and slide it back on.
Tighten Bolts and Test
Now just put it back together. Tighten the bolts to spec (if you have a torque wrench) and you should be good-to-go.
Just one more thing though – when you slide the throttle tube back onto the handlebar, make sure that it's not slid on so far that it's super tight up against the end of the handlebar.
You want the throttle to roll on (and off) smoothly.
Second thing (I lied about there only being one more thing), if you have bark busters that attached to the end of your handlebar – make sure that the throttle tube is slid on far enough so that the end of it isn't rubbing up against the bark buster.
And that's it. The work is done!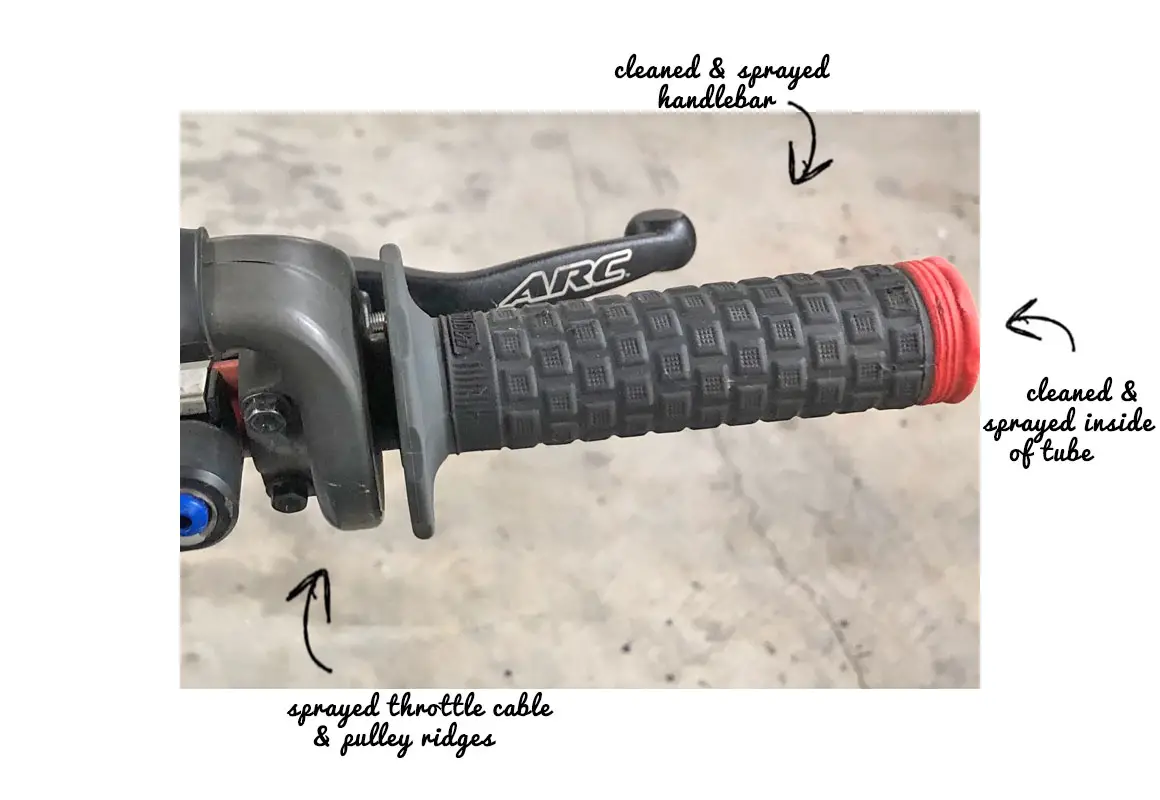 Now it's your turn. I hope this fixes it for you.