3 Of The Best Dirt Bike Flag Mounts For Riding At The Dunes
BraapAcademy.com earns a small commission from qualifying purchases.
This does NOT cost you extra.
Summer is coming (actually here now) and that means one thing for dirt bike riders – dunes! Riding at the dunes can be a lot of fun. Much different than hitting the trails in the hills, but still… lots of fun. But there is one thing that is required for riding at the dunes – a flag. So, that means you've got to buy a dirt bike flag mount unless you already have one or want to make one (more info on that below).
These flags tend to stand 6 feet in the air. That's pretty tall. It gives other riders a much better idea of where you are VS if it's just you and your bike.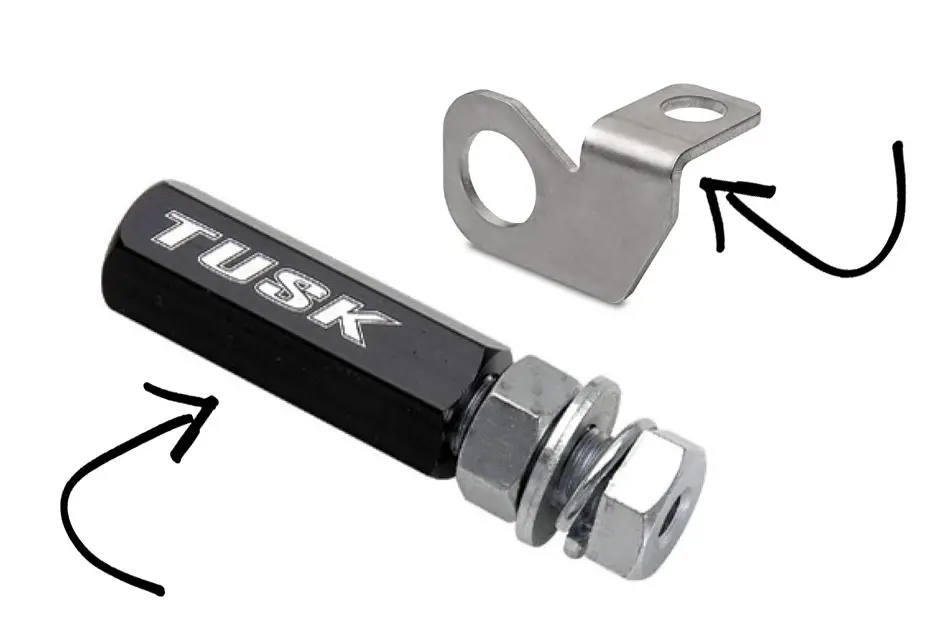 Anyway, there are a whole bunch of options for mounting a flag to your bike. Either way, I've put together short list of (what I consider) the top flag mounts for a dirt bike.
3 Best Dirt Bike Flag Mounts
Essentially, any flag mount will hold a flag decently. But that isn't quite enough. We're sure you want your flag to stay on, stay out of your way and not whip you in the face (even though you're wearing a helmet it still wouldn't be fun). Hence why we're bringing you the best of the best – as well as a DIY option for those who are looking to pinch a few satoshis.
Universal Dune Whip Mount (#3)
Coming in at number three is this universal flag mount. It's decent. It's a beast, but that isn't necessarily a bad thing.
When we say "beast" we don't mean bulky. It sits flush to your bike's rear fender with no problem whatsoever – you don't even need tools to fit this one. That's how good it is.
Check these out (and read reviews) on Amazon
Material and Color
In terms of color, it's a very generic black. We think this is a good thing. Why? Because no matter the design or shade of your bike, this flag mount is going to match perfectly. You might be thinking "what's all this no tools business about?". Well, thanks to the rubber straps that hold it on the rear fender, it's a slide and go job. The straps also add a lot of give that solid flag mounts do not. Longevity seems to be the first thing on the mind of this developer.
Bracket Type
It definitely wins a prize for the most accessible bracket. Even if their standard straps don't fit, they'll send you a set of custom bungee to make sure their product works for you. Can we get a cheer for companies that actually put their customers first?
Brand
Zen Times Ten is the genius here. This company is well-known for knowing their stuff when it comes to dune riding and dirt biking. It's no wonder they came up with such a fabulous product then, is it?
Safety Flag Whip Rear Axle Mounting Bracket (#2)
Here's Amazon's Choice so you already know it's got a good chance of being decent.
This little guy is as inconspicuous as they come. For those looking for a flag that seemingly floats behind them, this is the one for you.
Check these out (and read reviews) on Amazon
Material and Color
It comes in a universal silver color which matches nicely with most bikes, regardless of the design. To be honest, it's so small you're likely not to notice it anyway. Of course, it's made from the highest quality stainless steel. Rusting, damage and corrosion won't bother you for many, many years so ride until your heart's content.
Bracket Type
As far as the bracket type goes, this one is an allrounder. It's made to fit most dirt bikes, ATVs, dune buggies, and motorcycles. If you're skeptical, make sure you look at the dimensions before you go to checkout. We think you'll be fine though. Have faith.
Brand
Dog River Tools is the brand behind this masterpiece and they are widely trusted. Not to mention the return policy is a no-fuss, no-headache process.
Tusk Quick Release Flag Pole Holder (#1)
Quick-release is where it's at when it comes to dirt bike flags. You don't want to be faffing around with putting bolts on and taking them off when you're done for the day. Who has the time for that?
Enter stage right: Tusk Quick Release Flag Pole Holder. The product that solves your bolt conundrum.
Check these out (and read reviews) on Amazon
Material and Color
Its attractive black and silver color scheme fit into any riders style. To tell you the truth, even if it didn't, it's rather small so the chances of anyone noticing are slim. Unlike the other mounts we've talked about, the company's logo is laser-etched into the side. Don't worry, it won't spoil your vibe. It fits in very nicely with the theme. For material, Tusk has used 6061 aluminum for a lightweight feel. Don't get us wrong though — lightweight doesn't have to mean weak. This little guy is strong.
Bracket Type
This flag mount is made for ¼ " flag poles. Yes, that does mean you'll have to cut the bolt off your flags (if they come with one that is). Aside from that, it displays a very unique design. For want of a better word, it's cute. Please don't let that put you off… we're just trying to say it's small and compact.
Brand
As you've probably gathered, this quick-release flag pole holder is made by Tusk. They're renowned for their high-quality parts and reasonable prices. Not to mention that all their products come with a lifetime guarantee against damage and defects caused by the manufacturer. How amazing is that? We've heard the saying "you get what you pay for", but with Tusk, you get a little bit extra too.
How To Make A Flag Mount For Your Dirt Bike
If you don't mind spending a few bucks, everything above about applies to you. However, if you're trying to save some dough, you can always build your own. I've never personally used a self-made dirt bike flag mount, but apparently it's not too hard.
You'll need:
High-quality zip ties
Sheet of metal (rectangular, small, thin)
Bolts
Grinder
Once you've got all that, follow these steps:
Fold the metal sheet around the flag pole.
Squeeze it tightly.
Insert the bolt (or multiple bolts) so it holds the "squeeze" in place.
Use the zip ties to attach this makeshift holder to your seat frame bolt. If you've purchased high-quality ones they will hold.
You're done.
Yes, some may call it a "botch job" but it does look pretty nifty if you have at least some experience with DIY projects.
In the end, I would definitely have to recommend one of these three mounts above. Less fuss. Not very expensive. Guaranteed – through Amazon 😉 – to work.