POD K4 Knee Brace Review – Is The Advanced MX Protection Worth Buying?
BraapAcademy.com earns a small commission from qualifying purchases.
This does NOT cost you extra.
Riding is a fun but it's also quite risky – nothing new here, I know. While you can get protective gear for just about any part of your body, there are a few that are more important (or at least relied upon more) than others. Of course, helmets, boots, and goggles are among the top… but wearing a quality knee brace is also extremely important. In this review of the POD K4 knee brace we'll look at what it does as well as the pros and cons.
Had I been wearing a knee brace a few years back, I wouldn't have torn my ACL & Meniscus – landing myself in surgery and missing out on quite a bit of fun.
What Is The POD K4 Knee Brace?
The POD K4 knee brace is designed for motocross riders as well as many other sports enthusiasts. The K4 braces are manufactured by POD Active, a company that specializes in knee braces.
The two main focuses of the company's knee braces are to provide a great deal of protection for your knee and leg, and to do so without making it difficult to move around.
The braces actually have a multi-sport design, thus they are not only restricted to MX and trail riders. They can be used for power sports, snow sports, and even playing ball.
The K4's work with your natural leg motion and give the knees natural support.
Note: these braces are sold in pairs (a set of two).
Are They Good Quality?
The POD K4 knee brace is constructed in a unique way that makes it able to offer protection without being too much of an inconvenience.
They are made with a sturdy polymer frame that is comfortable and strong. As a result, the braces are resistant to corrosion and are able to get wet. In addition, these braces feel fairly light weighing in at just 1.1 pounds each (500 grams). Also, the interior is laced with soft fabric to offer comfort and to reduce irritation.
With the adjustable straps, hinge spaces and cuffs, these braces fit a wide variety of leg sizes.
How Does the K4 Work?
Maximum protection is achieved from their construction and four-strap system.
The POD K4 knee brace helps to keep your knees safe from hyper-extension, impact and rotational injuries.
The flexibility incorporated in the design makes it capable of absorbing any rotational force that would injure your knee. It also offers floating patella coverage that can be removed and has a flexible artificial ligament that offers a wide range of motion as opposed to what the mechanical ones would offer.
What Are the Features?
POD Active is a company that is known for designing and producing quality knee braces and sleeves. They have three types of knee braces in their K collection and few accessories that can be used with the braces. The company focuses on advancing technology to continually improve and their products. Here are some of the notable features:
Glass strengthened polymer frames
Interchangeable parts to allow for maximum customization to suit your leg size and specific needs
One can easily remove and put additional guards making it suitable for any sport
Removable patella that keeps the knee cap safe all through
Adjustable hinges and cuffs that make it fit any leg size
One can control the range of motion using the extension stops
Positive Reviews
Light weight
Adjustable to fit any leg size
Comfortable and flexible thus they do not restrict you during your activity
Suit a wide variety of activities
Water and corrosion proof
Choice of three different frame sizes to ensure a custom fit
Durable / one-year warranty on the frames
Easily refurbished
Negative Reviews
The patella cap is not very robust
The price is a bit high even if it has a plethora of amazing features
POD K4 Knee Brace Sizing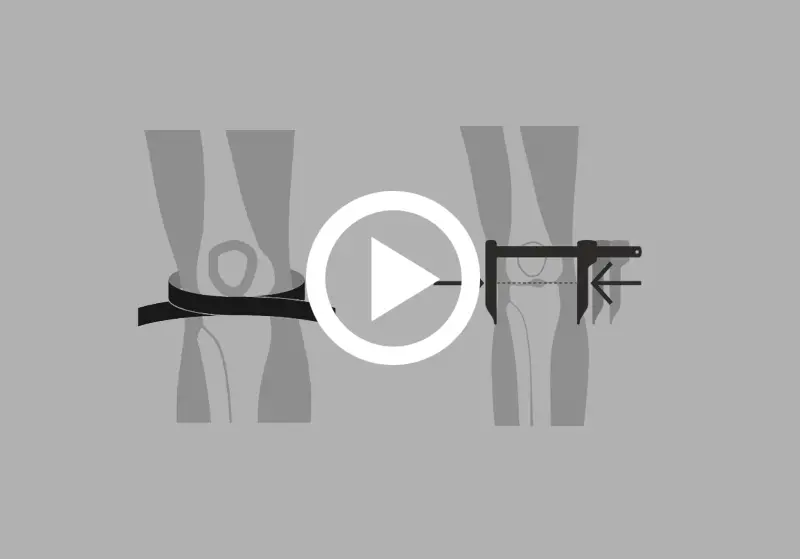 Knee Circumference Sizing Chart
| | | |
| --- | --- | --- |
| X-Small | 11.6″ – 12.6″ | 295mm – 320mm |
| Small | 12.6″ – 13.4″ | 320mm – 340mm |
| Medium | 13.4″ – 14.1″ | 340mm – 360mm |
| Large | 14.1″ – 14.8″ | 360mm – 380mm |
| X-Large | 14.8″ – 15.8″ | 380mm – 402mm |
| XX-Large | 15.8″ – 16.9″ | 402mm – 420mm |
Knee Width Sizing Chart
| | | |
| --- | --- | --- |
| X-Small | 3.7″ – 4″ | 94mm – 102mm |
| Small | 4″ – 4.25″ | 102mm – 108mm |
| Medium | 4.25″ – 4.48″ | 108mm – 114mm |
| Large | 4.48″ – 4.72″ | 114mm – 120mm |
| X-Large | 4.72″ – 5″ | 120mm – 127mm |
| XX-Large | 5″ – 5.27″ | 127mm – 134mm |
Do the POD K4 Knee Braces Work?
Overall, the POD K4 Knee Brace is a solid option that certainly does work.
They are built using high-quality materials that offer protection without sucking away performance and functionality. The fact that they protect your knees from hyper-extension, impact and rotational injuries is awesome.
In the end, they are not cheap but let me tell you from experience; they're cheaper (and less irritating) than destroying your ACL and getting surgery.
The POD K4 knee braces work well and would be recommended as a solid option for people who want to be protected but not limited in their range of motion.
Where Can You Buy Them?
In my wife's world there's only one place to buy these… Amazon. 😉
In reality, you should be able to go to your local dirt bike shop and they could probably order them. I'm honestly not sure how much (if at all) they would mark them up, but it's probably not too much more.
But then again, you can just order them from Amazon and you're still qualified for the 12-month warranty. I would, however, suggest making sure that you order from POD directly if you do go through Amazon.