Best Motocross Knee Braces for Trail Riding, MX, Enduro (Buyers Guide)
BraapAcademy.com earns a small commission from qualifying purchases.
This does NOT cost you extra.
As I've mentioned before, I tore my ACL and my meniscus riding my dirt bike. I wish I had some elaborate, super-impressive story to tell you about how one of these motocross knee braces kept me from getting surgery, but no.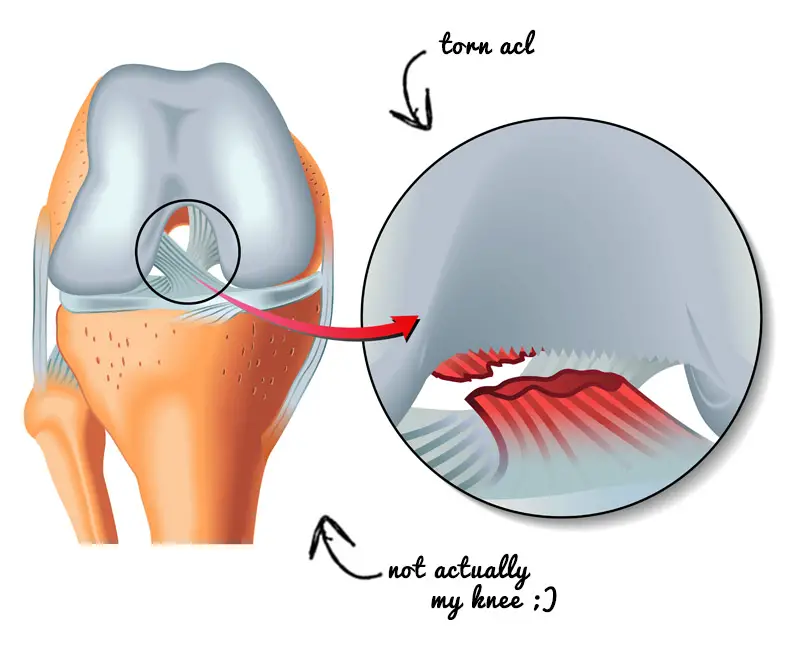 I was preloading my rear suspension while riding a wheelie in order to jump hop over a huge river small creek. And I mean "small creek" as in a 3ft wide, tiny little stream. It was more like a drainage ditch, really.
Anyway, I wasn't wearing any one of these motocross knee braces and after a couple goes at it my rear wheel drifted just a tad to the side and I put my foot down to stop myself from wiping out. It worked. Well… I didn't crash.
However, that slightly sideways, hyper-extension was enough to do some serious damage. After I finally went in to see the surgeon, it turned out that my ACL was completely detached and rolled up into a ball behind my knee. Nice, huh!?
As it turns out; getting knee surgery is actually a bit more expensive than buying a quality knee brace. Go figure.
The problem is, most guys don't even think about a knee brace for riding dirt bikes. I mean, you've got your helmet, goggles, boots, gloves and maybe, a chest protector. Who needs a jersey or riding pants, right? 😉
How to Choose a Good Knee Brace?

Typically, most guys (and gals) are looking for motocross knee braces that offer a high level of protection, while still being comfortable and allowing sufficient movement.
Some riders dismiss MX knee braces as too bulky and restrictive to use. On the other hand, other riders appreciate the immense degree of protection that braces offer.
Some may steer away from the knee braces in favor of knee guards because they are looking for more freedom, less weight and a less expensive investment. This is understandable, but… knee "guards" are not going to stop knee injuries like torn ACL's.
Overall, picking out the right product depends completely on what you're after. Okay, having said all of that, here are my recommendations for the top motocross knee braces.
Overall Best Motocross Knee Brace
Mobius X8
The Mobius X8 is considered to be one of (if not) the best motocross knee brace on the market right now. It delivers top-notch protection and durability.
There are a few design features that make this brace so good. For example, the cruciate ligaments are externally reinforced by a continuous cable routing system. This cable loop is capable of twisting half a turn to form two interconnected loops. In the event of a force being applied to the knee joint, the cable tightens up in order to resist excessive movement that could lead up to injury.
The shells of these braces that are responsible for gripping the tibia and femur are firmly pressed as the cable tightens up. The tibial shell's design is crafted to firmly grip the tibial tuberosity influencing the lower leg, while at the same time the femur is being firmly gripped by the femoral shell and also by the tendon back plate.
The routing of the cable is intended to take place in such a way that when the leg is extended fully, the cable tightens progressively to resist over-extension, rotation, and bending.
Features
A one turn locking dial within the continuous cable routing system that is able to adjust the fitment of the brace
EVA plush molded foam and impact engrossing internal padding made of rubber
The patella area is overlapping and has a zero degree stop that allows no gap to be exposed no matter how you bend your knees
The behind-the-knee adjustment pad and the cable greatly stiffen the joint while working as naturally and freely as your body's ligaments
Pros
Lightweight considering the level of protection it presents
Highly adjustable and very comfortable
Cons
Only available in pairs
A steep price tag
Sizing chart
To correctly size yourself for the Mobius X8, you need to measure the circumference of your thigh 6 inches (15cm) above the center of your knee.
| | | |
| --- | --- | --- |
| X-Small | 15″ – 17″ | 38cm – 43cm |
| Small | 17″ – 19″ | 43cm – 48cm |
| Medium | 19″ – 21″ | 48cm – 53cm |
| Large | 21″ – 23″ | 53cm – 58cm |
| X-Large | 23″ – 25″ | 58cm – 63cm |
| XX-Large | 25″ – 27″ | 63cm – 69cm |
Check out the knee braces here... or you can read the full review here…
---
Best Knee Brace for the Money
POD K4
If the price tag on the Mobius X8 had you worried, don't stress too much. There are some more affordable (still not cheap) options.
The K4 knee brace delivers a solid level of protection for knees at an affordable cost… without compromising quality, performance or durability. Empowered and further improved by Synthetic Ligaments™, the K4 brace is practically capable of preventing knee injuries no matter the sport you're participating in, be it riding, cycling, surfing or any other action sport.
Features
A fully featured brace providing high levels of performance
Polymer frames reinforced with glass
A highly adjustable brace that is able to adapt to all leg sizes with versatile straps and hinge spacers for a better and more secure fit
Pros
Modern design with a slim profile
Very lightweight and extremely comfortable
Can be used as a multisport brace
Cons
Still not "cheap"
Not as technologically innovative
Sizing chart
Measuring your knee for the POD K4 is a little different than other knee braces. For this one, you need to measure the circumference of your knee. Not above or below it, but directly around the knee, while standing, and fully extended (straight).
| | | |
| --- | --- | --- |
| X-Small | 11.6″ – 12.6″ | 295mm – 320mm |
| Small | 12.6″ – 13.4″ | 320mm – 340mm |
| Medium | 13.4″ – 14.1″ | 340mm – 360mm |
| Large | 14.1″ – 14.8″ | 360mm – 380mm |
| X-Large | 14.8″ – 15.8″ | 380mm – 402mm |
| XX-Large | 15.8″ – 16.9″ | 402mm – 420mm |
Check out the knee braces here...
---
Affordable Dirt Bike Knee Brace
(Still Good)

EVS Sports Axis
This brace offers the best of both worlds – a very affordable price with highly innovative technology and a cool modern design.
The Axis Sport is an aluminum molded, high caliber beast of a brace that is surprisingly affordable. It is a lower priced/stripped down version of the EVS Axis Pro.
The Sports Axis features both an upper and lower cuff that is made of durable, strong, and fairly lightweight plastic (compared to the carbon fiber cuffs present on the Axis Pro model).
Tru-Motion 2.0 anatomically corrects hinges that assist in keeping a low profile which allows for a more comfortable fit. The thermo fit liner inside of the braces serves for ease and comfort while the dual defense cup design completely covers and protects the kneecaps.
Highly versatile hyper-extension lock-outs that grant full control over the level of leg extension.
Features
Upper and lower cuffs are reinforced with nylon injections
Adjustable hyper-extension lock-outs allowing for a great fit
Complete coverage from the dual defense knee cup design
Lightweight construction
Anatomically correct hinges
Pros
Well protected knee cap
Lightweight design
Natural feeling bend
Fit and comfortable
Affordable price tag
Several options for adjustments
Cons
Only available in pairs
Has been reported to slip down after long rides
Relatively bulky
Sizing chart
To properly measure for the Axis Sport you need to measure the circumference of your thigh 8 inches (or 20cm) above the center of your knee.
| | | |
| --- | --- | --- |
| Small | 15″ – 18″ | 34cm – 46cm |
| Medium | 18″ – 20″ | 46cm – 51cm |
| Large | 20″ – 23″ | 51cm – 58cm |
| X-Large | 23″ – 26″ | 58cm – 66cm |
Check out the knee brace here...
---
Dirt Bike Knee Braces VS Knee Guards
As I mentioned, there are a plethora of options to pick from. And again, you've got to know what you're after. Overall, knee braces improve the level of protection dramatically and are the number one choice for riders that are looking for maximum protection.
Knee Pads
Knee pads aren't going to do a whole lot. Sure, they're better than nothing, but I would recommend going with either guards or braces. They do offer some impact protection on the knee cap as well as the shin. However, they offer no protection against lateral impact or twisting.
Knee Guards
Guards offer basic and simple coverage over the knee cap region while occasionally offering shin coverage as well. They are lighter and less complex than knee braces, but still a decent choice. These tend to be extremely popular for enduro and trail riding because they are affordable and lightweight. Knee guards are highly adjustable and therefore very comfortable, comparatively.
Knee Braces
There's a common misconception that knee braces are used only post-operation or after an injury. Not true. At least it shouldn't be true. Motocross knee braces can (and should) be used as a preventative measure. Most dirt bike knee braces are designed to absorb sudden impact and to control the range of motion around your knees to avoid injury. They also offer lateral support and they allow the knee to still move freely and naturally.
Should Dirt Bike Riders Wear Knee Braces?

I'm fairly confident you know how I feel about this one. Buying (and wearing) a knee brace, although not cheap, is a good idea.
Yes, they do work. No, they are not going to turn you into Robocop and you can still get injured while wearing one. But, whether you are nursing and injury or trying to prevent one, wearing the right protective gear is always a good idea.
However, one of the most effective pieces of protection while riding a dirt bike are knee braces. Now, I'm not saying that a helmet, goggles, boots, or any of the other "staples" aren't as important – they are. But what I am saying is that if you're into saving money, being able to go to work, and preventing pain… buying a knee brace might not be a bad idea.
The market now offers quite a few options and a few that offer different levels of protection… for various prices.