Best Dirt Bike Radiator Braces – Works Connection, FLO, & Enduro Engineering
BraapAcademy.com earns a small commission from qualifying purchases.
This does NOT cost you extra.
When it comes to protecting your dirt bike, radiator braces are an excellent place to start. Radiators are one of the most critical parts of the bike as they are the primary cooling system. The radiator is what provides the engine with coolant, keeping the engine healthy and running. In addition to performing regular maintenance, you should also consider protecting your radiator to prevent twisting, bending, and punctures.
The radiator is located at the front of the bike behind the front fender. Because of the location, radiators are a vulnerable target to get struck by rocks, branches, and mud… and when (not if) you lay your bike over – usually the radiators absorb a decent amount of the fall.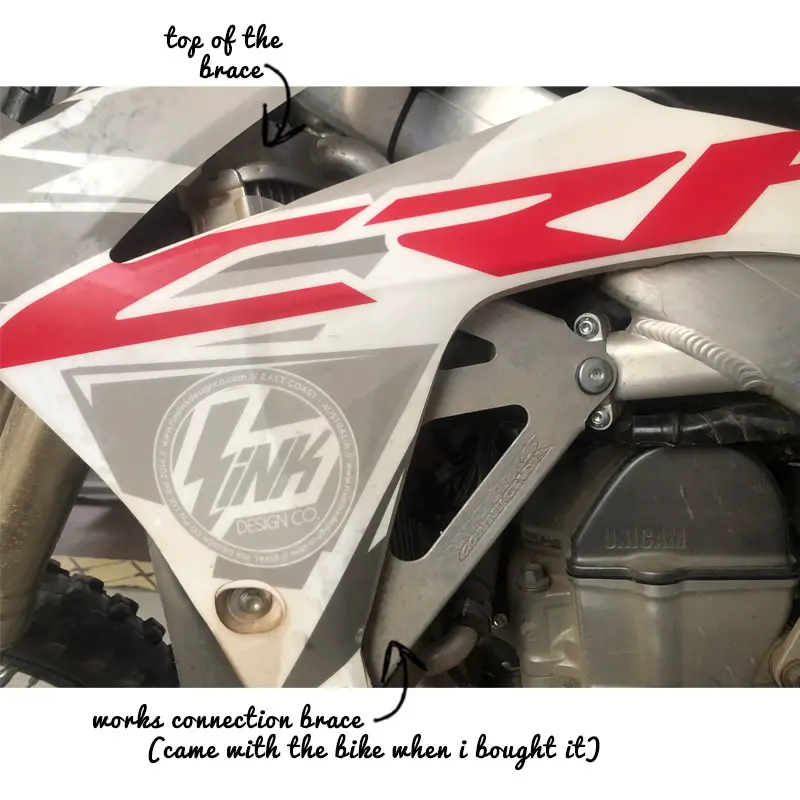 A quality radiator brace will be manufactured from high-quality materials to ensure maximum protection. All types of riders are encouraged to get at least some added protection. Finding a good radiator brace will provide the best airflow to the radiator as well as protect it.
NOTE: A radiator brace and a radiator guard are two different things. Obvious? Maybe. If not, and you're looking for a guard, I put together this list of the best radiator guards out there.
Benefits of Good Radiator Braces
If you're new to riding or just the type of rider that pushes himself and goes down often, getting a solid brace should be one of the first things you buy. By protecting the radiator, the brace is also protecting the engine, allowing your dirt bike to perform at its prime level.
In the long run, you'll most-likely be saving money since replacing a radiator can be quite expensive.
3 Top Dirt Bike Radiator Braces
There are many different braces on the market, all claiming to be the best. Tt can be overwhelming trying to pick "the best." Here are my top 3 picks.
---
Enduro Engineering Radiator Brace
Enduro Engineering makes some of the best dirt bike radiator braces that I have come across. They are lightweight, so they won't disrupt the riding experience or interfere with any natural movements. Despite being lightweight, these braces are quite strong. The Enduro Engineering braces protect your radiator from getting twisted, bent, or damaged without having a negative impact and limiting airflow.
The durability of these braces makes them a great option for any dirt bike rider; you can have the protection and peace of mind that your radiator won't get damaged without compromising on riding quality.
Check out Enduro Engineering here…
---
Works Connection Radiator Brace
The Works Connection braces are a great choice when buying a dirt bike radiator brace, and they live up to their company's reputation.
When I bought my bike, it had these braces already on it… and I'm more than okay with that 😉
These have been built with great thought; a lot of knowledge has been used to design them to be so durable. Works Connection has machined and formed these fantastic radiator braces out of aircraft-grade 5052 aluminum. By choosing to use such high-quality aluminum, the quality of these braces is exceptional. Works Connection makes a lightweight, but of course, durable and hard-wearing. If you fit the Works Connection braces to your dirt bike, you can rest assured that you've got a solid set.
Check out Works Connection here…
---
FLO Motorsports High Flow Radiator Brace
FLO Motorsports High Flow braces are somewhat different from the others. Not only do they provide supreme protection to your radiators, but they protect your dirt bikes radiators from side and front impact and damage. They also protect from core puncture to your radiator. They also have a wind tunnel design, so no need to comprise airflow to your radiator, significant airflow can get to the radiator.
FLO bike radiator braces are constructed from a 1-inch solid block of 6061 aluminum alloy, making these braces up to 50% more durable than any other standard alloy radiator brace.