Top Dirt Bike Radiator Guards – Devol, Unabiker, and Polisport
BraapAcademy.com earns a small commission from qualifying purchases.
This does NOT cost you extra.
Radiator guards protect your bike's radiator from rocks, stones, mud, twigs, and other debris. It is crucial to protect your radiator from wear and tear as you don't want your dirt bike to overheat. Also, not too many of us pack an extra radiator in the truck when we go riding. The good news – radiator guards do a pretty darn good job of protecting the bike.
Benefits of a Radiator Guards
An important aspect of prepping your bike is what you can do to ensure the most protection to all important parts of your bike. The radiator is one of those essential pieces on your bike. Not to be confused with a radiator brace, a radiator guard is still important. In fact, stock bikes come with at least some amount of protection.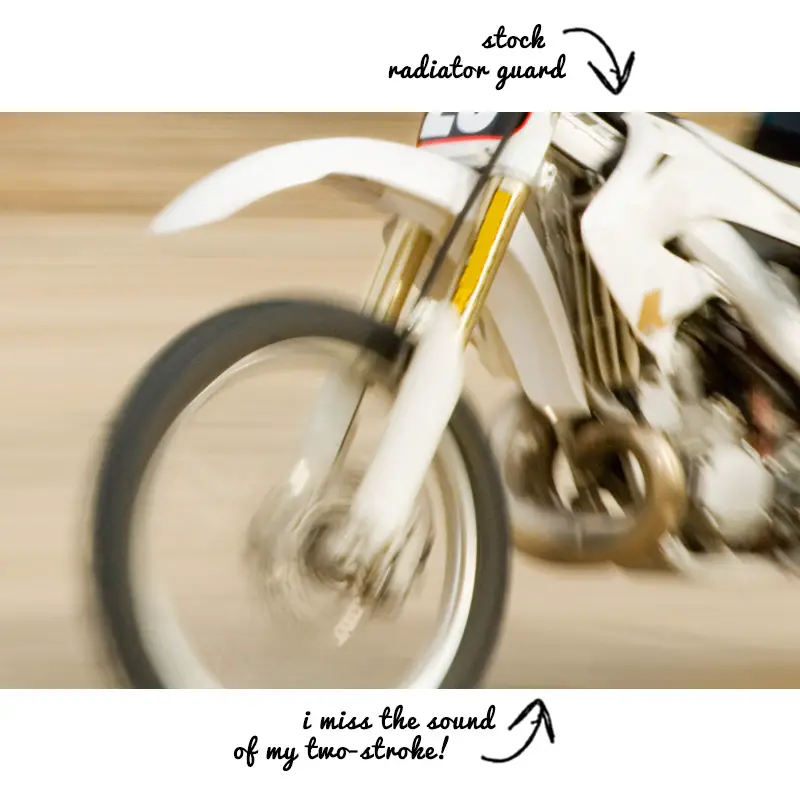 By fitting radiator guards, you will be protecting your radiator from debris flying up and puncturing it and/or getting stuck in them. If your radiator overheats, it can cause a plethora of other problems. You also don't want mud going into the radiator and getting stuck, as again, that can cause overheating.
It's important to protect your dirt bike radiator, so it is good to have radiator guards. Not only will they protect the radiator, but they will save you money in the long run as you won't need to make repairs or replace the entire radiator… which gets expensive!
In short, here are the benefits:
Protect radiator
Reduce risk of overheating
Save money in the long run
Best Dirt Bike Radiator Guards
---
Devol Radiator Guard
These bike guards are made from aluminum alloy. This material ensures the guards are durable, robust, and able to withstand hits from rocks or other debris. Although they are made from a heavyweight, and strong metal, the guards are still lightweight. This is good because you don't want a significant amount of weight added to the front of your dirt bike. The Devol guards' design provides the radiator with complete protection and good direct airflow to the engine… which helps the radiator prevent the bike from overheating.
Check out (and read reviews) on Amazon
---
Unabiker Radiator Guard
Made from 6061 T-4 aluminum, Unabiker guards, are sturdy and will withstand many knocks and bangs. They are super tough and hard-wearing, but still lightweight. These are bolted from the front and side, which will direct more air through the radiator and ensure good airflow. The guards have been spaced forward from the radiator to prevent any build-up of mud. Unabiker guards have been formed specially to reduce folding back if an accident happens and built to a good size protecting from rocks, dirt, and any other debris.
Check out (and read reviews) on Amazon
---
Polisport Radiator Louvers
Polisport louver guards are hard wearing and have been designed to create solid airflow to the radiator. This helps to ensure the guard doesn't contribute to the bike overheating. These look like stock guards but they're actually very heavy-duty and durable. They provide excellent protection from all sorts of debris. Polisport has also designed these to be super easy to install, which is a great bonus.