Razor MX350 Dirt Bike Review – Is it Really Worth Buying?
BraapAcademy.com earns a small commission from qualifying purchases.
This does NOT cost you extra.
The Razor MX350 Electric Dirt Bike is one of the most popular options for a non-gas powered kid's bike. It's obvious that Razor has focused on reliability and overall design, but is it actually worth buying? Surprisingly (at least to me), it really is a solid choice for youngsters… plus the kids like it because it looks just like a real dirt bike.
Of course, it's not perfect and there are some negatives, but then again, nothing really is. It does come equipped with decent knobbies and a powerful-enough electric motor. Unlike gas-powered dirt bikes, the MX350 is super quiet! The top speed of the MX350 is 14mph, fast enough for any mini-daredevil, but also safe enough as it is designed for children.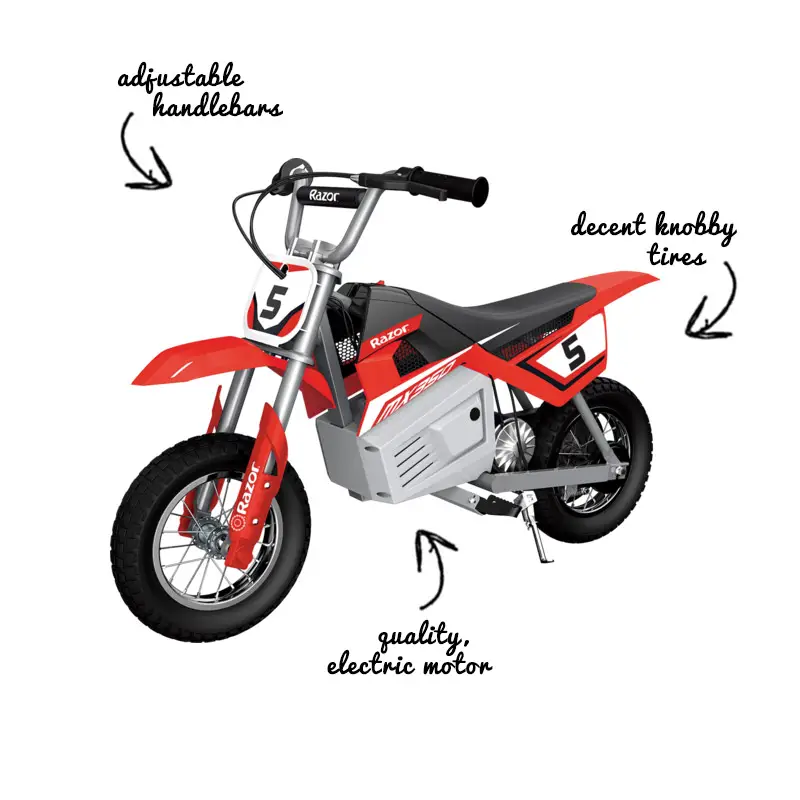 A 24V sealed lead acid rechargeable battery is included when you purchase the bike and charger. This means no need to wait for a Razor MX350 battery to arrive before your little one can start having fun.
Who is Razor?
If you're like me, when you hear the company name, you probably think of those little foot-powered scooters. Turns out Razor has a lot more to offer than just those.
Razor has been focused the electric niche. They don't provide gas-powered options… which is cool because at least they're focused on what they're good at.
Click here to view (and read reviews) on Amazon...
MX350 Dirt Rocket Features
With endless amounts of various kids' dirt bikes on the market, it can be confusing to know where to start looking. It can be even harder to whittle it down to the best bike, which is also the best value for money.
Some of the main features of the Razor MX350 Electric Dirt Bike include:
Battery-powered: being a battery-powered dirt bike means this bike is environmentally friendly. Unlike gas-powered dirt bikes, the MX350 won't be releasing pollutant toxins. It also means you can quickly put the battery on charge to allow for more riding time. The battery life of the MX350 is 30 minutes, as reported by Razor. However, many find that their kids can ride much longer… even up to an hour.
Large knobby tires: having knobby tires makes this bike perfect for all terrains. Allowing your child to have unlimited amounts of fun, wherever.
Twist grip throttle: this allows your child to have complete control of acceleration, which ensures safety as they can control the speed.
Hand operated back brake: this allows for extra safety too because the rider is in total control, with easy access to the brake.
Adjustable riser handlebars: this is an excellent feature because the handlebars can be adjusted to suit different heights. If you have two children of similar age but different height, they will both be able to use it.
Retractable kickstand: this allows for easy storage and helps to prevent scuffs and scratches on the casing of the bike.
Foldable foot-pegs. the foldable foot-pegs allow for easy storage and helps prevent breakage.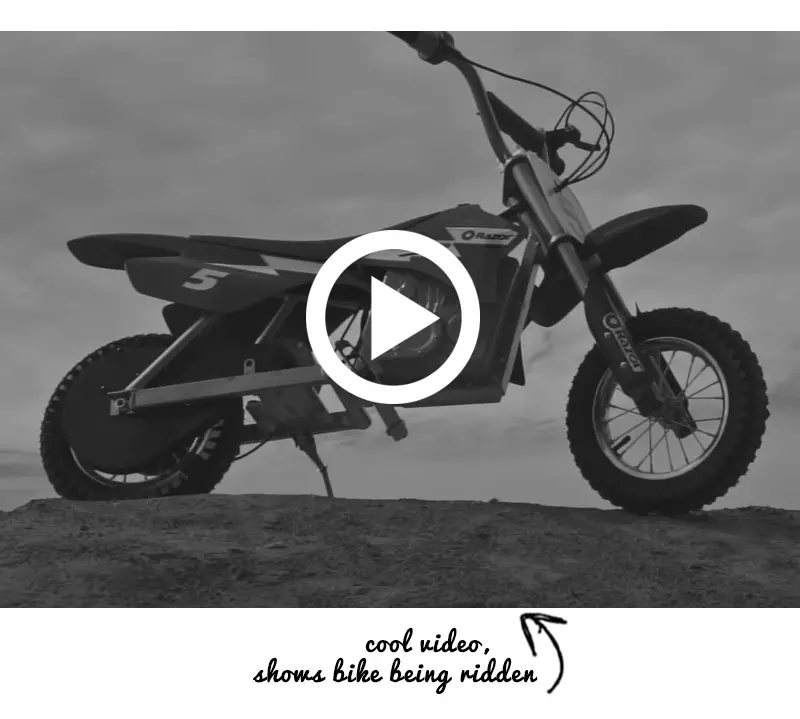 Positive Reviews
The large tires of the MX350 are one of the main positives as they allow for dirt biking on all sorts of land and give it that cool, real-life dirt bike look.
Having a speed of 14mph is beneficial; it may not seem that fast, but when riding the bike (to a child) it will feel a lot faster than it actually is.
The twist throttle is good because it allows for total control, and teaches kids how to use it from a young age, ready for when they are older as most bikes use twist throttle.
As previously said, the adjustable handlebars allow for different heights; it also means that as the child grows, the bike can be adjusted to suit them, saving money as you don't have to buy a new bike each time your child grows.
The bike does not come with training wheels.
These are just a few of the main pros of the Razor MX350 Dirt Bike. It is a great choice for parents looking to buy their child an electric dirt bike that is safe, well designed, and that will last.
Negative Reviews
As with most things in life, there are some cons. So you will need to weigh both the positives and negatives and see whether you think the Razor MX350 is the bike you want to choose for your child.
Compared to a lot of electric dirt bikes, the 30 minutes run time is a lot less battery time. If you are planning on taking the bike out for an extended period, this bike might not be for you as the battery life is only 30 minutes, and then it will need to be charged till full. It's worth noting that many are able to ride theirs for more than 1/2 hour, but that is what the company promises.
This bike does consist of some assembling, so if that isn't your forte or you would rather not have to do any assembling, then you might want to look into other electric dirt bikes that come ready assembled.
Although the adjustable handlebars are on the pros list, they are also a con. If they aren't appropriately tightened and 100% secure after altering, they could cause severe damage and injury if they become loose while in use… not a big deal, just make sure they're tightened up.
Where to Buy a Razor MX350 Dirt Bike?
I recommend buying the MX350 from Amazon. You can check out all the bike details to ensure it is the right bike for your child. You can also read other people's reviews to see if they have any additional information that you should consider.
The benefit of buying from Amazon is the money-back guarantee, and it is one of the world's most well-known companies, so you know that it is a trustworthy website.
Click here to view (and read reviews) on Amazon...
Is the MX350 Worth the Money?
Yes, it's worth it. Overall, the MX350 Electric Dirt bike is a good all-rounder in the world of kid's dirt bikes; it is trendy looking, safe, and adjustable for different heights. The speed limit could become an issue as your child gets older, but it's also a bonus due to safety reasons.
So, if you are on the hunt for a kid's electric dirt bike, then the Razor MX350 is an excellent option. It is reasonably priced when it comes to electric dirt bikes. Your child is guaranteed to have endless adventures, riding, and fun with the MX350 Electric Dirt Bike.
Click here to view (and read reviews) on Amazon...