Safe Alternative to a Motorcycle Throttle Lock
Product Spotlight: Throttle Rocker Cruise Control/Assist
Every now and then we come across a new (to us) product that we like. When we do… we'll let you know! Here is one called the Throttle Rocker. Let us know what you think!
There are different types of cruise controls that can be used on a Harley, Honda, Suzuki or any other motorcycles. Most of these work as throttles locks – where generally the throttle is prevented from swinging back by means of a friction resistance provided by the lock fitted on the handle bar. Preventing the grip from returning allows the hand to rest since one does not need to work on the grip so often. In this case, one can avoid sores and cramping of the wrists and fingers. Sounds good, right!
One popular alternative to a traditional throttle lock is called the Throttle Rocker.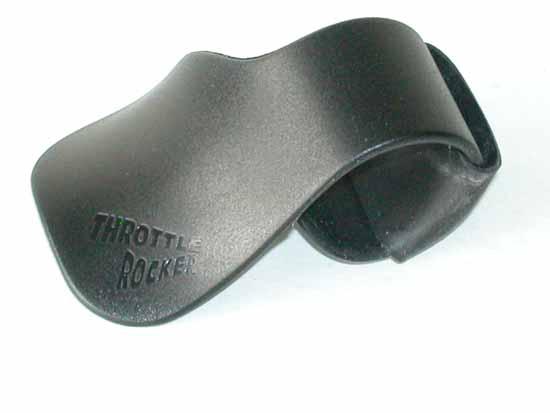 What we like about the Throttle Rocker is that it eliminates the need to use a standard motorcycle cruise control, but it still serves to release pressure from the hand and thus limits fatigue. The rider rests his arm on the Rocker and the resulting pressure allows the throttle grip to rotate, eliminating the need to squeeze the grip to operate the throttle. Compared to many other motorcycle cruise controls, it will allow for an improved level of comfort for the hand.
Unlike most other electronic cruise controls, we like that this device is easy to install. In fact, a user without much mechanical experience will be able to complete the installation in a minute (maybe less, maybe more) by following a guide.
The device is also much cheaper compared to almost all other throttle locks and cruise controls.
The Throttle Rocker is most applicable when riding on winding country roads when a cruise control is not so useful. It can also be useful when riding through towns or intersections where you are not likely to use a cruise control. Of course, a cruise control is probably the preferred method when riding in highways, but overall, the Throttle Rocker is still nice to have.
Since it's not a traditional throttle lock, the Throttle Rocker does not carry the risk of having the throttle stuck in the open position. In other words, you don't have to remember to disengage it as is the case with throttle locks. This is a good safety feature because it does not require manual disengagement in case of an emergency.
Overall, we really like the Throttle Rocker and recommend it if you are in the market for a cruise control or cruise assist.
You can visit their website here: http://throttlerocker.com/