Best Tailgate Net for Trucks to Carry a Dirt Bike (or whatever) Safely
BraapAcademy.com earns a small commission from qualifying purchases.
This does NOT cost you extra.
I've been considering getting a tailgate net for my truck because the tailgate on my old Tacoma is shot. One side doesn't latch and that same side doesn't have a support chain attached to it. Oh, and the handle to open my tailgate? Toast. I have to use a stick to pry the handle up… while simultaneously (and manually) sliding the internal latching mechanism with the my other arm that must be reached over the tailgate.
Fun.
Don't get me wrong, I love my pickup. It's just being used to the full. I'll get it fixed soon. (read: added to my mile-long "to do" list and will probably never get done).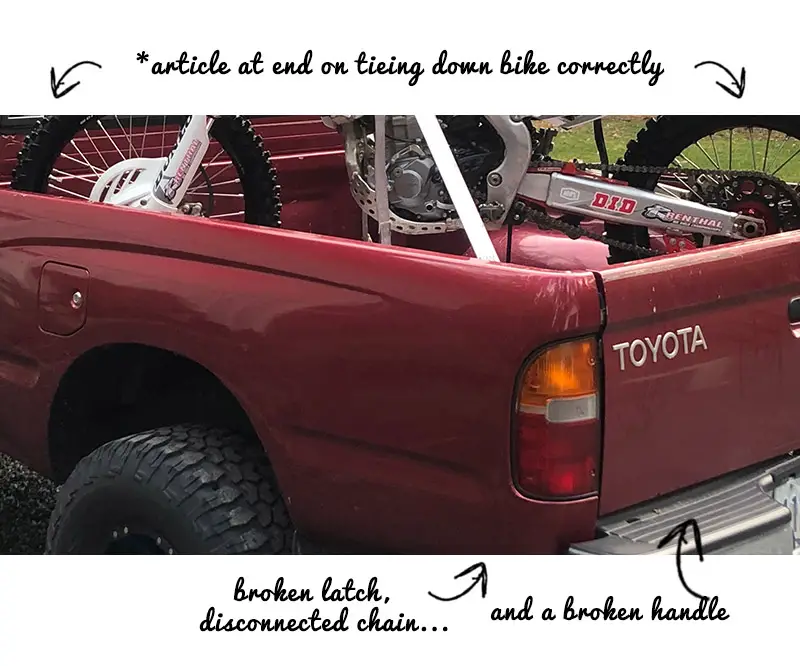 Picking a Good Tailgate Net for Your Truck
There are several things to consider before purchasing any type of tailgate netting. For one, some nets are made of cheap fabric while some tailgate screens use a strong, durable fabric. In addition, some are made with nylon, which is durable and can be used for a long time. There are also certain plastic components and PVC quality materials. A well-made and sturdy net will last a long time… you just have to make sure to pick the right one.
Another two important considerations are usability and size. The mesh can be used on the back of a truck or SUV. Some trucks are equipped with prefab nets; however, you may need to adjust the position. Nets are attached to the top or rear of the truck's body and as a result, this can be an important component. If desired, a coarse grid can be created to position the vehicle. Otherwise, it could be a small size on the back of the truck depending on its weight.
Lastly, a key feature of a tailgate net is its ability to expand. Yes, this is one of the most useful components. If the net can be expanded, then it can be easier to use in different situations. You can find tailgate nets for small trucks and pickups, as well as larger vans or SUVs. This is a very important factor for those who transport goods on the road every day…
…but we're talking about dirt bikes here.
Best Overall Cargo Net for Trucks
If what you are looking to get is a versatile tailgate net then you are in the right place. This is a 17 x 54-inch net that can be adjusted up to 132 inches of maximum length, with a minimum length of 74 inches. It's a very well made and versatile solution that can be used with almost any van, truck, or SUV.
Moto-Gate
These tailgate nets are made of premium nylon. With that in mind, you don't have to worry if it will tear apart after just a couple of uses. In addition to that, the flexibility in its structure contributes to the longevity and the feeling of security when using this tailgate net to store your cargo. One of the coolest points about this product is that you would be able to eliminate cargo shifting around because it can be secured with this tailgate net.
Discussing the adjustability, this MOTO-GATE can be enhanced by anywhere from 10 to 39 inches on each size. Furthermore, it comes with a very useful hook fastener. Overall, you are looking at a product that is simple to use. This tailgate net is easy to attach and take off, making it an ideal choice for anyone who is an avid traveler.
Positives
This gate is a fantastic piece of equipment. Some have used hard bed extenders in the past but still prefer this option because it takes up less space and allows for a nice clean garage floor mat and place to work. It is, nonetheless, sturdy and powerful. You don't have to be concerned about losing gear in the back of the vehicle, as you might with a hard extender. It can be slid snugly across the back tires and along the bed's floor, and the full-strength webbing will keep everything safe. It also doesn't take up any of your bed's width.
Negatives
The main downside is that it can't be used as a separator for groceries or other items. Other than that, it is a high-quality tailgate net for full-size trucks.
Important Specifications
Standard: 17 x 54 inches. Can be adjusted on each side – details here...
Made of premium nylon
Simple to attach and take off
Comes with a beginner-friendly hook fastener
Click here to view pricing and read reviews on Amazon.
---
**NOTE**
Here is the article I referenced at the beginning:
How to Tie Down a Dirt Bike in a Truck Bed (The Better Way)
---
Best Heavy Duty Tailgate Net
This Bully tailgate net is designed to protect your vehicle from scratches. It is made of high-quality industrial materials such as industrial textiles for long service life. This allows consumers to use the service of the product for a long time. It successfully combines aesthetic value with durable construction.
Bully
Simple to install, it comes with a universal fit which means that it can be attached to almost any vehicle and can be considered the best truck tailgate net for bikes. Furthermore, it is a heavy-duty tailgate net made of premium fabric that ensures extreme durability and resistance to harsh weather conditions. One of its greatest features is the fact that it improves the efficiency of your car by reducing air drag and enhancing gas mileage.
Positives
Bully is known for providing high-quality truck and pickup truck accessories. This is one of their standout products. This is a sturdy and durable tailgate. The edges are reinforced with ultra-wide nylon for added strength and durability. Crafted with great attention to detail and premium materials, it works in a similar way to other nets.
As a result, it is possible to safely hold the load and release air. You benefit from being able to increase your mileage. The standard tailgate collects the air that propels the vehicle forward, so additional energy is required. However, using this allows the air to escape while saving energy. It's light, yet it's tough and is made of high-quality, durable cloth that won't stretch or tear.
Negatives
The assembly process takes more time than with the Moto-Gate tailgate net. Still, for the given price, it is a durable and versatile product that you should look into.
Important Specifications
Made of heavy-duty fabric
Improves gas mileage by reducing air drag
Comes with a universal fit
Features a strap that is 10 inches long
Click here to view pricing and read reviews on Amazon.