Motorcycle Garage Floor Mat – The Best for Dirt Bikes and Street Bikes
BraapAcademy.com earns a small commission from qualifying purchases.
This does NOT cost you extra.
The garage is where motorcycles live and get dirty. Same goes for us guys… if we're lucky. But, you still need to keep your space clean and protect that precious floor from dirt and damage. The good news? I think I've found the best motorcycle garage floor mat. AND… it comes in a variety of shapes, colors, and sizes. Yes, they're designed to keep oil and other "icky" liquids away from the ground. <- Please don't ready into that.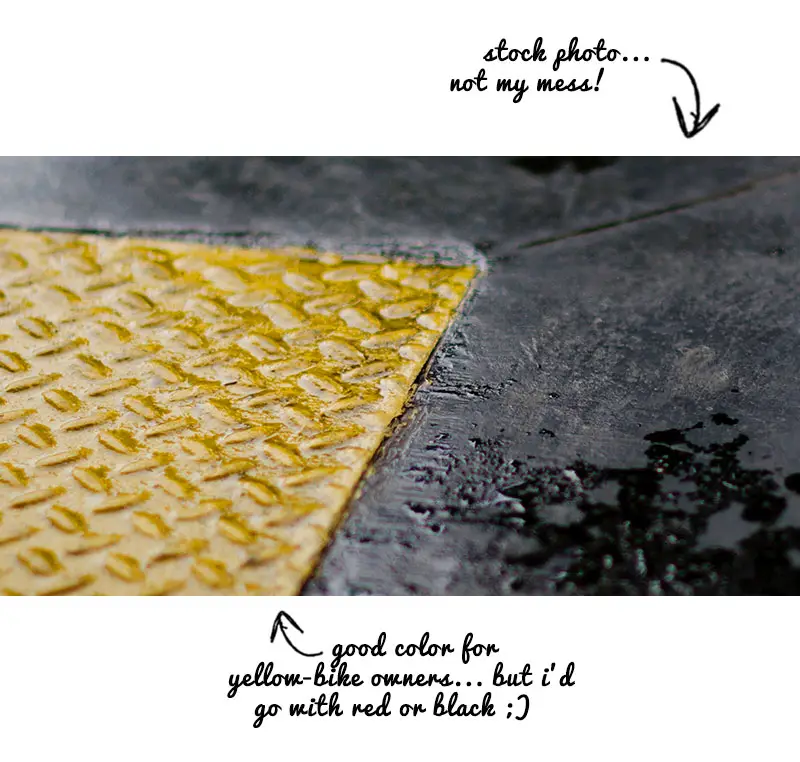 These are the best motorcycle floor mats. They protect against all of the elements: snow, water, mud, and us humans…
Others provide comfortable pads for the knees and back, but don't actually work. Why do I tell you this? I did some digging and found the garage mats suitable for just about any dirt or street bike owner.
Let's get started.
---
Best Garage Floor for Dirt Bikes
Risk Racing Black/Grey Factory Pit Mat
The first product is a dirt bike garage mat manufactured by Risk Racing – also known for their strapless tie downs. It comes with a universal fit and is compatible with a wide variety of lifts and motorcycle stands.
Is this Dirt Bike Garage Mat Worth Buying?
As someone who is a bit obsessed with riding (call me crazy, but I'd ride a Kawasaki, Triumph, Suzuki… whatever), I love that this garage floor protector is a perfect spot to set your motorcycle stand. Thus, I recommend using it to showcase your dirt bike and keep your wife happy by eliminating the damage that could come from oil or an anti-freeze spilling on the floor.
Contributing to it's versatility, the beveled edges and the highly-textured surface… you just MIGHT avoid getting in trouble!
Discussing the convenience, this garage floor mat is set at 28 x 72″ and can be rolled into a 5.5" roll which is ideal for moving around and storing. It weighs just under 13 pounds and can be packed in a transportation bag.
Positive Reviews
Among the most prevalent advantages to Risk Racing floor mat, the universal fit and the attractive design make this a win-win model for almost anyone. It's waterproof and made to resist harmful chemicals that could spill from a motorcycle.
Negative Reviews
The main downside? The fact that it isn't available in a variety of sizes means that the only option is to get the 28″ x 72," which is almost too short for large street bikes.
Specifications
Set at 28″ x 72″ in size
Comes with a stable base, beveled edges
Available in Black/Grey
It weighs 13 lbs and it can be rolled into a 5.5" roll
Click here to view pricing and read reviews on Amazon.
---
Best Motorcycle Garage Floor Mat for Street Bikes
G-Floor Motorcycle Floor Mat
When it comes to a street bike garage mat, it can't get much better than a product manufactured by G-Floor. With their manufacturing process based in the USA, the company ensures that its products are sturdy and long-lasting. This particular mat is set at 3′ by 8′ and comes with a 55mm wear layer.
Which means… you can be confident that it will resist mud, salt, antifreeze, oil, harmful chemicals. As far as any other liquids that could damage your garage floor, probably clear. Not only that, but the polyvinyl structure ensures that it will not crack or curl after being exposed to harsh elements.
Is the G-Floor Worth Buying?
In a word, yes. The "Midnight Black" that this motorcycle garage mat comes with is really cool. Apart from protecting the garage floor, these also improve overall aesthetics. Whether your street bike(s) occupy the space (whether that's a Harley Davidson, BMW, Ducati, or a Honda), the garage will look better. In addition to that, the 55mm thickness of the base, accompanied by a 12cm overall thickness ensures that it resists any harsh chemicals and liquids.
Its highlighting feature has to be the 100% polyvinyl structure. It sure seems like a top-contender for the "best" solution when it comes to a garage floor protector. It will withstand oil spillage, mud, anti-freeze agents, and a bunch of other liquids, without curling or cracking.
Also, the rubbered textured finish is a fantastic addition to its overall durability. With that in mind, I would say that with proper maintenance, the G-Floor Motorcycle Mat Garage Floor Protector can perform for years with no issues.
One of the coolest points is that cleaning this mat is as simple as taking a pressure hose and spraying any residues with water and a detergent. This is a feature that all bike enthusiasts will love as there are a plethora of garage floor mats models which require that you exert great physical effort to remove the mud and other dirt residues. Discussing its friendly design, it is a great choice if you are a beginner.
You can roll it out or fold it and put it away within minutes. G-Floor did a great job manufacturing a newbie-appropriate floor mat that comes in two sizes: 5′ x 10' and 3′ x 8'.
Positive Review of the Motorcycle Garage Floor Mat
Firstly, I love the fact that this G-Floor mat eliminates noise while providing great insulation. In addition to that, it acts as a waterproof barrier between your garage floor and any liquid/harmful chemical that comes from your street bike. Furthermore, its sophisticated polyvinyl structure and DIY design are the highlighting points that make it a good choice, no matter whether you are a beginner or an experienced street bike enthusiast.
Negative Reviews
One of the issues I've read about is that the G-Floor mat can get a little slippery right after a clean… although I also read that all you need to do is hose it off if/when you spill slippery junk on it. Makes sense to me!
Specifications
Coming in two sizes – 3′ x 8' and 5′ x 10'
Made of 100% polyvinyl
Features a rubbered finish
DIY-friendly, simple to install/move
Waterproof, great insulation
Click here to view pricing and read reviews on Amazon.
---
Why (or) When to Use a Floor Mat?
The answer is simple – you should use a floor mat if you are storing your street or dirt bike in a garage. Told you it was simple.
As long as that is the case, a floor mat will protect your garage floor from oil, anti-freeze agents, or any other damage that comes from exposure to harmful chemicals.