Yamaha Kodiak 450 (Top Speed, Horsepower, Specs, etc.) – Worth Buying?
BraapAcademy.com earns a small commission from qualifying purchases.
This does NOT cost you extra.
Are you in the market to buy a farm or hunting ATV? If so, the Yamaha Kodiak 450 is one of the more popular options out there for many. However, these quads aren't the right choice for everyone.
Below is a Kodiak 450 review that includes all of the quad's specs like its weight, horsepower, top speed, and more.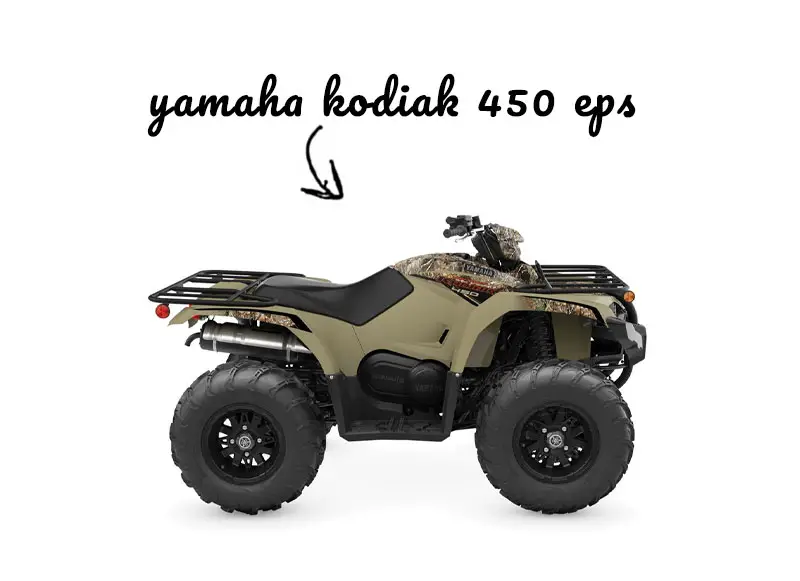 In addition to the Yamaha Kodiak 450 specs, I'll also cover some positive and negative reviews, its maintenance schedule, price, problems, and more. Basically, we'll cover all of the most important info about this Yamaha ATV, and whether or not it would be a good fit for you and your needs.
---
What is a Yamaha Kodiak 450?
The Yamaha Kodiak 450 is an off-road ATV that is powered by a 421cc, liquid-cooled, SOHC 4-stroke engine.
Overall, this beginner-friendly, mid-sized utility quad. It's fairly light and nimble for a farm quad, but definitely not a race quad like the YFZ450R, or the larger Raptor 700. These four wheelers have electric start and an automatic transmission, making them a joy to get going on.
Unlike a Sport quad, these are great for adding atv winches and even a 4 wheeler gun rack if you plan on taking it hunting. Also, these Yamaha 4 wheelers are well built and are fairly easy to maintain.
Basically, these are great entry-level quads because they are fairly inexpensive and capable.
Overview:
Type: Utility, Farm
Stree-legal: No
Rider's age: Adult
Rider's height: 5'3″ or taller
Who Should Buy?
Here are a few questions to ask if you're considering one of these:
What is your current skill/experience level?
What type of riding do you do most?
Do you want a race quad or a farm quad?
Current Skill Level
Being a 450cc four-stroke, this Yamaha ATV is a solid choice for small adults, women, and beginner-to-mid-level quad riders. Most beginners would prefer the smooth automatic transmission, power, and torque that comes from these quads.
However, if you are planning to drag race at the dunes or take on a motocross track, this really isn't going to be the right quad.
Riding level: Beginner to intermediate adults
What Type of ATV Do You Want?
Again, this is a utility quad. These aren't necessarily "fast" nor do they have long travel suspension designed for jumps and whoops.
Instead, the Yamaha Kodiak 450 EPS SE, EPS, and base models are all made to be "working" machines. If you're in the market for a 450 farm quad, this is a great choice.
Here are a few of the main reasons to, and not to, buy a Kodiak 450 ATV:
Reasons to Buy:
You plan to use the quad around the house/property and on some trails
If you already know how to ride or you're confident enough to learn on a 450cc
These need relatively little maintenance (compared to some others)
Looking for a high-quality, brand-name utility quad
Selectable 2-wheel and 4-wheel drive modes
Reasons Not to Buy:
Plan on more dune trips than trail rides
Want a "fast" quad
Although a 450cc, it doesn't have a TON of power
Yamaha Kodiak 450 Specs
Here are all of the Yamaha Kodiak 450 specifications taken directly from Yamaha's website and owners manual. Also, I was able to track down and add a few of the specs that were not provided by the factory.
Engine Specifications
Engine Type
liquid-cooled SOHC 4-stroke; 2 valves
Displacement
421cc
Horsepower
49 HP
Compression
10.0:1
Bore and Stroke
84.5mm x 75.0mm
Fuel System
Fuel Injection (34mm)
Transmission
Ultramatic V-belt (with all-wheel engine braking)
Gears
High, Low, Neutral, Reverse, Park
Drive
Base – On-command selectable 2WD or 4WD; shaft
EPS – 3-way locking differential; 2WD, 4WD, locked 4WD; shaft
EPS SE – 3-way locking differential; 2WD, 4WD, locked 4WD; shaft
Starter
Electric start
Chassis Specifications
Frame Design
Central double-cradle-type 25CrMo4 steel
Ground Clearance
9.6 inches (244mm)
Front Suspension
Independent double wishbone (6.7 inches of travel)
Rear Suspension
Independent double-wishbone (6.7 inches of travel)
Front Brake
Dual hydraulic disc
Rear Brake
Multi-disk wet
Front Tire Size
AT25 x 8-12
Rear Tire Size
AT25 x 10-12
Wheelbase
48.8 inches (1,239mm)
Seat Height
33.7 inches (855mm)
Wet Weight
Base model – 638 pounds
EPS – 650 pounds
EPS SE – 680 pounds
Fuel Capacity
3.7 gallons

Miscellaneous
| | |
| --- | --- |
| Colors | Blue, Green, Tan with Camo (EPS only) |
| Model ID | 450, 450 EPS, 450 EPS SE |
Here's a recap of the most important specs:
Manufacturer: Yamaha
Model Name: 450, EPS, SE
ATV Type: Utility
Years Made: 2003-2024 (present)
Seat Height: 33.7 inches
Wet Weight: 650 pounds (with fuel, fluids, etc.)
Top Speed: 50-55 mph
Horsepower: ~26 HP
---
450 Engine & Transmission
Although the 421cc engine isn't the most powerful or fast in the 450 class, it is still a solid, well-built motor.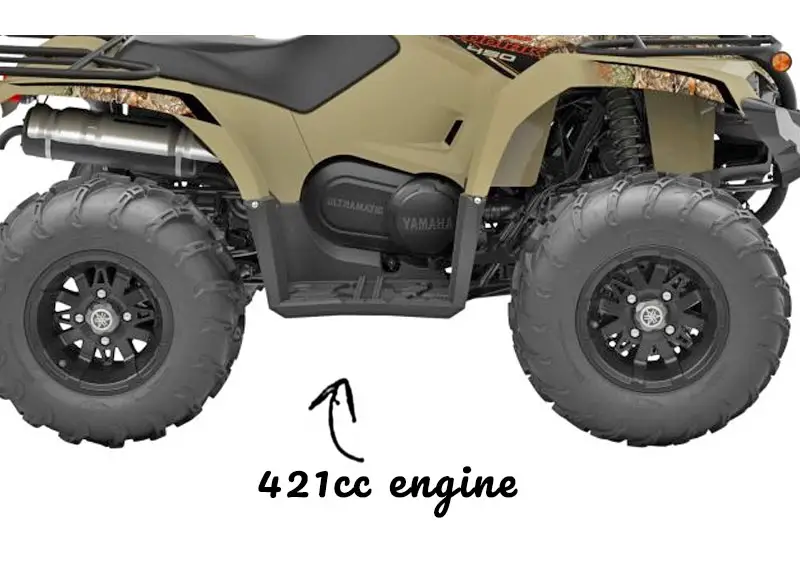 The 421cc SOHC engine is designed to deliver balanced and responsive power.
Its smooth characteristics make long riding (or working) days more enjoyable than a high-strung, high-performance engine. Not only does the "tamed" and smooth power delivery make this a good option for beginners, but it also makes it less tiring to ride.
Horsepower
The stock Yamaha Kodiak 450 makes 26 horsepower. There are some mods that can increase this motor's output, but having a high horsepower number isn't the most important.
Granted, a larger HP number sounds and looks cool, but instead of focusing on peak horsepower, Yamaha designed this engine to be useable and predictable. Still, it does have one of the lowest horsepower outputs from this class.
To get an idea of how this quad compares to the competition, here are the Honda, Polaris, and Can-Am four-wheelers in the same class (or close to the same class).
Can-Am Outlander – 38 HP
Polaris Sportsman 450 – 33 HP
Honda FourTrax Rancher 450 – 28 HP
Overall, this Yamaha farm quad is capable of getting you around the mountains and getting work done around the house. In fact, the 450 Kodiak comes with a 2-inch receiver for hauling firewood, debris, or whatever you throw in your ATV utility trailer. The Kodiak 450 EPS can tow 1,322 pounds.
Top Speed
With a top speed of around 50 mph, the Kodiak 450 is not the slowest or the fastest utility quad. Here's a video of the Yamaha Kodiak 450 reaching a maximum speed of 51 mph.
How fast is a Yamaha Kodiak 450?

Although this stock Yamaha 450 ATV can go 50 mph, it isn't difficult to get them to go faster. Simple things like gearing it up, or adding an aftermarket exhaust. Of course, there are more involved mods that you can make as well.
But at the end of the day, a fast top speed isn't too important. And when it comes to being usable, this quad makes very useable power. Even still, the Kodiak is just as fast as its competition. For example, the Honda FourTrax Rancher goes 50 mph, and the Polaris Sportsman goes 52 mph.
Maintenance
One of the great aspects of these quads is the lack of maintenance required. Even though these don't require a lot of frequent maintenance, they still last a LONG time.
Basically, all you have to do is keep up with all of the typical items like changing the oil and air filter.
Yamaha Kodiak 450 Maintenance Schedule
Below is a screenshot that shows a few of the maintenance requirements for the Kodiak 450 EPS. Since it's probably hard to make out clearly, I'll list out the maintenance items and how often you should either inspect or replace them.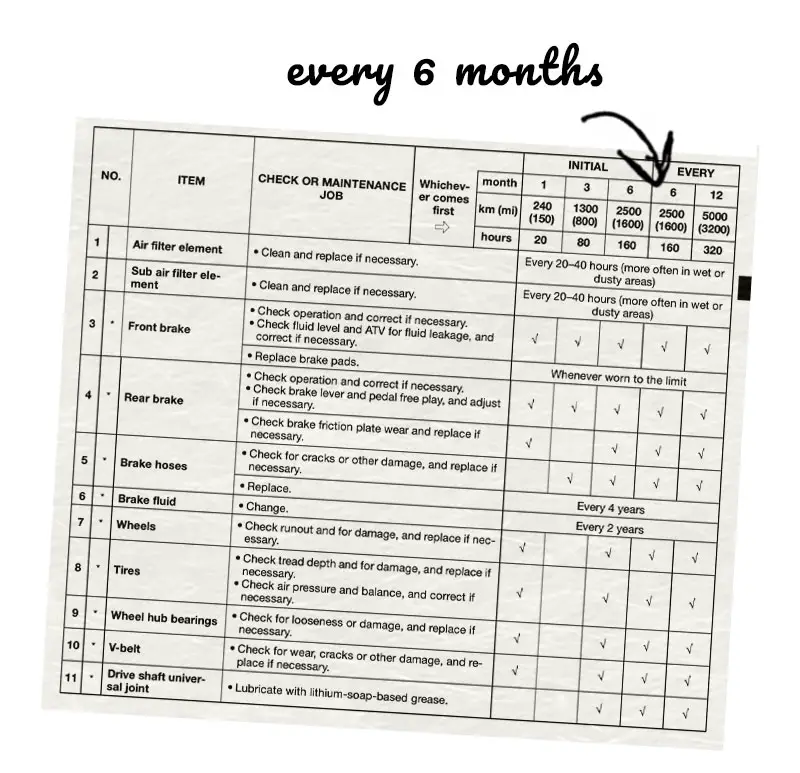 In case you are wondering just how much maintenance these ATVs require, I've included the full list below. Compared to a sport ATV (or dirt bike), these Yamaha four-wheelers don't require much maintenance at all.
Other than the initial 1, 3, and 6-month break-in items, the following are all of the maintenance Items, Jobs, and Intervals for the Yamaha Kodiak 450 ATV.
Every 20-40 Hours (1-2 months, 150-300 miles)
Air filter element
Sub-air filter element
Every 6 Months (160 Hours, 1,600 miles)
Fuel line
Spark Plug
Valves
Crankcase breather system
Exhaust system
Spark arrester
Air induction system
Front brake
Rear brake
Brake hoses
Wheels
Tires
Wheel hub bearings
V-belt
Drive shaft universal joint
Chassis fasteners
Shock absorber assemblies
Stabilizer brushes
Rear knuckle pivots
Steering shaft
Steering system
Engine mounts
Axle boots
Engine oil
Final gear oil
Cooling systems
Moving parts and cables
Throttle lever
Front and rear brake switches
Lights and switches
Every 12 Months (320 hours, 3,200 miles)
Everything from the 6-month list, plus the following:
Engine oil filter cartridge
Engine oil strainer
Differential gear oil
Every 2 Years
Change brake fluid
Replace coolant
Every 4 Years
Replace Brake hoses
What motor oil does a KTM 300 XC-W use?
The Kodiak 450 EPS manual recommends Yamalube oil. It lists the following viscosity grades: 5W/30, 10W/30, 10W/40, 15W/40, 20W/40, 20W/50.
Even though the manual recommends Yamalube, it also states that other brands are acceptable. As long as you use an oil that meets the API service SG type or higher, JASO standard MA, the oil should be fine.
Here's how much oil the Kodiak 450 takes:
Oil change – 2.3 L (2.43 qt)
Oil change with oil filter removal – 2.3 L (2.43 qt)
---
Yamaha Kodiak 450 Handling
The 450 Yamaha Kodiak is a great handling ATV. Not only are they an easily manageable size for most adults, but these quads are great for trails and woods riding.
Unfortunately, one of the most popular features of this quad, the power steering, is not available for the base model. If you've got the room in your budget, the Kodiak 450 EPS SE is obviously the best of the three, but the 450 EPS also has the power steering.
In fact, "EPS" stands for Electronic Power Steering.
Weight
The wet weight of a stock, base-model Yamaha Kodiak 450 weighs 638 pounds. From there, the weight goes up slightly. The 450 EPS weighs 650 pounds and the 450 EPS SE weighs 680 pounds
To give you an idea of what similar ATVs weigh, we'll take a look at a few other makes and models in this class. For example, the Can-Am Outlander weighs 852 pounds, the Polaris Sportsman weighs 736 pounds, and the Honda FourTrax Rancher 450 weighs 580 pounds.
Clearly, the Yamaha is noticeably lighter than the Can-Am and Polaris, but also quite a bit heavier than the Honda.
Kodiak 450 Weight Limit
So, does a Kodiak 450 have a weight limit? Yes, actually it does.
The owner's manual states that the quad has a maximum weight limit of 530 pounds. It's important to know that the maximum load limit of the storage compartment is 4 pounds. While that isn't a whole lot of weight, it's plenty strong to hold a few important tools.
Also, the manual states that you can load the front carrier with up to 88 pounds. Again, this does include the overall weight added to the quad, and shouldn't exceed 530 pounds overall.
Kodiak 450 Tow Capacity
Listed at 1,322 pounds, the towing capacity of a Yamaha Kodiak 450 is impressive. Granted, the Can-Am is rated to tow more weight, but all of the quads in this class put out some decent numbers.
Here's how the competition stacks up against the Yamaha:
Yamaha Kodiak 450 – 1,322 pounds
Can-Am Outlander 450 – 1,650 pounds
Polaris Sportsman 450 – 1,350 pounds
Honda FourTrax Rancher 450 – 848 pounds
Seat Height
The Yamaha Kodiak 450 seat height is 33.7 inches high.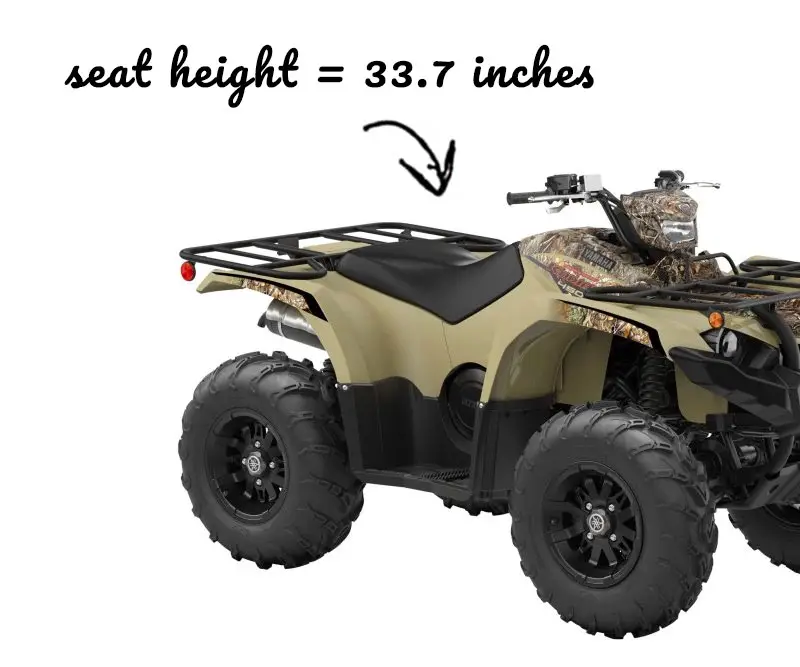 The Kodiak 450 is actually quite roomy and comfortable, despite it "only" being a 450cc. In fact, it offers the same riding position with the same roomy feel as the larger Kodiak 700. The seat is plenty long and plush, making it a very comfortable ATV.
In addition to having a comfortable ATV seat, the Kodiak 450 also has under-seat storage.
Suspension
The independent double wishbone suspension offers an optimized vehicle stance, light steering, and an improved feeling from the shocks across the entire range of travel. Boasting 6.7 inches of travel in the front, and 7.4 inches of travel in the rear, this quad delivers a great ride over just about any conditions.
Paired with the standard skid plates and nearly 9.6 inches of ground clearance, the independent suspension with adjustable shocks makes for a very capable quad. The only real negative here is that you need a special wrench to make some of the adjustments.
For example, this quad offers five different preload settings for the front suspension.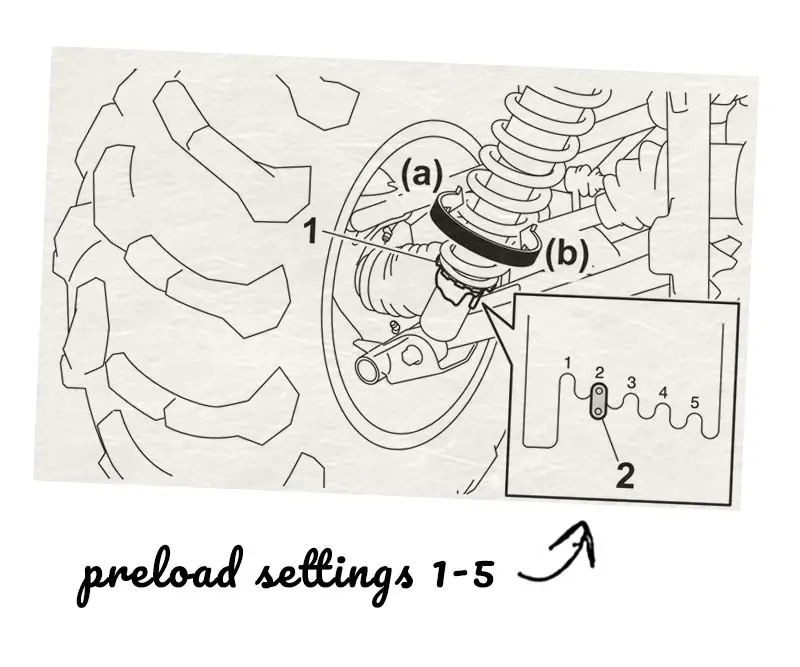 As you can see above, there are five different preload settings. Here's how the different suspension settings break down.
Front spring preload settings:
Soft – 1
Standard – 2
Hard – 5
Rear spring preload settings:
Soft – 1
Standard – 2
Hard – 5
Is the Kodiak 450 ATV Any Good?
If you haven't figured out my personal opinion of this quad, I like it. However, as I've mentioned already, these aren't the best choice for everyone.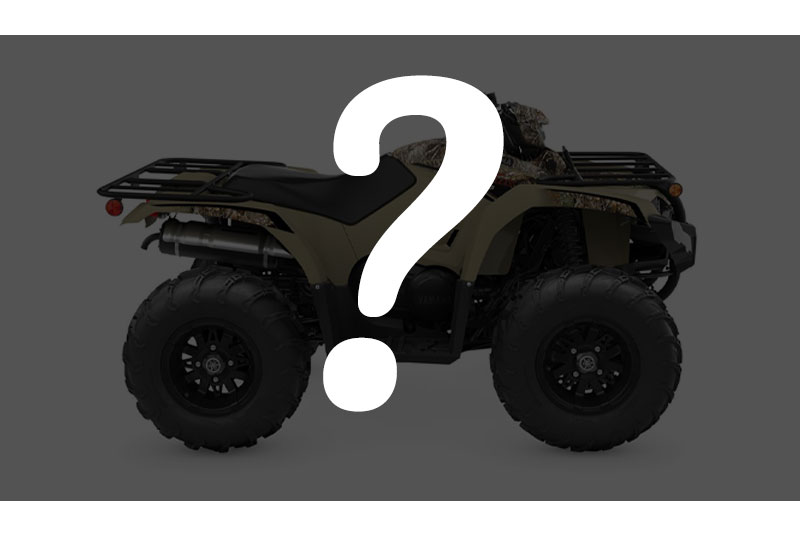 Here are some of the positives and negatives of one of these Yamaha four wheelers:
Positive Reviews
Great handling and power at all speeds
Feels lightweight
Good, adjustable suspension
Reliable motor
Great torque and power from the 450 engine
It has an electric start
Fuel-injected
Great battery
Good towing capacity
Negative Reviews
The base model doesn't come with power steering
Winch not included (although wired for one)
It could use a bit more power
In the end, these are solid ATVs that have been built to last.
Common Problems
This is going to be an ongoing section. I'll list out any of the Yamaha Kodiak 450 common problems that I can identify. Now, before you call me lazy, I have to warn you – these quads have a great reputation for being reliable and well-made.
Overall, there aren't any typical (or common) problems that the majority of owners report. Having said that, no machine is built perfectly. Since these do have batteries, I always recommend having a way to maintain them. If you don't have a way to keep your battery charged, here's the best trickle charger for keeping the battery charged, without over-charging it.
Buyers Guide (Best Year, Pricing, etc.)
Now that we've covered all of the "need-to-knows" of this ATV, let's look at buying one. In this section, we'll cover all of the important buying-related items. Here's what we'll look at:
Kodiak 450 years to buy
What they are worth used
Where to buy a used Kodiak 450
Best Year to Buy
My pick for the best Yamaha Kodiak 450 year to buy is going to seem like a bit of a cop-out. Either way, the newer the better is the general advice I can give. Having said that, you'll still need to take into account your budget and personal preferences.
Any of the older models are still "good" 4-wheelers, but if you can find a 2017 or newer, that would be ideal. The 2017 and newer models are easier to keep up with the maintenance requirements than the older models.
How much does a Kodiak 450 cost?
Depending on the model, the Kodiak four wheelers cost between $6,999-$8,399, plus destination charge and any other misc. charges from the dealer.
BASE MSRP: $6,999 (base model), $8,099 (EPS), $8,399 (EPS SE)
Destination Charge: $500
Without talking to any of the local Yamaha dealers near me, I'm guessing it would be around $7,500-$8,000 to take a brand-new base-model home.
How much is a used Kodiak 450 worth?
Admittedly, buying a new quad is nice because you don't have to worry about how the previous owner treated and maintained it. However, you can usually save a lot when buying used. Since these have been around for so long, the price range is fairly broad.
Here are the listings I found on Facebook Marketplace and Craiglist, plus a new one from the dealer:
2024 Yamaha Kodiak 450 EPS – $11,999 (new, from a local dealer)
2022 Yamaha Kodiak 450 EPS – $6,500
2021 Yamaha Kodiak 450 EPS SE – $8,700
2018 Yamaha Kodiak 450 – $6,500
2005 Yamaha Kodiak 450 4×4 – $3,100
2004 Yamaha Kodiak 450 – $2,500
2003 Yamaha Kodiak 450 – $3,500
When you compare these seven used ATVs, the average price comes out to about $5,133. However, the prices actually range from as cheap as $2,500 to as much as $8,700 (not counting the brand-new one).
Is Kelley Blue Book Price Accurate?
After seeing what people are charging in my area, I decided to check the Kelley Blue Book website to see what they have the bike valued at. Here's a screenshot of the price: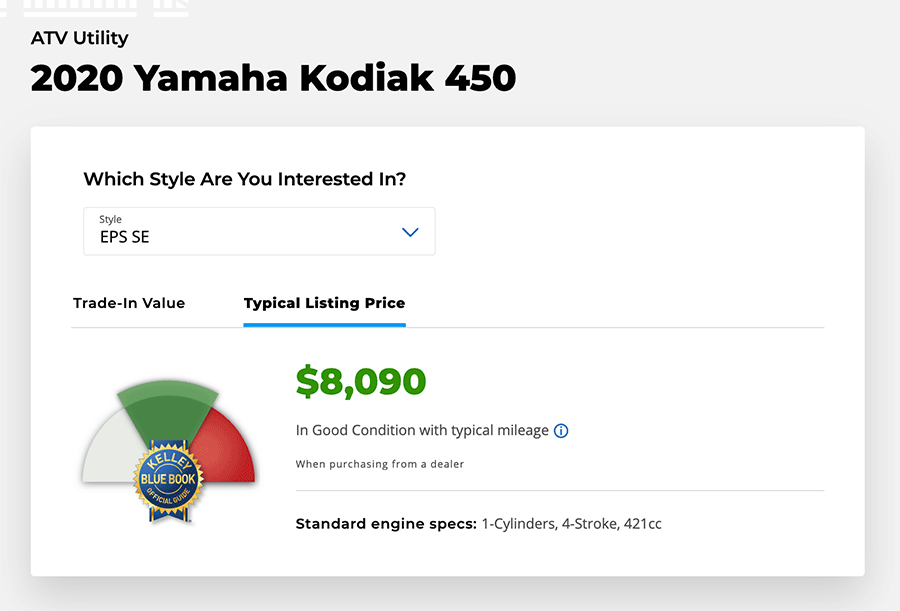 According to KBB, most people list the 450 EPS SE for $8,090, and the base model for $7,270. That seems a little higher than what I found, but the majority of the four wheelers that I found were older than 2020.
Either way, you can expect to pay somewhere around $7,000-8,000, depending on the year and condition
Where to Buy?
Obviously, if you want a new, 2023 or 2024 Yamaha Kodiak 450, just drive down to your local Yamaha dealer and pick one up.
If you want an older, used model, check out Facebook Marketplace, Craiglist, Cycle Trader (mostly dealers now), etc. Since these are so popular, there should be a few for sale in your area.