Honda CRF50 Mods (Best Parts, Upgrades, and Accessories)
BraapAcademy.com earns a small commission from qualifying purchases.
This does NOT cost you extra.
Trying to decide which Honda CRF50 mods would be best? I found them. Whether you're planning to make this a mini dirt bike ready for adults, or you just want to give it a little more pep or better handling, I've compiled a list of the best CRF50 upgrades and modifications.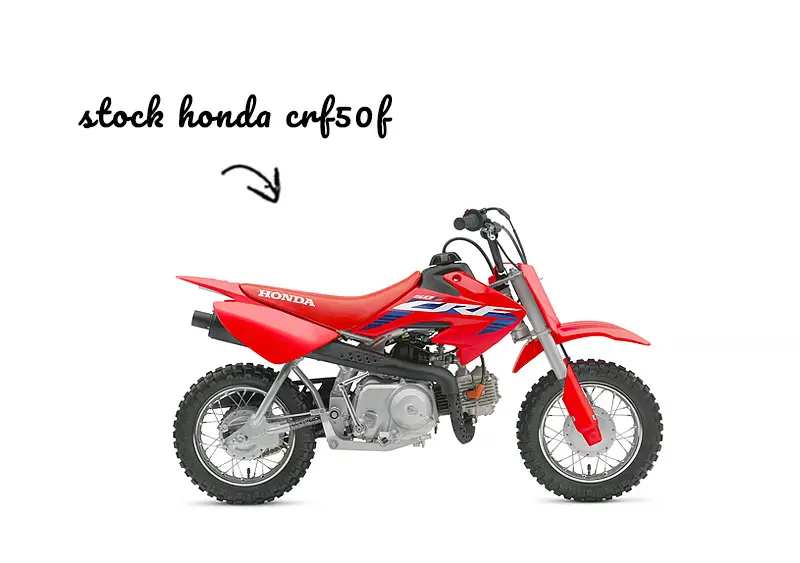 I've got to warn you, this list is long, however, I don't cover every possible mod. But, after looking this over you should know which CRF 50 mods you'd like to make to your dirt bike, and which ones to pass on.
Even though these are some of the best aftermarket CRF50 parts, accessories, and mods, it doesn't mean that you must buy or do them.
Also, the majority of these Honda CRF 50 mods are for adults, but many will still work out great for your little one(s) as they grow.
Either way, these are the most popular CRF50 suspension mods, engine upgrades, aftermarket exhausts, tires, and more.
---
CRF50 Big Bore Kit
In order to get the most out of your 50cc engine, you may want to consider installing a big bore kit.
Adding a big bore kit to your CRF50 will increase the displacement and that generally means more compression, more power, and a better mid and top-end. With that, this CRF50 power mod increases top speed and horsepower.
BBR Big Bore Kit for CRF50 (88cc)
If you're looking for a good "bang for your buck" power mod for your CRF50, look into adding an 88cc big bore kit from BBR or TB.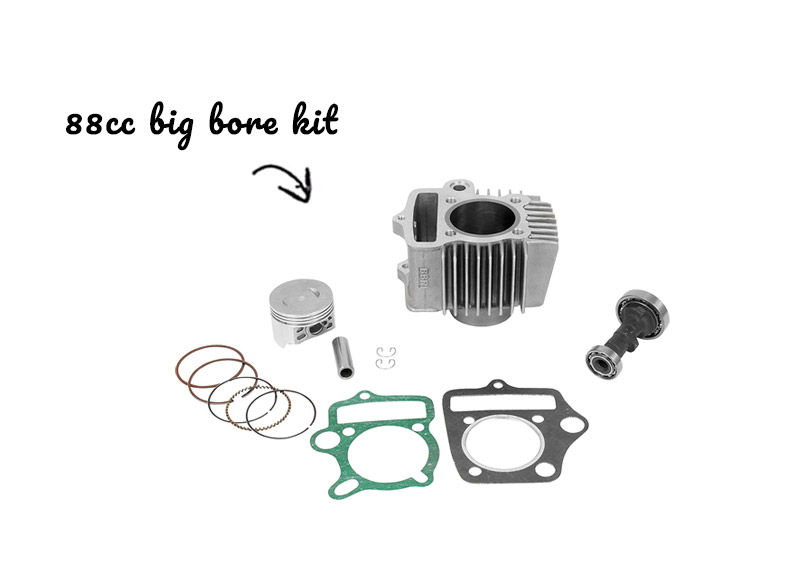 These are cheaper than an exhaust system and add significant performance gains. Also, they are bolt-on and I think the average "Joe" might be able to install one.
However, "Joe" should have the tools and be mechanically inclined… that or invite his mechanically inclined buddy over and pay him with a six-pack of… soda. These can be intimidating to install if you haven't worked on engines much.
Here's a video that will give you an idea of what the job consists of, although I don't recommend following it as an exact step-by-step guide.

Anyway, this 88cc big bore kit for CRF50 dirt bikes is one of the best options out there for making the bike go faster. With the displacement increased by 38cc, you'll notice improved low, mid, and top-end power.
And while there may be a couple of different CRF 50 big bore kits on the market, BBR is known for making some of the best you can buy. If you want to seriously out-pull your buddies on their Yamaha 50cc dirt bike, or Suzuki 50cc dirt bike, this will do it!
Here are the top features of this Honda CRF50 BBR big bore kit:
Aluminum cylinder
52mm piston
MX-grind camshaft
Gasket kit
Bolt-on
Works with stock carb
Does not require machine work
Overall, these BBR big bore kits are impressive. Not only do they add noticeable power gains, but they are one of the most reliable 88cc big bore kits available.
Click here to view pricing and read reviews on Amazon.
---
CRF50 Exhaust Mods
I think you'd agree that adding an aftermarket exhaust is one of the more fun CRF50 mods that you can do, right? After all, replacing your stock Honda exhaust system is a proven way to improve throttle response, increase horsepower, and make your dirt bike sound better.
Although there aren't quite as many options for aftermarket exhausts for a CRF50 as there are for the bigger bikes, there are a handful of solid options. Just like the big boys, the Honda 50 can choose from Yoshimura, FMF, Pro-Circuit, and more. After putting a list together of the best honda CRF50 exhaust systems out there, I've narrowed the #1 spot down to the Yoshimura.
Aftermarket Exhaust
The RS-2 Yoshimura CRF50 exhaust is, in my book, the best one out there for the CRF 50. It's not perfect, but it's great.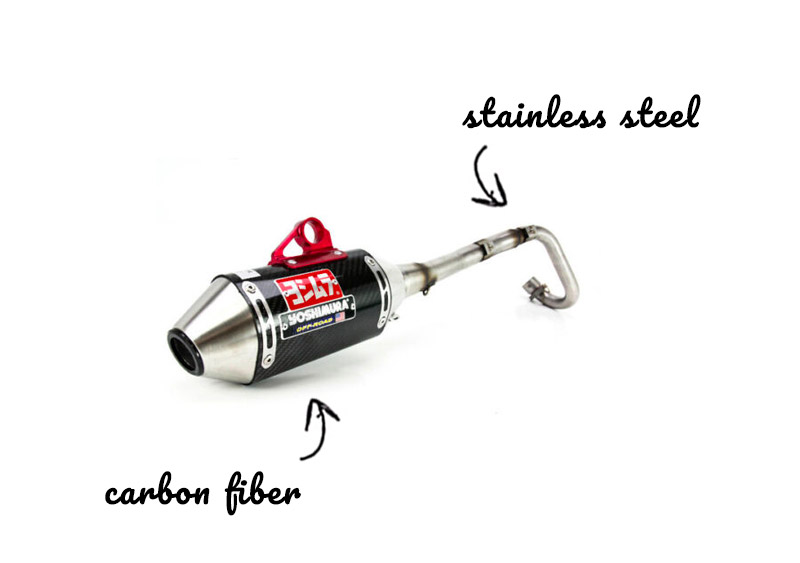 Don't get me wrong, there are a handful of good exhaust systems the Pro-Circuit T4, the FMF Powercore 4, etc., but these Yoshimura pipes have one of the nicest sounds you can get… and they improve performance. This exhaust system will make your Honda 50 sound incredible without being too loud.
Here are a few of the main features:
Improved throttle response
Good low-end response
Top-quality build
Looks "professional"
Lightweight
Easy to install
Not too loud
NOTE: This pipe is designed to work with a big bore kit. If you're sticking with stock, you'd be better off going with this FMF pipe (also available on Amazon).
Click here to view pricing and read reviews of this Yoshimura exhaust pipe on Faster-Minis.com.
---
Stock Exhaust Mod
If shelling out the money on an aftermarket exhaust isn't sounding too great, here is a great stock CRF50 exhaust mod that you can do.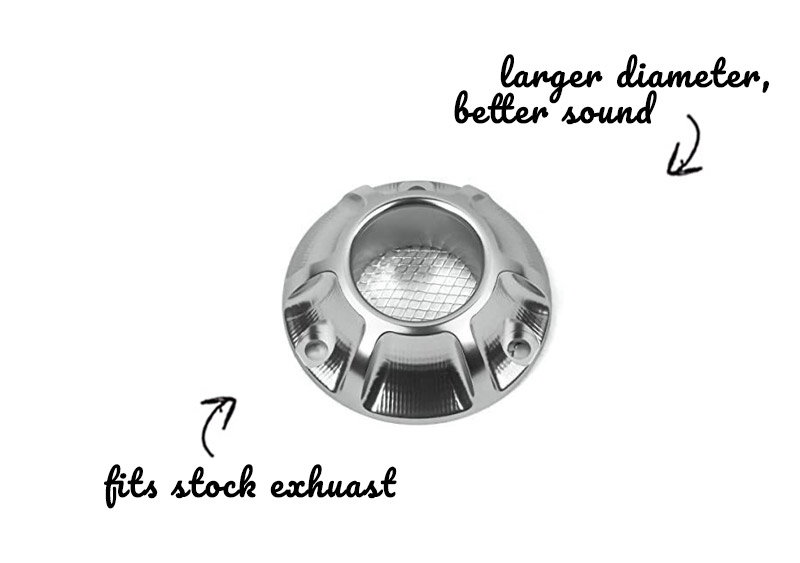 If you're looking for a cheap way to make your Honda 50 sound better, you can buy a "power tip" that you can put on your stock exhaust muffler.
This power tip for the Honda exhaust has a larger opening than the stock tip, so it makes for a little more power and a much better sound. Basically, this is one of the best cheap CRF 50 mods that you can do to make your bike sound better.
Click here to view pricing and read reviews on Amazon.
---
Air Filter Mod
Although buying an aftermarket CRF50 air filter is hardly considered a modification, it is an easy and cheap upgrade.
Improving airflow is one of the things that just about every dirt bike owner should consider doing. Whether you're modding a 50 or 450, optimizing the airflow is an affordable and significant enough upgrade to do.
uni Two Stage Pod Filter
When your engine is getting enough air it just runs better. Thes uni CRF50 air filters are a good option for those looking to buy an aftermarket filter for their bike.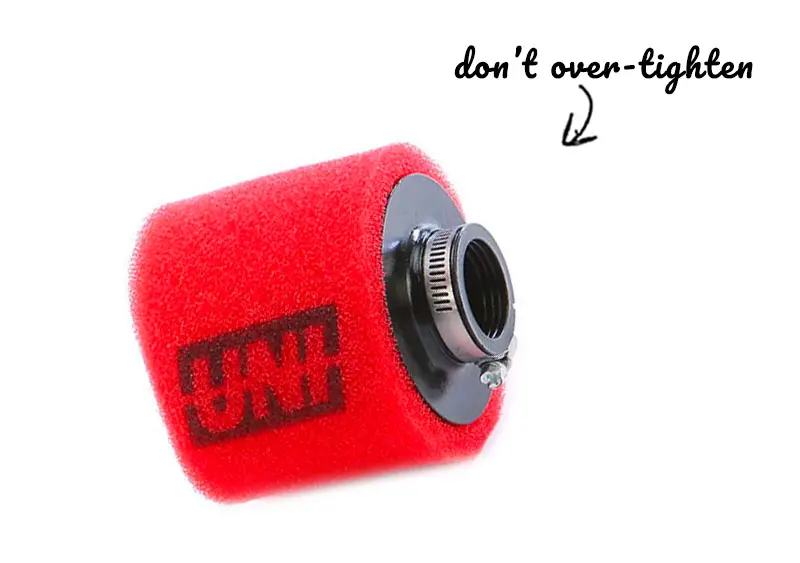 The uni company has been in the air filter-making business since 1969. With such a long history in the field, it's no wonder they make some of the best dirt bike air filters you can buy.
Here are some of the features and positives of this air filter:
Two layers of foam
Increased airflow
Improved throttle response
Slightly more throaty sound
Overall, this is a great upgrade for most riders, but it does have its drawbacks. For instance, this aftermarket air filter requires you to remove your air box. If you're not into doing the CRF50 airbox mod then you should just stick to an air filter that is more similar to a stock one.
Click here to view pricing and read reviews on Amazon.
---
CRF50 Suspension Upgrade
If you're an adult, upgrading your suspension is one of the best mods that you can do. Even if you don't add a full kit, upgrading the front springs and/or the rear shock will make a noticeable difference.
With heavy-duty springs, you should be able to go faster and maintain better control of the little 50cc bike.
Heavy-Duty Fork Springs
Let's be real for a minute – the Honda CRF50 front forks are made for kids, not 180-pound dads.
The stock CRF 50 springs are soft for any adult rider, so upgrading the front forks is a great way to get this bike ready for adult riding. Not only do these prevent you from bottoming out on every little jump, but they also give you better control and handling.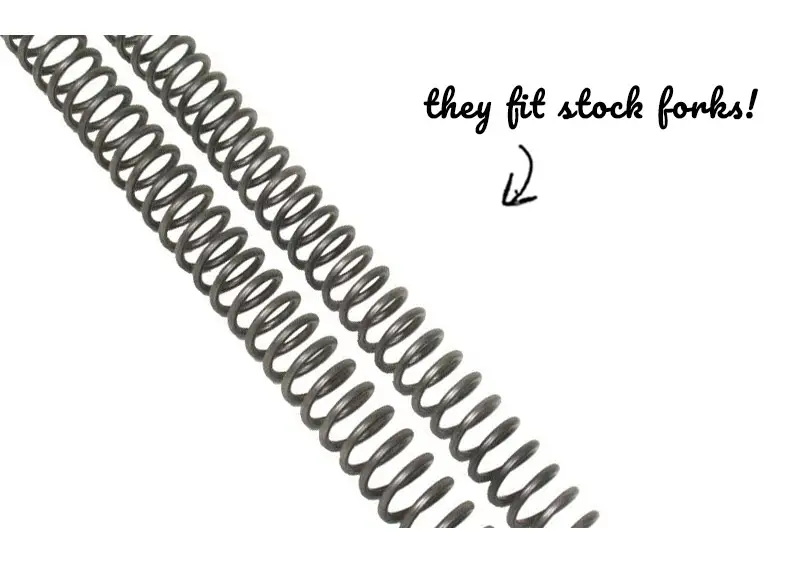 Here are some of the features of these aftermarket front fork springs:
Increased spring rate (for adults)
Preset and stress relieved for long life 
Made front aircraft quality steel
30% stiffer than stock
Fits CRF110F stock forks
Doing some type of CRF50 forks mod is going to make a big difference in the handling of your dirt bike. However, being able to keep the stock forks is nice. With many other dirt bikes, you've got to replace the entire front fork setup.
Click here to view pricing and read reviews on Amazon.
---
Heavy-Duty Rear Shock
Whether you decide to go with an aftermarket swingarm or not, adding a heavy-duty rear shock is a well-warranted CRF50 suspension mod.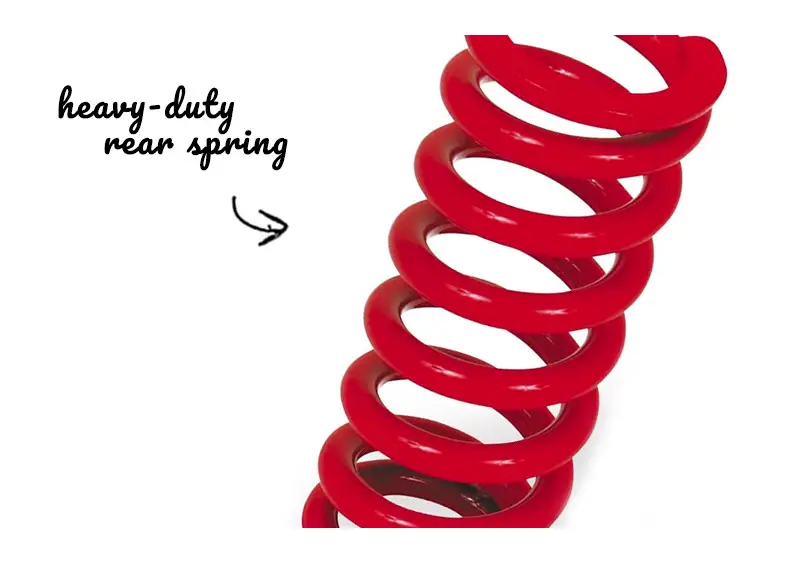 Whether you go decide to upgrade just the rear spring or the entire rear CRF 50 shock, you will experience a noticeable difference.
Upgraded rear shocks improve the dirt bike's overall ride and handling, and they will prevent you from bottoming out. Granted, there are a few fancier (better) shocks out there like the ELKA, but these DNM shocks are great for less than half the price.
Here are the main features of this DNM rear shock:
Nitrogen Charged Oil Damping
Preload and Rebound Adjustments
Bolt-on (2019+)
Fits 2013-present CRF110 models
Click here to view pricing and read reviews of the BBR heavy-duty SPRING on Amazon, or click here to view the fully adjustable, rear shock (also available on Amazon).
---
CRF50 Tires
Unless you've put some new shoes on your ride, I think you'll be presently surprised at the difference you feel when you put some good CRF 50 tires on your dirt bike. Seriously, I'm always (even though I know better) blown away at how much better my bike handles when I put a new front tire on them… it feels like you're riding on rails at first.
NOTE: Keeping a fresh tire on the front makes just as much of a difference as the rear. I know we all tend to keep the rear knobby fresh, but the front makes ALL the difference for handling.
I'm not saying that the stock tires are terrible, but I always end up picking different tires than what the factor uses stock. Maybe they've got a deal with certain companies, or maybe they're trying to appeal to as broad of an audience as possible – I don't know. What I do know… I find that aftermarket are the best CRF50 tires because they tend to last longer and perform better.
So… here are the best dirt bike tires for a CRF50 (in my opinion).
Best Tires for Trail
I really like my Michelin Starcross 5 dirt bike tires. Granted, I'm running them on my CRF450R, not a 50cc… but they hook up great and last okay. Are they perfect? Nope.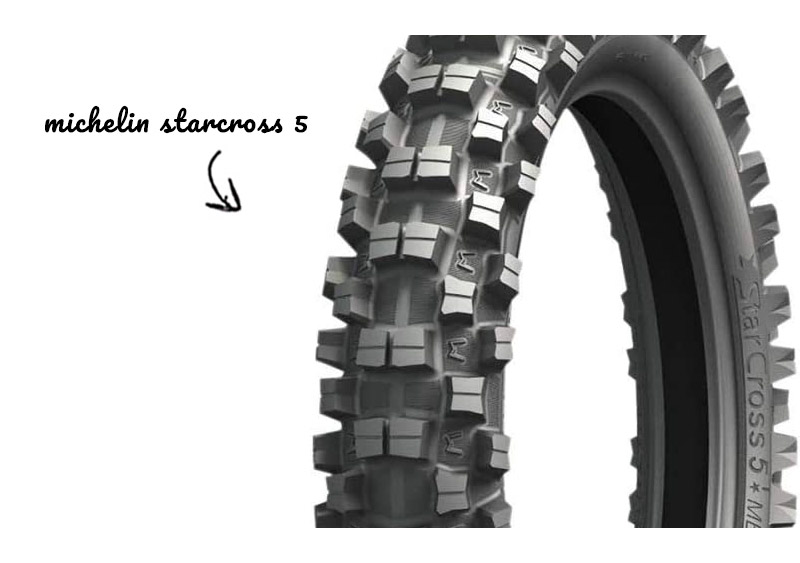 When you go to replace your stock tires (wait until they're worn out), it's best to look for a new set that is based on the type of riding you do the most. Naturally, this isn't quite as crucial when you're cruising around on a 50 as it is when on you're riding a full-size dirt bike, but you will still notice the difference.
I generally go with a medium terrain tire, but depending on where you ride most, you may want to choose a hard or soft terrain tire.
Click here to view pricing and read reviews on Amazon.
---
CRF50 Dirt Bike Armor
Let's face it… the Honda 50cc dirt bikes are not made for us adults. But that doesn't necessarily have to stop us from ripping around on them.
However, if you are planning on playing around on one of these CRF50 pit bikes, you should seriously consider adding a frame cradle and/or a skid plate. These items not only protect your dirt bike from external threats like rocks and roots, but the cradle will also protect the bike against your more-than-100lbs butt sitting on the seat.
Skid Plate
For those who find themselves trail riding where there are rocks and roots, installing a CRF50 skid plate is a great idea.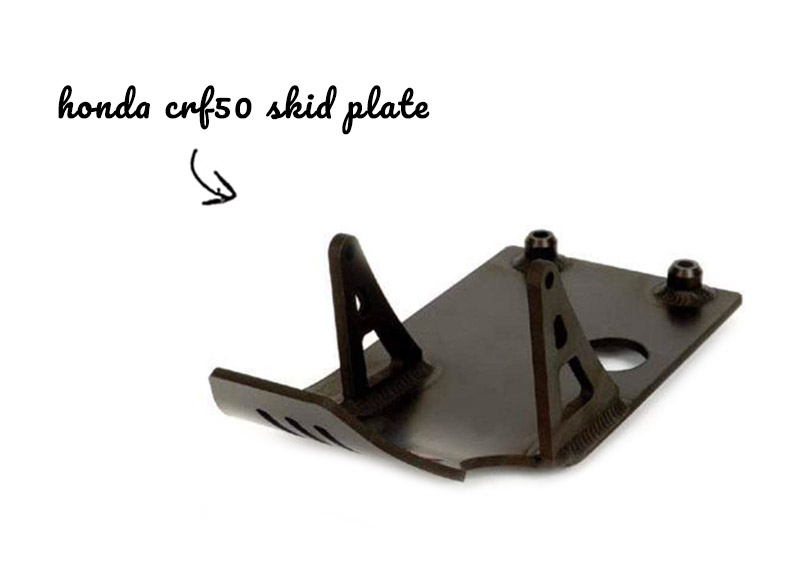 BBR makes a good skid plate for 50cc dirt bikes, but they aren't cheap. Alternatively, if you're looking for a cheap CRF50 skid plate there are plenty. Just do a quick search on Amazon and you can find quite a few for less than $50.
Putting a skid plate on your CRF50 is one of the best ways to protect your dirt bike from damage caused by rocks, roots, or whatever else comes up.
Click here to view pricing and read reviews on Amazon.
---
Frame Cradle
A frame cradle is much different than a skid plate and should also be considered. (yes, you can have both)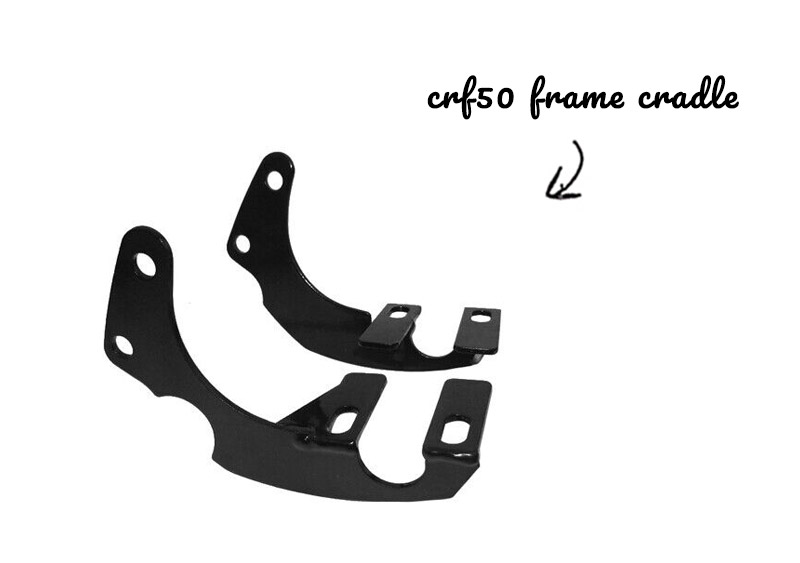 These 110 dirt bike frame cradles ad increased protection from footpeg bracket strain to the case. It does this by helping to distribute weight evenly, reducing stress on the frame.
Installing a CRF110 frame cradle will support your motor and footpegs, preventing the motor mounts from braking. Even if your motor mounts don't brake, the footpegs are still susceptible to sagging, which the frame cradle prevents.
Click here to view pricing and read reviews on Amazon.
---
Cheap CRF50 Mods
Not all of the best CRF50 mods need to be expensive. Granted, the suspension and engine mods aren't cheap, but the following upgrades are actually affordable… some are cheap, and some are free.
And while the following cheap CRF50 mods are not high-performance mods (typically), they are effective and worth considering.
Wider Footpegs
This may sound like a "reach" but it isn't. If you've spent enough time on your 50cc then you've got no choice but to agree that the stock footpegs leave quite a bit to be desired.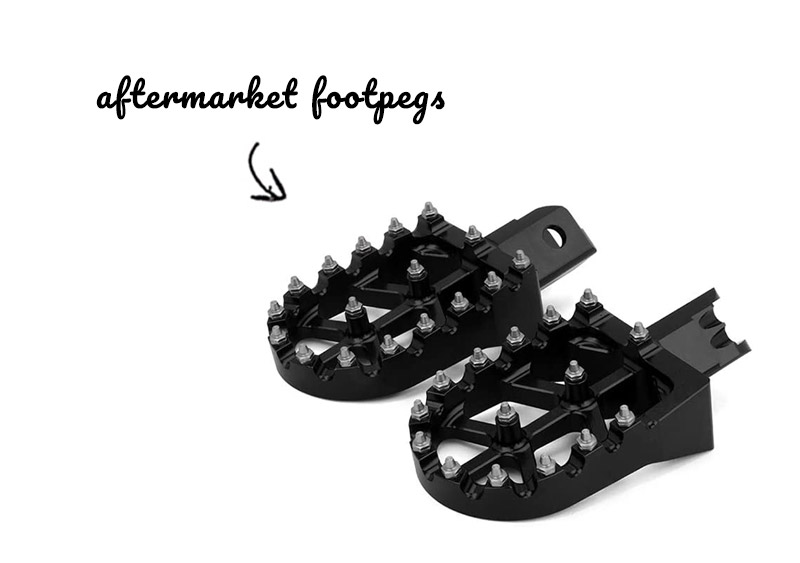 Not only are the stock Honda CRF50 footpegs NOT the best or most comfortable, but they're also terrible for adults. The narrow footpegs with dull, rounded tips leave quite a bit to be desired.
There are a few companies that make good CRF50 footpegs, but not all are "great" options. Here are the most popular footpegs for these dirt bikes:
Raptor Titanium – $300
Flo Titanium – $300
Flo Pro – $170
Pro Taper – $200
IMS Pro – $115
DRC – $55
Looking at that list, you can see just how expensive these Honda 50cc footpegs can be. Considering what they do and the amount of "design" that's really needed to make these a quality footpeg, I recommend deciding how much you want to spend and then going from there.
If you're looking for an inexpensive set for a good price, check out these universal footpegs on Amazon.
---
Taller Handlebars
Are you taller than 4 feet? Probably. So, what's the absolute best CRF50 mods for adults you can buy. Taller handlebars.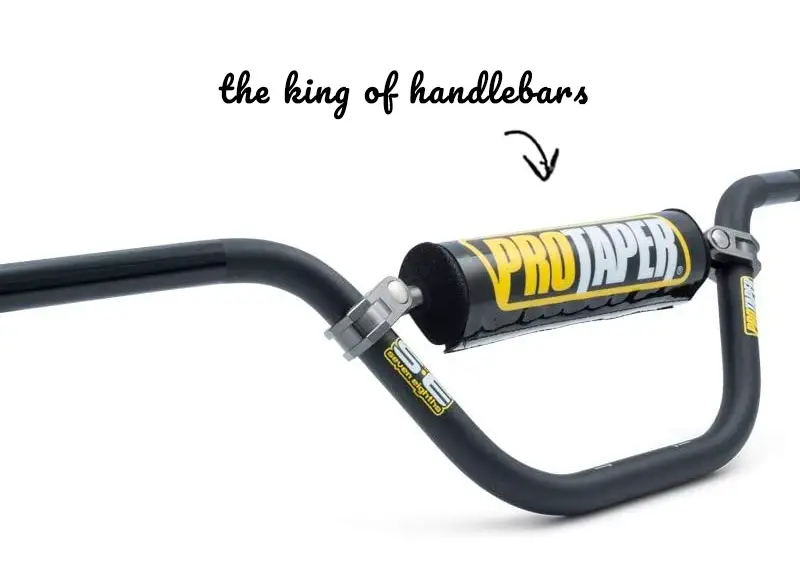 Since we adults aren't vertically-challenged, adding tall CRF50 handlebars is another one of the best, and most popular, CRF50 mods you do.
If you do decide to add a set of aftermarket handlebars to your CRF50, you've got to decide between two sizes – stock thickness, or fat bar thickness.
If you want to stick with your stock clamps and cables, but you'd still like new CRF50 tall handlebars, don't worry, there are some great options.
The best option for a replacement handlebar set for a CRF50 is the ProTaper 7/8″ handlebar. Click here to view pricing and read reviews on Amazon.
If you would like to upgrade the triple clamps as well as the handlebars, Check out this Pro Taper set – to view pricing and read reviews on Amazon.
---
Aftermarket Plastics
Since having an extra set of CRF50 plastics isn't a bad idea, I always recommend buying a set of aftermarket plastics almost right away.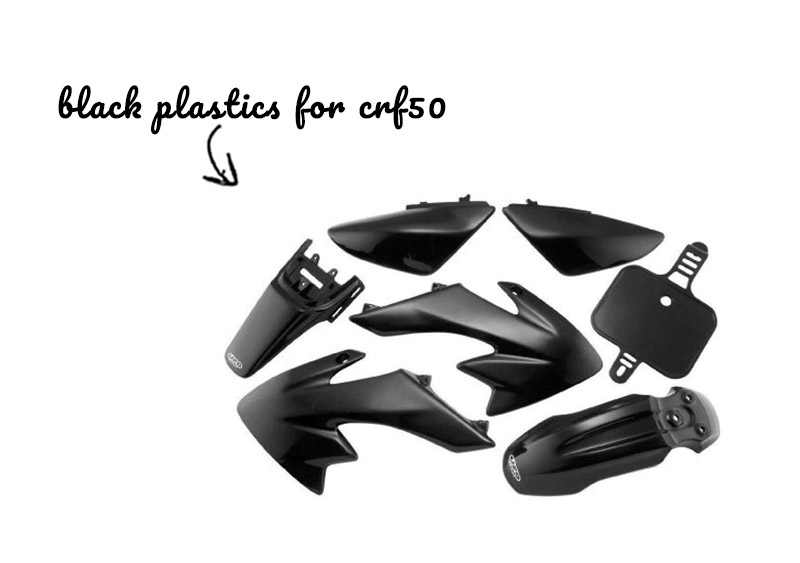 If you buy extra CRF50 plastics and graphics for your bike as soon as you get it, you can take the stock set off and save them. – Pro-tip for when it comes time to resell the bike.
Generally, an aftermarket set of plastics shouldn't cost more than $150-$200.
For example, you can get a complete set of black UFO CRF50 plastics for basically $100 – click here to view pricing and read reviews on Amazon, or a set of red and white UFO plastics for a CRF50 from Amazon – view pricing and read reviews.
After finalizing which plastics kit to put on your CRF110, then you can nail down your graphics. Shopping for your plastics and graphics at the same time is obviously the way to go.