Honda CRF50 Review (Top Speed, Seat Height, etc.) – Dirt Bike Worth Buying?
BraapAcademy.com earns a small commission from qualifying purchases.
This does NOT cost you extra.
Are you looking to buy a Honda CRF50F dirt bike? Or, do you already own one and you're looking for some specific details about it? Either way, here is a full Honda CRF50 review that will go over all of the specs, reviews, pros and cons, and characteristics of this famous little dirt bike.
The Honda CRF 50 is a great starter dirt bike for young riders, however, it isn't necessarily the best dirt bike for everyone. Not only will we look at the specs and reviews, we'll also go over reasons this would be a good bike to buy, and why it might not be a good bike to buy.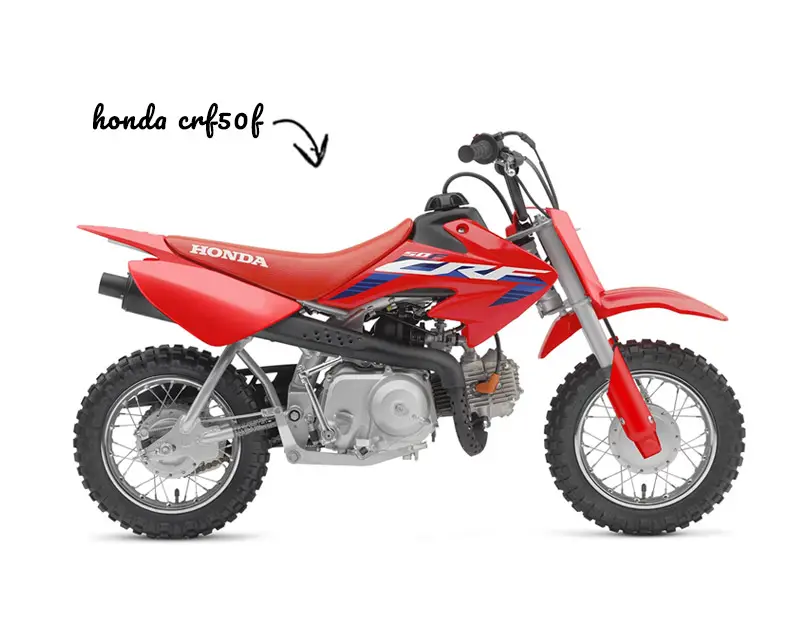 By the end, you should have a good idea of whether this would make a good first bike for you and your situation, how much maintenance it needs, and how much they are worth.
---
What is a Honda CRF50F?
The CRF50 Honda is a 50cc 4 stroke dirt bike made for beginners.
It has a nice-and-soft suspension, smooth power, and a short seat height. This entry-level dirt bike is a great introduction to dirt bike riding.
Because this bike is so short and light, and you don't have to work the clutch to shift gears, it makes for a good beginner dirt bike for little kids.
Although your child can technically race one of these in the 50cc class, they are more geared for adventures in the woods and cruising around on your property. And while they can be used as a pit bike for adults, their are more popular choices on the market.
Who Should Buy?
A Honda CRF50F is a good dirt bike for little kids and young beginners. In fact, it's one of the most popular dirt bikes for little kids on the market today.
This dirt bike is generally considered for riders who fall into the following ranges:
Age range: 5-7 year olds
Rider Height: 4'5″ (or taller)
Of course, these are just estimates and not laws.
The Honda CRF50 is sized, geared, and powered for easy riding. These are great dirt bikes for little kids and beginners.
History
Although the Honda CRF 50 history seems like it starts in 2004, it really started before then.
In 2004, Honda "officially" released the CRF50, but the XR50 had been going strong for many years before that. Here's what Wikipedia has to say about the XR50:
"The XR50 is a small four-stroke 50 cc (3.1 cu in) child's entry level motorcycle, introduced in 1969 and still in production as the CRF50 in 2021. Originally it was called the Z-50, then Trail-50, the XR 50, CRF 50, and the mini dirt bike."
Honda CRF50 Specs
Here are the CRF 50 specs that I got straight from the Honda website.
Engine Specifications
Chassis Specifications

Miscellaneous
| | |
| --- | --- |
| Colors | Red, White |
| Model ID | CRF50F |
Now, those are just the main Honda CRF50 specifications that I was able to grab off of the website. Again, here are the most important CRF 50 Honda specs that most of us are looking for, plus a few others that aren't listed above:
Manufacturer: Honda
Model Name: CRF50F, CRF50, CRF 50, CRF 50F
Common Name: Honda CRF50F
Dirt Bike Type: Offroad, Trail dirt bike, Mini bike
Years Made: 2004-2023 (present)
Seat Height: 21.6 inches
Wet Weight: 111 (all fuel, fluids, etc.)
Top Speed: 30-40 mph
Horsepower: 3 hp
---
CRF 50cc Engine & Transmission
The 50cc Honda dirt bikes are known for being one of the best beginner options. And much of that reputation comes from these durable 50cc engines.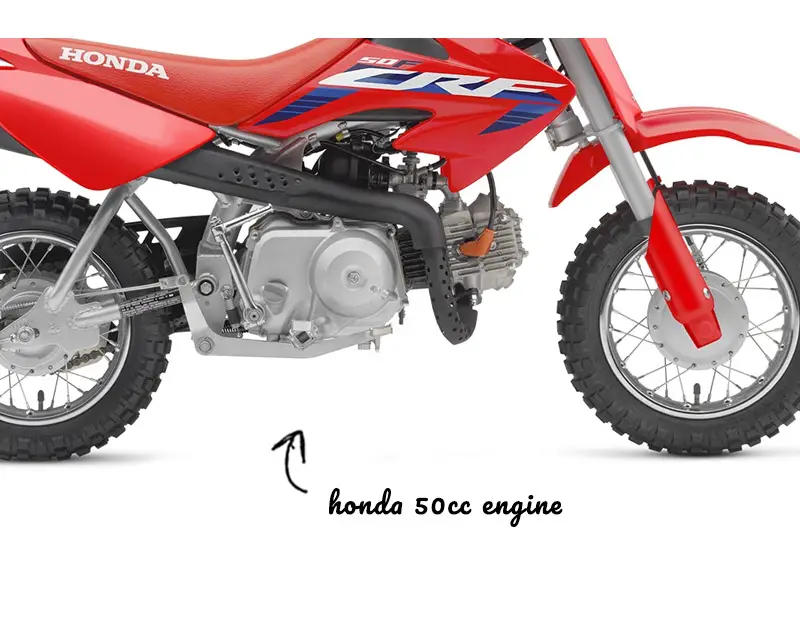 Not only are these Honda 50cc dirt bikes durable, dependable, and easy to maintain, they have a great "roll-on" power for young riders. These small dirt bikes will take your child anywhere you'd like him/her to go, and then some.
These little four stroke engines deliver midrange power and low-end torque that is very rideable and controllable.
Does a Honda CRF50 have a clutch? In a word: no. However, "technically" yes the dirt bike does have a 3-speed clutch, but it is an automatic clutch, so you don't have to "pull in the clutch" to shift gears.
Horsepower
The Honda CRF 50 has 3 horsepower. Yes, LOL. Three.
No, three horsepower isn't exactly a lot, bit it is plenty for little riders. By comparison, the larger Honda CRF 110 has 6 horsepower, while the competition's PW50 has a little less than 3 HP (2.68 HP).
Since these dirt bikes are designed for beginners, they don't need a lot of power. Instead, they're focused on being easy to handle and ride. When little guys/gals are confident on their bike, and it isn't too powerful, they'll usually ride even faster.
Top Speed
Okay, so how fast does a CRF 50 go? A Honda CRF50 top speed is about 35 mph, give or take a few. And in case you're wondering, this is how fast most 50cc dirt bikes are. But of course, the actual top speed that your child is able to reach will vary from time-to-time.
Anything from a rider's size, the terrain, slope, altitude, jetting, and no doubt, a few other factors, will all contribute to either a slower or faster top speed.
At the end of the day, reaching a "higher" top speed is insignificant when it comes to trail riding and learning the ropes. These bikes aren't designed for 1/8 or 1/4 mile races. They're trail bikes.
Here's a good example of a rider falling right into the top speed range on a CRF50.
SPOILER ALERT: You can see him hit 37 MPH.

There are several different modifications that you can do to make a CRF50 go faster (or slower). For example, an easy changing of the gears on a dirt bike can significantly reduce (or increase) the top speed. Also, there are big bore kits and different jetting mods that people will do that will bump up the HP and top speed.
That said, a stock Honda 50 CRF will go around 35 MPH, which is plenty fast for a little kid's trail bike.
Engine Specs
Engine Size: 50cc
Horsepower: 3 HP
Weight: 111 lbs
Engine Type: 50cc air-cooled single-cylinder four-stroke
Transmission: 3-speed, automatic-clutch
Starting: Kick start (only)
Cooling System: Air-cooled
Fuel Capacity: 0.7 gallons, including 0.2-gallon reserve
Type: Petrol / Gasoline
Supply: Carburetor
Maintenance
So, just how much maintenance does a Honda CRF50 need? Not much. A CRF50 Honda dirt bike maintenance schedule is not bad at all, especially when compared to the motocross bikes out there.
Here are the items that are listed in the owners manual:
Fuel Line
Throttle Operation
Air Cleaner
Spark Plug
Valve Clearance
Engine Oil
Oil Strainer Screen
Engine Oil Centrifugal Filter
Engine Idle Speed
Drive Chain
Drive Chain Slider
Brake Shoe Wear
Brake System
Clutch System
Side Stand
Suspension
Spark Arrester
Nuts, Bolts, Fasteners
Wheels/Tires
Steering Head Bearings
Now, you might look at that list and be put off. I wouldn't blame you!
The good news about that list above is that those items don't need addressed too often. Many of these items are simply "inspect" after every 600 miles (or 6 months). Not bad!
With these little dirt bikes for kids, as long as you address any blaring issues and keep up on the normal stuff like changing the oil, keeping the air filter clean, and only running good fuel through the dirt bike, it should last a very long time.
What motor oil does a Honda CRF 50 use? Pro Honda GN4, 4-stroke oil
Oil Capacity:
Periodic oil change: 0.6 US qt (0.6 L)
After complete draining: 0.8 US qt (0.8 L)
---
Honda CRF 50 Handling
All things considered, the CFR50F is a good handling dirt bike for young beginners.
Naturally, it has a low center of gravity and low seat height, which makes less intimidating and easier to ride. Of course, these small Honda dirt bikes aren't the "best" handling machines on the planet, but they're still great for little dirt bike riders.
Weight
The Honda CRF50 weighs 111 pounds. Yes, that's light.
When compared to the Honda CRF110 weight of 169 pounds, you can see that you'd have to jump up 58 pounds for the next sized dirt bike.
Does a CRF50 have a weight limit? Yes, it does. The owner's manual states that the bike is designed for riders who weigh 88 pounds (40 kg), or less.
Seat Height
The Honda CRF50 seat height is 21.6 inches off the ground.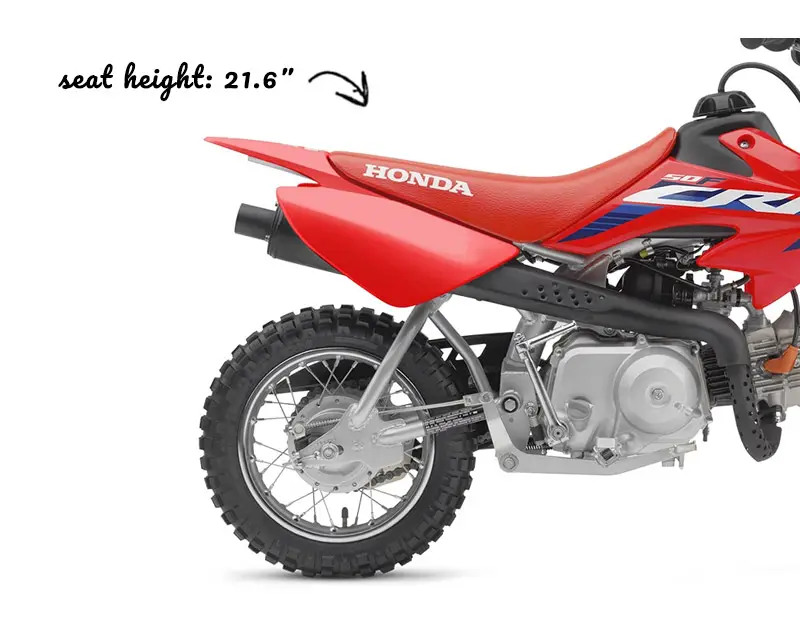 This is a great seat height for young riders. Typically, a seat height of 21.6″ is good for someone who is around 4'5″ (or taller), but that's just an estimate. It's always a good idea to have your kid sit on the bike before buying it… unless you're going to show up with it as a surprise. That'd be cool.
By comparison, the next size up from a 50cc trail bike is going to be a 110cc trail bike. The CRF110 Honda dirt bike has a seat height of 25.9 inches, and the Yamaha TTR90 seat height is 26.1 inches, making either one quite a big jump up in height. Alternatively, you could go with Honda's competition. Yes, the Yamaha PW50 seat height is the industry's lowest at 18.7 inches.
Either way, having a super-low seat height drops the center of gravity and helps to make the dirt bike easier to control.
Suspension
Okay, so I've actually reviewed a handful of different Honda dirt bikes. And when it comes to a "trail bike" like these, this is usually the part where I let you know that the suspension on the CRF 50 Honda is a little soft, a little underwhelming, and leaves a bit to be desired when compared to the motocross lineup.
And while I'm not about to tell you that the suspension is "advanced" or even great, but it is just fine.
The CRF50 dirt bike suspension does it's job for small kids and it is all they really need… from a trail bike. Because at the end of the day, these are not race bikes that are meant to go off of jumps or pound whoops.
Instead, these little kid Honda dirt bikes are designed for light riders (88 pounds or less), and for learning how to ride.
Front suspension: Inverted telescopic fork (3.8 inches of travel)
Rear suspension: Single-shock (2.8 inches of travel)
I think it's clear by now, but if not… these are not MX bikes and they suspension is not designed for tracks.
Handling Specs
Brakes
Front Brake: Drum, 110mm
Rear Brake: Drum, 110mm
Wheels and Tires
Front Tire Size: 2.50-10
Rear Tire Size: 2.50-10
The factory recommendation for tire pressure is 15 psi for the front, and 18 psi for the rear. Of course, you can play around with different kids dirt bike tire pressure settings to see which you (or your child) likes best.
---
Is the Honda CRF50 a Good Dirt Bike?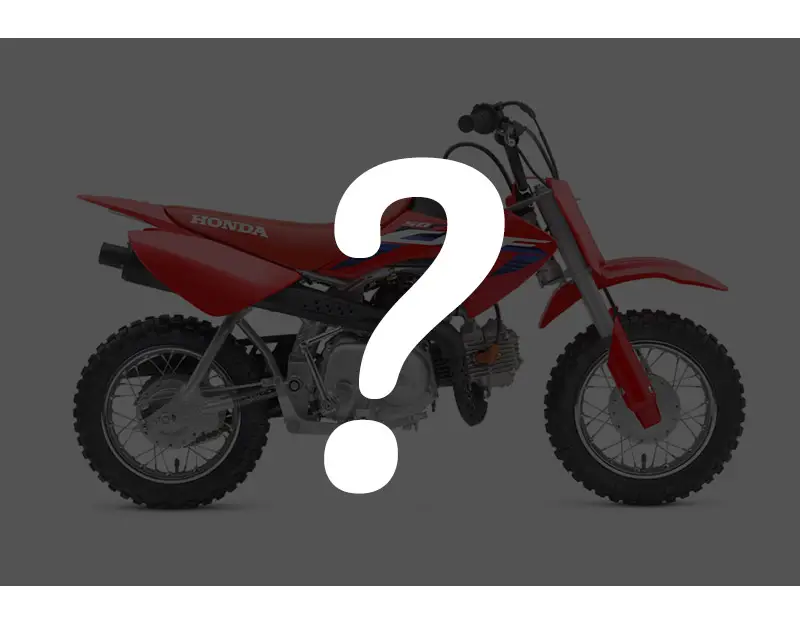 Yes, absolutely. The CRF50 Honda is a great dirt bike young children.
That's not to say that you shouldn't take into account the type of riding, and the type of rider that will be on one. Here are a few reasons to think about buying one, and a few reasons NOT to.
You could buy one if…
You're looking for a good beginner's dirt bike
The bike will be ridden by someone who's about 4'5″ (give or take a few)
You prefer trail and enduro riding over tracks
The rider weighs 88 lbs, (or less – give or take a few)
It's designed for a small, beginner rider
You shouldn't buy one if…
You are looking for a motocross dirt bike
Jumping and track riding is important to you
You want a 2 stroke
In the end, the CRF 50 is really a good little dirt bike for the majority of young riders, and it easily claims a spot as one of the best Honda motorcycles for kids. Just remember, it's a piece of machinery that was made by imperfect humans, so it's not going to be perfect. Also, it's designed for a certain type and size of person, and it will eventually be outgrown.
Of course, outgrowing a 50cc is bound to happen.
Positive Reviews
Proven reliability
Beginner-friendly power and handling
Short seat height is under 22″
Good power and torque for beginners
Simple to work on and maintain
Smooth, controllable power from the Honda 50cc engine
Negative Reviews
Suspension isn't great for big kids or aggressive riding
Many used CRF's have been neglected (because they run forever)
Not as popular as a 110cc for pit bike use
No electric start
No kickstand
Buyers Guide (Best Year, Pricing, etc.)
Well, it's time to talk turkey. Okay, maybe we'll just stick with pricing and buying. I figure now that we've covered all of the specs and different characteristics of this dirt bike, it's time to get to pricing, years to buy, and what to look out for.
First of all, we'll start at where to buy one of these, and what to look for if you buy used.
Where to Buy?
When it comes to purchasing a dirt bike, there are only a handful of really good options. Here are my four go-to's:
Dealer (Hopefully local)
Facebook Marketplace
Craigslist
From a friend
Sure, there are more than a few other websityes (and places) to find a cheap Honda CRF50 dirt bike for sale, but I like checking these first.
Since actually seeing the dirt bike in person, sitting on it, starting it up, riding it, and inspecting it is a good idea before buying one.
What's the CRF50 Best Year?
To be honest, there really isn't a "best year" unless you consider "newer" as better. With the Honda CRF50F dirt bikes, any year is a good because they are almost identical.
Ultimately, if you can find one with a hour meter installed (from new, or close to it), you should be able to get a good idea of how many hours where put on the dirt bike. Just remember that if you convert dirt bike miles to hours that anything from 250 – 330 hours is considered high.
The lack of CRF 50F changes by year is actually on purpose. Honda has built a great little dirt bike that is affordable and function, so they haven't felt the need to make any major changes.
How Much Does a Honda CRF 50 cost?
BASE MSRP: $1,699
Destination Charge: $200
Freight Surcharge: $100
What's a Used Honda CRF50 Worth?
If, for example, you were to price a 2020 Honda CRF50F on Kelley Blue Book, you would find that the "typical listing price" is $1,560, compared to the "trade-in value" of $1,010.
Also, I think it's worth noting that the JD Power (used to be NADA) website lists the value at $1,549 and $1,000. Pretty darn close!
With that $1,560 "typical listing price" in mind, I also did a search on Facebook Marketplace to see if I could find any cheaper CRF50 dirt bikes on there. Sadly, I didn't find a whole lot of them. In fact, I only found two of these dirt bikes for sale on Marketplace:
2017 Honda CRF50F – $1,600 (reduced from $1,900)
2020 Honda CRF50F – $1,800
In case you'd like to read more about these (purely for informational purposes), here's the first ad:
Honda CRF 50 dirt bike 2017 very few hours, excellent condition

Our son is selling his dirt bike. Excellent condition- only scratch is the one pictured on the fender. Not ridden much at all, and always kept inside, and has been well taken care of. We have the pink slip, and all original paperwork. One owner.

$1,600
Here's the second ad
Pink Slip In hand, we bought it brand new from dealer

2020 Honda crf 50f the boy is moving up to a bigger bike. Only kid rode so some scratches in the plastic from him getting dirt samples. This bikes has low hours on it. It has the original tires original chain and sprockets original brake pad. The oil's been changed regularly. It comes with aftermarket skid plate an upper triple clamp so you can change the handle bars.

$1,800
After looking on Facebook Marketplace, I also decided to check Craigslist.org to see what I could find.
I found nada. Not a single Honda 50cc anywhere near me.
So after all of that, it does look like the KBB and JD Power values are in there. The price range could range anywhere between $1,000 (although typically it's more) all the up to $2,000, possibly more if it's got a bunch of mods done to it.
I think if I were in the market to buy one I'd keep my eye out for a nice CRF50 for about $1,500