Yamaha TTR 50 (Top Speed, Seat Height, HP) Dirt Bike Worth It?
BraapAcademy.com earns a small commission from qualifying purchases.
This does NOT cost you extra.
Are you in the market for a Yamaha TTR 50, or do you have one and you'd like to get some specific details about it? Either way, I put together this full Yamaha TTR50 review that will cover all of the need-to-know items like its top speed, horsepower, weight, and more.
At the end of the day, this 50cc Yamaha dirt bike is a great option for first-time riders. However, it's important to know that it isn't designed for every little rider out there.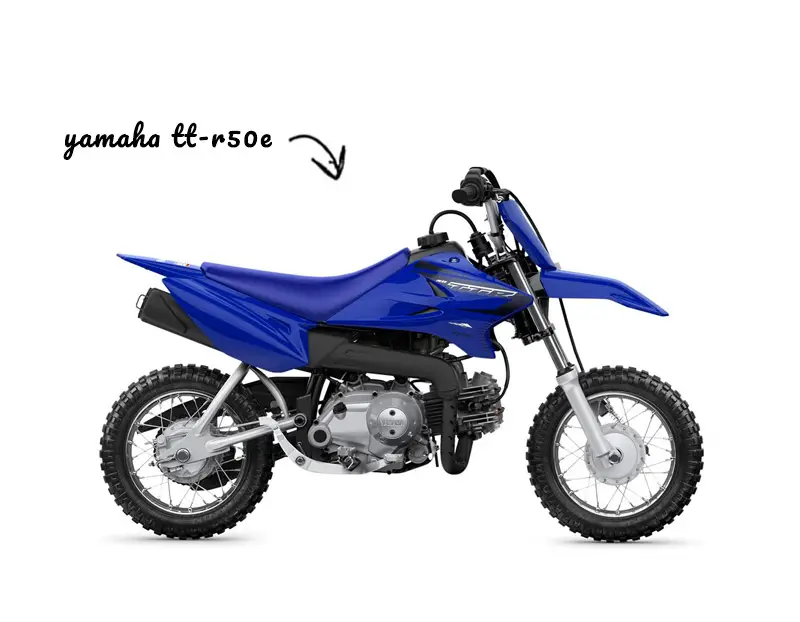 Because of the little nuances and need-to-knows, we will cover all of the usual info, plus we'll also go into why this may, or may not, the right dirt bike for your child.
My goal is to give you a solid idea of what type of dirt bike this is, what kind of regular maintenance it needs, how much these typically sell for, and quite a bit more.
---
What is a Yamaha TTR 50?
The TTR 50 Yamaha is a 49cc 4 stroke dirt bike made for young beginners… obviously, right?
Because these Yamaha dirt bikes are for kids, the suspension, engine, transmission, and overall construction is simple and sturdy. This is a very good thing!
A TTR50 may not be the lightest, fastest, or shortest kids dirt bike on the market, but it is still a solid little dirt bike. It has a short seat height, controllable power, and a kid-friendly electric start.
Overall, these are great for cruising around your property and going on adventures in the woods, even if the "woods" is your backyard and the "adventures" are only a 1/2 hour long. Technically, they could be used as an adult's pit bike, but you'd be better of going with a different option since there aren't a whole lot of aftermarket parts.
Who Should Buy?
Since these aren't the ideal choice for a pit bike, the TTR 50 Yamaha is definitely targeting young first-time riders. And even though they may not be the absolute "best" dirt bike for a 6 year old (give or take) they still come in as one of the best options, depending on what you're looking for.
These dirt bikes would are suited for the following riders:
Age range: 4-7 years-old
Rider Height: 4'5″ (or so)
Remember, these ages and heights are just estimates.
Ultimately, each child is different and their physical ability, along with their personality, is what will help to determine whether it's a good fit.
History
Ever since these were released in 2006, the Yamaha TTR 50 history hasn't changed much at all.
For example, the Yamaha TT-R50 graphics get updated, but neither the engine, transmission, or the suspension has had any upgrades done to it. Is this a bad thing? Not necessarily. These things have been "tried and tested" and keep on going.
Here's an interesting nugget of info that I found on Thumper Talk while researching any specific changes throughout the years:
What does TTR stand for in a Yamaha acronym TTR 90 dirt bike?
"The TT-R acronym means "trails and racing." The TT-R is an upgraded (and updated) version of Yamaha's older TT dirt bike from the 70's, 80's, and 90's. As expected, the "R" stands for "racing" on these dirt bikes because they share similar parts as Yamaha's MX line up."
Yamaha TTR50 Specs
Here are all of the TTR 50 specs that I have been able to round up from the owners manual, and straight from Yamaha's website.
Engine Specifications
Chassis Specifications

Miscellaneous
| | |
| --- | --- |
| Colors | Blue |
| Model ID | TT-R50E |
So, those are the main Yamaha TTR 50 specifications. But again, here are the most important TTR50 Yamaha specs that are most pertinent:
Manufacturer: Yamaha
Model Name: TT-R50E, TT-R50, TTR50, TTR 50
Common Name: Yamaha TTR 50
Dirt Bike Type: Offroad, Trail dirt bike, Mini bike
Years Made: 2006-2023 (present)
Seat Height: 21.9 inches
Wet Weight: 128 (all fuel, fluids, etc.)
Top Speed: 30 mph
Horsepower: 2.5 hp
---
TTR 50cc Engine & Transmission
These 50cc Yamaha trail bikes have made a name for being simple, dependable, and good running dirt bikes.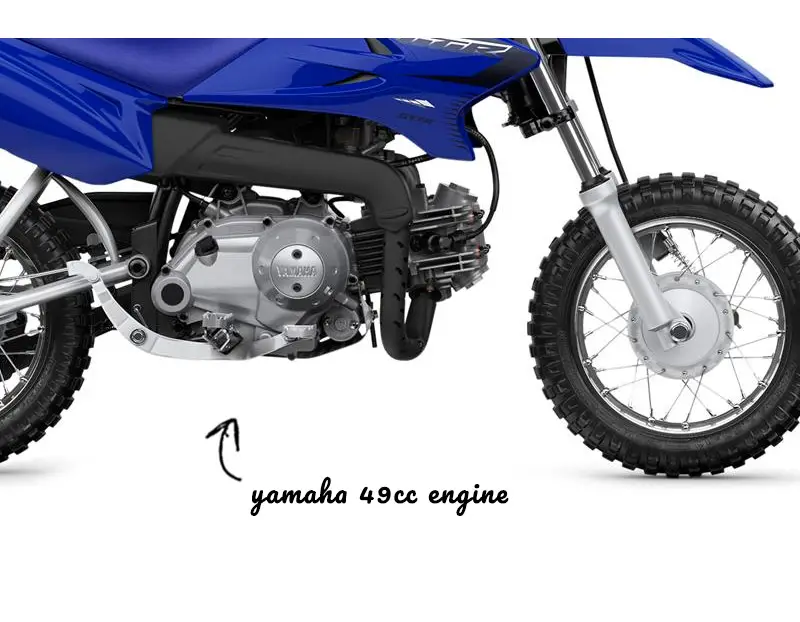 Not only are these Yamaha 50 dirt bikes durable, dependable, but they're also easy to ride. With the 2-valve engine, the TTR50 has a useable low and midrange power that makes it easy for young kids to manage and ride.
Does a Yamaha TTR 50 have a clutch? No. Well, technically it does have an automatic clutch, but no… your child doesn't have to "pull in" the clutch to shift gears.
Horsepower
Are you ready for this? The Yamaha TTR 50 has 2.5 horsepower.
Yes, LOL, just shy of three-whole ponies.
By comparison, the next size up Yamaha TTR90 horsepower rating is only 5.5. What's the point? The 2.5 HP is plenty sufficient to power the bike and your kid. In reality, you don't want your brand-new rider going more than 30 mph anyway… that's actually a decent speed.
All-in-all, the seemingly skimpy horsepower actually helps young riders feel more confident, ride better and safer, and sometimes even faster. After all, it's easier to keep on pushing as long as you feel in control.
Therefore, since the TTR50 won't be blasting roosts every time your child hits the throttle, he/she will be able to ride better and safer.
Top Speed
Okay, so how fast does a TTR 50 go? A Yamaha TTR 50 top speed is about 30 mph.
Thirty miles-per-hour sounds slow for adults and fast for kids, however it falls right in the range of how fast a 50cc dirt bike can go. Does that sound too fast for your little one? One of the cool features to this 50cc dirt bike is that it comes with an easy-to-use speed restricter.
Naturally, the final top speed that your child (or you) is able to reach can vary a little. Everything from your size, the terrain, jetting, gearing, exhaust, and a few other factors, will all contribute to either a slower or faster top speed.
How to limit the throttle on a TTR 50
Setting the throttle/speed limiter on the TTR50 is actually quite easy. As long as the limiter is set, you can fully "open" the throttle grip and the dirt bike will still not reach it's full potential.
Here's how to adjust the throttle: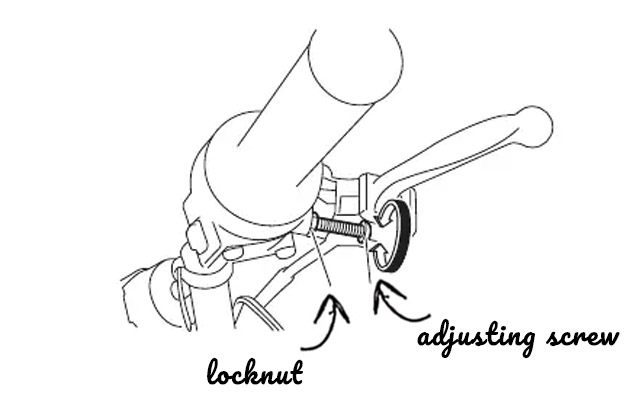 Loosen the locknut
To increase the engine power available (and therefore the maximum speed), turn the adjusting screw clockwise.
To decrease the engine power available, turn the adjusting screw counter-clockwise
Engine Specs
Engine Size: 49cc (considered a 50cc)
Horsepower: 2.5 HP
Engine Type: 49cc air-cooled SOHC 4-stroke; 2 valves
Transmission: 3-speed, automatic-clutch
Starting: Electric start
Cooling System: Air-cooled
Fuel Capacity: 0.8 Gallon
Carburetor: Mikuni VM11
Fuel Type: Petrol / Gasoline
Maintenance
As touched on already, the TTR 50 Yamaha maintenance schedule and requirements are quite small, especially compared to some of the motocross and enduro race bikes.
Generally, as long as you keep up on the oil changes and keep gas in the bike, it's probably going to run for a very long time. Of course, you'll also want to keep the air filter clean and the chain lubed, but it's all really basic stuff, for the most part.
Having said that, here is the list of items that either need inspected or adjusted, according to the maintenance schedule that I copied out of the owners manual:
Fuel Line
Spark plug
Valve clearance
Air filter element
Crankcase breather system
Carburetor
Exhaust system
Spark arrester
Engine oil
Clutch
Front brake
Rear brake
Wheels
Tires
Wheel bearings
Swingarm pivot bearings
Drive chain
Steering bearings
Chassis fasteners
Brake lever pivot shaft
Brake pedal pivot shaft
Sidestand pivot
Front fork
Shock absorber assembly
Control cables
Throttle grip
That's quite the list, isn't it? The upside to that long list of basically everything is that you aren't asked to inspect or adjust these things every time you ride the dirt bike.
In fact, the drive chain is the only item on that list that says to inspect after every ride. Other than that, most items are listed as needing inspected after every 1,800 miles, which roughly equates to every 90 hours, or every 6 months. Not too bad!
What motor oil does a Yamaha TTR 50 use? YamaLube 10w-40
Oil change capacity: 0.85 US qt (0.80 L)
---
Yamaha TTR 50 Handling
All things considered, the TT-R50 is a good handling dirt bike for little beginners.
It has a very low center of gravity and a low seat height which helps young riders feel more confident. This confidence also helps young riders maneuver the dirt bike better.
The overall height of the dirt bike (along with the low seat height) make the bike easy to handle at slow speeds and in tight areas… perfect for young beginners. And thanks to the short 36.4 inch wheelbase, these Yamaha dirt bikes are easy to maneuver in tight areas – whether that's your backyard or up in the woods on a goat trail. Oh, and even if you've got a super small pickup (or a normal one with a toolbox in the bed) you won't need a tailgate net because you should be able to close your tailgate.
Weight
The cub weight of the Yamaha TTR 50 is 128 pounds.
Compared the competition, for TTR50 isn't the lightest option, but it's still right in there. The Honda CRF50 weight is a bit less, at 111 pounds. And of course, the Yamaha PW50 weight is even less than both, at only 82 pounds.
Overall, the dirt bike is a bit on the heavy side, but not enough to disqualify it from being a decent option.
Does a TTR50 have a weight limit? Yes. The owner's manual states that any rider should weigh 88 pounds or less.
Seat Height
The Yamaha TTR50 seat height measures 21.9 inches off the ground.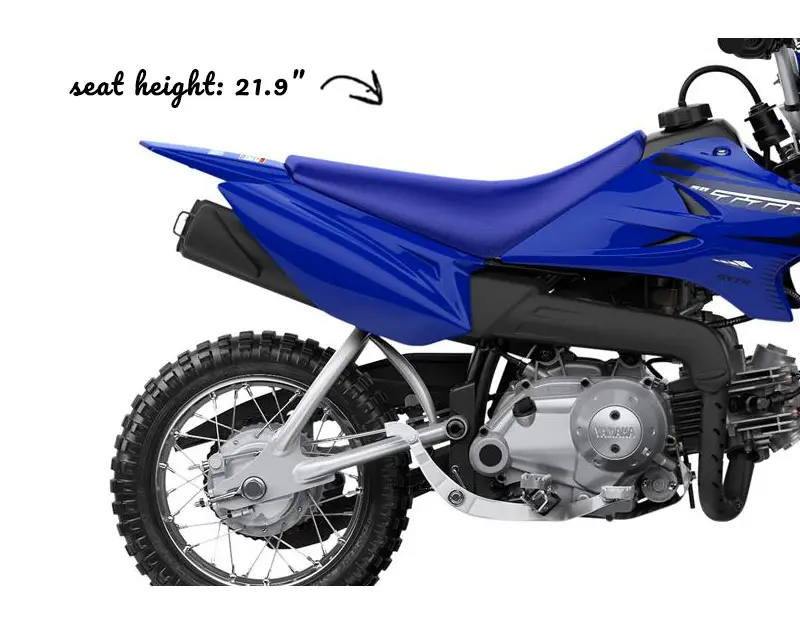 Typically, a seat height of 21.9″ is good for a kid who's around 4'5″ tall, but that is simply an estimate. By comparison, the CRF50's seat height is almost identical at 21.6 inches.
If your child is short, or prefers a shorter dirt bike, the PW50 is probably going to be your best bet. It's got the lowest seat height in the class at 18.7 inches.
Either way you look at it, the low seat height, paired with the low center of gravity and easy-to-control power-band, make for a good Yamaha dirt bike for kids anywhere from about 4-7 years old. Of course, if your child is older but would still like a small bike, it should work fine. Alternatively, you can check out these dirt bikes for 8-year-olds to see a few bigger options.
Suspension
Being a "little kids" dirt bike, the TTR50E suspension is simple, yet effective.
Yamaha didn't go all out on trying to create a complicated suspension because, well, it's just not needed. The TTR50 comes with inverted front forks and a decent rear shock. Although you can't adjust the front forks, you are able to adjust the sag.
Front suspension: Telescopic fork (3.8 inches of travel)
Rear suspension:Single shock (2. inches of travel)
NOTE: If you're interested in signing your child up to race motocross, this may not be the best bike. Not only is it a little on the heavy side for a track bike, but the limited travel and suspension will also be a detriment. Basically, just know that it isn't really a motocross dirt bike and it isn't designed to be able to handle everything a motocross bike can.
Having said that, here's a cool little video where you can see a kid riding a TTR50 on a track. Obviously, the bike can handle it.

Most young beginners don't ride aggressively enough to need a sophisticated suspension setup. In stock form, the soft springs and valving actually make for a better, more controllable ride for small dirt bike riders.
Overall, what (and who) the dirt bike is designed for, the suspension is just fine.
Handling Specs
Chasis
Frame Type: Steel backbone frame
Brakes
Front Brake: Drum, 80mm
Rear Brake: Drum, 80mm
Wheels and Tires
Front Tire Size: 2.50-10-4PR
Rear Tire Size: 2.50-10-4PR
---
Is the Yamaha TTR 50 a Good Dirt Bike?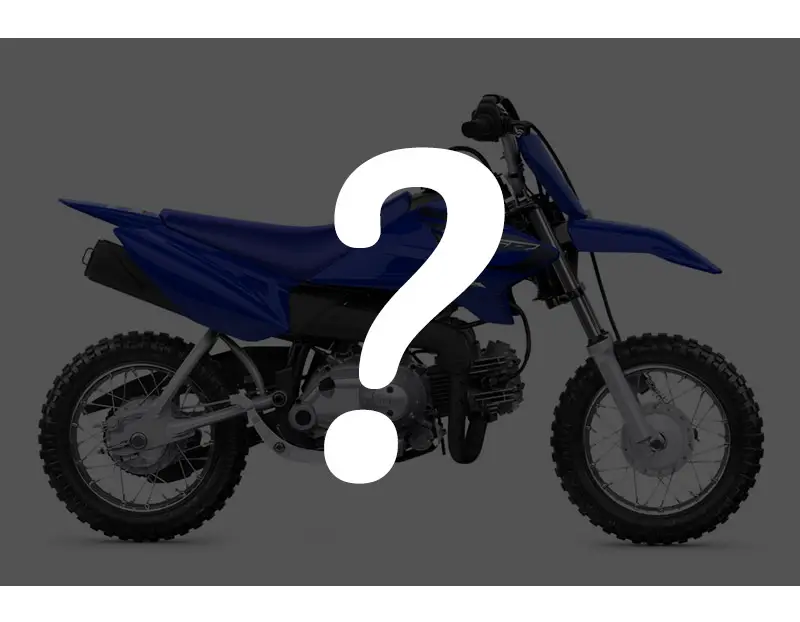 Nothing to worry about here. The TTR50 Yamaha is a great dirt bike for kids.
How can one of the heaviest 50cc dirt bikes out there be so good? While it is on the heavy side, it's a good running, easy (and fun) to ride, well built machine. If you're looking for a dirt bike that is built for fun, this fits the bill. It smokes the PW50 and it won't be as quickly outgrown.
Yamaha is one of the best dirt bike brands out there, and its fun to see them producing such cool 50cc dirt bikes. However, no dirt bike is perfect for everyone. Here are a few things I would consider if I were looking to buy one today:
Buy if…
You're looking for a good dirt bike to learn on
If you'd like a little bike for cruising around camp on
The rider is about 4'6″ (give/take a few)
You prefer trail and enduro riding over tracks
The rider weighs 88 lbs, or less (give/take a few)
You're a beginner and/or smaller rider (or want a kids bike for your adult-self)
Don't buy if…
You are looking for a motocross dirt bike
Jumping and track riding is important to you
You are not tall (unless you want a short dirt bike)
You want a 2 stroke
A TT-R50E is a good dirt bike for the majority of young riders. Remember, it's a kids dirt bike, so outgrowing it is going to happen eventually.
Positive Reviews
Yamaha's proven reliability
Beginner-friendly power and handling
Short seat height of under 22″
Good power and torque
Simple to work on and maintain
Smooth, controllable power from the Yamaha 50cc engine
A decent pit bike
Electric start
Negative Reviews
Suspension isn't great for aggressive riders (some mods available)
Many used TTR's have been neglected (because they run forever)
No backup kick start
Battery dies if key not turned "Off" (buy a good battery tender)
Buyers Guide (Best Year, Pricing, etc.)
Well, you've made it this far, so it must be time to get to the pricing and what to look out for.
First of all, we'll start at where to buy one of these used and in good condition. After that, we'll go over whether you should be looking to buy a specific year, or if any year is okay. Finally, we'll take a look at what you should be looking to pay.
Where to buy?
If you're looking to buy a TTR50 dirt bike, here's where I would start:
Local Yamaha dealer
Craigslist
Facebook Marketplace
From a friend
What? Are those options a little obvious? Yes, I realize that's nothing new.
Also, I realize that there are many other places to buy a cheap Yamaha TTR 50 dirt bike that are not listed here. But still, I like checking these first.
You'd most-likely agree that seeing, starting, and riding a dirt bike in person is important. When you're able to see the dirtbike in person, you can inspect it to get a complete understanding of its condition. For example, if the handlebars or rear fender look bent, you can suspect its been in an accident or two. Could be no big deal, or it could be a sign of an "over" used dirt bike.j
Best Year
With these dirt bikes, there really isn't a best year unless you're in the "newer is better" camp. When it comes to these Yamaha TTR 50 dirt bikes, any year is a good. They're all basically identical.
Other than plastics and graphics, the only significant TTR50 changes by year were in 2012, when Yamaha updated the throttle system with a dual-cable. It's the push-pull type throttle now.
Other than that, the year is basically irrelevant. If you can find one with a hour meter for dirt bike installed right away, you'll be able to see how many hours are on it. Oh, and if you're wondering how many miles are motorcycles good for, all you need to know is that 250 – 350 hours is considered high.
How much does a Yamaha TTR 50 cost?
Since you can buy a new Yamaha at your local dealer, the pricing for new TTR50 is fairly straightforward. Here's the snippet from their website:
Base MSRP: $1,749
Destination Charge: $230
Freight Surcharge: $100
What's a used Yamaha TTR50 worth?
Used TTR50 dirt bikes do hold their value well.
According to the Kelley Blue Book website, a used 2020 Yamaha TTR50 is worth $1,525, at least that's what their "Typical Listing Price" states. Just FYI: the "Trade-In Value" for this dirt bike is $985… in case you care.
Is the Kelley Blue Book price accurate?
At first look, the KBB price may look a little high (if you haven't priced these already). Taking into account that these are "only" $1,759 brand new, you may think the price for a used TTR 50 would be even less.
With this price range in mind, I did a search on Facebook Marketplace to see what I could find. Spoiler alert: the KBB price for this dirt bike is quite accurate.
I ended up finding six different dirt bikes for sale. Here's what I found, incorrect model names included, LOL:
2005 Yamaha ttr50 – $850 (will only bump start)
2014 ttr50 – $1,500 (looks nice, new battery)
2015 Yamaha tt – $1,500 (looks brand new)
2016 Yamaha tt – $1,900 (looks great, new tires front/rear)
2018 yz ttr50 – $1,500 (ridden 20 times, outgrown, looks nice)
2021 Yamaha tt 50 – $1,700 (the least nicest of the bunch)
Of those six, the one I'd most be interested in is either the 2014 or the 2015. Here's the 2015's ad:
2015 Yamaha TTR50 – $1,500
"In good shape runs excellent. Selling because kids have moved to bigger bikes. All stock and only kid ridden. Always ran non ethanol fuel. Electric start, with new battery. Ready to ride. Have title for bike as well."
Even though the 2015 sounds like an older dirt bike, it's basically the same dirt bike as a brand new one… and it sounds like it's been well maintained. Interestingly, the 2016 is the most expensive of the bunch, and is even more than new.
Here's the ad:
2016 Yamaha TTR50 – $1,900
"TT-R50 1 owner bought brand new in 2016, my son's 1st dirtbike, past down to my daughter as her 1st dirtbike. My kids have outgrown it, it served us well the entire time no issues. Very well taken care of by us and the dealership : ) Has brand new tires on it ready to ride, fires up 1st try. Title in hand, ready to continue to make new memories with new owner."
Also, in case you're wondering, I did check Craigslist as well. Looks like poor CL is losing some hold of its dominance in the market. I was only able to find one used Yamaha 50cc dirt bike. And as it turns out, it's about 250 miles away. Not worth the gas or time.
With that, it appears that the real-world value of a TTR50 does fall between $1,500-1,800. This price range could fluctuate a bit depending on location, but probably not too much.