Honda CRF110F Dirt Bike Review (Top Speed, Seat Height, Horsepower) – Worth Buying?
BraapAcademy.com earns a small commission from qualifying purchases.
This does NOT cost you extra.
Are you looking at a Honda CRF110F dirt bike to buy? If so, great… its a solid bike. However, it's not necessarily the right bike for everyone. In this Honda 110 CRF review, we'll go over all of the important specs like horsepower, top speed, seat height, handling characteristics, and more.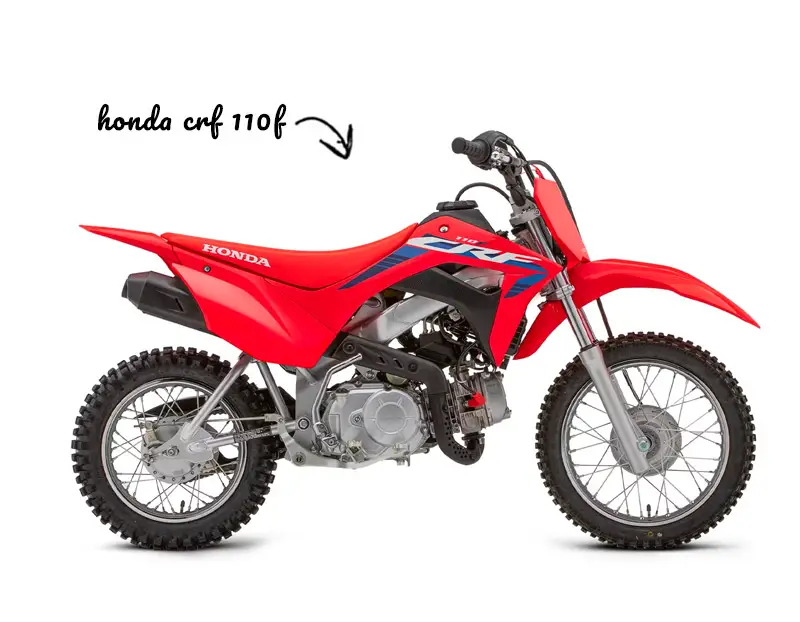 In addition, this Honda CRF110F review will cover all of the often-overlooked aspects of this dirt bike that you should be aware of. All-in-all, yes, it's a great dirt bike, but it's still important to understand what you're getting into before you buy one.
DISCLAIMER: This review contains my personal opinions about this 110 Honda dirt bike. I do my best to be as unbiased as possible, but I am a fan of just about every off road Honda dirt bike out there.
Also (just as important) I am not a professional. I'm not an "expert" racer, trail rider, or any other type of paid professional. I have been riding for over 35 years, but I've still got plenty to learn.
Anyway… enough about me. Here are is everything you need to know about a Honda CRF 110 F dirt bike.
---
What is a Honda CRF110F?
The Honda CRF 110F is definitely one of the best dirt bikes for 10 year olds and would be a great choice for a beginner 12 year old motorcycle, but it's not necessarily the right choice for every rider out there.
Why not every rider? The Honda CRF 110 is not a racing dirt bike or motocross bike.
If you are looking for a "beginner" bike that will be easy to learn on and easy to build confidence on… this is a great choice. However, this isn't one of Honda's competition bikes, if that's what you're after.
Overall, the CRF 110F is an ideal bike for a young (or small) rider who's just starting out or who's graduating from the 50cc class. It's also a solid option if you're in the market to buy a pit bike for yourself.
History
Honda has made the CRF110F dirt bike from 2013 to 2023 (present day).
These 110 Honda dirt bikes replaced the CRF70F and have made a name for themselves ever since. As explained on Wikipedia, the 110 CRF was carbureted from 2013-2018, but ever since 2019, the dirt bike is fuel injected.
"For the 2019 Model year the CRF 110F, CRF125F, and CRF250F all come standard with electronic fuel injection. This improves cold weather starting and makes the bike easier to maintain because of the lack of a carburetor to clean."
As far as any big changes through the years, the Honda CRF 110F history is fairly flat. Not much on these dirt bikes have changed throughout the years.
If you're looking to purchase a used CRF110F, check out the "buyers guide" below for a good price range and what to look for.
Is it Street Legal?
Is a Honda CRF110F street legal? No.
There is a longer answer, but it will probably end with the same outcome, unless you're living in a state that has more lenient laws about this.
If the state that you live in allows it, you may be able to make your 110 street legal if add a lighting kit, blinkers, and other any other requirements. And, to be honest, I'm really not 100% familiar with each state's laws on this… I just don't think it's doable where I live.
However, if you really do need a street legal dirt bike, there are some other good street legal Honda dirt bikes that you could look into.
Honda CRF 110 Specs
Here are the CRF 110F specs that I got from the Honda website, so if something looks off, you'll have to blame them!
Engine Specifications
| | |
| --- | --- |
| Engine Type | 109cc air-cooled single-cylinder four-stroke |
| Bore and Stroke | 50.0mm x 55.6mm |
| Compression Ratio | 9.0:1 |
| Valve Train | SOHC; two-valve |
| Induction | Fuel-injection, 19mm throttle bore |
| Transmission | Four-speed with automatic clutch |
| Final Drive | #420 Chain |
Chassis Specifications
| | |
| --- | --- |
| Front Suspension | 31.0mm telescopic fork (3.9 inches of travel) |
| Rear Suspension | Single-shock (3.8 inches of travel) |
| Front Brake | 95mm single-leading-shoe drum |
| Rear Brake | 95mm single-leading-shoe drum |
| Front Tire Size | 70/100-14 |
| Rear Tire Size | 80/100-12 |
| Rake (Caster Angle) | 25.4° |
| Trail | 2 inches (51mm) |
| Wheelbase | 41.9 inches |
| Ground Clearance | 6.7 inches |
| Seat Height | 25.9 inches |
| Curb Weight | 169 pounds |
| Fuel Capacity | 1 gallon |

Miscellaneous
| | |
| --- | --- |
| Colors | White, Red |
| Model ID | CRF110F |

In summary, here are the main Honda CRF 110 specifications, as well as a few other important items that weren't included on their website.
Manufacturer: Honda
Model Name: CRF110F, CRF 110 F, CRF 110F, CRF110 F
Type: Off-road, Trail Bike
Years Made: 2013-2023 (present)
Seat Height: 25.9" (66cm)
Weight: 169 lbs (full tank of fuel, ready to ride)
Top Speed: 40-45 mph
Horsepower: 6 hp
---
CRF 110cc Engine & Transmission
You may have heard this (or know this) already, but Honda dirt bike engines are known for being durable and dependable. And this Honda 110cc is no exception.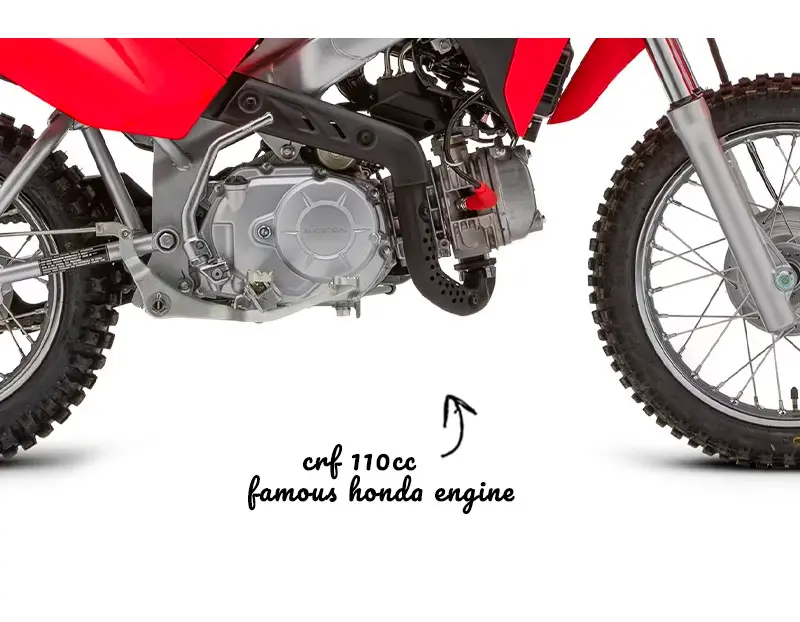 It seems as though Honda has cemented themselves into one of the top positions for the most reliable and best dirt bike brands out there. With their easy-to-maintain engines, the CRF 110F maintenance schedule is quite minimal. Plus, it's quick and simple to preform.
In addition to being reliable, the CRF 110 Honda engine puts out plenty of low-end, usable power.
Horsepower
Just how much power does the Honda put out? The Honda CRF 110 has 6 horsepower.
6 HP. Doesn't sound like much, does it?
When comparing to other 110's, that 6 HP seems to be the magic number. For example, the KLX 110 horsepower is rated at 6 HP, and the TTR 110 horsepower comes in at 6.
But is it enough? It really is! These engines are not designed for big horsepower numbers. Instead, they're designed to deliver low-end torque and smooth midrange power. This is what makes these bikes so great.
Having said that, if you're looking to pick up one of these 110's to use an adult-ridden pit bike, there are a few easy mods that you can do to bump up the power.
Top Speed
The top speed for a Honda CRF 110 F is about 40-45 mph.
Obviously, the kid in all of us wants to know just how fast a Honda CRF 110F will go… so here's a video that I found on YouTube of a guy reaching 45 mph (73 kmh).

Okay, but just how fast can a Honda CRF110 go? Depending on your size and weight, the top speed on a CRF110F could be slightly different for you.
For instance, a guy 225 pound man sitting straight up while riding is not going to be able to reach the same top speed as 100 jockey tucked behind the handlebars. And none of that really matters because having a fast top speed doesn't mean you'll be able to ride any better (or faster on trails).
Wrapping up, the Honda 110F top speed ranges from 40-50 MPH, stock. But remember, something as simple as a different sized sprocket can impact the top speed of a motorcycle.
Engine Specs
Engine Size: 109cc
Horsepower: 6 HP
Engine Type: 109cc air-cooled single-cylinder four-stroke
Fuel Capacity: 1 gallon
Fuel Type: Petrol / Gasoline
Induction: Fuel-injection, 19mm throttle bore
Spark Plug: CPR6EA-9S (NGK)
Maintenance
The minimal maintenance requirements for these little dirt bikes is great.
When compared to MX bikes, maintaining trail bikes like this Honda four stroke is a breeze. For example, a CRF450R maintenance schedule requires the owner to inspect and/or change many items after every 2.5 hours (150 miles).
Compare items on the CRF 110 maintenance schedule and you'll see that those same items are only required after every 10 hours (600 miles).
Here are the "inspection" maintenance intervals for the 110 CRF:
600 miles / 1,000 kilometers / 6 months
1,200 miles / 2,000 kilometers / 12 months
1,800 miles / 3,000 kilometers / 18 months
2,400 miles / 4,000 kilometers / 24 months
3,000 miles / 5,000 kilometers / 30 months
3,600 miles / 6,000 kilometers / 36 months
4,300 miles / 7,000 kilometers / 42 months
4,800 miles / 8,000 kilometers / 48 months
5,400 miles / 9,000 kilometers / 54 months
Honda CRF110F Maintenance Schedule
Yes… these bikes do require regular maintenance to keep them going, but the schedule is not bad at all. Here's what's on the list of items that appear on the schedule:
Fuel Line
Fuel Filter
Throttle Operation
Air Cleaner
Crankcase Breather
Spark Plug
Valve Clearance
Engine Oil
Engine Oil Strainer Screen
Engine Oil Centrifugal Filter
Engine Idle Speed
Drive Chain
Drive Chain Slider
Brake Shoes Wear
Brake System
Clutch System
Side Stand
Suspension
Spark Arrester
Nuts, Bolts, Fasteners
Wheels/Tires
Steering Head Bearings
Looks like a lot, doesn't it? Rest assured, this is no more (probably less) than any other dirt bike out there. Remember, many of these items are simply "inspect" after every 600 miles (or 6 months). Not bad!
In the end, as long as you address any blaring issue, keep up decently on the maintenance, and do the normal stuff like changing the oil, keeping the air filter clean, and only running decent fuel through the bike, it's probably going last long time, probably even more than what is considered high miles for motorcycle.
What motor oil does a Honda CRF150R take? Pro Honda GN4 4-stroke oil, SAE 10W-30
Oil Capacity:
After draining: 1.1 US qt (1.0 L)
After disassembly: 1.22 US qt (1.15 L)
Honda CRF 110 Handling
When it comes to handling, these little trail dirt bikes do great for what they were designed to do.
Along with the short seat height and soft, beginner-friendly suspension, the low-end torque and midrange power make for an incredibly easy to ride little dirt bike. These handle great in the woods and on tight trails.
Here are the main characteristics that will determine how a bike handles:
Seat height
Suspension
Weight
Width
Wheelbase
Engine
Transmission
Tires (size and type)
Yeah, basically everything. In the end, the CRF110F is a good handling bike for kids and trail riding. If you're planning on turning this into a pit bike for yourself, you'll want to upgrade the suspension because it will be too soft.
Weight
The 110 Honda CRF weighs 169 pounds (wet*).
Not only does the light weight make it a great candidate for learning how to tie down a motorcycle in a truck bed, but more importantly, the light weight makes it easier for kids to ride and handle.
One of the most intimidating things to learning how to ride is dealing with a heady dirt bike. I can still remember being trying to pick my first "dirt" bike up off of the ground when I dumped it. It was a HEAVY (especially for a kid) 1970's Honda XL175.
What is the weight limit on a Honda CRF 110? The weight limit listed in the owner's manual is 132 lbs (60 kg).
*What is "wet" weight? All that means is that it's got a full tank of fuel and all of the fluids are topped off to where they should be. The opposite term (dry) means that the bike is low on fluids – which is how it's sent from the factory to the dealer.
Seat Height
The Honda CRF110F seat height is 25.9 inches off of the ground.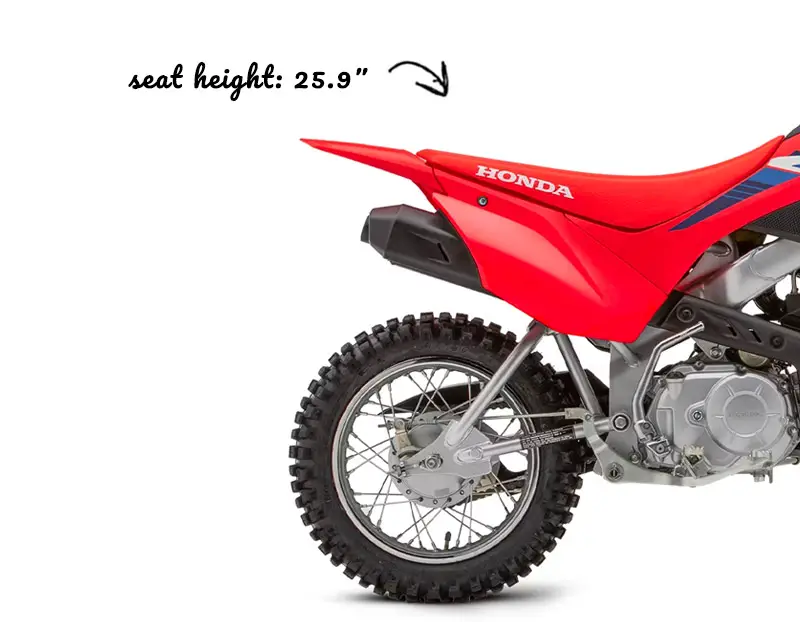 Typically, the 110 CRF is made for 10-12 year olds and up, but I would imagine that there are quite a few 8 year olds out there who could ride one of these. The 25.9″ seat height is a good height for riders who are about 4'6″ or taller… although this will depend on the rider as well.
Suspension
As touched on already, the suspension on these CRF 110F Honda dirt bikes is great for it's designed purpose. Again, these are not race bikes so the front and rear suspension is not designed for jumps, whoops, accelerating quickly out of tight turns, etc.
This should give you an idea of the what the suspension is, and isn't, good for:
Good for…
Light weight riders, putting around with low RPMs, slow and tight-radius turns in the woods.

Bad for…
Heavy riders, aggressive riding, jumps, whoops, braking, accelerating.
The front forks on these bikes have 3.9 inches of travel, while the rear shock is virtually identical with 3.8 inches travel.
Front Suspension: 31.0mm telescopic fork (3.9″ travel)

Rear Suspension: Single-shock (3.8″ travel)
Handling Specs
Chasis
Rake (Caster Angle): 25.4°
Trail: 2 inches (51mm)
Brakes
Front Brake: 95mm single-leading-shoe drum
Rear Brake: 95mm single-leading-shoe drum
Wheels and Tires
Front Tire: 70/100-14
Rear Tire: 80/100-12
---
Is the Honda CRF110F Good?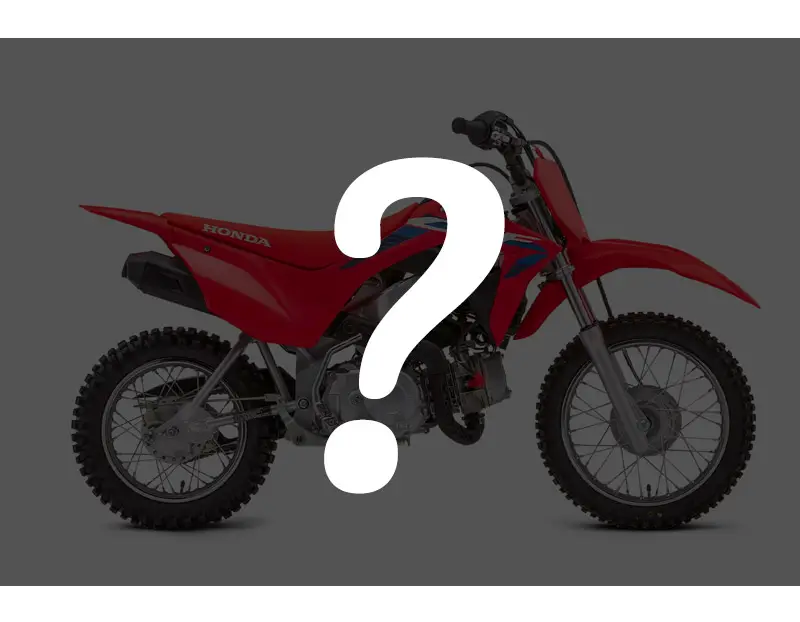 Yes, a Honda CRF 110F is good dirt bike. The smooth 110cc engine, combined with the user-friendly handling and unmatched durability, make this a controllable, confidence-boosting ride.
And while this trail dirt bike may not perform like a MX bike on the track, it really does hold it's own in the woods.
Generally, I recommend a trail dirt bike like this for learning. The horsepower and torque delivery is much more controllable than a snappy race machine. But, if you're buying a bike to get into racing (and not just trail riding), you will probably want to pick another dirt bike.
Reasons to buy:
Overall, these are fun-to-ride, easy to maintain, and last forever. Here's why I think they're a good dirt bike for kids:
Low maintenance & durable
When it comes to dirt bikes, you can't beat a Honda. Even after neglecting and abusing them, they just keep on going. Maintain yours, and it should last a very long time.

Great handling & Light weight
A great way to boost a young rider's confidence is by putting him/her on a dirt bike that is easy to handle and light weight. This checks both boxes with ease.

Beginner friendly power
Even though it's "only" got 6 horsepower, the smooth and controllable low-end torque and midrange make this bike great for learning to on… whether you're just starting out or graduating from a smaller bike.
Reasons not to buy:
As we've established, these are not high-performance race bikes. This means that if you're planning on signing your kid up to race motocross, you should probably pick a different bike.
Positive Reviews
Honda dependability
Great suspension for lighter riders
Low seat height
Easy to maintain
No mixing gas
Lightweight
Electric and kickstart
Negative Reviews
Not a racing or jumping bike
Requires mods to be a good pit bike
Not meant for riders over 135 pounds
Used bikes are sometimes neglected (because they keep on going)
Buyers Guide (Best Year, Pricing, etc.)
Well, you've read (maybe just scrolled) this far down, so you might be considering one of these. If you are, here are the first places that I recommend you look:
Local Honda dealer (to buy new)
Facebook Marketplace
Craigslist
From a friend
Of course, there are different places to find a used Honda CRF110F for sale like on Cycle Trader, Moto Hunt, MX Locket, etc., but I like these.
If you are able to find a CRF 110F from one of these options, you should be able to see the bike in-person. I think you'd agree that sitting on and riding around a little is a "must-do" before buying a dirt bike.
What is the best year for a Honda CRF110F?
Choosing the "best year" of a CRF110F isn't too critical because they are all good. However, I would say that there are better years than others.
If you can find a nice one, try to find one that is a 2019 or newer. Why? Honda introduced fuel injection to the 110 in 2019.
Other than that, it's basically just a different set of graphics and sometimes plastics. In the end, as long as it is nice and well taken care of, you won't miss out on any big changes after 2019… so far, anyway.
How much does a Honda CRF 110F cost?
A brand new 2023 Honda CRF110F has a base MSRP price of $2,599 with additional destination and freight charges.
MSRP: $2,599
Destination Charge: $200
Freight Surcharge: $100
With that in mind, you might be thinking that a used Honda 110 CRF should be around $1,500… but that's not always the case.
These used Honda dirt bikes hold their value, which isn't too surprising considering that they're Honda's. At the end of the day, that is a good thing if you own one and are going to sell it, but that can be a bit of a bummer if you're looking to buy one.
What is a used Honda CRF110F worth?
Getting an accurate (real-world) value of a used Honda CRF110F requires looking at a few things. You'll need to take into account the following:
Where you buy it
Who you buy it from
The year you buy
Amount of hours on the dirt bike hour meter (if it has one)
How good of condition the bike is in
Remembering that (obvious) list of places to buy from, I did some searching and I was able to find a handful for sale.
First, I checked Facebook Marketplace where I found nine (9) for sale. Here's what they were:
2013 – $2,300
2017 – $2,250
2018 – $3,000
2019 – $3,900
2020 – $3,200
2021 – $3,500
2021 – $3,300
2021 – $2,500
2023 – $4,000
Of the nine dirt bikes that I was able to find on FB Marketplace, the 2021 CRF110F for $2,500 looks and sounds like the best option of the bunch. Here's the ad:
"I'm selling a 2021 crf110, I've had it for little over a year, cool little pit bike to do tricks on or just putt around on. It has a custom exhaust on it and goes about 55 that's with me on it and I'm 160lbs. Pretty firm on price"
The pictures of the bike do look nice, but I'm still struggling with that price a bit. Now, I know that the base MSRP of $2,599 isn't all that you'd have to pay for a new one, but paying a couple hundred dollars more for a brand new bike is quite tempting.
No doubt, this is why many people buy new, and this is why you can usually find them used without too much trouble.
After looking on FB, I decided to check on Craigslist to see what I could find. Unfortunately, I only found one, but it did look like a nice one.
"Selling our 1-owner, 2022 Honda CRF110F. 8.5/9 on a 10 scale. Fuel injected and excellent condition. Very minimal time! 4-speed gearbox with semi-automatic transmission. Valid Oregon OHV sticker until 2024!
Title is clear and in hand….$3500"
What is the CRF110F KBB Value?
After finding that the price range for a used CRF110F Honda dirt bike is between $2,250-$4,000, we'll next look at the KBB price.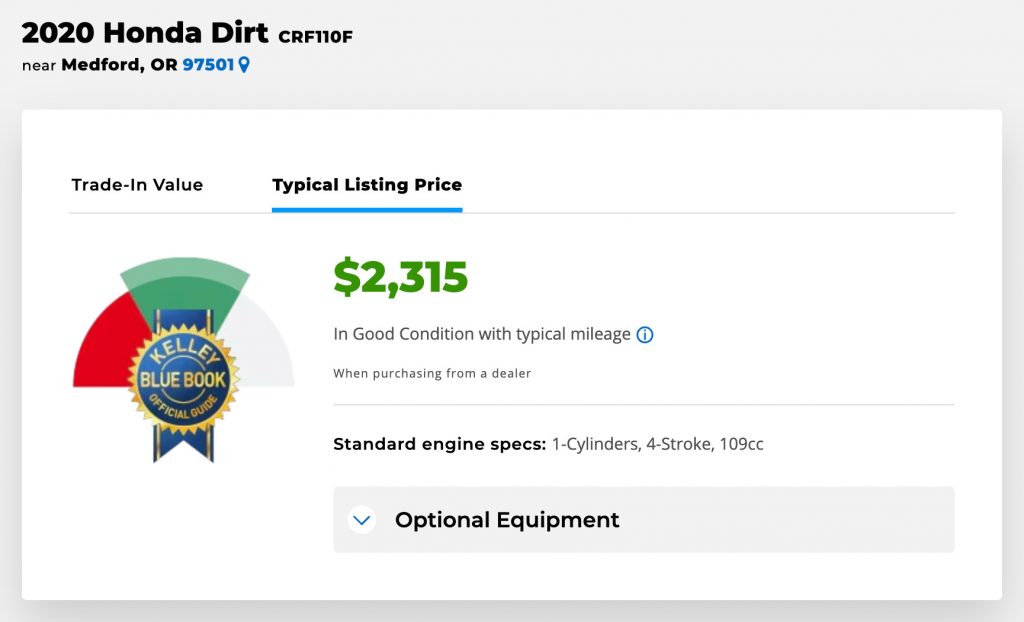 After looking at the what these dirt bikes sell for on Craigslist and FB Marketplace, it looks like the Kelley Blue Book value is a little low.
While it would be nice if you could get one of these for $2,300, the chances are high that you'll have to pay a little more. People like these dirt bikes and they know what they've got. Again, that's good for selling, but that means you'll be paying a premium when buying.
In the end, I'd say anywhere around $2,000-$3,000 is a decent price for one of these.
I hope this Honda CRF110F review has provided you with the info you were looking for!