Yamaha TTR 110 (Top Speed, Seat Height, etc.) – Is it Worth Buying?
BraapAcademy.com earns a small commission from qualifying purchases.
This does NOT cost you extra.
Are you looking to buy a Yamaha TT-R 110? Or, do you already own one and you'd like some more info on it? Either way, here is a full Yamaha TTR 110 review that will cover all of the important specs, reviews, pros, and cons of this durable kid's dirt bike.
The Yamaha TT-R110E really is a great overall dirt bike for children and even small adults. However, it is not necessarily the best dirt bike for everyone.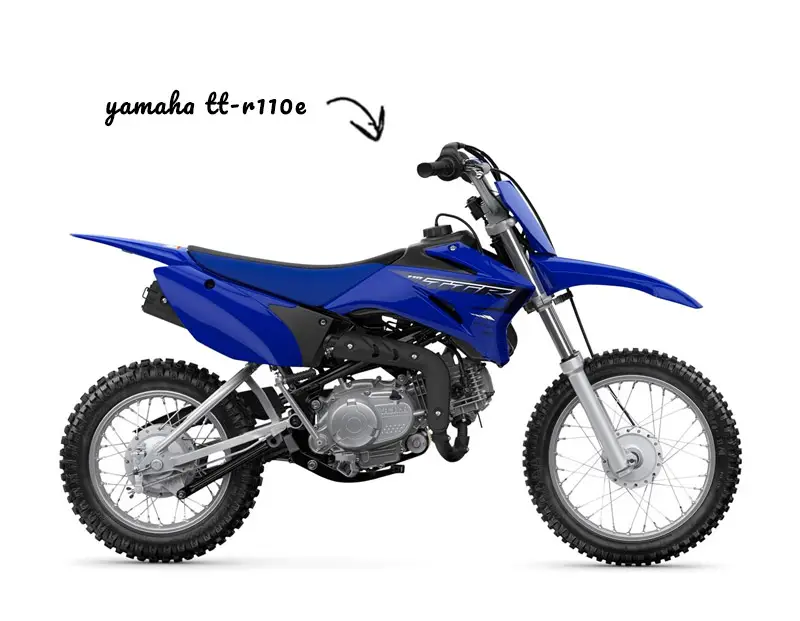 Not only will we look at the specs and reviews, but we'll also cover why this may (or may not) be a choice for you, or your child.
By the end, you should have a good idea of whether this is the right dirt bike for you.
---
What is a Yamaha TTR 110?
The Yamaha TTR110 is a 110cc 4 stroke dirt bike made for trail riding and beginners.
It has a fairly soft suspension, great low-mid range power and delivery, and (unless it's an old model) an electric start.
It was released in 2008 as the new-and-improved replacement for the TTR 90. Compared to the 90cc dirt bike, this 110cc dirt bike came with an updated motor, bodywork, and chassis.
These are great for cruising around your property and going on adventures in the woods. They can be used as pit bikes for adults, however, the KLX 110 is a more popular option for that.
Who Should Buy?
Overall, the TT-R110E is a great learning, and trail-riding dirt bike. In fact, it's one of the best beginner dirt bikes for pre-teens that you can get. If you want a good bike to learn and you're in the younger age range or are a smaller adult, this is a solid choice. And in reality, the Yamaha TTR 110 age range is probably anywhere from about 8-12 years old, but depending on the person, younger or older could be okay.
Depending on personality and size, this could be a great dirt bike for learning. My first dirt bike was a 1970's Honda XL 175. That was NOT a good motorcycle to learn how to ride on. Eventually, I moved to riding my dad's 1980's XR 200. That was MUCH easier to ride on than the older XL.
What's my point? The Yamaha TT-R 110 E is sized, geared, and powered for easy riding and learning on.
History
As mentioned, Yamaha TTR 110 history dates back to 2008 when they were first released. Interestingly enough, that's basically where the history of this dirt bike ends.
Other than changing out the Yamaha TTR 110 graphics kit and plastics, there really haven't been any major updates to the bike throughout the years.
What does TTR stand for (Yamaha acronym)?
Essentially, the TT-R acronym means "trails and racing" for these dirt bikes. The TT-R is an upgraded (and updated) version of Yamaha's older TT dirt bike from the 70's-90's. And, apparently, the well-known "R" stands for "racing" on these bikes because they share similar parts as Yamaha's MX lineup.
How do I know all this? I learned this from a guy on Thumper Talk.
Yamaha TTR 110 Specs
Engine Specifications
Chassis Specifications

Miscellaneous
| | |
| --- | --- |
| Colors | Blue |
| Model ID | TT-R110E |
Okay, so those are the main Yamaha TTR 110E specifications that I grabbed from their website, as well as a few more.
Asa recap, here are the important TTR 110 Yamaha specs that most of us are looking for:
Manufacturer: Yamaha
Model Name: TT-R110E, TTR110E, TTR 110E, TTR 110 E, TTR 110
Common Name: Yamaha TTR 110
Dirt Bike Type: Offroad, Trail dirt bike
Years Made: 2008-2023 (present)
Seat Height: 26.4 inches"
Wet Weight: 159 (all fuel, fluids, etc.)
Top Speed: 45-55 mph
Horsepower: 6 hp
---
Yamaha TTR 110cc Engine & Transmission
These Yamaha trail bikes are known for being great for beginners. And much of that reputation comes from these durable 110cc engines.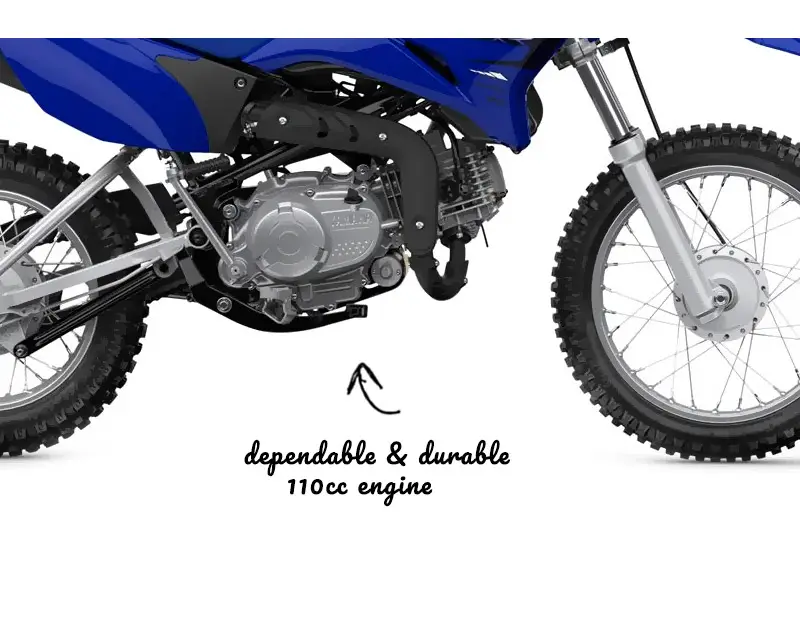 Not only are these Yamaha 110 dirt bikes durable, dependable, and easy to maintain, they've got plenty of functional power for beginners and small riders.
These things can basically go anywhere a parent of a 10 year old (or so) would like them to.
Does a Yamaha TTR 110 have a clutch? Technically, yes, the dirt bike has a 4-speed clutch. However, it is an automatic clutch. 🙂 So basically, no it doesn't… even though it does.
Horsepower
The Yamaha TTR 110 has 6 horsepower. Yes, LOL… 6 HP. And just in case you're wondering if that is enough… it's actually plenty.
All six of these ponies go straight to the rear knobby and it hooks up MUCH more efficiently than a race dirt bike. While the TTR110E definitely won't send the same roost as the other Yamaha MX bikes, they provide great control and power throughout the powerband.
Due to it being so easy to handle and ride, you'll find that these Yamaha trail dirt bikes will actually make many riders faster through trails and woods than many other models.
Top Speed
Okay, so how fast does a TTR 110 go? A Yamaha TTR 110 top speed is about 50 mph.
Of course, the actual top speed that you (or your child) is able to achieve could be slightly faster, or slightly slower. This could be from rider size, terrain, slope, altitude, jetting, and probably a few other factors.
Here's a good example of a rider falling right in the range.

And if that wasn't enough, something as easy as changing the gearing on the dirt bike can make it faster or slower. The gearing on a dirt bike plays a significant role in the delivery of your bike's power and overall top speed.
But if we put all that aside, as long as the dirt bike has stock gearing, a stock Yamaha TTR 110 will go around 50 MPH – plenty fast for a kid's trail bike.
Engine Specs
Engine Size: 110cc
Horsepower: 6 HP
Engine Type: 110cc air-cooled SOHC 4-stroke; 2 valves
Transmission: 4-speed, automatic-clutch
Starting: Electric start
Cooling System: Air-cooled
Fuel Capacity: 1 Gallon
Fuel Type: Petrol / Gasoline
Fuel Supply: Carburetor
Maintenance
A Yamaha TT-R110E dirt bike maintenance schedule (actually, the lack of one) is one of its stronger selling points. These kid's trail bikes don't need anywhere near as much maintenance as an MX dirt bike.
Because they come with an automatic cam chain tensioner, the engines last longer and have minimal maintenance. Just remember that the most important thing is to change the oil on time and run good dirt bike fuel through the tank and carb.
Similarly, Kawasaki says that the CDI ignition system is so reliable that it never needs maintenance.
Just how much maintenance and how much oil does a Yamaha TTR 110 take? As mentioned, It doesn't take much maintenance at all to keep these dirt bikes going strong. As for the oil, it only needs 1.1L to fill it up, from completely empty.
What motor oil does a Yamaha TTR 110 use? YamaLube 10w-40
Oil Capacity:
0.9 L (1.0 US qt) (When filter is not removed)
1.0 L (1.1 US qt) (When filter is removed)
1.1 L (1.2 US qt) (When engine is completely dry)
---
Yamaha TTR 110 Handling
The TT-R110E is a great handling beginner bike.
With a low center of gravity and a fairly low seat height, controlling and maneuvering a TTR Yamaha 110 is quite simple. Although this Yamaha may not be the "best" handling motorcycle out there, there really isn't anything wrong with it either.
Weight
The cub weight of the Yamaha TTR 110 is 159 pounds. This is incredibly light. In fact, this is the lightest 110cc available, beating out the Kawasaki KLX 110r weight by nearly 10 pounds.
What does curb weight mean? Curb weight refers to how much the dirt bike weighs when ready to ride (90%+ tank of fuel, all oils, etc.).
If you're looking to compare the weights of different dirt bikes, just make sure to compare the dry-weight to dry-weight, or curb-weight to curb-weight.
Does a TTR 110 have a weight limit? Actually, yes. The owner's manual states that the bike is designed for riders who weigh 132 pounds, or less.
Seat Height
The Yamaha TTR 1110 seat height measures 26.4 inches off the ground.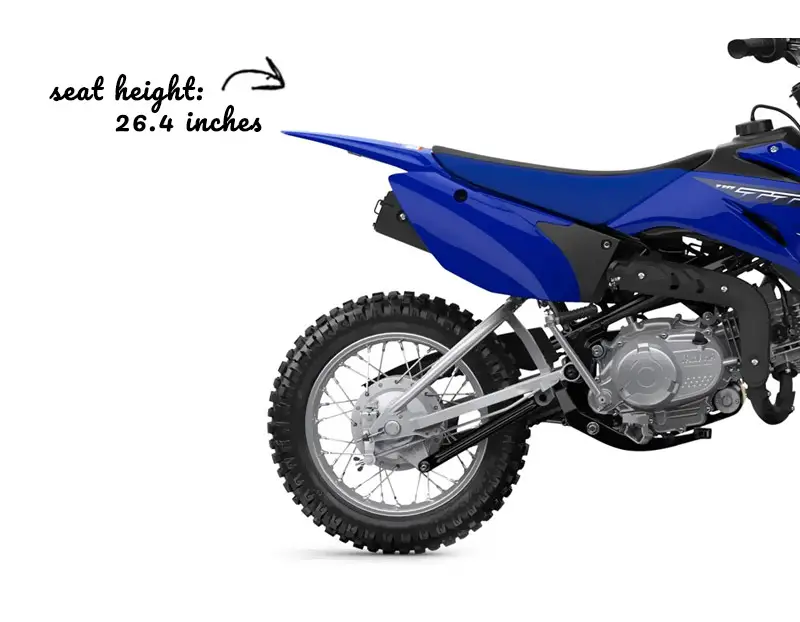 This low seat height (more than 5 inches shorter than the TT-R125 seat height) paired with the mild powerband makes for a solid beginner dirt bike. If you're shopping for dirt bikes for 12 year olds (actually, anywhere from 8-12 could work), then this could be a good choice.
NOTE: It's not common, but if you're shopping for a used KLX110, it is possible that the previous owner altered the seat height. With some mods, the bike could be a little shorter or a little taller. In the end, have your kid sit on the bike unless you're planning it as a surprise.
Suspension
Depending on the rider's weight (and the type of riding), the TTR 110 suspension does its job just fine. These small dirt bikes are designed for light riders (132 lbs or less) and again, it's certainly no MX bike.
Front suspension: 31mm telescopic fork (4.5 inches of travel)
Rear suspension: Monocross® shock (4.3 inches of travel)
If you're looking to get your kid into racing, and you would like to get a bike that can handle jumping and ripping around on the track, this suspension is probably not going to cut it.
Having said that, beginners don't usually ride aggressively. Therefore, the soft springs and valves work great for most young riders.
Handling Specs
Chasis
Frame Type: Steel backbone frame
Brakes
Front Brake: Drum, 95mm
Rear Brake: Drum, 110mm
Wheels and Tires
Front Tire Size: 2.50-14-4PR
Rear Tire Size: 3.00-12-4PR
---
Is the Yamaha TTR 110 a Good Bike?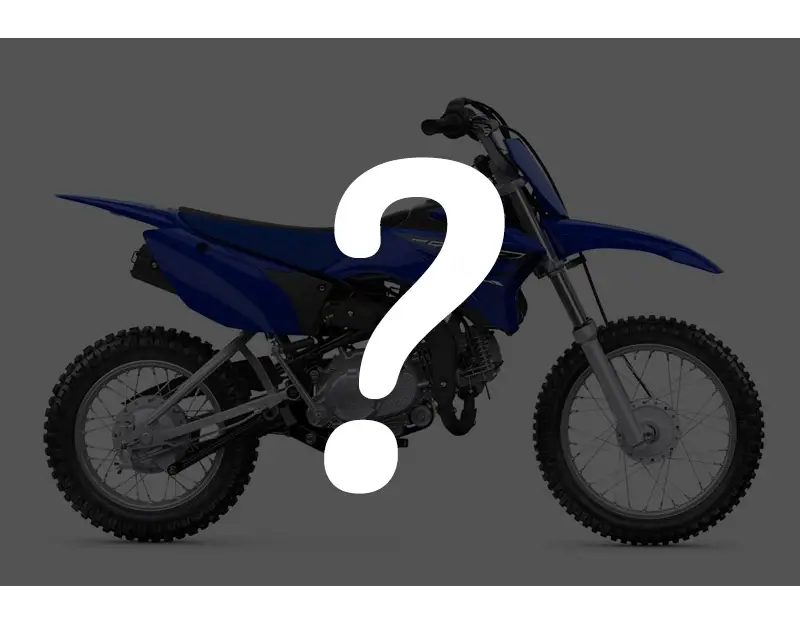 Yes, it is. The Yamaha TTR 110 is a good dirt bike for 8-10 year olds, and/or those looking to graduate from a 50cc to the next size up.
In addition, you'll want to take into account the type of riding and the terrain that the bike will be used for. Here are a few reasons to buy one, and a few reasons NOT to buy one.
YES buy:
You're looking for a good bike to learn on and take trail dirt riding
The bike will be for a rider who's about 4'8″ (give or take a few inches) and weighs 132 lbs, or less
You prefer trail and enduro riding over tracks
It's designed for beginner and/or smaller riders
NO buy:
You are looking for a motocross dirt bike
Jumping and track riding is important to you
If you want a 2 stroke
Positive Reviews
Overall, the TT-R110E is a really good dirt bike for many riders. However, it is made by imperfect humans, for a certain type and size of rider, and it will eventually be outgrown. But then again, it is a kid's dirt bike, so outgrowing is just a necessary evil. Also, no dirt bike, or any other machine, is perfect.
Here are the main positives:
Proven reliability
Beginner-friendly power and handling
Good power and torque for beginner to intermediate riders
Simple to work on and maintain
Smooth, controllable power from the Yamana 110 engine
Electric start
Can be a decent pit bike
Negative Reviews
Suspension isn't great for big or aggressive riders
Many used TTRs have been neglected (because they run forever)
Not as popular as a KLX 110 pit bike
Buyers Guide (Best Year, Pricing, etc.)
I hope this Yamaha TTR 110 review has provided you with the info you were looking for.
Now that we've covered all of the details of this motorcycle, let's get to the nitty-gritty… pricing, years, and what to look out for when buying.
Where to buy?
Naturally, you can purchase a brand-new KLX from your local Kawasaki dealer, or you can find a used TTR for sale online.
Whenever I'm to buy a used dirt bike, I almost always will stick to one of these options:
Local Dealer (when buying new)
Craigslist
Facebook Marketplace
From a friend
Yes, there are many more places to find a used Yamaha TTR 110 for sale, but I like checking those first. I think you'd agree that seeing a dirt bike in person, starting it up, riding it, and inspecting it is a good idea before buying it.
What's the best year?
As is the case with many of these smaller dirt bikes, there really isn't a best year for the Yamaha TTR 110 dirt bikes. Basically, any year is good because they are almost identical.
The lack of TT-R 110 changes by year are by design. After all, if it's not broken, don't fix it. These are popular kid dirt bikes just the way they are and they're affordable.
How much is a Yamaha TTR 110?
The new 2023 Yamaha TT-R110E cost is $$2,299 (plus misc. charges). Here's the pricing that I got directly from the Yamaha website:
MSRP: $2,299
Destination Charge: $230
Freight Surcharge: $100*****
What's a Yamaha TT-R110E worth?
If you look up a 2020 Yamaha TTR110 (for example) on JD Power, you will find that the "average retail price" is $2,005. According to that, a used bike is valued at just a couple hundred dollars less than a brand-new one.
Even more surprising, if you look up the same TT-R110E on Kelley Blue Book, you're going to see that the "typical listing price" is $2,605. That is more than brand new (not including the misc. additional charges).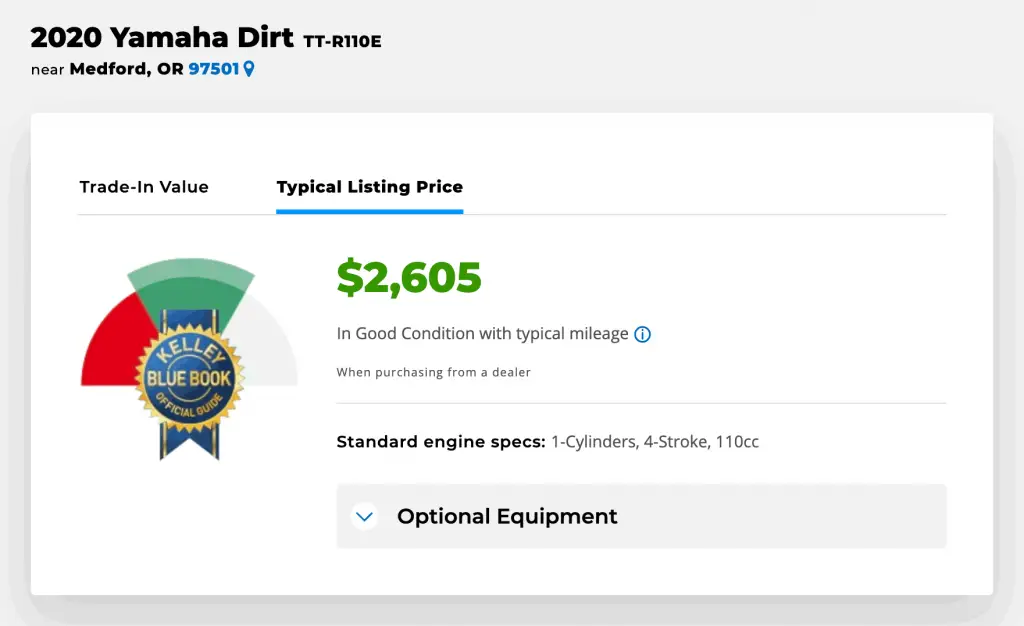 Is Kelley Blue Book Accurate?
In order to get a broader view of what these bikes are going for, I searched Facebook Marketplace. There were a lot of TTR 50 and TTR 125 dirt bikes near me, as well as a few nice Yamaha TTR 230 dirt bikes for sale, but only four TTR110 dirt bikes that I would consider "local" to my area. Here's what I found
2009 Yamaha TTR 110 – $2,200
2014 Yamaha TTR 110 – $2,200
2016 Yamaha TTR 110 – $1,500
2016 Yamaha TTR 110 – $2,000
After looking at these, I would be most interested in the 2014 model. Here's the ad:
"Selling our Yamaha TTR110 in awesome condition. Brand new battery, starts easy, and runs great! Ready for a new home. Clean Title in hand."
This dirt bike really does look like new. In fact, it's in much better condition than the newer 2016. But then again, it's almost the price of a new one.
And in case you're wondering, it's the same story over on the Craigslist website. There is not a whole lot available to choose from, and the nicest one I found was a 2013 Yamaha TT-R110E for sale for $2,200.
Here's the ad:
"2013 Yamaha TTR 110. Electric start and kickstart, brand new battery, just professionally serviced, super cool bike."
In the end, it looks like the value of a typical used TTR110 is about $2,200. The price range could range anywhere between $1,500 (although typically it's more) up to $2,300, or more if it's got a bunch of mods done to it.