Honda CRF450RL Review – Is This Dual Sport Any Good?
BraapAcademy.com earns a small commission from qualifying purchases.
This does NOT cost you extra.
Are you looking at a Honda CRF450RL to buy? Or, did you already buy one and would like some more info on it? Here's an in-depth Honda CRF 450RL review that will cover all of the need-to-know specs and details before (or after) getting one. This should provide you with all you need to determine whether this is the right Honda dual sport for you.
What is a Honda CRF450RL?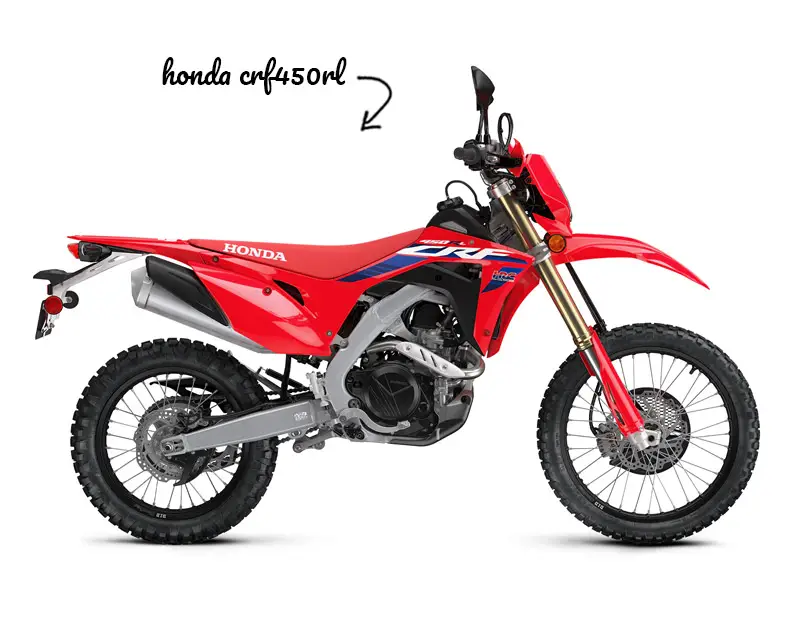 The Honda CRF 450RL dirt bikes came out in 2018, basically catapulting to one of the top 450 dual sports in the division.
With this lightweight 450cc, you get all of the "Ride Red" dirt bike feel and ride-ability, all wrapped into all of the pavement-pounding, must-haves (and not the heavy "wants") that make this best dual sport Honda motorcycle one of the absolute best choices.
These Honda dirt bikes have a wonderful six-speed transmission that's been well paired with the 40-horsepower (38 and some change) engine to make this a fun, light, and fast street legal 450 cc from Honda. You can probably imagine how these have become so popular.
History
With such an impressive track (let's say pavement & trail) record, you'd think these are one of Honda's G.O.A.T. motorcycles.
G.O.A.T [go-oat]
"Greatest. Of. All. Time."
Surprisingly, they're actually fairly new.
The first Honda CRF450RL year was 2018 when they made their debut. Since then, Honda hasn't stopped making these bikes and I think we're all hoping they don't stop making them anytime soon.
Here's a little snippet I grabbed from Honda that offers a little background… with a little hype (but, you can't blame them, though, right?).
"When it comes to versatility and features, it's way better than just a motocrosser with a license plate. And when it comes to off-road riding, it offers stellar performance where others compromise."
Here's another snippet I found, but this time from Wikipedia, so not quite as hyped-up.
"Unlike other bikes from this lineup, the frame and engine of the CRF450L are directly taken from CRF450R motocross and CRF450X enduro bikes, while the other bikes such as CRF150L and CRF250L do not share anything from its motocross and enduro counterparts."
Interesting? Yes. What should you take away from this? This is a serious dual sport bike.
Honda wanted to make something fun and exciting… but still street legal. Did they succeed? In a word: YES.
Honda CRF450RL Specs
The following Honda CRF450RL specs were taken from the corporate website.
Model
CRF450RL
Engine Type
450cc liquid-cooled single-cylinder
Bore and Stroke
96.0mm x 62.1mm
Compression Ratio
12.0:1
Valve Train
Unicam® OHC; four valves per cylinder
Induction
Programmed Fuel Injection (PGM-FI), 46mm downdraft throttle body
Horsepower
41.7 hp
Transmission
Wide-ratio six-speed
Final Drive
#520 Chain; 13T/51T
Suspension
Front: 49mm leading-axle inverted telescopic Showa coil-spring fork with rebound- and compression-damping adjustability; 12.0-inch travel
Rear: Pro-Link Showa single shock with spring preload, rebound- and compression-damping adjustability; 11.8-inch travel
Brakes
Front: Single 260mm disc with twin-piston caliper
Rear: Single 240mm disc
Tires
Front: IRC GP21 80/100-21
Rear: IRC GP22 120/80-18
Wheelbase
58.9 inches
Rake (Caster Angle)
28.5°
Trail
4.8 inches (122mm)
Seat Height
37.2 inches
Ground Clearance
12.6 inches
Dry Weight
291 pounds
Fuel Capacity
2 gallons
Color
Red
I've picked out the main specs that most of us are looking for and added a few more.
Manufacturer: Honda
Model Name: CRF450RL, CRF 450 RL, CRF 450RL
Type: Dual Sport Motorcycle
Years Made: 2018-2023 (present)
Seat Height: 37.2" (94cm)
Weight: 291 lbs (full tank of fuel, ready to ride)
Engine size: 449cc (considered 450cc)
Oil Capacity: 1.8L (1.9 quarts)
Top Speed: ~90 mph
Horsepower: 41.7 hp
---
Honda CRF450RL Engine & Transmission
Honda dirt bikes are well-known for being durable, dependable, and easy to maintain. And don't worry, that hasn't changed for this Honda 450cc dual sport. The 450RL's maintenance schedule isn't nearly as involved as a typical motocross dirt bike upkeep.
In addition to being well-made, these are fast street legal Honda dirt bikes. Now, they aren't the FASTEST dual sport out there, nor do they have the most horsepower, but when it comes to readability and versatility… these things really pull ahead of the crowd. (yes, pun intended)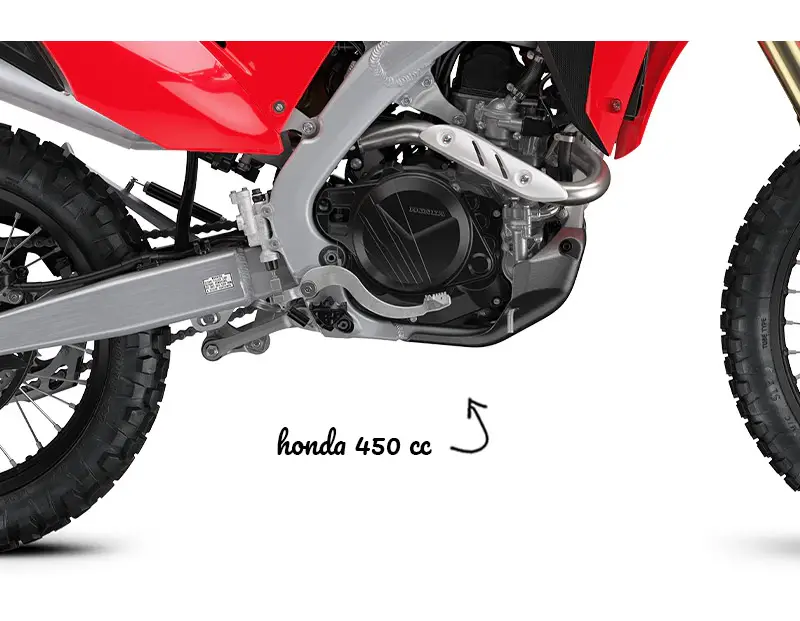 But seriously…
On one of these motorcycles, you're not going to be able to send the same roost as you could on a Honda CRF450R, and your bike won't have the same top speed as a 650L, but that won't matter. These bikes are STILL going to be great… and you won't be left wanting more.
Horsepower
The Honda CRF450RL horsepower is 41.7 HP; the same horsepower as the CRF450R model.
Of course, there are forums and websites dedicated to different Honda CRF mods, and which mods provide the most bang for the buck.
Here are the most popular Honda CRF450RL mods:
Most of these are optional. Okay, let's get real… they are ALL optional. These are just the mods for CRF450 dual sport bikes that are the most common and recommended. If you're a beginner, or not needing to have the absolute best of everything, this bike is GREAT right off of the showroom floor.
Top Speed
Back to what we all want to know… how fast does a Honda CRF450RL go? One of these goes about 90 mph stock.
But again, the top speed of these bikes can be altered.
Since this is a dual sport Honda bike, you may not want to gear it down slower like you would for a trail bike. Really, it depends on your style of riding.
I always take whatever the new (to me) motorcycle is that I get and ride it as-is for a while. Why go out and spend money changing the gearing, pipe, tires, or anything else, until you know exactly what you'd like to change it to?
Easy (and FUN, and money-saving) solution: ride the bike for a few weeks after you get it and then decide what you would like it to do differently. And if that's nothing – great… you'll save even more bucks.
Engine Specs
Engine Size: 449cc (known as 450cc)
Horsepower: 41.7 HP
Engine Type: 449cc air-cooled dry-sump single-cylinder four-stroke
Valve Train: Unicam® OHC; four valves per cylinder
Transmission: Wide-ratio six-speed
Starting: Electric start
Fuel Capacity: 2 Gallons (7.6 Liters)
Fuel Type: Petrol / Gasoline
Fuel Supply: Programmed Fuel Injection (PGM-FI), 46mm downdraft throttle body
Oil Capacity: 1.8l (with a filter change)
What motor oil does a Honda CRF450RL use? Honda GN4 10W-40 Oil.
---
Honda CRF450RL Handling
This is one of the areas where this bike excels. Okay, so it's one of the "other" areas where the CRF450L really comes alive.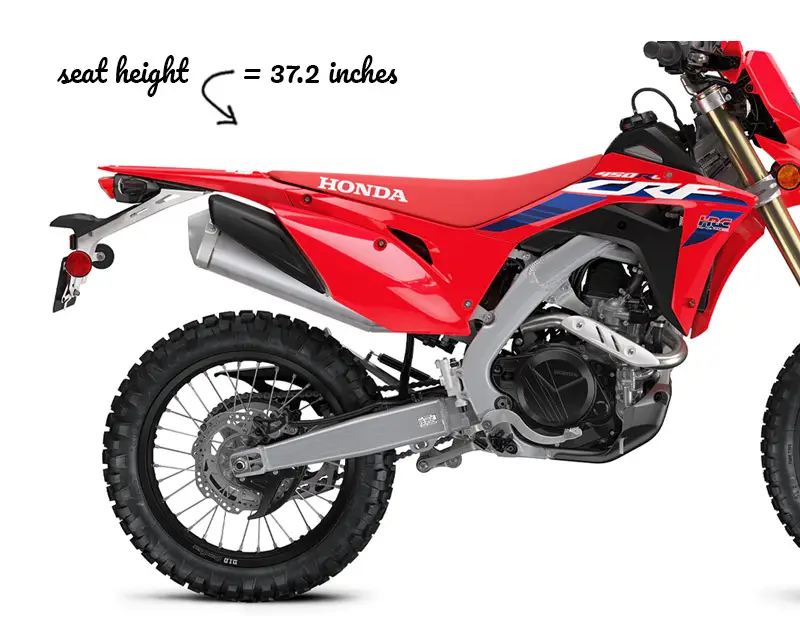 Weight
As shown in the specs above, the Honda CRF 450L wet weight is 291 pounds. What's "wet" weight? It is the older way of saying "curb" weight, or the weight the Honda dual sport motorcycle registers at sitting next to the curb, right before you ride it home.
With gas = Wet/curb weight.
Without gas = Dry weight
In the end, it doesn't matter which weight you are using to compare one dirt bike to another. As long as you are comparing dry-weight to dry-weight, and wet-weight to wet-weight, you'll be fine.
Seat Height
The Honda CRF450RL seat height comes in at exactly 37.2 inches off of the ground.
No, it's not made for short people.
If you buy a used Honda, it is possible that the previous owner made some adjustments, but it's not likely. If so, they'll let you know, or you can ask.
This is a little too tall (and big) for most kids and smaller adults. If you're on the shorter side, you may want to look at a different bike. The Honda CRF300L dual sport is two inches shorter and is still a great street-legal option.
Suspension
Front Suspension: 49mm leading-axle inverted telescopic Showa coil-spring fork with rebound- and compression-damping adjustability; 12.0-inch travel
Rear Suspension: Pro-Link Showa single shock with spring preload, rebound- and compression-damping adjustability; 11.8-inch travel
Handling Specs
Chasis
Frame Type: twin-spar aluminum chassis
Brakes
Front Brake: Single 260mm disc with twin-piston caliper
Rear Brake: Single 240mm disc
Wheels and Tires
Front Tire Size: 80/100-21
Rear Tire Size: 120/80-18
---
Are Honda CRF450RL Dirt Bikes Good?
Definitely.
Are they perfect? Well, of course not. How could ONE bike be "perfect" for everyone and every situation? But after having said that, the 450L is technically (probably, LOL), better than "just" good. Still, it's not the right choice for every rider.
Here's an easy way to see if you should consider buying one of these awesome (yet, imperfect) human-made machines:
Do you want a street-legal dirt bike?
Yes? Perfect! These really are unicorns when it comes to the street-legal, off-road motorcycle club. They're more-than-capable dirt bikes that have been thoroughly gone through to be great on the road as well.

Do you want a comfy, long-haul motorcycle?
Yes? Do NOT buy this bike. It's a street-legal dirt bike… NOT a soft, quiet, street-bike cruiser.
In fact, for the first three months, after you buy one of these, you're not allowed to ride home unless one of the roads is gravel or dirt. I'm sorry, I don't make the rules. Okay, maybe I do in this case… but you don't have to listen.
Positives
Honda dependability
Fun to ride (snappy, crisp, capable)
Comes alive on enduro and off-road trails
Street-legal dirt bike
Light & nimble handling
Exciting 450cc engine output
Ride to/from the trail
Electric start
Negatives
More maintenance than other street legal motorcycles
No backup kickstart
Stock tires aren't aggressive enough for "aggressive" trail riding
Buyers Guide (Best Year, etc.)
This review of the Honda CRF450RL should have given you a better idea of whether the dual sport is right for you. If not, let me know!
I think I mentioned this already, but if not… I WANT ONE! Assuming you're as in love with one of these as I am, where do you go to buy a used one for sale… if you don't want to spend the full $10k on one?
I have three go-to options. But please don't get too excited, I have a feeling these aren't new to you!
Yes, there are 314 more places (estimate) to find a used Honda CRF450L dirt bike for sale, but I like these.
With either one of these options, you can check out the motorcycle in person without having to travel too far, and without dealing with some pushy salesman.
When buying a used dirt bike (of any brand), you always want to see it in person first.