Honda XR650L Review (Top Speed, Weight, Specs) – Is it Worth Buying?
BraapAcademy.com earns a small commission from qualifying purchases.
This does NOT cost you extra.
Are you looking at buying a Honda XR650L dual sport dirt bike? Have you already bought one and would like more information about it? GreatQ! Here's as complete Honda XR650L review that I can put together that should address any info you're looking for.
I've included all the items you'll want to know before buying one (or, I guess, after if you're already got one). Really, the goal here is to provide you with all of the horsepower, handling, weight, specs, characteristics, and nuances of this street legal dirt bike that you should know.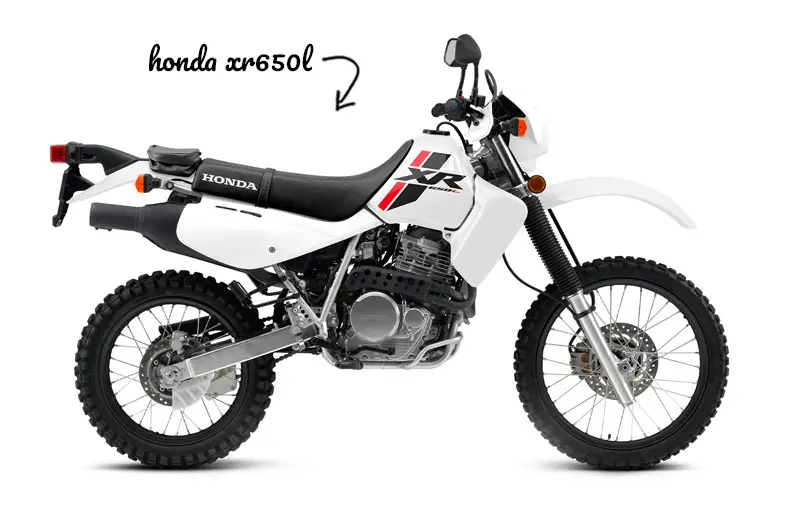 Even though you can go out and buy a brand new Honda XR650L, the fact that these bikes have been around for quite a while (and really haven't changed much) makes them a great dirt bike to buy used… if that's what you're looking for.
Personally, I try to buy just about everything used. In fact, the only "vehicles" that I've bought new are a 2001 Yamaha YZ426F, and a 2004 Honda CRF450R. All the other dirt bikes, ATV's, automobiles, and that one supermoto bike, have all been used. I like it that way, but there certainly is something to be said about owning a "brand new" dirt bike.
Either way, if you're in the market for a 650 cc dirt bike, the Honda XR650L enduro is a great choice… new or used.
---
What is a Honda XR650L?
The Honda XR650L dual sport motorcycle came out waaaay back in 1993 (actually released in 1992). After the immediate, and obvious, success of the XR250R, Honda made the XR650L to fill a gap in the market.
Overall, the XR650L is great all-around dual sport bike, which is why it is STILL so popular today.
History
Here's a decent overview of the motorcycle's history I borrowed from Wikipedia:
"The XR650L is a dual-sport motorcycle manufactured by Honda… It was released in 1992 as a 1993 model. It combines the RFVC engine from the proven NX650 Dominator dual sport with the lighter, off-road capable XR600R chassis… It has been produced virtually unchanged since 1993…"
Street Legal?
Only because I see this questions ALL the time… I've included it here.
Is a Honda XR650L street legal? Yes they are.
They really are one of the best street-legal adventure bikes on the market.
Honda XR650L Specs
I got the following Honda XR650L specs straight from Honda… if you see something you don't like, don't kill the messenger!
Engine Specifications
| | |
| --- | --- |
| Engine Type | 644cc air-cooled dry-sump single-cylinder four-stroke |
| Bore and Stroke | 100mm x 82mm |
| Compression Ratio | 8.3:1 |
| Valve Train | SOHC; four-valve RFVCTM |
| Induction | 42.5mm diaphragm-type CV carburetor |
| Ignition | Solid-state CD with electronic advance |
| Drive Train | |
| Transmission | Five-speed |
| Final Drive | #520 O-ring-sealed chain; 15T/45T |
Chassis Specifications
| | |
| --- | --- |
| Front Suspension | 43mm air-adjustable axle Showa® cartridge fork with 16-position compression- damping adjustability; 11.6 inches of travel |
| Rear Suspension | Pro-Link® Showa single-shock with spring-preload, 20-position compression- and 20-position rebound-damping adjustability; 11.0 inches of travel |
| Front Brake | Single disc with twin-piston caliper |
| Rear Brake | Single disc |
| Front Tire | 3.00-21 |
| Rear Tire | 4.60-18 |
| Rake (Caster Angle) | 27.0° |
| Trail | 4 inches |
| Wheelbase | 57.3 inches |
| Seat Height | 37.0 inches |
| Curb Weight | 346 pounds (Includes all standard equipment, required fluids and a full tank of fuel—ready to ride) |
| Fuel Capacity | 2.8 gallons, including 0.6-gallon reserve |
| Ground Clearance | 13.0 inches |
| MPH | 52 MPG |

Miscellaneous
| | |
| --- | --- |
| Colors | White |
| Model ID | XR650L |

Here's a recap of the most important Honda XR650L specifications, as well as a few items that weren't on their list:
Manufacturer: Honda
Model Name: XR650L, XR 650 L, XR 650
Dual Sport Bike Name: Honda XR650R
Type: Dual Sport Motorcycle
Years Made: 1993-2014, 2016-2023 (present)
Seat Height: 37" (94cm)
Wet Weight: 346 lbs. (full tank of fuel, ready to ride)
Oil Capacity: 2.06 quarts with oil filter change (2 quarts without filter change)
Top Speed: ~100 mph *details
Horsepower: 40 hp
---
Honda XR650L Engine & Transmission
Honda motorcycles, dual sports, dirt bikes, and even ATVs are known for being durable, dependable, and easy to maintain.
With an almost bulletproof engine like the Honda XR 650cc, maintenance is simple and minimal. If you come from a motocross background, or are familiar with the type (and amount) of maintenance MX dirt bikes take, you'll be pleased to see that the XR650L maintenance requirements are much less.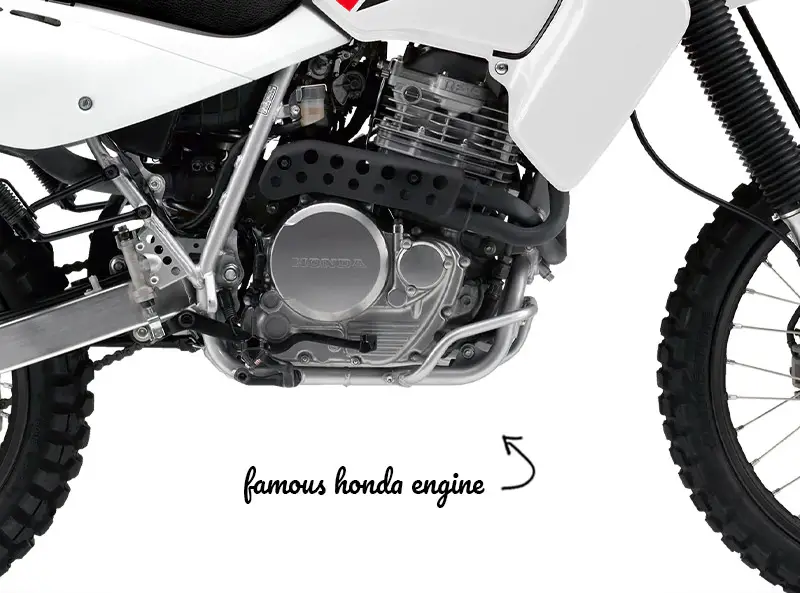 Just with the engine oil capacity of 2.06 quarts, you're looking at it holding more than double of what a CRF450R race bike holds. That's a good thing when it comes to maintenance and durability.
In addition to being well-made and dependable, Honda XR dirt bikes are always fun to ride… even these beastly 650cc dual sport bikes. I remember when I jumped on my brother's Honda XR80 (he soon after got the XR100) I could tell right away these bikes were made for having fun.
They aren't the fastest, lightest, or most agile, and they don't jump well… but they're still legendary dual sport bikes for a reason.
Just like the rest of the Honda XR line up, the XR650L has a very controllable power and a smooth delivery. Even though the bike comes stock with only 40 horsepower, the power that the motor does have is delivered straight to the rear dirt bike tire for an amazing amount of traction.
You may not be able to throw the same roost as a Honda CRF450X dirt bike, but instead you will be sinking your rear tire into the dirt (or pavement) and getting suburb traction at just about every angle.
Horsepower
Yes, the Honda XR650L horsepower rating of doesn't look too impressive. And for a Honda 650cc engine, it really isn't. However, that 40 HP number isn't the end of the story.
Depending on whether you put an aftermarket pipe, carb, jetting, (those are the big ones) etc., the motor may put out more horsepower and/or torque. But again, the stock engine actually is great.
The powerband, or power curve, of the engine is where the 650 shines. The Honda XR650 enduro is able to make 47 ft. lbs of torque… which give this bike incredible low end power… making it an easy bike to putter around on.
Top Speed
This one isn't as cut-and-dry. I've seen some Honda XR650L's top out at 92 mph, and some at closer to 105 mph.
Of course, a Honda XR650 L could easily go faster than 100 mph, and it could also not even get up to 90 mph, all depending on what gearing is being ran.
Re-gearing a dirt bike is actually really easy. All you have to do is change the back (or front, or both) sprocket, and possibly replace the chain (a good idea to do so). For more info on that, here are some instructions on gearing down a trail dirt bike.
Assuming it has stock gearing, a Honda XR6540L motorcycle should go around 90-105 MPH.
Engine Specs
Engine Size: 644cc
Horsepower: 40 HP
Engine Type: 644cc air-cooled dry-sump single-cylinder four-stroke
Valve Train: SOHC; four-valve RFVCTM
Transmission: 5-speed, manual-clutch
Starting: Electric start
Cooling System: Air-cooled
Fuel Capacity: 2.8 gallons (10.6 Liters)
Fuel Type: Petrol / Gasoline
Fuel Supply: Carburetor
Oil Capacity: 2.06 quarts with oil filter change (2 quarts without filter change)
What motor oil does a Honda XR650L use? Honda GN4 10W-40 Oil.
---
Honda XR650L Handling
Weight
As noted above, the Honda XR650L wet weight is 346 pounds.
Obviously, this isn't a motocross bike. It's heavy. We all knew that already though, didn't we!?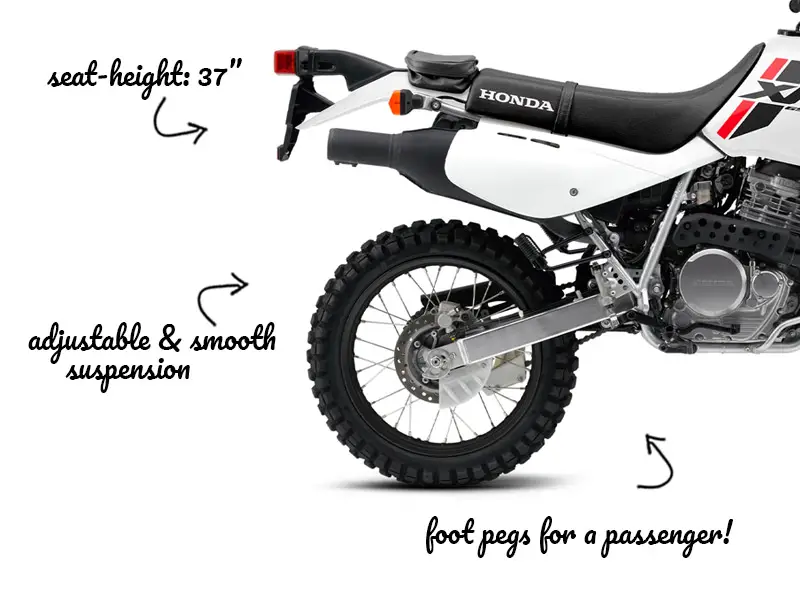 What is wet and dry weight?
Some motorcycles or dirt bikes are listed with their "dry" weight numbers. The term "dry weight" refers to the the weight of the motorcycle the way it was shipped from the factory to the dealer. (no fuel)
The term "wet weight" does take into account the weight of the motorcycle with a full tank of fuel as well all other necessary fluids, etc.
Seat Height
The Honda XR650L seat height measures exactly 37″ from the factory. If you're buying the bike used, you can ask the previous owner if he's done any suspension mods or adjustments. If not, this will give you a good idea on how tall the bike is.
In the end, it is a big bike. If you're on the shorter and lighter side, you may want to consider the Honda XR400R or the Honda XR250R as smaller choices in the XR line up.
Suspension
The front and rear suspension on these dual sport motorcycles is actually quite nice. The front forks have 11.6 inches of travel and the rear shock has 11 inches of travel.
Front Suspension: 43mm Showa® forks
Rear Suspension: Pro-Link® Showa shock
Handling Specs
Chasis
Frame Type: Diamond-type pipe frame
Brakes
Front Brake: Single disc with twin-piston caliper
Rear Brake: Single disc
Wheels and Tires
Front Tire Size: 3.00-21
Rear Tire Size: 4.60-18
---
Is the Honda XR650L a Good Bike?
Yep! After all, it is one of Honda's most popular motorcycles!
A Honda XR650L is a fantastic bike but they aren't made for everyone.
If you're looking for a dual sport bike that does well on and off the road: it's a solid pick.
I've grown up with XR's and they're proven to be some of the best motorcycles on the planet. Whether you want a dual sport bike to go enduro riding, or a street legal dirt bike to head out on a country road… this is the bike for you.

Again, If you're a fairly small person or a beginner, you may want to go with a Honda XR250R since you can add power to it much easier (if you need to, and as you progress) than you can remove weight.

If you're looking for a street legal motocross bike: it's not a good pick.
If you want a dirt bike that will do good on trails and track, I would not recommend this bike at all. (Here's a list of good dirt bikes for tail and track.) This bike does not jump well and is not a "high-performance" motorcycle. In "the tortious and the hare" comparison, this one is definitely the tortious (which I prefer).
Positives
Honda reliability
Large gas tank (with reserve)
Street-legal dirt bike
Beginner-friendly
Plenty of power and torque for intermediate to advanced riders
Simple to work on and maintain
Smooth, roll-on power
Electric start
Negatives
No back up kick start
It's kind of a tank (heavy)
Not the easiest to find used and in good shape
Buyers Guide (Best Year, etc.)
I hope this Honda XR650L review has given you a better idea of whether this dual sport bike is the right motorcycle for you.
Now that you're as convinced as I am that these are really good bikes, where do you find one for sale?
I always try these three places first:
There are many more options to find a used Honda 650 motorcycle for sale, but I like these.
Why?
Finding a motorcycle on one of these websites (or through a friend) allows you to see the bike in person. When buying a used dual sport motorcycle (of any brand), you should see it in person first.
Now that you know you want one, and you know where to buy one; what year should you buy? Ironically, it really doesn't matter.
The best year for Honda XR650L is probably "the newer, the better" advice, but that's pretty general.
Honda hasn't made many changes to these dirt bikes over the years, so my recommendation would be to try to get something in the late 90's or 2000's. As long as you like the graphics/colors and it's been well maintained, you'll have a great bike with minimal work to do on it.