Dirt Bike Tire Changing Tools (Checklist of the Best)
BraapAcademy.com earns a small commission from qualifying purchases.
This does NOT cost you extra.
If you need to change the tires on your dirt bike regularly (and you're one of the few who does it yourself) you're going to find that having the right dirt bike tire changing tools make the job much easier.
Whether you're planning on going to the dunes and want to put your paddle tire (I like these) on yourself, or you're knobby is worn out and it's time to slap on some new tires (best ones here), having the right tools for the job is always a good thing.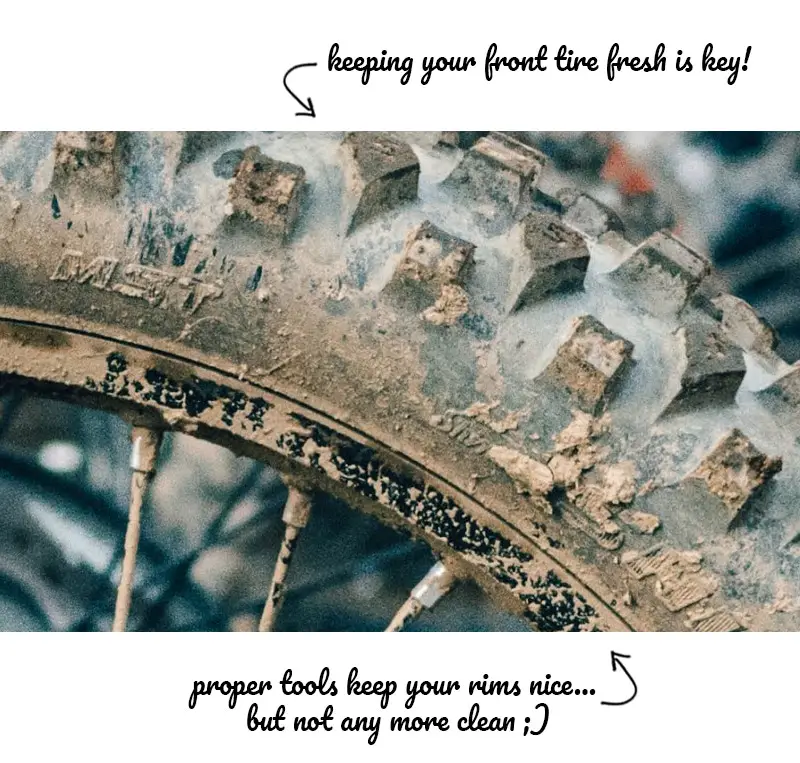 ---
Dirt Bike Tire Spoons and Levers
When it comes to changing a tire, spoons (or levers, or irons) are at the top of the list for a reason. They're inexpensive and make the job much easier.
Motion Pro Tire Changing Spoon
One of the most basic tools that you need in your dirt bike toolkit is a good set of spoons and levers. This set from Motion Pro is a great candidate for the job.
The Motion Pro tire irons, which come in sets of two, are a solid option. They're made with a hard nickel pewter finish that makes them nice and durable, and the curved end helps them easy to grip.
Tool Features
Each lever is 10 inches long
Hard nickel pewter finish
25mm spoon width
The curved end fits securely in the hands
It comes with a good vinyl carrying pouch
These are great tire spoons for getting the job done, and if you're in need of some, Motion Pro is a great option.
Click here to view pricing and read reviews on Amazon, or check this list for all of the best dirt bike tire spoons to buy for the money.
---
Dirt Bike Rim Protectors
Rim protectors are one of the dirt bike tire changing tools that gets overlooked often, but are certainly nice to have. They offer important protection from scratches and dings while changing your tires.
Motion Pro Rim Protector
As you may already know, you don't want your rims messed up… which is why providing them with adequate protection is so important. These protective coverings from Motion Pro are made with new and improved nylon materials that are stronger, tougher, and more flexible.
Tool Features
Protects wheels from scratches and dings
Protects against damage from tire changing tools
Includes retrieval cords for ease of use
Made with new and durable materials
Highly affordable
If you're looking for something cheap and easy to use, then the Motion Pro rim protectors are the perfect fit for the job.
Click here to view pricing and read reviews on Amazon.
---
Dirt Bike Tire Bead Breaker
Depending on your needs, you may want to add a nice bead breaker to your dirt bike tire changing tools kit. Motion Pro makes a solid bead breaker (shown below), however there are tire changing stands with bead breakers on the market as well… for quite a bit more money.
Motion Pro Bead Breaker Levers
If you're a little newer to dirt biking or motor vehicle maintenance in general, you might not know exactly what a bead breaker is. It's essentially a tool used to separate tires from rims… "break the bead."
If you're on the hunt for a new set of bead breakers, I think you'll like these from Motion Pro.
Tool Features
Extremely durable construction prevents breakage
Highly effective
Only fits specific models, so be sure to check Amazon page
It comes in a sleek black color
Comes in sets of two
While they aren't the most affordable tools on the market, they are a "nice to have" item.
Click here to view pricing and read reviews on Amazon.
---
Tire Valve Core Tool
Another overlooked aspect, valve removal is a key part of tire maintenance.
Motion Pro Valve Core Remover
Being able to remove the valve from your dirt bike tires makes changing out your tires much quicker and easier. But to do that, you're going to need a good valve remover. The one that Motion Pro offers is not only highly affordable but makes valve removal a total walk in the park, which is why I've chosen to include it on this list.
Tool Features
Allows for the easy removal of standard valve cores
Facilitates new valve core installation
Works in both tube and tubeless valve stems
Makes for a good accessory to your tire maintenance kit
Super easy to use
Highly affordable
Even if you've just gotten yourself into dirt bike maintenance, this is a fantastic valve core remover to add to your kit.
Click here to view pricing and read reviews on Amazon.
---
Tire Pressure Gauge
Dirt bike tires won't perform optimally if their pressure isn't correct, so a pressure gauge is definitely in order.
TIRETEK Tire Pressure Gauge
And finally, perhaps the most basic part of maintaining your tires is making sure that the tire pressure is optimal, and for that, you're going to need a good pressure gauge. To add a bit of variety to this list, I've included the tire pressure gauge from TIRETEK, another of my favorite dirt bike care brands. The gauge is made of alloy steel and rubber and is extremely affordable for its quality.
Tool Features
Heavy-duty mechanical tire gauge
Recommended by mechanics
It does not require any batteries to use
Large scale dial is very easy to read
It is calibrated to ANSI B40.1 Grade B (2%)
Note: this is also a great gauge for ATV tires.
This is a great tire pressure gauge for the money and one that should last a while.
Click here to view pricing and read reviews on Amazon.