Honda Monkey 125 (Top Speed, Weight, Horsepower, Specs, etc.) – Bike Worth Buying?
BraapAcademy.com earns a small commission from qualifying purchases.
This does NOT cost you extra.
Are you looking for a fun, small, easy-to-ride, street-legal motorcycle? If so, the Honda Monkey bike is one of the coolest options on the market, at least in my opinion. Not only does this 125cc motorcycle look cool and unique, but it's also well-built and reliable.
However, the Honda Monkey isn't necessarily the right choice for everyone. There are a few important specs and nuances that are important to know before buying one. Below is complete a review of this bike that I can put together.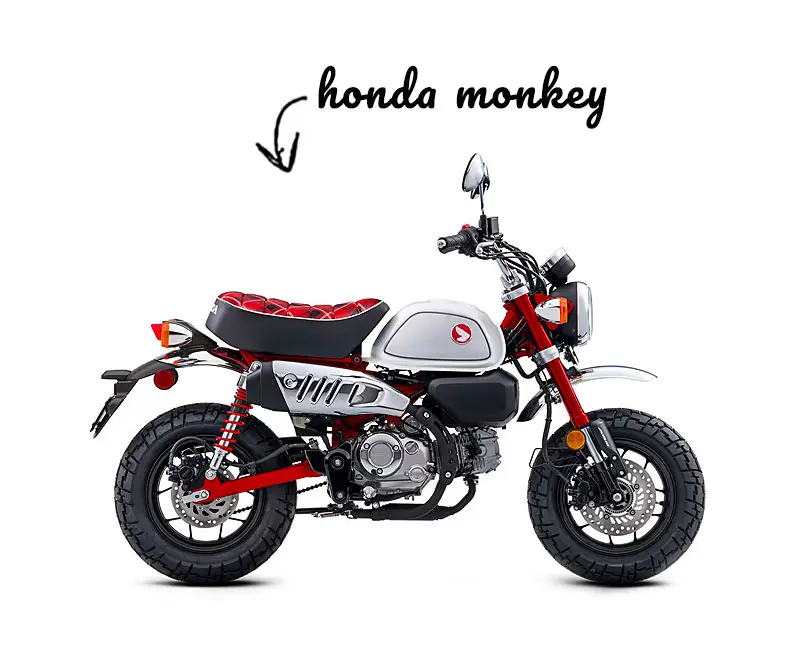 Not only will we look at all of the motorcycle's weight, horsepower, top speed, and seat height, but we'll also look at where to buy one, what you should expect to pay, and more.
honda monkey miles per gallon
honda monkey mpg
In addition to the Honda Monkey specs, I'll also cover the most weighty positives and negatives, the maintenance schedule, its miles per gallon, etc. Basically, I'll cover all of the most important info.
---
What is a Honda Monkey?
The Honda Monkey is a small, iconic motorcycle that has been in production by Honda in various forms since 1961, the first year made.
These small 125 motorcycles have a unique look and style, making them popular for a wide range of enthusiests. With their chunky tires, upright seating position, and simple design, these are also a good little street-legal motorcycle for learning how to ride on.
Over the years, the design has evolved, but it has always retained its distinctive retro and playful look.
The Honda Monkey motorcycle is powered by a 124cc air-cooled single-cylinder 4-stroke engine.
Overview:
Type: Street-legal mini-moto, 4-stroke
Stree-legal: Yes
Rider's age: Adult
Rider's height: 5'4-6′
Engiene size: 125cc
Popular features:
Fuel injection
Five-speed transmission
High-rise handlebars
Disc brakes with front-wheel ABS
Low 30.6-inch seat height
Electric starter
Who Should Buy
The Honda Monkey, given its unique size, design, and characteristics, is best suited for certain types of riders and specific use cases. Obviously, this isn't going to be your go-to motocross or cross-country dirt bike. However, if you're looking for a short distance commuter, this thing is pretty cool.
Here are scenarios for those who might want to buy one:
Beginner Riders
Due to its small size and manageable power, the Honda Monkey is a good choice for those new to motorcycling. Its approachable nature allows beginners to gain confidence before moving on to larger motorcycles.
Urban Commuters
In congested cities, the Monkey's compact size and nimbleness make it an excellent tool for short-distance commuting. Its ability to weave through traffic and park in tight spots is a significant advantage.
Enthusiasts and Collectors
Given its iconic status and history, many motorcycle enthusiasts purchase the Monkey for its nostalgia factor. Some might even buy it as a collector's item, especially the older, vintage models.
Weekend Fun
Some seasoned riders purchase the Monkey as a secondary bike for leisurely weekend rides, especially if they're looking for something light and fun.
RV Travelers and Campers
Due to its lightweight and compact size, the Monkey is popular among those with recreational vehicles (RVs) or campers. It can be easily transported and provides a convenient mode of transportation when the RV is parked.
Younger Riders
While not exclusively a kids' bike, its small stature can make it suitable for responsible teenagers.
Off-Path Adventures
Although it's not a dedicated off-road bike, the Monkey's chunky tires and low weight make it somewhat capable of light trail riding or beach cruising at the dunes.
Those with Physical Limitations
Riders who might have difficulty handling larger or heavier bikes due to age, physical constraints, or other reasons might find the Monkey more comfortable and manageable.
Who Should Not Buy
However, there are also some situations where the Monkey might not be the best choice. Here are some reasons NOT to buy a Monkey:
Long-Distance Touring
Given its small engine and size, the Monkey isn't designed for extended highway journeys or touring.
High-Speed Highways
The Monkey's top speed and stability aren't suitable for high-speed highway travel, especially alongside much larger vehicles.
Carrying Cargo or a Passenger
Its small frame and engine mean it's not ideal for carrying heavy loads or a passenger for extended periods.
Overall, the Honda Monkey is a versatile and fun little bike. It caters to a wide range of riders, but again, it isn't going to be the best small motorcycle for everyone.
Honda Monkey Specs
Here are all of the Honda Monkey 125 specifications that I was able to copy over from the Honda website. In addition, there are a few of the specs that were not provided by the factory like horsepower, top speed, etc.
Engine Specifications
| | |
| --- | --- |
| Engine Type | Air-cooled single-cylinder four-stroke, SOHC |
| Valve Train | SOHC, two valves per cylinder |
| Displacement | 124cc |
| Horsepower | 9.25 HP |
| Compression | 10.0:1 |
| Bore and Stroke | 1.97 x 2.48 in (50.0 x 63.1 mm) |
| Fuel System | Programmed fuel injection (PGM-FI); 24mm throttle body |
| Transmission | 5-speed |
| Starter | Electric start |
Chassis Specifications
| | |
| --- | --- |
| Length | 67.3 in (1,710 mm) |
| Width | 29.7 in (755 mm) |
| Height | 40.6 in (1,030 mm) |
| Seat Height | 30.6 in (777) |
| Front Suspension | 31mm inverted fork (4.3 inches of travel) |
| Rear Suspension | Twin shock (4 inches of travel) |
| Front Brake | Single 220mm hydraulic disc; ABS |
| Rear Brake | Single 190mm hydraulic disc |
| Chain | #420 Chain (98 links) |
| Sprockets | 14T front / 37T rear |
| Front Tire Size | 120/80-12 65J |
| Rear Tire Size | 130/80-12 69J |
| Maximum Weight Capacity | 231 lb (105 kg) |
| Curb Weight | 229 lb (104 kg) |
| Dry Weight | 230.6 pounds |
| Fuel Capacity | 1.48 US gal (5.6 L) |

Miscellaneous
| | |
| --- | --- |
| Battery | YTZ5S, 12 V-3.5 Ah (10 HR) |
| Colors | Pearl Nebula Red, Pearl Black |
| Model ID | MONKEY125A |
Here are the most important specs:
Manufacturer: Honda
Model Name: Monkey, Monkey 125
Dirt Bike Type: Mini-moto / street-legal
Years Made: 1961-2024 (present)
Seat Height: 30.6 inches
Curb Weight: 229 pounds / 104 kg (with fuel, fluids, etc.)
Top Speed: 65-70 MPH
Horsepower: 9.25 HP
Spark Plug: CPR7EA-9S (NGK)
Emissions: Meets current EPA standards. Models sold in California meet current CARB standards and may differ slightly due to emissions equipment.
---
KTM 125cc Engine & Transmission
Being a Honda motorcycle that's been around for so long, these are very reliable and durable machines. They aren't extremely fast or peppy, but they still deliver a fun and exciting riding experience.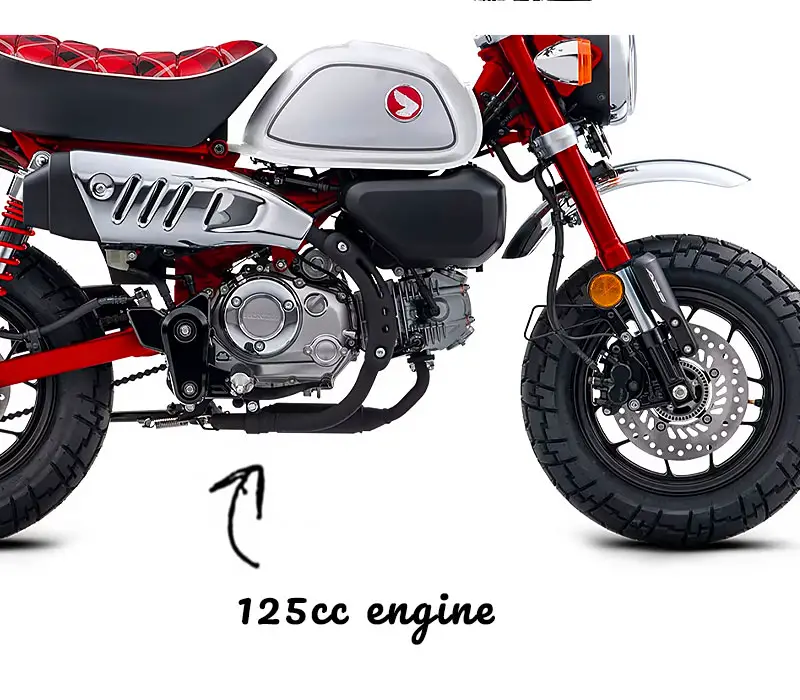 With the same engine as a Honda Grom, these bikes have a reputation for reliability as well as performance. Now, of course they arn't going to rip like a 125 motocross bike, but that's okay.
Paired with a 5-speed transmission, these bikes produce plenty of urban-worthy power.
Horsepower
The stock Honda Monkey makes 9.25 horsepower. I have seen some modded Monkes that produce a little more horsepower, but having more HP isn't necessarily the most important factor to consider.
Instead of producing maximum horsepower, Honda has designed this engine to produce a very useable power and delivery. While 9.25 HP doesn't look impressive, it is still a very usable and capable motorcycle.
Top Speed
Topping off at 65 mph, the Honda Monkey top speed is neither slow nor fast.
However, 60-70 miles per hour seems pretty quick when you're sitting so close to the road. Here's a video of someone getting Monkey up to 113 km/h (71 mph).

Ultimately, the top speed of a stock 125 Honda Monkey is typically ~65 mph. However, it isn't too difficult to get these little bikes to go faster with taller gearing, an aftermarket exhaust, or some other high-performance mods.
Just like having a large horsepower number, a fast top speed isn't usually the most important spec to worry about. When it comes to being usable, this 125cc engine makes very useable power.
Maintenance
In line with most Honda motorcycles, dirt bikes, and ATVs, the Monkey is extremely dependable and should last you a long time. With that, it does require some regular maintenance to keep it running smoothly.
However, the amount of maintenance (both intervals and checklist items) pales in comparison to a motocross bike or cross-country bike.
Here's what the maintenance looks like for the Honda Monkey.
Honda Monkey Maintenance Schedule
Here's a screenshot image of the service and maintenance schedule for the Honda Monkey 125. According to the owner's manual, the majority of the maintenance needs to be done every 4,000 miles.
It breaks down into the following:
After the first 600 miles (1,000 km)
4,000 miles (6,400 km)
8,000 miles (12,800 km)
12,000 miles (19,200 km)
16,000 miles (25,600 km)
20,000 miles (32,000 km)
24,000 miles (38,400 km)
In addition to the mileage intervals, you'll also see a few different gray squares with a letter in them, as well as a black circle with the letter "R" inside of it.
Here's what those items stand for:
I – Inspect (clean, adjust, lubricate, or replace, if necessary)
L – Lubricate
R – Replace
C – Clean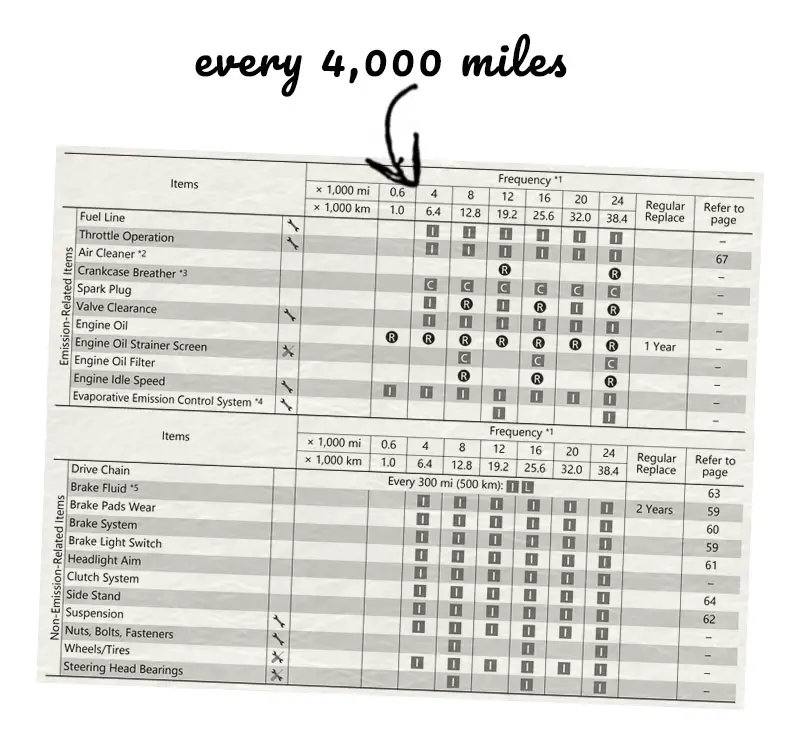 NOTE: I realize that the image above is a little pixelated and hard to read. Below are the items typed out for easy reference.
Once after the initial 600 miles (1,000 km)
Engine Oil (replace)
Engine Idle Speed (inspect)
After every 4,000 miles (6,400 km)
Fuel Line
Throttle Operation
Crankcase Breather
Spark Plug
Valve clearance
Engine Oil
Engine Idle Speed
Drive Chain
Brake Fluid
Brake Pads Wear
Brake System
Brake Light Switch
Headlight Aim
Clutch System
Side Stand
Suspension
Wheels/Tires
After every 8,000 miles (12,800 km)
Everything from the 4,000 miles list, plus the following:
Engine Oil Strainer Screen
Engine Oil Filter
Nuts, Bolts, Fasteners
Steering Head Bearings
After every 12,000 miles (19,200 km)
Everything from the 8,000 miles list, plus the following:
Air Cleaner
Evaporative Emission Control System
What oil does a Honda Monkey take?
The Honda Monkey owners manual recommends Honda GN4 10W-30 (view on Amazon)
Here's how much oil the Honda Monkey takes:
After draining – 1.0 US qt (0.9 L)
After draining & engine oil filter change – 1.0 US qt (0.9 L)
After disassembly – 1.11 US qt (1.05 L)
---
Honda Monkey Handling
The 125 Honda Monkey is easy to ride and handles great, however, that hasn't always been the case.
Granted, the older bikes weren't terrible, but they are much better now. The newer Honda Monkeys feature an inverted hydraulic fork suspension up front and twin rear shocks in the rear.
The updated suspension, combined with the chunky tires and cushy low seat height, makes for an enjoyable and smooth ride even over some rough pavement.
Here are all of the different handling specifications to know:
Weight
As mentioned, the curb weight of a stock Honda Monkey is 230.6 pounds.
While I wouldn't call that "light" for such a small 125 motorcycle, it isn't "heavy" for a street bike. Overall, 230 pounds is on the lighter side of a motorcycle and the bike is light enough to control and maneuver.
As a comparison, the TTR 125 weight is 198 pounds and the CRF125F weight is 194 pounds. Of course, those are dirt bikes and not street-legal motorcycles, so that does make a difference. Street bikes weigh more because they have a lot more requirements to operate on the road.
Honda Monkey Weight Limit
Does the Honda Monkey 125 have a weight limit? Yes, it does.
The owner's manual states that the maximum weight limit is 231 pounds (105 kg) for this motorcycle. Also, this includes your weight plus any gear and anything else like a tool kit, etc.
NOTE: The manual also states that this motorcycle is not designed to carry passengers. It says that the passenger capacity is for the rider only.
Seat Height
Along with its unique, retro look, the Honda Monkey seat height is 30.6 inches. Also, the motorcycle will squat down slightly when you get on it.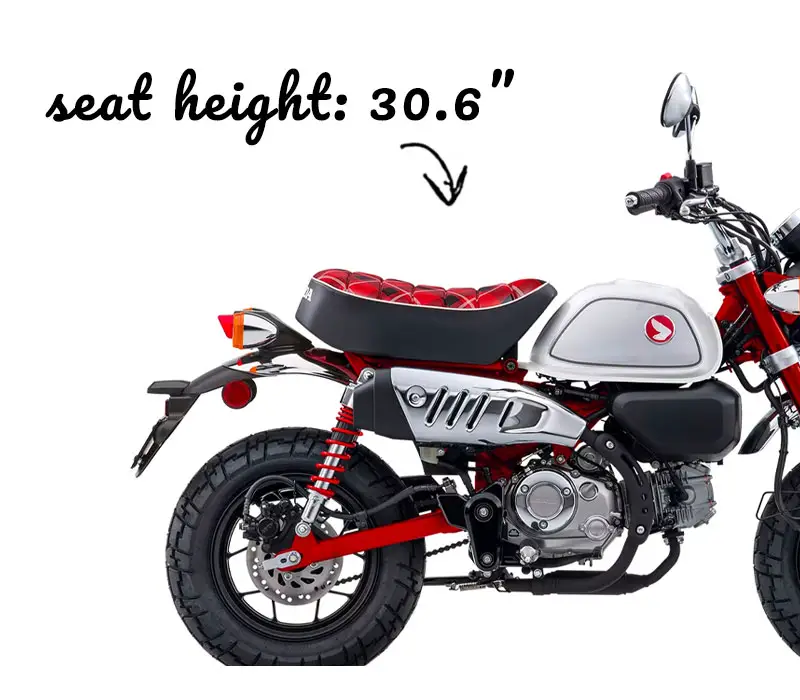 Depending on your specific inseam measurement, a seat height of 30.6 inches is typically the ideal height for someone who is around 5'1″ tall.
Surprisingly, there are a handful of other street-legal motorcycles with an even shorter seat height. So, while this isn't technically the smallest or shortest option out there, it's still my favorite for many reasons.
Suspension
One of the best upgrades that the Monkey has seen over the recent years is the suspension.
Inverted fork and twin rear shocks – Now that these motorcycles have a sportbike-like suspension, they are awesome. The Monkey's inverted front forks and chunky tires are the perfect marriage for gripping the road.
---
Is the Honda Monkey Bike Any Good?
Monkeys are awesome. And I'm not just talking about animals or bands. When it comes to the overall view of these motorcycles, there's not much bad you can say about them.
Are they fast or powerful? No.
Are they super high-performance machines? Nope.
They are fairly inexpensive, fun little neighborhood motorcycles. And that's exactly what makes them so popular and fun to ride.
Of course, not everyone is going to like this type of motorcycle, and that's okay. For anyone else who is in the market for a little mino-moto like this, the Monkey is great.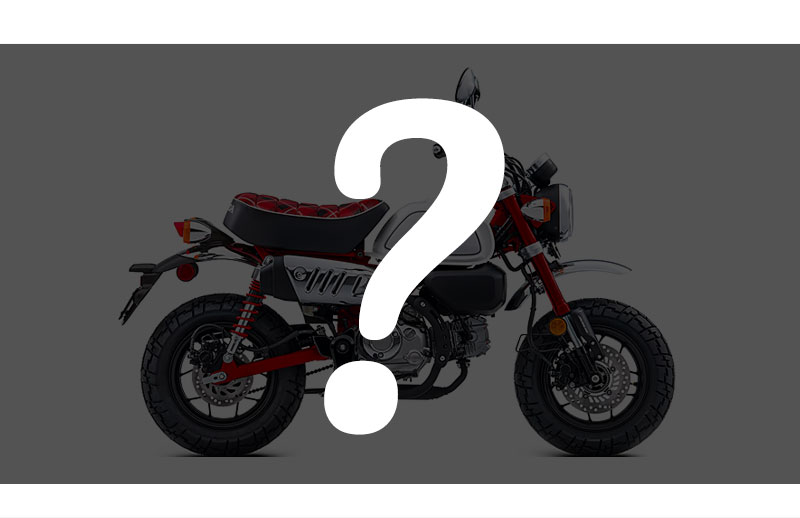 Here are some of the positives and negatives of a Honda Monkey:
Positive Reviews
It's easy to maneuver
Short and lightweight encourages confidence
Looks awesome!
Reliable (it is a Honda, after all)
Very fuel efficient (over 100 miles per gallon)
Easy/infrequent maintenance
Affordable
Electric start
Great working headlight
Negative Reviews
Not good on high-speed highways or for long distances
Doesn't hold a lot for a street bike
A small fuel tank (but does get good miles per gallon)
Not the best off-road
Too short for taller riders
Harder to see the small motorcycles in traffic
Overall, these are solid little motorcycles for what they're designed to do.
If you're looking for a motorcycle to have fun on, and not to travel, race, etc., this is definitely a good bike for that. With that, it really isn't the best option for traveling long distances or for serious trail riding.
Buyers Guide (Best Year, Pricing, etc.)
If, after all of that, you're still interested in this enduro, here are a few things to know about buying one:
The best year Honda Monkey to buy
What they are worth used
Best place to buy one
Best Year
Picking the best year of a Honda Monkey isn't as straightforward as one might think.
Technically, the newer the bike, the better the performance. However, some prefer an actual vintage Monkey.
The older models are still "good" motorcycles, but if you can find a 2019 or newer, that would be ideal. The 2019 models are inspired by the Honda Grom and do have much better suspension and handling.
How much does a Honda Monkey cost?
BASE MSRP: $4,299
Destination Charge: $200
Freight Surcharge: $100
How much is a used Honda 125 Monkey worth?
Admittedly, buying a new bike can sometimes be easier than hassling with "Craigslist People," you can usually save quite a lot of money buying a used bike instead.
Since these motorcycles have been since the 1960s, the price range varies a bit. However, a used Honda Monkey motorcycle will cost around $4,000 if you buy a used one.
Surprisingly, I was able to find quite a few on Facebook Marketplace. They weren't all located as close to me as I would like, but they were all within a "reasonable" drive from my house. Here are the ones that were close enough to me that I would consider driving to.
For the record, I don't encourage you to look these up if you don't plan on buying one. After putting this list together, I'm seriously chompin' at the bit to go buy one. Soon!
Anyway, here are the best Honda Monkey motorcycles that I found:
2019 Honda Monkey (blue) – $4,000
2019 Honda Monkey (yellow) – $4,000
2019 Honda Monkey (red) – $3,850
2021 Honda Monkey (blue) – $4,000
2021 Honda Monkey (blue) – $4,250
2022 Honda Monkey ABS (yellow) -$4,500
2022 Honda Monkey (black) – $4,500
2023 Honda Monkey ABS (yellow or red) – $4,249 (plus $300 in charges from Honda, new)
2024 Honda Monkey ABS (red or black) – $4,299 (plus $300 in charges from Honda, new)
Without adding them all up and dividing by 11, you can see that the average price is about $4,000. If you're planning on buying a new one, you should expect to pay about $4,700.
Unfortunately, buying a used Monkey doesn't save you a whole lot of money over buying a new one.
Is Kelley Blue Book Price Accurate?
After looking over FB I wanted to see what Kelley Blue Book listed the value at. Here's a screenshot of a 2020 Honda Monkey's value, according to KBB: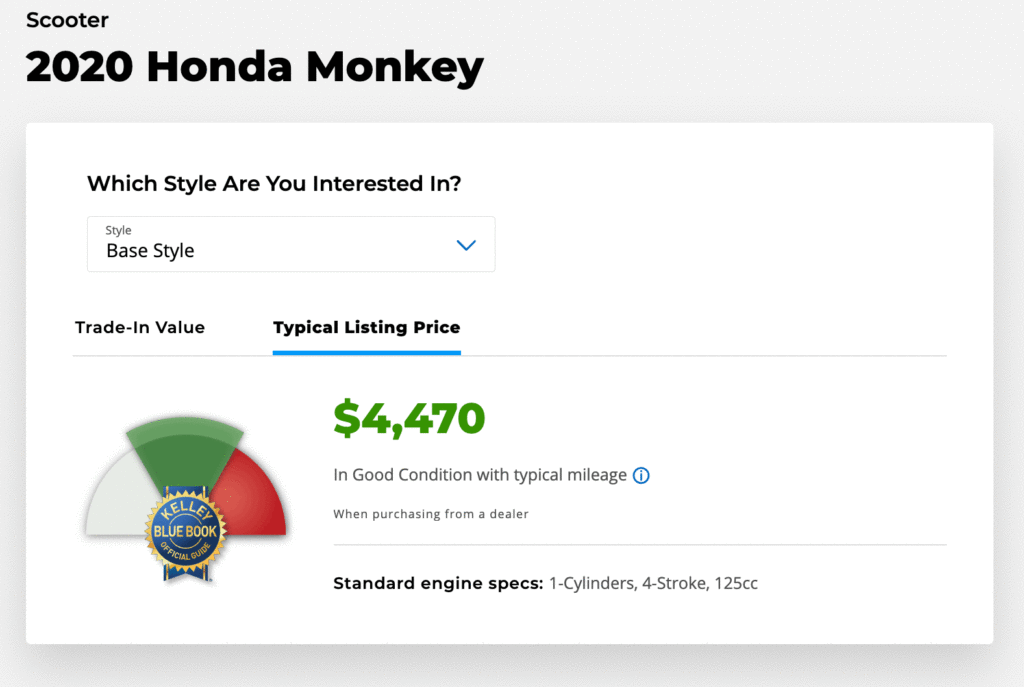 According to Kelley Blue Book, these motorcycles typically list for $4,470. That's close enough to my local area's average price of $4,000. Here are two prices from KBB:
Trade-In Value: $3,070
Typical Listing Price: $4,470
I also checked JD Power to compare. Again, the price range is right in line with what we've already found. JD Power lists the following prices:
Suggested List Price: $3,999
Low Retail: $2,530
Average Retail: $3,330
Where to Buy?
As you know, if you want a new 2023 or 2024 Honda Monkey 125 motorcycle, drive your truck over to your local Honda dealer and pick one up.
If you want an older model, I recommend checking your local Facebook Marketplace listings. As mentioned, there were quite a few options in my area.