Honda CRF125F Review (Seat Height, Top Speed, Horsepower, etc) – Worth Buying?
BraapAcademy.com earns a small commission from qualifying purchases.
This does NOT cost you extra.
Are you thinking about buying a Honda CRF125F dirt bike? Or, maybe you already bought one and would like to get some specific information on it? Either way, good… I've put together a full Honda CRF 125F review that covers all of the important specs like the top speed, seat height, horsepower, weight, and more.
Overall, this 125cc Honda is a cool mid-size dirt bike, however, it isn't perfect and it isn't going to be the best choice for everyone.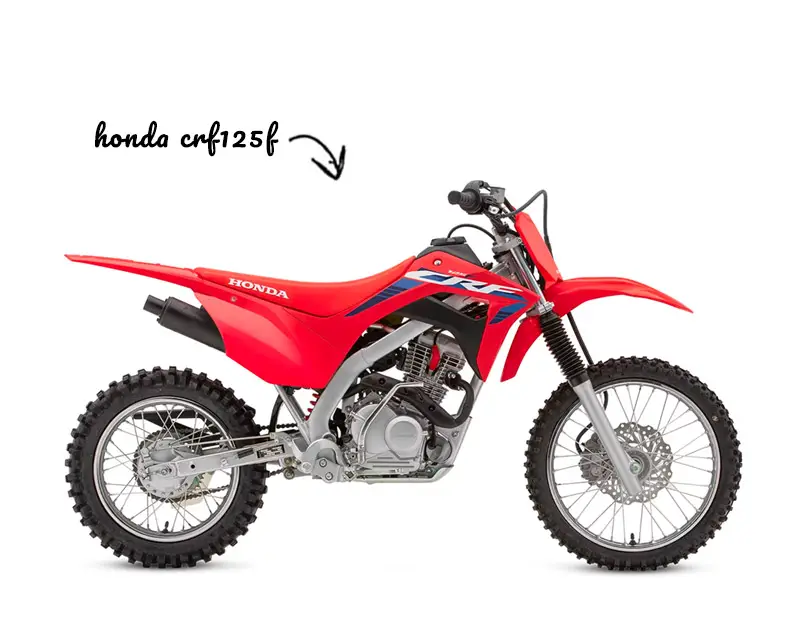 Since no dirt bike can do everything well, it is important to understand the little nuances and specifics that come with riding and owning one of these CRF125 Hondas. We will look at the type of riding that this dirt bike is meant to do, and the type of rider it was meant for.
By the end of this review, you really should be able to leave with a solid idea of what type of dirt bike this is, what kind of regular maintenance it needs, how much they cost, and more.
---
What is a Honda CRF125F?
The Honda CRF125F is a 125cc, single-cylinder four-stroke.
As far as performance and design go, it's similar to the Honda CRF110F, but a step up, of course. As far as direct competition goes, it seems as though Honda released this dirt bike to compete with the Yamaha 125 dirt bike and its obvious success in the market.
However you look at it, these are great all-around dirt bikes. They are not motocross dirt bikes nor enduro racing dirt bikes; they are trail bikes that are designed to be both easy and fun to ride. Some use these as a big pit bike, and some use these to learn.
Whatever your plan is, we'll talk about the motor output and power delivery, as well as the handling speed, weight, etc.
Who Should Buy?
For starters, this is hot a high-performance dirt bike. For a 125cc dirt bike, it does have a good midrange and low-end torque, but if you're thinking that since this is going to pull like a two-stroke 125cc, I've got bad news for you.
These are designed to be (almost) the opposite of a standard 125 MX dirt bike. Instead, these bikes focus on the trail, woods, and poker-run types of riding. Here are a few reasons to (and not to) buy this 125 Honda:
Buy one if:
You want a good dirt bike to learn on
You'd like a mid-sized dirt bike for cruising around on or for trail riding
You prefer trail and enduro riding over motocross tracks
Not planning on racing MX or SX
You want a good all-around dirt bike to have fun on
A tall-enough teenager or small adult
You find a good deal and would like the perfect "extra" dirt bike in your garage
Don't buy one if:
You are looking for a motocross dirt bike
Jumping and track riding is important to you
You're expecting to win drag races
You want a 2 stroke
You're planning more sand/dune trips than adventures in the woods
History
There is no denying Honda's rich history of proven dirt bikes. First, it was the legendary XR series that lead the pack for many years, but now it's the CRF's turn. Even though the XR had so much success, Honda continued to push the limits and started a new line: the CRF.
Overall, all of the Honda CRF dirt bikes are great. An important thing to note is that the "F" series of the CRF models are all similar. For example, they all come fuel-injected, are not overly powered, and they lend themselves to beginners.
Honda CRF125F Specs
Here are all of the CRF 125F specs that I was able to copy from the spec sheet on the Honda website:
Engine Specifications
Chassis Specifications

Miscellaneous
Colors
Red
Model ID
CRF125F
CRF125F Big Wheel
Although those are the main Honda CRF125F specifications, here are a few that were not listed on Honda's website:
Manufacturer: Honda
Model Name: CRF125F, CRF 125F, CRF 125 F
Big Wheel Model Name: CRF125F Big Wheel, CRF125FB, CRF125F B
Dirt Bike Type: Offroad, Trail dirt bike
Years Made: 2014-2023 (present)
Seat Height: 29.1 inches / 30.1 inches
Wet Weight: 194 (all fuel, fluids, etc.)
Top Speed: 50-55 mph
Horsepower: 8.9 HP
---
CRF 125cc Engine & Transmission
Okay, now it's time for the star of the show: the Honda 125cc motor.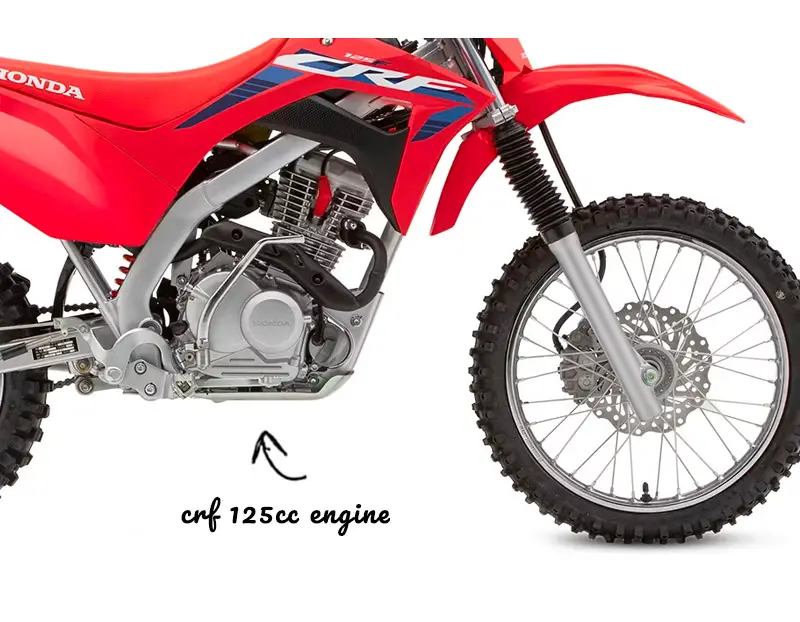 Not only are these some of the best 4 stroke dirt bike motors out there, they are also reliable and durable.
If you rate the quality of a dirt bike based on its thrill-producing capabilities, this may not be your dirt bike. On the other hand, if you are looking for a quality dirt bike that will run dependably, for a long time, this engine is awesome.
I like to equate these dirt bikes to my Tacoma pickup. It's a Toyota, so it's built SOLID, runs forever – despite being neglected – and it holds its value well because many people (me, included) value that. The CRF125F is similar.
It's not the fastest, lightest, or most powerful, but it is dialed in! These things, like many other Honda motorcycles, are built to last.
Horsepower
The Honda CRF125F has 8.9 horsepower.
Although just under 9 hp doesn't sound like a lot, it's actually pretty decent. When compared to other dirt bikes in this class it's right in there. For example, the Yamaha TTR125 has 9 horsepower, while the Honda CRF110F horsepower rating is 6 hp.
When it comes to a dirt bike's horsepower rating, it isn't as important as you might think. Whenever you see a dyno test for a dirt bike, the peak horsepower only comes at a specific RPM.
While this is a "cool-to-know" number, these 125cc Honda dirt bikes aren't designed to produce high horsepower numbers. Instead, they're designed to deliver smooth, controllable power throughout the RPM range.
The design and power delivery are what make them such a great dirt bike for beginners and those who are looking for a capable, fun-to-ride trail bike.
Top Speed
How fast can a CRF125 go? The top speed for a Honda CRF125F is about 50 mph.
Again, by comparison, 50 miles per hour is right in the typical range for this 125cc dirt bike class. For instance, the Yamaha TTR125 top speed is also about 50 mph, depending on the rider, terrain, and dirt bike setup.

In the end, these 125 Honda dirt bikes will go about the same speed whether there's a teenager or an adult on it. But the weight (and height – wind resistance) can play a factor.
An even more significant variable in getting to top speed is the dirt bike's gearing. With stock gearing, 50 MPH is typical, but simply changing the size of one (or both) of the sprockets can make a big difference.
For example, I've got a Honda CRF450R that I put a larger rear sprocket on the back and it made a big difference. Its maximum speed isn't quite as high as it was, but it has more low-end torque, which I needed because I like to do a lot of trail riding, and it's really not a great bike for trail riding.
Either way, 50 mph is plenty fast for a trail bike. You'll rarely be going that fast.
Engine Specs
Engine Size: 125cc
Horsepower: 8.9 HP
Engine Type: Single-cylinder, four-stroke
Transmission: 4-speed, manual clutch
Starting: Electric start (only)
Cooling System: Air-cooled
Fuel Capacity: 1 Gallon
Ignition: Fuel injection, 22mm throttle bore
Fuel Type: Petrol / Gasoline
Maintenance
If there's one thing Team Red is known for, it's reliability and durability.
The CRF125 Honda dirt bike is both fun to ride and easy to maintain. Basically, as long as you keep the oil changed and put the right gas in it, it should last for quite some time.
But, that doesn't mean that you should skip out on the maintenance. Keeping up on the maintenance is easy compared to other dirt bikes, but you'll still need to keep up on cleaning the air filter, lubing up the chain, and addressing any other required dirt bike maintenance.
Below is the list of maintenance items that I copied straight out of the owner's manual. These items either need to be inspected or adjusted, but they don't need you to do so too often.
CRF125F Maintenance Schedule
Fuel Line
Fuel Filter (every 4,800 miles -8,000 km)
Throttle Operation
Air Cleaner
Crankcase Breather
Spark Plug
Valve Clearance
Engine Oil
Engine Oil Strainer Screen
Engine Oil Centrifugal Filter
Engine Idle Speed
Drive Chain Note (every 300 miles -500 km- or 3 months)
Drive Chain Slider
Brake Fluid
Brake Shoes/Pads Wear
Brake System
Clutch System
Side Stand
Suspension
Spark Arrester (every 1,000 mi -1,600 km- or every 100 operating hours)
Nuts, Bolts, Fasteners
Wheels/Tires
Steering Head Bearings
Does that list look long? Believe it or not, it's actually quite a bit shorter than many dirt bikes, and most items don't need to be inspected, changed, replaced, or lubricated after every ride. In fact, these dirt bikes require the same amount of maintenance as the Honda CRF 50 maintenance schedule calls for.
After the initial break-in period of one month, or 100 miles (150 km) – whichever comes first, the Honda 125 maintenance schedule only calls for maintenance after every six months (or 600 miles / 1,000 km).
This six-month maintenance schedule falls somewhere in the middle of "high" and "low" maintenance, but closer to low.
As an example, the Honda CRF150R maintenance schedule calls for inspection, lube, etc., after every 5-7.5 hours. That difference adds up quickly.
What motor oil does a Honda CRF125F use? Honda GN4 10W-30
Oil change capacity:
0.9 US qt (0.85 L) – after draining
1.1 US qt (1.0 L) – after disassembly
---
Honda CRF125F Handling
Ride-ability (and dependability, of course) is where this Honda 125 CRF dirt bike really shines.
Designed and built for beginners to learn and advance on, the CRF125F is one of the top dirt bikes for 12-year olds, or a great next step for young riders, and/or smaller adults.
Paired with the smooth and controllable engine, the 4-speed transmission with its heavy-duty clutch is durable and helps new riders learn to shift smoothly and efficiently. And since it isn't overpowered or too highly tuned, the smooth power and ergonomics are set up to complement the suspension.
Overall, these 125cc dirt bikes handle great for what they were designed to do. Again, they are good all-around dirt bikes that really shine on the trail. They are not motocross bikes built for the track.
Weight
The Honda CRF125 dirt bikes have a slightly different final weight, depending on which model.
A standard CRF125F weighs 194 pounds, while the slightly taller Honda CRF125F Big Wheel weighs five more pounds at 199 pounds.
Overall, these bikes are not the lightest or heaviest. For example, the 150R only weighs 185 pounds, but it is a competition-race bike. When compared to dirt bikes in the same class, the CRF 125F is only one more pound than its rival the TTR125.
Does the Honda CRF125F have a weight limit?
Yes, it does. Both the 125F and the Honda CRF 125F Big Wheel have a maximum capacity listed in their respective owners manuals. Here are the limits:
CRF125F: 176 lb (80 kg)
CRF125F Big Wheel: 194 lb (88 kg)
These weight limits include the weight of the rider plus any accessories. Whether you've got an extra small gas can, a tool kit, a hydration pack, or anything else, make sure to account for the weight of it.
Seat Height
The Honda CRF125F seat height measures 29.1 inches off the ground while the CRF125F Big Wheel seat height is 30.9 inches off of the ground.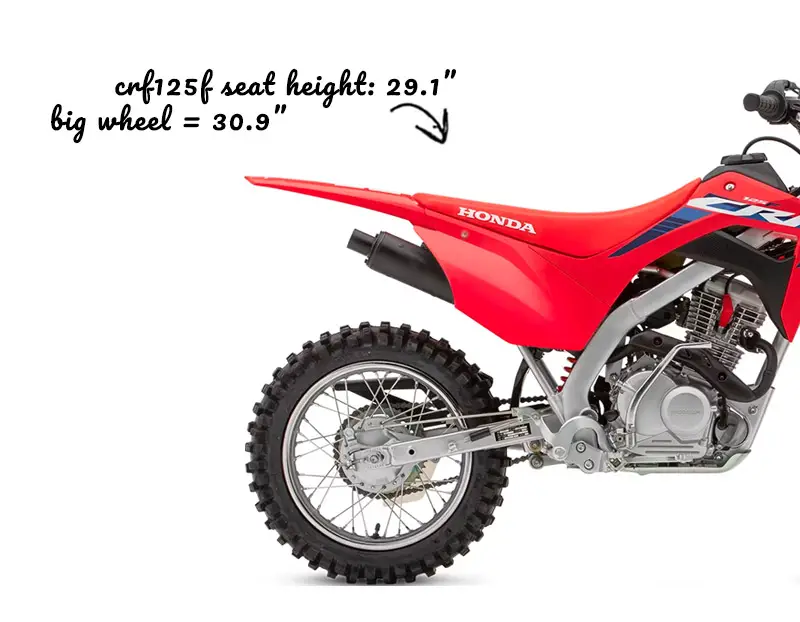 And even though there is only a one-inch difference, it makes a difference.
Typically, a seat height of 30 inches is a good size for someone around 5'1″ and a seat height of 31 inches is good for someone around 5'2″ tall, but that is simply an estimate. You will definitely want to sit on the bike and see how you fit on it.
Also, for comparison, the TTR125's seat height is 31.7 inches, so it's actually quite a bit taller (yes, I know, only 1 inch). Compare that to the next size-down Honda CRF110F's 25.9″ seat height, and you can see that the 125cc is a big step up.
Suspension
As mentioned briefly, the suspension on the Honda CRF125F is good for what (and who) the dirt bike was designed for.
Again, since this isn't a MX dirt bike, it isn't made for hitting monster triples and you're not going to be able to do a backflip on a dirt bike with this thing. I'm sorry, but, that isn't going to happen unless you've got some smooth, downhill landing setup. Okay, a foam pit would work too.
But really… who's doing back flips on trail bikes anyway!?
Conversely, the fairly soft and plush CRF 125 suspension does great in the woods, especially if you take the time to dial it in.
Unfortunately, the front forks are not adjustable, but the rear sag is. Dialing in the sag on your dirt bike will make a difference. The sag affects how your dirtbike handles, so if you dial it in you should be able to get more traction and easier turning.
Front suspension:31mm leading-axle fork (6.7 inches of travel)
Rear suspension: Pro-Link® single-shock (6.6 inches of travel)
Overall, the CRF125F Honda dirt bike is designed for trail riding and outdoor adventures.
Handling Specs
Chasis
Frame Type: Twin-spar-type steel frame and swingarm
Brakes
Front Brake: Single 220mm disc
Rear Brake: 95mm single-leading-shoe drum
Wheels and Tires
Front Tire Size:
CRF125F – 70/100-17
CRF125F Big Wheel – 70/100-19
Rear Tire Size:
CRF125F – 90/100-14
CRF125F Big Wheel – 90/100-16
Tire PSI:
Front – 15 psi (100 kPa, 1.0 kgf/cm2)
Rear – 15 psi (100 kPa, 1.0 kgf/cm2)
---
Is the Honda CRF125F a Good Dirt Bike?
Absolutely! The Honda CRF 125F is a great all-around and beginner-friendly dirt bike.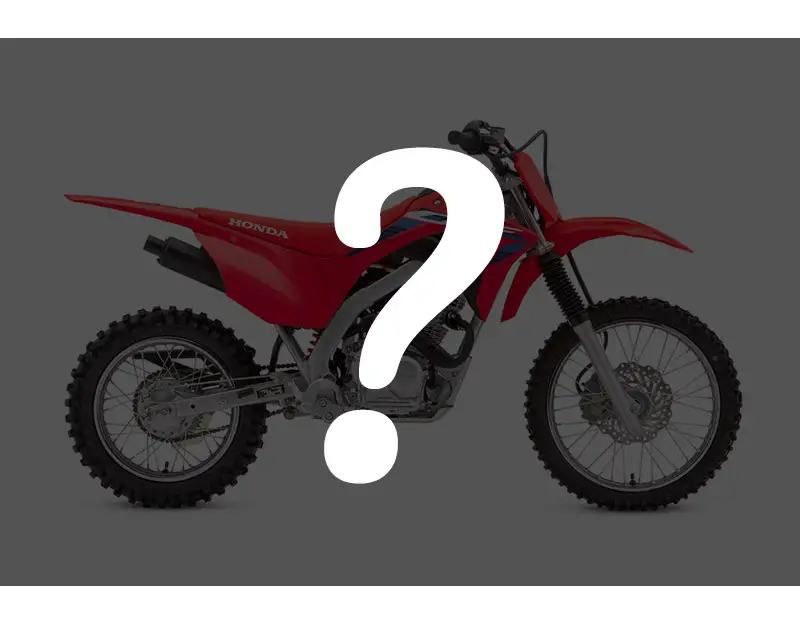 Honda designed this CRF to be an easy-to-ride, beginner, and short rider-friendly dirt bike. Overall, it's not only fun to ride, but it is a well-built and long-lasting machine. Honda has been one of the leaders in building dependable, quality dirt bikes for a very long time. And nothing changes for this 125cc Honda.
Positive Reviews
Beginner-friendly power and handling
Good low-end torque
Simple to work on and maintain
Smooth, controllable power from the Honda 125cc engine
Electric start
Kick start
Disc brakes up front
Fuel-injected
Comes with a kickstand (side stand)
Reasonably priced
Negative Reviews
Suspension isn't built for super-aggressive riding
Quite a few used CRF 125s have been neglected (because they keep running anyway)
Not as peppy as you'd like/expect from a 125cc
Buyers Guide (Best Year, Pricing, etc.)
Still here? Wow. You might as well stick around because you're almost to the end. Here's what left:
Where to buy
best year
value
Where to buy?
If you're looking to buy a brand new Honda 125cc dirt bike, you'll obviously want to head over to your local Honda dealer. Otherwise, I still recommend checking CL and FB Marketplace for used options.
I always check these two classifieds first. I buy used whenever I can (and when it makes sense).
Local Honda dealer
Craigslist
Facebook Marketplace
A friend
No, my approach to finding a used CRF125F for sale is not new. I also know that there are quite a few more classifieds to check.
I like checking these first.
I'm sure you'd agree that you need to see the dirt bike in person before you buy. Whether you're buying it for yourself or someone else, it's still a good idea to sit on the dirt bike, inspect it in person, start it up, and even give it a little ride.
Doing so will help to give you a good feel for the bike and you can see if it's been well maintained or neglected and ridden hard.
Best Year
Since these dirt bikes have been manufactured since 2014, there has been time for a few upgrades.
Of course, Honda doesn't release major changes to these CRF125F dirt bikes every year, but they do release minor updates like graphics, etc., more often than not.
When it comes to buying one of these, you may wonder what the best Honda CRF125F year to buy is. I don't blame you. Although "newer" is usually better, as long as you get the 2019 or newer model, you should be good.
2014-2018: Carbureted
2019-2023 (present): Fuel injected
Therefore, all of the 2019 Honda CRF 125F dirt bikes and newer (now) come equipped with the following upgrades:
Electronic Fuel Injection (EFI)
Electric start
Assuming you'd like to have these upgrades, although the dirt bike is now heavier because of them, the best Honda CRF 125F year to buy is a 2019 or newer.
How much does a Honda CRF125F cost?
Of course, buying new is pretty straightforward. Although, not necessarily 100% straightforward. Here is what the Honda CRF125F is listed for from the factory:
BASE MSRP: $3,399
Destination Charge: $200
Freight Surcharge: $100
Dealer sets the actual destination charge, your price may vary. Specifications and pricing are subject to change.
Basically, you should expect to pay about $3,700 for a 2023 Honda CRF125F.
What's a used Honda CRF125F worth?
If you're planning to buy a used CRF 125F dirt bike, there are a few things to take into consideration when pricing them.
First of all, you should track down as many different listings and prices as you can. This will give you a well-rounded idea of what these Honda dirt bikes are worth… or at least what the people selling them think they're worth.
First, we can check Kelley Blue Book to see what they list for a used, 2020 Honda CRF125F.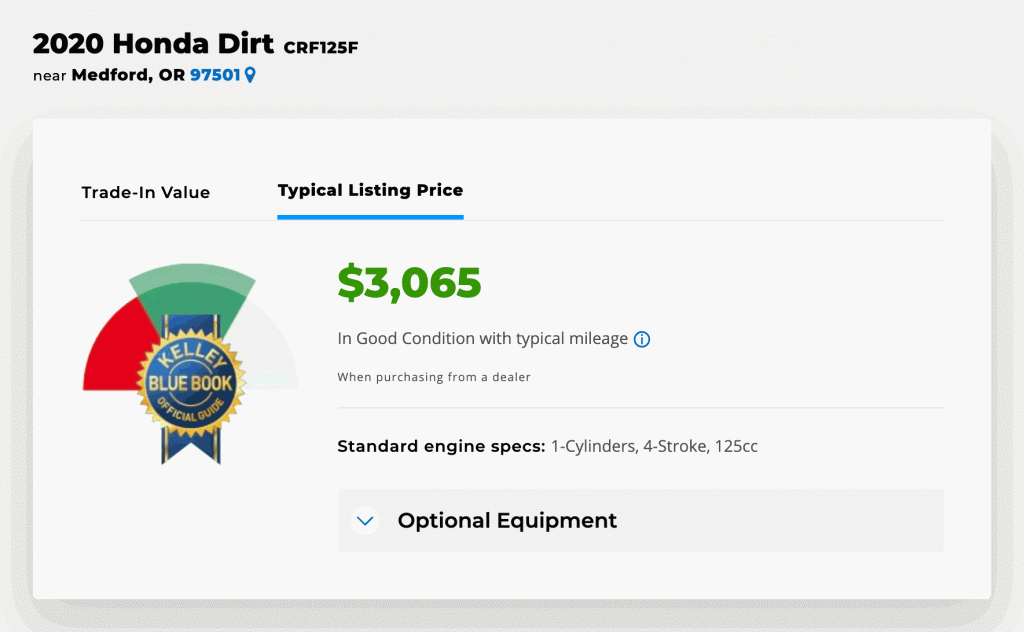 As you can see from the screenshot above, the "Typical Listing Price" for a 2020 CRF 125F is $3,065. FYI: the "Trade-In Value" is $2,080. Most don't look at= the trade-in value, but it can't hurt to be aware of it.
Second, we can check JD Power to see what they value a used Honda 125 at: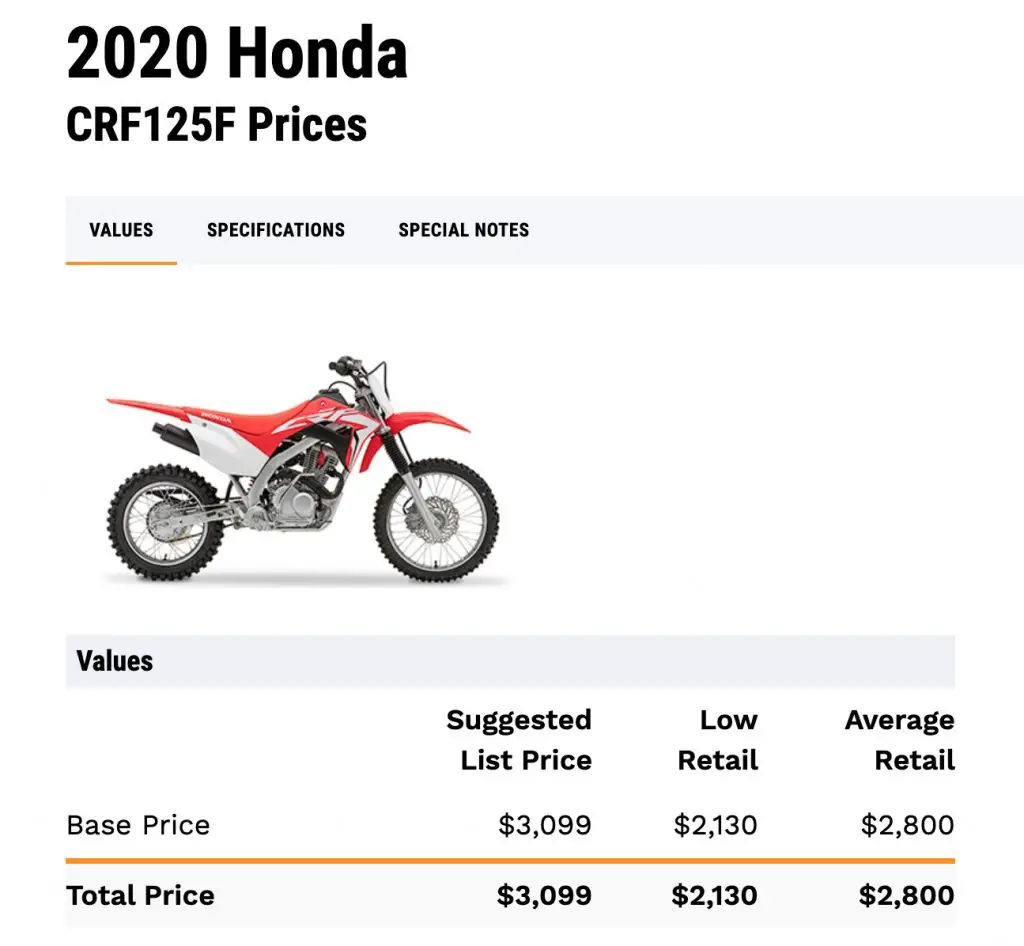 Looking at JD Power, a 2020 Honda CRF 125 F is worth about $3,099. That's actually quite close to the KBB value, so that's promising.
Is the Kelley Blue Book price accurate?
Comparing the Kelley Blue Book (KBB) price and the JD Power price for a used CRF125F, it looks like you could save around $700 by buying a three-year-old dirt bike.
A $700 savings sounds pretty decent considering the bike is only $3,700 new. That's almost a 20% discount.
But is that the price these are actually going for in "the real world" when you find one for sale? In order to verify this price range, I searched Facebook Marketplace to see what I could find.
I found eight of these for sale. That's quite a few for my area of the world. Here are the models for sale:
2017 Honda CRF 125f – $2,200 (lowered from $3,000)
2020 CRF125F Big Wheel – $3,300
2020 Honda CRF125F – $2,800 (low hours, looks nice)
2020 Honda 125F CRF – $3,500 ("very, very, very low miles")
2021 Honda CRF125F – $4,000 (no close-up pictures, can't really see condition)
2022 Honda CRF 125 F – $4,500 (basically brand new, 8 hours on the dirt bike)
2022 Honda CRF125 F – $3,650 (looks great, 10-15 hours)
2021 Honda CRF 125 – $3,800 (ridden 5 times, looks new)
After briefly looking over each one of those, the 2020 CRF for $2.8k is the one that seems like the "deal" out of the bunch. Here's the ad:
2020 Honda CRF125F – $2,800
This is a great bike. It always starts right up and runs perfect. It is fuel injected and has electric start. There are under 20 hours on it. My son has moved on to a different bike so we no longer need this one. Fresh oil and air filter. All maintenance done regularly. I have the title and even the spare key form the dealer!
As expected, the KBB value is right in there. Although these Honda dirt bikes sell for about $3,700 new, they hold their value very well. In the end, I think you should expect to pay somewhere between $2,500-$4,000.