Yamaha TTR 125 (Top Speed, Height, Specs) – Worth Buying?
BraapAcademy.com earns a small commission from qualifying purchases.
This does NOT cost you extra.
Are you looking to buy a Yamaha TTR 125 or do you already have one and you'd like some more info on it? Yes? Good. Here's a full Yamaha TTR 125 review that will cover all of the important specs, reviews, strengths and weaknesses of this legendary dirt bike.
By the end, you should have a good idea of whether this is the right dirt bike for you.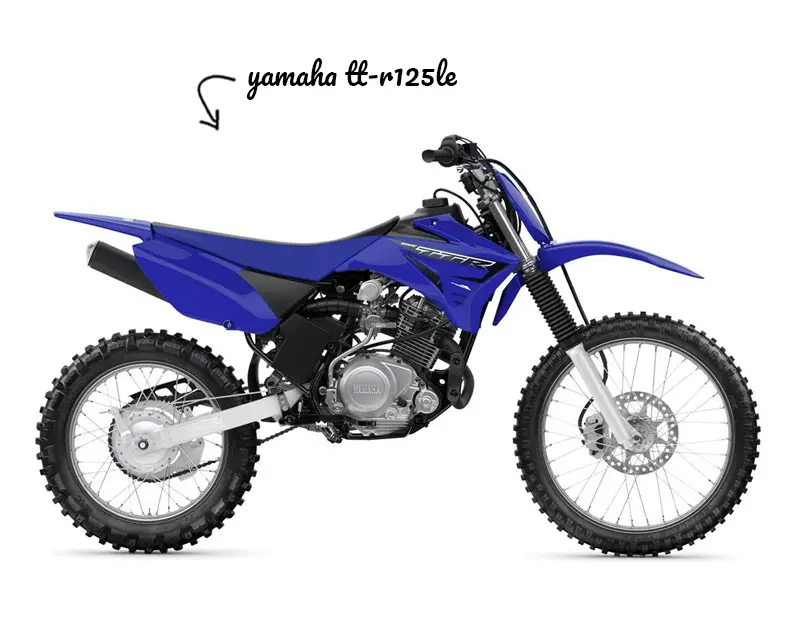 The Yamaha TT-R125 really is a great overall dirt bike. Having said that, it's not necessarily the right bike for everyone. So… we'll look at the options, why it may or may not be a good fit for you, and what you need to know about buying (and owning) one of these motorcycles.
---
What is a Yamaha TTR 125?
The Yamaha TTR125 is a 125cc 4 stroke dirt bike made for trail riding. Yamaha started making these in 2000 when the popularity of the Honda XR100 motorcycles became too much to ignore. As this beginner dirt bike quickly gained popularity, it formed a cult-like following of fans.
The TTR125 is great for cruising around your property, going on adventures in the woods, and squeezing through tight, tough trails.
If you've read through many of the other dirt bike articles on this website, you'll know that I'm a big fan of Honda dirt bikes. Having said that, I really do like Yamaha's as well. I've owned a couple different Yamaha motocross bikes (1999 YZ250, and 2001 YZ426F) and they've been great!
What does TTR stand for (Yamaha acronym)?
Essentially, the TT-R acronym means "trails and racing" for these dirt bikes. The TT-R is an upgraded (and updated) version of Yamaha's older TT dirt bike from the 70's-90's. And, apparently, the well-known "R" stands for "racing" on thee bikes because they share similar parts as Yamaha's MX line up.
How do I know all this? I learned this from a comment on Thumper Talk.
Who Should Buy?
Overall, the TT-R125 is a great trail riding dirt bike and is one of the best teenager dirt bikes available for the young-adult to adult age group. If you want a good bike to learn and you're in the younger age range or are a smaller adult, this is a solid choice.
Depending on your personality and age (or your child's) this could be a great dirt bike for learning on. My first dirt bike was a 1970's Honda LX175… not a good bike to learn on. Eventually, I moved to riding my dad's 80's XR200, which was MUCH easier to ride on than the older XL.
What's my point? The Yamaha TT-R125LE is a sized, geared, and powered for easy riding and learning.
History
As mentioned, Yamaha TTR 125 history dates back to 2000 when they were first produced, but there haven't been manuy changes throughout the past 20+ years.
2000 – Yamaha released the 125 and 125L models
2003 – Yamaha released the 125E and 125LE models ("E" means electric start)
2005 – Discontinued the TT-R125 small wheel model (No "E" so it was kick-start only)
2009 – Discontinued the TT-R125L (No "E" so it was kick-start only)
2011 – Discontinued the TT-R125E small wheel model
Here's a great snippet I grabbed from Wikipedia.com that gives a little bit more history.
The Yamaha TT-R125 is a trail bike that Yamaha produced from 2000–present… TT, TT-R, and XT have been used for semi off-road and street versions in different markets and in different eras… It has a soft suspension, wide seat and high ground clearance.
Yamaha TTR 125 Specs
Model
TT-R125LE
Engine Type
124 cc, 4-Stroke, Air Cooled, Single
Bore and Stroke
54.0mm x 54.0mm
Compression Ratio
10.0:1
Valve Train
Single cylinder SOHC; four-valve
Fuel Delivery
Mikuni® VM20 carburetor
Ignition
CDI
Transmission
Constant-mesh 5-speed; multi-plate wet clutch
Final Drive
O-ring-sealed chain
Suspension
Front: 31mm telescopic fork, adjustable preload; 7.1-in travel
Rear: Single shock, adjustable compression and rebound; 6.6-in travel
Brakes
Front: Hydraulic single disc, 220mm
Rear: Drum, 110mm
Tires
Front: 70/100-19
Rear: 90/100-16
Wheelbase
50 inches (1270mm)
Rake (Caster Angle)
28.5°
Trail
4.2 inches (106mm)
Seat Height
31.7 inches (920mm)
Ground Clearance
12.5 inches (315mm)
Wet Weight
198 pounds (90kg)
Dry Weight
172 pounds (78 kg)
Fuel Capacity
1.6 gal gallons
Color
Blue
I've picked out the important TTR 125 specs that most of us are looking for, and added a few more here:
Manufacturer: Yamaha
Model Name: TT-R125LE, TTR 125 LE, TTR 125
Dirt Bike Name: Yamaha TTR 125
Dirt Bike Type: Offroad, Trail dirt bike
Years Made: 2000-2023 (present)
Seat Height: 31.7"
Wet Weight: 198 lbs. (all fuel, fluids, etc.)
Top Speed: 50 mph
Horsepower: 9 hp
---
Yamaha TTR 125cc Engine & Transmission
These Yamaha offroad dirt bikes are well-known for being durable, dependable, and easy to maintain. In addition to them being long-lasting and dependable, the Yamaha TTR 125cc dirt bikes are easy to ride and great to learn how to ride on.
Even though the TTR dirt bikes aren't the fastest or best jumping Yamaha trail dirt bikes, but they've got plenty of functional power and can go basically anywhere you need them to.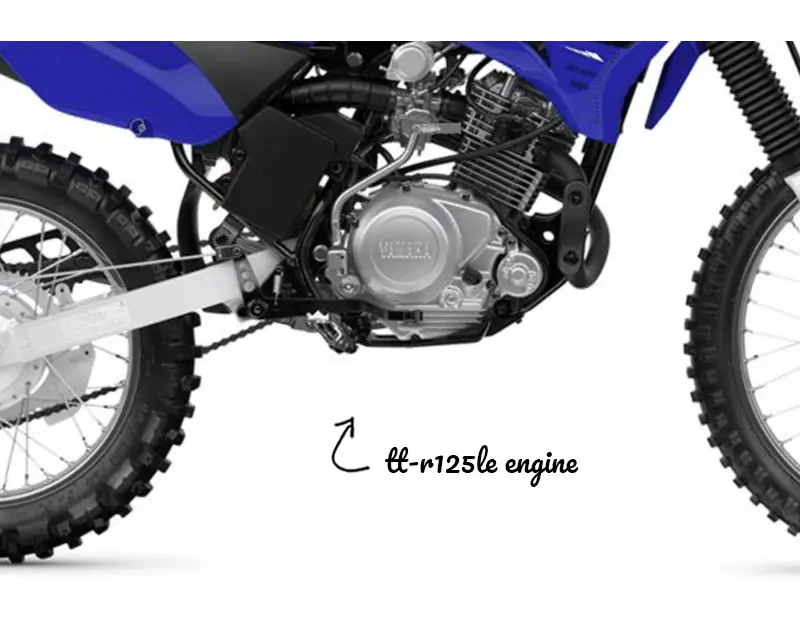 Horsepower
The Yamaha TTR 125 has 9 horsepower. Yes, LOL… 9 HP. You're wondering if that is enough, right? Surprisingly, it is enough.
Let me assure you, the power goes straight to your rear knobby and it hooks up MUCH more efficiently than a race dirt bike.
The TTR definitely won't send the same roost as some of the Yamaha motocross dirt bikes, but you'll be able roll-on the throttle and control every bit of power the bike does put out.
Due to it being so easy to handle and ride, you'll find that you can ride these Yamaha enduro dirt bikes through trails and woods faster and more efficiently than many other models.
Top Speed
Okay, so how fast does a TTR 125 go? A Yamaha TTR 125 top speed is about 50 mph. However, If you change the gearing on the dirt bike, you can make it faster or slower. The gearing on a dirt bike plays a significant role in the delivery of your bike's power as well as it's top speed.
So assuming the bike has stock gearing, a stock Yamaha TTR 125 enduro should go around 50 mhp… which is plenty fast for a trail bike.
Does a Yamaha TTR 125 have a clutch? Yes, the bike is 5-speed and has a clutch.
Engine Specs
Engine Size: 124cc (considered a 125cc)
Horsepower: 9 HP
Engine Type: 125 cc, 4-Stroke, Air Cooled, Single
Valve Train: Single cylinder SOHC; four-valve
Transmission: 5-speed, manual-clutch
Starting: Electric start (TT-R125LE model) and Kick start
Cooling System: Air-cooled
Fuel Capacity: 1.6 Gallons
Fuel Type: Petrol / Gasoline
Fuel Supply: Carburetor
Oil Capacity: 1.2L (1.27 quarts)
What motor oil does a Yamaha TTR 125 use? YamaLube 10w-40
Maintenance
A Yamaha TT-R125LE dirt bike maintenance schedule (or lack of) is a strong selling point. These enduro/trail bikes don't need anywhere near as maintenance as a typical MX dirt bike.
Because they come with an automatic cam chain tensioner, the engines last longer and have minimal maintenance. Just remember that the most important thing is to change the oil on time and to keep clean gas in the tank and carb.
But how much maintenance and how much oil does a Yamaha TTR 125 take? First of all, It doesn't take much maintenance to keep these running strong and reliably. And as for the oil, it only needs 1.2L to fill it up.
---
Yamaha TTR 125 Handling
The TTR125LE is good, but not great. What it does have going for it is the low center of gravity and low seat height. This makes it easier to turn, control, and maneuver than many other dirt bikes. The Yamaha may not be the "best" handling motorcycle, but there really isn't anything wrong with it either.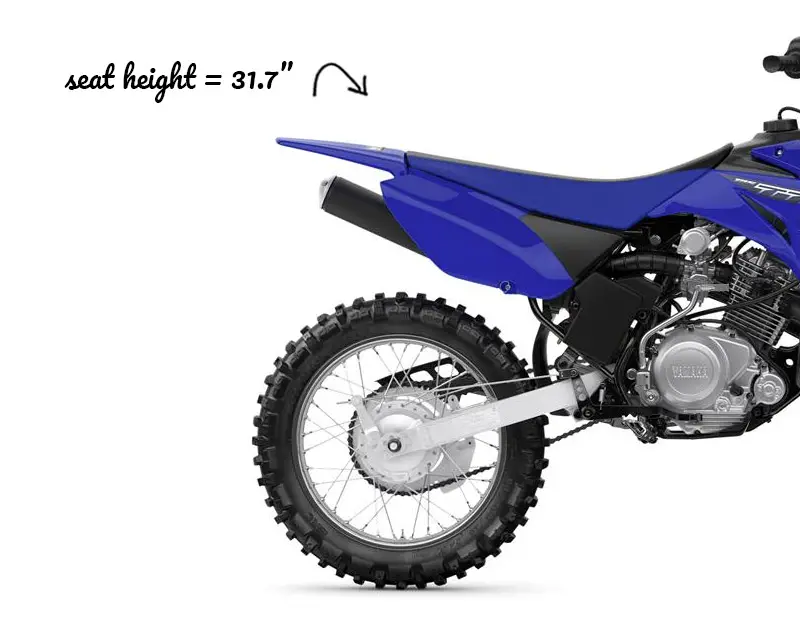 Weight
The Yamaha TTR 125 dry weight is 172 pounds, while the "wet" weight is comes in at 198 pounds. Great, so what does that mean, and how much does a TTR 125 weigh? Here is how we'll get the answer to that: wet weight VS dry weight.
What's the difference between wet and dry weight on a dirt bike?
The difference between wet weight and dry weight refers to the the dirt bike's weight as it was when it was shipped from the factory. This means "dry" weight doesn't take into account the weight of a tank of fuel, where the "wet" weight does take that into consideration.
It doesn't matter which weight you're using to compare to another dirt bike. Just make sure to compare dry-to-dry, or wet-to-wet.
Seat Height
The Yamaha TTR 125 seat height measures 31.7 inches off the ground, so it is not a big bike.
As long as the previous owner (or you) didn't make and adjustments to the suspension, this will give you an idea on what size rider would fit a TTR125.
NOTE: The seat height, along with the mild powerband of this dirt bike does make it a great option for new riders.
Suspension
Depending on your weight and the type of riding you do (or want to do), the TTR 125 suspension isn't the best out there. The bike is designed for smaller riders (less than 125 lbs) and again, its certainly no MX bike.
Front suspension: 31mm telescopic fork, adjustable preload; 7.1-in travel
Rear suspension: Single shock, adjustable compression and rebound; 6.6-in travel
If you're in the market for a trail bike that you can also jump and rip around on the track with, there are other more suitable options. However, beginners don't usually ride aggressively, so the soft springs and valving works just fine for most. But if you are more aggressive, you'll want to consider upgrading the forks and shocks.
Handling Specs
Chasis
Frame Type: Diamond-type pipe frame
Brakes
Front Brake: Hydraulic single disc, 220mm
Rear Brake: Drum, 110mm
Wheels and Tires
Front Tire Size: 70/100-19
Rear Tire Size: 90/100-16
---
Is the Yamaha TTR 125 a Good Bike?
Absolutely yes, the Yamaha TTR 125's are a good bike to buy and own, however it isn't the right pick for everyone.
YES buy, if…
Do you want a good dirt bike to learn on and take trail dirt riding?
Are you under 5'8″ tall and weigh less than 125 pounds – ish?
You prefer trail and enduro riding over tracks
Are a beginner or would like to take it easy
Do NOT buy, if…
You are looking for a motocross dirt bike
Jumping and track riding is important to you
Positive Reviews
Overall, the TTR125LE is a really good bike for many riders. However, it is made by a bunch of imperfect people over at Yamaha, and it's made for a certain type and size of rider, so it does have pros and cons, depending on who you are and what you want.
Proven reliability
Beginner-friendly power and handling
Good power and torque for beginner to intermediate riders
Simple to work on and maintain
Smooth, controllable power from the Yamana 125cc engine
Electric start (the "E" models)
Negative Reviews
Suspension isn't great for big or aggressive riders
Many used TTR's have been neglected (because they run forever)
Yamaha TTR 125 Price
What is the value of a Yamaha TTR 125 and how much does a TTR 125 cost?
A brand new 2023 Yamaha TTR 125 is priced at $3,399 (plus misc. charges). However, if you want the Blue Book value, a 2019 Yamaha TTR 125 value is $2,300 (for example). So, I did a quick search on FB Marketplace and saw many used TTR 125 priced at $1,400 – $2,400, depending on the year and condition.
Basically, a nice TTR 125 is worth around what KBB says: $2,300.
Buyers Guide (Best Year, etc.)
I hope this Yamaha TTR 125 review has provided you the info you were looking for.
Now that you've done your research, where do you find one for sale? You can purchase a brand new model from your local dealer, or you can most-likely find a used TTR for sale online. Whenever looking to buy used dirt bike (a Yamaha TTR 125, in this case) I stick to these three options:
Yes, there are many more places to find a used Yamaha TTR 125 for sale, but I like checking those first. You really should see a dirt bike in person, start it up, ride it, and inspect it before buying it.
What is the best year for Yamaha TTR 125 dirt bikes? Honestly, any year is a good year because they're all so similar. Yamaha hasn't made many changes to these bikes for a reason. Why "fix" something if it isn't broken. These are popular just the way they are and they're quite affordable for most.