Kawasaki Dirt Bike Tool Kit (Checklist & Options)
BraapAcademy.com earns a small commission from qualifying purchases.
This does NOT cost you extra.
Having the right tools for a job makes everything go smoothly, we all know that. Working on Kawasaki dirt bikes is no different. Here is the best Kawasaki dirt bike tool kit on the market, as well as a few other aftermarket options.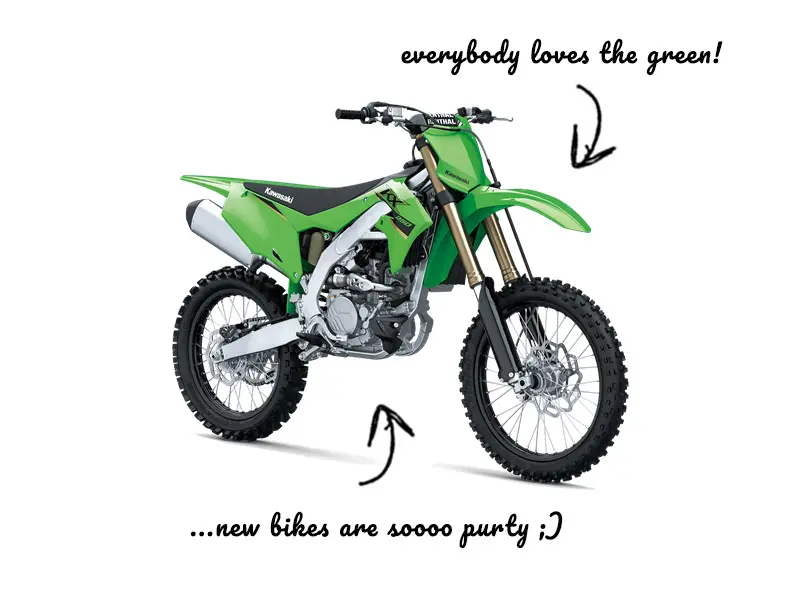 Dirt Bike Tool Kit Checklist (for Kawasaki)
There are essentials that you are going to want your bike tool kit to contain, and there are some items that will simply be "nice to have" items.
Most jobs can be done with a handful of quality, standard tools, but it's important that you actually have those tools in your kit.
Kawasaki dirt bike tools to have:
Allen Key or T Handle Set
Screwdrivers
Wrenches
Pliers
Inner tube
Tire Levers
Stem Nut/Axle Nut Wrench
Chain Tools
Wire Pliers
Chain Breaker
Extra Spark Plug
Zip Ties
Extra Nuts and Bolts
If your kit contains those tools, then you'll be good to go for just about any repair and maintenance project that you choose to undertake.
Of course, there are a couple of optional, more specific tools that you might consider including as well, such as:
Torque Wrench
Cables, pulleys, or cutters
Chain tools
Tire Pump
Spoke Wrenches
Valve removers
While not essential, these tools can come in handy in a pinch and can save you a lot of money that you would otherwise have to spend at the mechanic.
NOTE: This list isn't meant to cover ALL tools, parts, items, etc., that you could possibly need like a gas can, a stand for a dirt bike, or other similar items.
---
Best Kawasaki Dirt Bike Tool Kit
CruzTOOLS
The CruzTOOLS kit is a highly versatile and comprehensive tool kit for Kawasaki dirt bikes. It includes the essentials as well as some nice-to-have tools.
Overview
Although this isn't an exclusive Kawasaki kit, it still comes in at the number one spot.
This kit features an array of quality tools for working on your Kawasaki dirt bike. Here is the checklist of items included:
8, 10, 12, and 14mm Combo Wrenches
Mini Ratchet & 2″ Extension
8, 10, and 12mm Sockets
3, 4, 5, and 6mm Hex Keys
6-in-1 Screwdriver
5/8″ (16mm) x 13/16″ Spark Plug Socket
8″ Adjustable Wrench
Locking Pliers
Spark Plug Gap Gauge
Duct Tape
Zip Ties
Mechanics Wire
Blue Threadlocker
Tire Pressure Gauge
Positives
Comprehensive tool selection
Easy to store
Decent quality tools (they aren't Snap-on)
Can roll up for easier storage
Negatives
Decent quality tools (they aren't Snap-on)
Click here to view pricing and read reviews on Amazon.
---
Good Kawasaki Dirt Bike Tool Kit
Pit Posse
This Pit Posse kit is a comprehensive tool kit that just about any Kawasaki owner can use.
Overview
This compact tool kit from Pit Posse features every tool that you will need to keep your bike running in a pinch. Here is a list of included items:
8, 10, 12, 13, and 14mm Wrenches
Adjustable Wrench
6-in-1 screwdriver
9pc. Metric Hex Set
2-in-1 Spark Plug Socket
Locking Pliers
LED Flashlight
Zip Ties
Air Pressure Gauge
Various Metric Bolts
The easy-to-store pouch with a zippered pocket makes it a highly convenient kit to have around. The pouch has a velcro cinch strap rather than a tie, which helps it hold everything in place while also protecting your tools from the rain.
You'll also find an additional zippered pocket that you can use to store your spare nuts and bolts when you're not using them. The tools contained in this kit are durable high-quality, and there's even an included flashlight to help you out in low visibility settings – that's a detail you don't really see from other dirt bike tool kits these days.
The only real gripe that one might have with this kit is that the storage pouches are pretty shallow, which means that you'll have a hard time storing any tools that didn't come with the kit. However, if your tools are small enough, this shouldn't be too big a problem.
Positives
Comprehensive kit
Comes with a flashlight
Easy to store zippered pocket
Velcro cinch strap closure
Additional zippered pocket
Negatives
Pouches are somewhat shallow
Click here to view pricing and read reviews on Amazon.
---
Cheap Kawasaki Dirt Bike Tool Kit
SpeedKIT
This is a highly affordable Kawasaki dirt bike tool kit, but that doesn't mean it's not worth considering. It comes with a limited but effective range of tools, as well as a compact storage pouch for added convenience.
Overview
The new SpeedKIT from CruzTOOLS provides unprecedented capability in an ultra-compact pouch that is easy to store. The pouch and tools will fit into pretty much any OEM tool cavity but with more content and technician-grade tools.
Here's what the kit includes:
14 x 17mm Open End Wrench
12mm Combination Wrench
10mm Combination Wrench
8mm Nut Driver
5/8″ and 18mm Spark Plug Wrench
Mini 5-in-1 screwdriver w/ Torx T20,25,27, and 30 bits
Hex Keys: 3,4,5, and 6mm
0-20 psi Tire Gauge
Locking Pliers
Zip Pouch
The kit is packed full of functionality for off-road motorcycles, dirt bikes, UTVs, and ATVs, making it one of the most versatile kits on the market. It's a great option for anyone that not only owns a Kawasaki dirt bike, but it also works as a universal dirt bike tool kit for other brands as well.
The great thing about the SpeedKIT tool kit is just how compact and lightweight it is. Because the storage pouch is so small, you'll not only be able to store the kit anywhere in your garage or workspace, but you'll also be able to take the kit with you wherever you go.
Positives
Highly compact
Affordable
Fits into most OEM tool cavities
Comes with many tools
Suitable for various off-road vehicles
Negatives
The pouch could be more durable
Click here to view pricing and read reviews on Amazon.