KTM 350 EXC-F Review (Top Speed, Horsepower, Specs, etc.) – Dirt Bike Any Good?
BraapAcademy.com earns a small commission from qualifying purchases.
This does NOT cost you extra.
Are you looking to buy a KTM 350 EXC-F, or do you already have one and need some specific information about it? Either way, I've put together a full review that covers all of the specs including the dual sport's weight, horsepower, top speed, weight, seat height, and more.
Overall, this KTM 350 dual sport is a great bike, however, it isn't necessarily the right bike for everyone.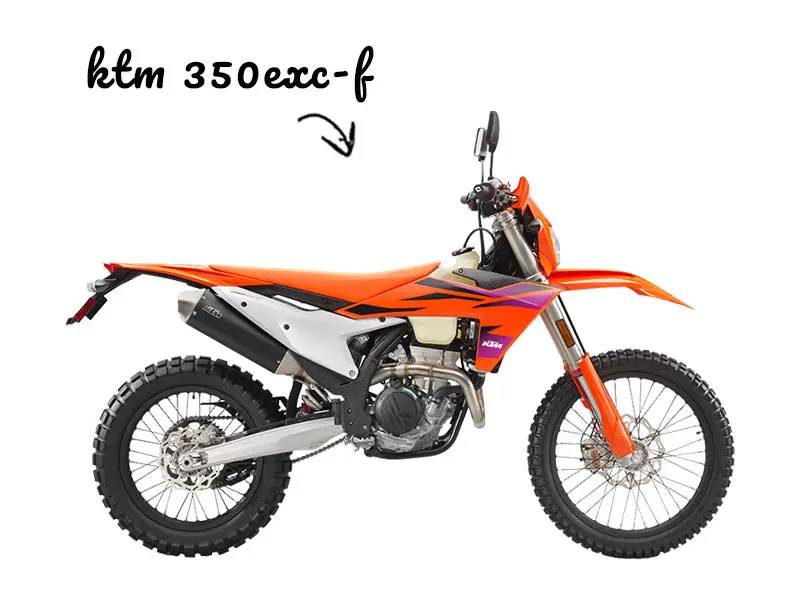 Therefore, I'll go over all of the need-to-knows about this dual sport motorcycle.
In addition to KTM 350 EXC-F specs, we'll also look at the pros and cons, the maintenance requirements, how much they cost new, and how much they are worth used.
---
What is a KTM 350 EXC-F?
The KTM 350 EXC-F is a dual sport motorcycle that is powered by a 350cc (349.7), liquid-cooled, single-cylinder, 4-stroke engine.
Overall, it is a capable, offroad-worthy, dual-sport motorcycle. It's light and nimble with great. power curve that covers the low-end and midrange torque, as well as a solid top end.
The EXC-F models include an electric start, an 18-inch rear wheel, a kickstand, adjustable suspension, and a headlight. And even though it's great on the dirt, the KTM 350 EXC F is street-legal. In fact, this is more of a "dirt bike" that has been built to perform on the road as well.
Who Should Buy?
If you are seriously considering one of these street-legal KTM 350 dirt bikes, here are a few questions to ask yourself:
What is my current skill level?
Is a street-legal "dirt bike" what I want? (works on street and dirt, but that means giving up some level of performance on either terrain)
What type of riding do you do most? (See question #2 above)
Your Current Skill Level
Depending on your experience, this may or may not be a good choice for you. If you are a true beginner, you should probably look into a different bike. It's not that these big-bore bikes are "hard" to ride, but there are better options like a 250cc or 200cc as mentioned on this list of the best dirt bike for beginners to learn on.
On the other hand, if you have experience riding and are ready for a high-performance 350cc dirt bike, these are a solid option. They do have great power, even though they "only" put out 34 horsepower.
What Type of Dirt Bike do You Want?
If you're in the market for a dual sport KTM, this is a great option.
These dual sports get cutting-edge technology that not only makes them fun to ride but also makes them more than capable on and off-road. Yes, these high-performance "perks" are definitely a good thing, but you've got to remember that this requires more maintenance than a simple, air-cooled dirt bike. (we'll get into that down below)
What Type of Riding do You do Most?
As mentioned, the KTM 350 EXC dirt bikes are great all-around dual sports. With a 350cc engine, these have solid low-end torque and they can be lugged around. Although, that doesn't mean that these are designed to be "put-put" bikes like Yamaha TT-R or similar.
If tight, technical trails and slow terrain is where you usually go riding, there are some better options out there.
However, if you like to mix up trails and curvy backroads, or you'd like to be able to ride on the road until you get to the trails, these are great bikes.
In addition to your current skill level and the type of riding you do, here are a few more things to consider:
Reasons to Buy:
To ride to and from work (with a detour through the mountains)
You do more enduro and trail riding than motocross
You already know how to ride and have experience
Looking for 250 handling and 450 power (almost)
Reasons Not to Buy:
You want a good dirt bike to learn on
Not cheap
KTM dealers and service centers aren't as common as other brands
It isn't a two-stroke
If you want a maintenance-free dirt bike
Your size (this bike is tall)
KTM 350 EXC-F Specs
Here are all of the KTM 350 EXC F specifications taken from the KTM website and the owner's manual. I've also added a few of the "need-to-know" items that were not listed.
Engine Specifications
| | |
| --- | --- |
| Engine Type | 1-cylinder, SOHC, 4-stroke, liquid-cooled |
| Displacement | 349.7cc |
| Horsepower | 34 HP |
| Bore and Stroke | 88 x 57.5mm |
| Compression Ratio | 13.7:1 |
| Fuel System | EFI (Electronic Fuel Injection) |
| Transmission | 6-speed, Wet, multidisc clutch, Brembo hydraulics |
| Chain | 520 X-ring |
Chassis Specifications
| | |
| --- | --- |
| Frame Design | Central double-cradle-type 25CrMo4 steel |
| Front Suspension | WP XACT-USD, Ø 48 mm |
| Rear Suspension | WP Xplor PDS shock absorber |
| Front Brake | Disc brake (260mm) |
| Rear Brake | Disc brake (220mm) |
| Front Tire Size | 90/90-21 (Continental TKC 80) |
| Rear Tire Size | 120/90-18 (Continental TKC 80) |
| Rake (Caster Angle) | 26.5° |
| Wheelbase | 58.3 inches |
| Seat Height | 37.8 inches |
| Max Ground Clearance | 14 inches |
| Curb Weight | 238 pounds |
| Fuel Capacity | 2.25 gallons |

Miscellaneous
| | |
| --- | --- |
| Colors | Orange |
| Model ID | 350 EXC-F |
As a recap, here are the most important and noteworthy specs:
Manufacturer: KTM
Model Name: 350 EXC-F, 350 EXC F
Dirt Bike Type: Dual Sport
Years Made: 2012-2024 (present)
Seat Height: 37.8 inches
Curb Weight: 238 (all fuel, fluids, etc.)
Top Speed: ~90 mph
Horsepower: ~35 HP
---
KTM 350 Engine & Transmission
The KTM 350 EXC F engines put out usable power throughout the RPM range, and are well-built.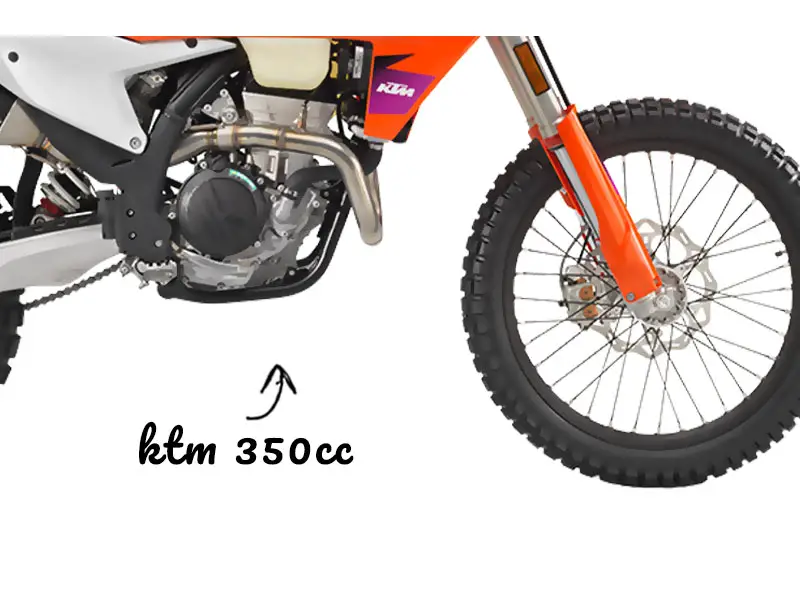 Overall, the lightweight 350cc engine is solid, but it doesn't produce a ton of power. While KTM is known for making quality, high-performance motors, the EXC F models aren't quite as highly-tuned.
Horsepower
A stock KTM 350 EXC F makes 35 horsepower at 8,800 RPM. Although 35 horsepower isn't a huge number for a 350cc engine, the power is smooth and stable. Also, these KTM 350 dirt bikes are known for their torque more than their top speed or horsepower ratings.
It's hard to compare the horsepower ratings to other bikes in its class because there aren't many 350 dual sports out there. Don't let the fact that they "only" have 35 horsepower discourage you completely. Are they a little underpowered? In my opinion, yes, but that doesn't mean they aren't fun.
If more HP is a must-have, there are a handful of KTM 350 EXC-F mods that you can do.
Top Speed
The KTM 350 EXC F top speed is typically around 90 MPH. Here's a video of someone getting theirs up to 151 km (93.8 mph).
As you can see, a stock 350 EXC F maximum speed is anywhere from 88-95 mph. Of course, this 350 could go faster with taller gearing, a big-bore kit, an aftermarket exhaust, etc.
Either way, a bike's top speed isn't the most important. Unless you plan to do a lot of highway riding, you're more likely to enjoy the torque and roll-on power more than the top speed… which this dirtbike produces.
Maintenance
Before you go out and purchase one of these 350 KTM dual sports, you need to know that they do require regular maintenance. As long as you keep up on the main to-dos, these 350s should last a while before needing to be rebuilt.
Below is a list of the different maintenance schedule items for these dual sports.
KTM 350 EXC F Maintenance Schedule
You can see from this screenshot that most maintenance items are spaced out every 1,000, 3,000, and 6,000 kilometers. (620, 1,860, 3,720 miles).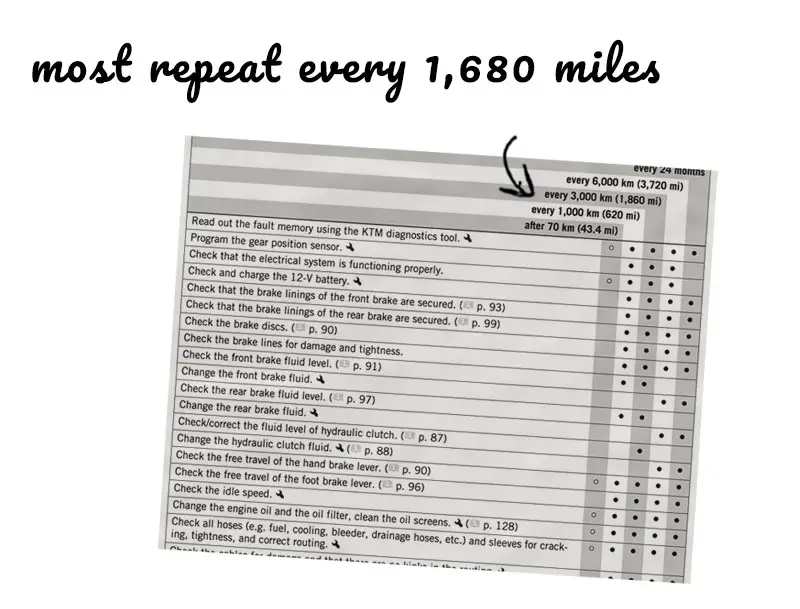 After the first 43 miles (70 km)
Read out the fault memory using the KTM diagnostic tool
Check that the electrical system is functioning properly
Inspect the free travel of the hand brake
Check idle speed
Change oil and filter
Inspect all hoses
Inspect throttle cables
Check the run-out
Test spoke tension
Inspect the chain, sprocket, chain guide, tension
Grease all moving parts
Check valve clearance
Verify that all screws, nuts, and hose clips are tight
Change fuel screen
Check fuel pressure
Inspect coolant level
Verify radiator fan is working
Check the steering head bearing
Every 620 miles (1,000 km)
Read out the fault memory using the KTM diagnostic tool
Program the gear position sensor
Verify that the electrical system is functioning properly
Check and change the battery (only use the best trickle charger)
Inspect brake linings, discs, lines, fluid
Check the hydraulic clutch fluid level
Inspect hand and foot brake levers
Check idle speed
Change engine oil and filter
Check all hoses and cables
Inspect the frame and link fork
Check tire condition and pressure
Inspect wheel bearings, hubs, rim run-out, and spoke tension
Inspect the chain, tension, and chain guide
Check the front and rear sprockets
Grease all moving parts
Inspect the air filter and air box
Verify that all screws, nuts, and hose clips are tight
Change the fuel screen
Check coolant level
Verify that the radiator fan is working
Check the steering head bearing for play
Check headlight setting
Every 1,860 miles (3,000 km)
Check the fluid level of the hydraulic clutch
Check the fork bearing for play
Inspect tire condition
Check valve clearance
Inspect the clutch
Inspect inlet membrane
Change the glass fiber yarn filling of the main silencer
Service the forks
Service the rear shock absorber
Check fuel pressure
Check antifreeze and coolant
Lubricate the steering head bearing
Every 3,720 miles (6,000 km)
Change the front & rear brake fluid
Change the hydraulic clutch fluid
Replace the fuel filter
Clean the spark arrestor
What motor oil does a KTM 350 EXCF use?
The manual recommends Motorex Cross Power 4T – 10W/50 (view on Amazon).
But, as long as you use oil that meets the JASO MA2 standard (KTM manual states: JASO T903 MA2), and is SAE 10W/50, you should be good.
Engine oil change capacity: 1.1 US qt (1 L)
---
KTM 350 EXC-F Handling
The KTM 350 EXC F is a very nice handling dual sport motorcycle. These things are great on trails and hill climbs, and as you know, they're also street-legal.
Because of the street-legal status, KTM has made sure to tune these dirtbikes to handle and perform on the road, as well as on a trail.
Here are some of the main things to know about their handling characteristics:
Weight
Since a stock KTM 350 EXC F weighs 238 pounds with a full tank of gas and all other fluids, it is quite light.
Again, it's not quite "apples-to-apples" when comparing the weight of other similar dirt bikes, because there aren't many out there that are direct competitors. For example, the CRF450RL weight of 291 pounds is a LOT more than the KTM. But you do have to remember, the 450RL holds more fuel and it's a 450cc.
KTM 350 EXC-F Weight Limit
Does the KTM 350 EXCF have a weight limit? Yes. The KTM owner's manual lists the maximum weight limit of 739 pounds for the motorcycle. This would include your weight, gear, and anything else on your person like tools, etc.
Also, just in case you want to get into the weeds, there are separate weight limits for the front axle and rear axle loads.
Maximum overall weight capacity: 739 pounds (335 kg)
Maximum front axle load: 320 pounds (145 kg)
Maximum rear axle load: 419 pounds (190 kg)
Seat Height
A KTM 350 EXC F seat height is 37.8 inches unloaded. This means that it can (and will) squat down a bit with a rider sitting on it.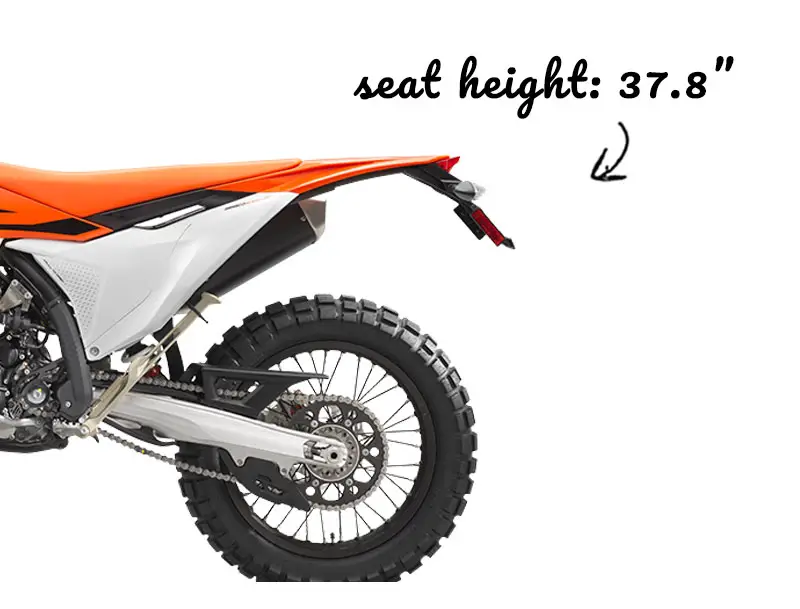 Depending on your exact inseam measurement, a 37-38″ tall seat height is usually great for riders who are 5'10"-6′ tall. As you can see, this is a good bike for taller people. Ironically, it is the same as the KTM 500 EXC F seat height as well. 
Of course, the exact fit will vary for each individual, so make sure to sit on the bike to see how you fit on it.
Can you lower a KTM 350 EXC-F?
Yes, lowering the seat height can be done. In fact, the same options for lowering the 500 work for the 350. Here are a few of the different options:
Set the sag and spring rates
Adjusting the sag and spring rates on your suspension can lower your bike and make for a more personalized ride. Whether you install a lowering kit or a short seat, it's still a good idea to double-check that the sag and spring rates are correctly set. Once you've adjusted the suspension to your liking, then you can determine how much lower (if any) you need to go.
Shave the seat
Shaving down the stock seat is a common way to lower a dirt bike's seat height without spending any extra money. If you're like me, however, you may be hesitant. I don't recommend cutting away on a perfectly good seat if you don't have to. If possible, save the stock seat for when/if you sell the bike and buy a "low seat" as mentioned next.
Buy a low seat
Although shaving down your seat is free, you might want to look into buying a "low seat" instead. These KTM 350 EXCF low seats are usually about .5″ shorter than stock. While this sounds like a no-brainer, just remember that they can be a little harder than you might like, so make sure to buy a good quality one, versus trying to save a few bucks. Here's (a good low seat) on Amazon.
Buy a lowering kit
Another way to lower this KTM is to buy a lowering kit or lowering link.
Suspension
One of the things that I really like about these dual sports is their suspension. From the factory, you can adjust the front and rear suspension with relative ease.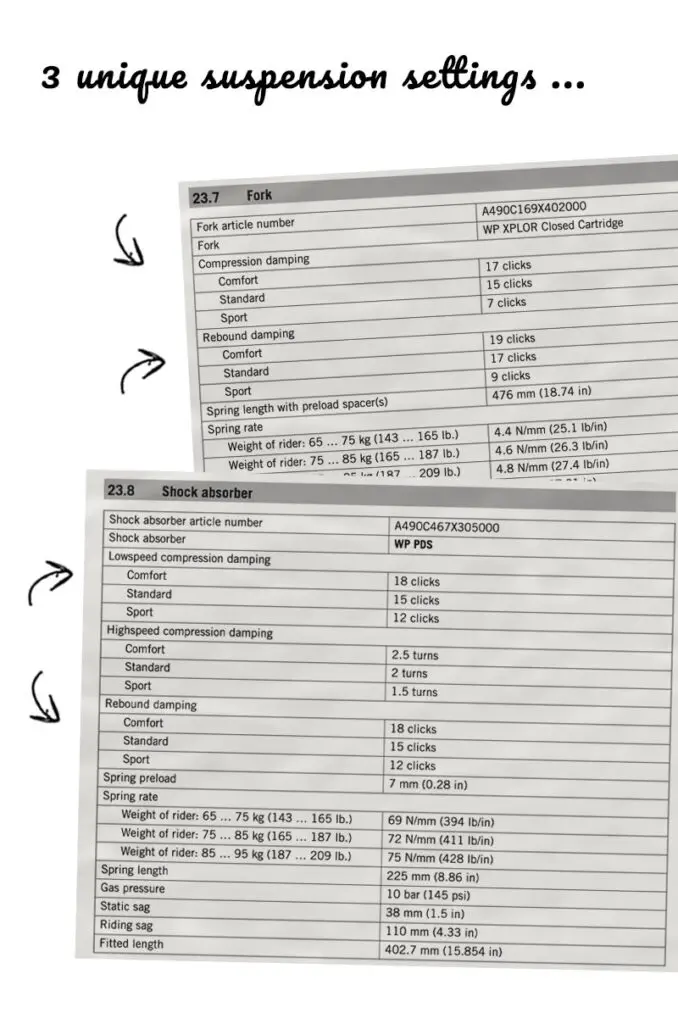 As shown in the screenshot of the owners manual above, the KTM 350 EXC-F suspension allows you to adjust and customize for your riding preference. If you need to adjust the suspension from one type of riding to another, you can do that with a few clicks.
Here are the different settings for each riding style:
Front Suspension Settings
Compression Damping
Comfort – 17 clicks
Standard – 15 clicks
Sport – 7 clicks
Rebound Damping
Comfort – 19 clicks
Standard – 17 clicks
Sport – 9 clicks
Rear Shock Settings
Lowspeed Compression Damping
Comfort – 18 clicks
Standard – 15 clicks
Sport – 12 clicks
Highspeed Compression Damping
Comfort – 2.5 turns
Standard – 2 turns
Sport – 1.5 turns
Rebound Damping
Comfort – 18 clicks
Standard – 15 clicks
Sport – 12 clicks
---
Is the KTM 350 EXCF a Good Dirt Bike?
Yes, this KTM is a solid dirt bike. There's no doubt why the 350 EXC-F is a popular choice for many. However, that doesn't mean that it's the right bike for everyone.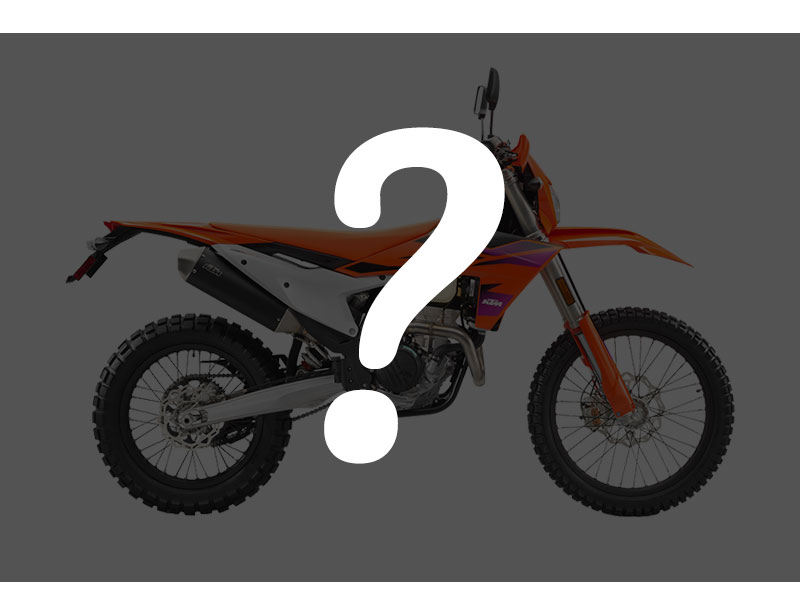 As mentioned, the KTM 350 EXC-F is not a good choice for beginners. Instead, it's more of a "medium to advanced" dual sport bike.
Basically, these are street-legal enduro bikes. They are solid on the road, but they are really meant for off-road riding. If you want a dirtbike that you can (legally) take on a backroad to get to a trail, or get home, these are a great choice.
Here are some of the positives and negatives of owning, riding, and maintaining one of these:
Positive Reviews
Good at all speeds
Lightweight
Great, adjustable suspension
Reliable motor
Great torque
Electric start
Fuel-injected
One of the best batteries on the market
Light and narrow chassis
Negative Reviews
Expensive
Underpowered for its size
Not cheap to rebuild (4-stroke race bike)
Requires frequent maintenance
Too tall for many riders
Limited local dealers (compared to Honda and Yamaha)
The stock tires are terrible off-road
Overall, these are great motorcycles. There isn't a single motorcycle out there that can do it all perfectly, but this KTM is a step in the right direction.
Buyers Guide (Best Year, Pricing, etc.)
If this bike sounds like one you are interested in, here are a few more things to consider:
The best year to buy
What they are worth/cost
Where to buy
Who to buy from
Best Year
Picking a KTM 350 EXC-F's best year isn't rocket science. Generally, the newest models are the "best" as far as performance goes, but that doesn't always transfer to reliability. That said, I think all of the years are good, reliable bikes.
If you're looking to pick up a used KTM 350 EXC F, I'd try to come home with a 2020 or newer. However, if you find a great deal on one of the older models, those are still solid bikes. In reality, "next year's" model is probably going to be better. After all, the 2024 models are certainly better than the 2020, etc.
When does it end!?
How much does a KTM 350 EXC-F cost?
Although KTM doesn't list the pricing on their website, I was still able to track it down. The 350 is $500 less than the 500.
BASE MSRP: $12,499
Destination Charge: Contact a local dealer
Freight Surcharge: Contact a local dealer
Without talking to the KTM dealer near me, I'm guessing it would be around $13,000 to take one home.
How much is a used KTM 350 EXC-F worth?
If you are planning to buy a used KTM 350, you should expect to pay somewhere around $9,000.
How do I come up with that price? I found as many of these dual sports for sale on Facebook Marketplace and Craiglist as I could. Surprisingly, there were quite a few, but none were very close to where I live.
Here are the top listings:
2023 KTM 350 exc-f – $10,500
2018 KTM exc-f – $10,000
2021 KTM 350 xc-f – $9,900
2018 KTM exc-f six days – $9,000
2016 KTM 350 exc-f – $7,800
2018 KTM exc-f – $7,750
2018 KTM 450 exc-f Six Days – $7,500
2019 KTM 350 excf – $7,000
2014 KTM 350 exc-f – $6,000
2012 KTM 350 exc-f street legal – $5,850
As you can see from the list of bikes above, the prices range from $10,000-$5,850. The average price for one of these KTM 500s looks like it should be around $8-10,000, but the overall average is closer to $7,500.
With that in mind, here's a screenshot that I took from JD Power that shows a few different values for this used 500 KTM: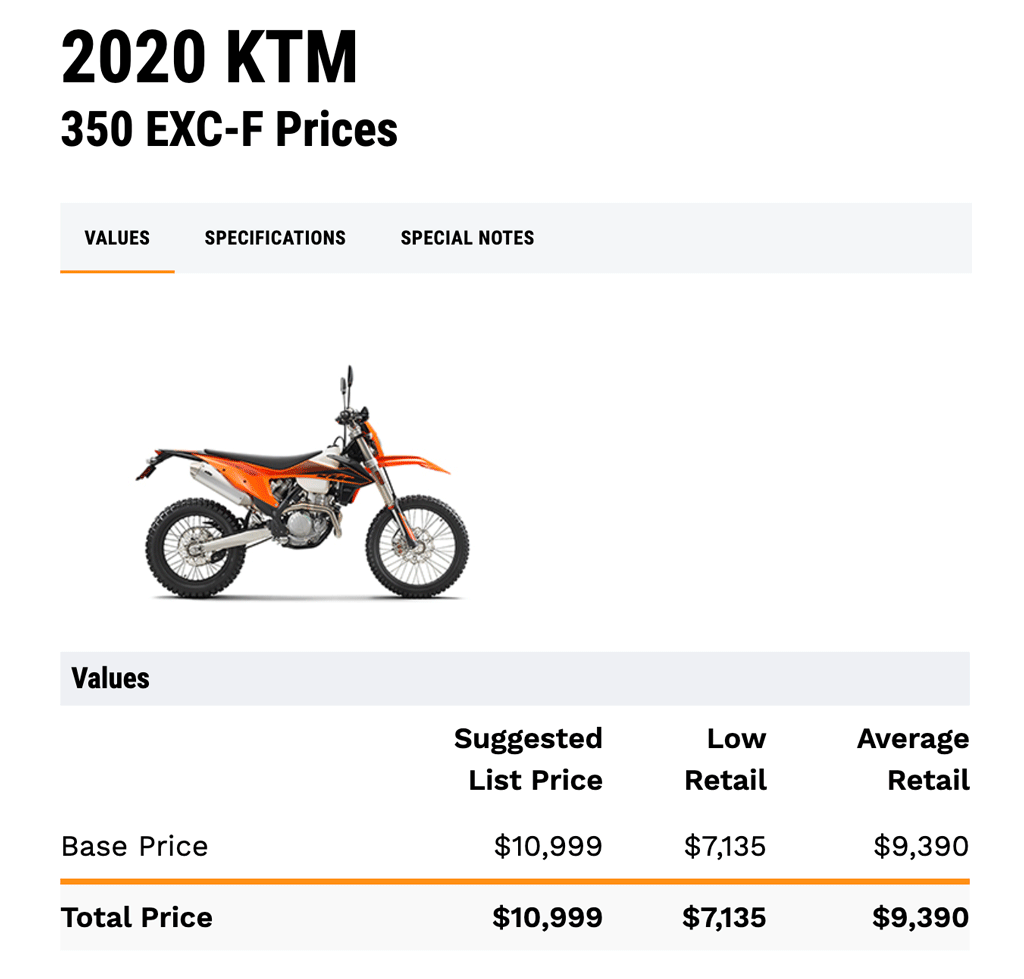 As you can see, here are the three different values for this KTM:
Suggested List Price: $11,399
Low Retail: $7,395
Average Retail: $9,730
After looking for as many different KTM 500 EXC-F dual sports for sale as I could find, JD Power's value looks accurate to me.
Where to Buy?
Buying a new 350 EXC-F is just about as straightforward as it gets. Find a KTM dealer near you and place your order. Done.
What if you want a used one? All you have to do is head over to Facebook Marketplace or Craiglist and start searching.