Honda CRF450RX Review (HP, Top Speed, Weight, Seat Height, Specs) – Is it Any Good?
BraapAcademy.com earns a small commission from qualifying purchases.
This does NOT cost you extra.
Are you looking at buying a Honda CRF450RX? If so, I recommend that you take a look at the maintenance, pros and cons, and what type of riding this dirt bike is best at. In addition, this Honda CRF450RX review will cover the specific details like the top speed, horsepower, height, etc.
Of course, this review is just my opinion, I am quite sure that some will agree with most of the points I bring up, while some may disagree with some of the other points. That's fine with me.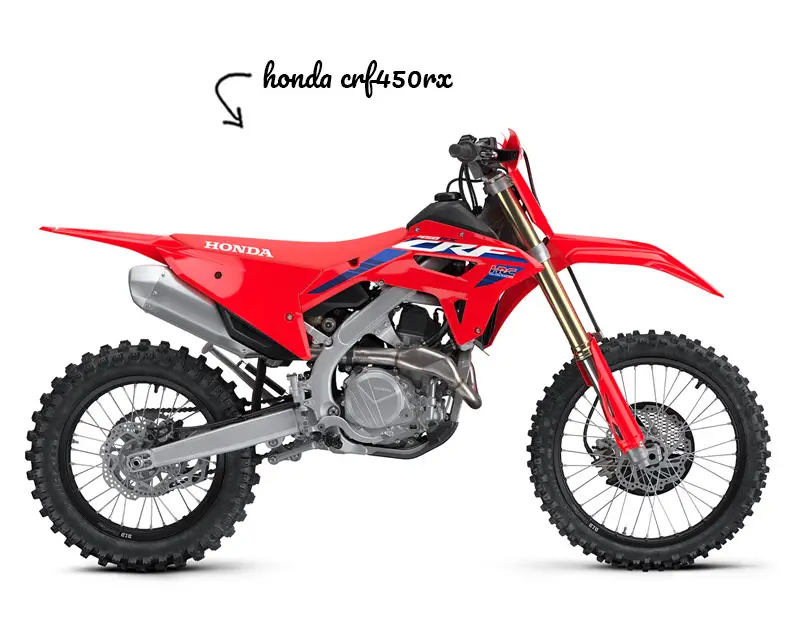 Either way, before you load a CRF450RX in your truck, I've included all the details you should know before you buy. The goal is to provide you with all of the horsepower, handling, weight, specs, characteristics, and nuances of this CRF450RX Honda enduro so that you can make the right decision for yourself.
Although you can go buy a new Honda CRF450RX, these enduros have been around a couple of years, and you can find some used. Also, they haven't changed a whole lot. While at first that might sound like a negative (which it can be labeled as such), it can also be a good thing since it's been tried and tested.
If you're in the market for a Honda 450cc enduro, the CRF 450RX is a solid choice… new or used.
---
What is a Honda CRF450RX?
The Honda CRF450RX is an all-out race bike designed for closed-track races. It closely resembles the CRF450R when it comes to performance and style. However, this is a superior dirt bike for most of us. Who's "us" you might be thinking? Fair enough… people who aren't expert motocross racers.
As opposed to the CRF450-R, the "RX" model does sport a softer (not too soft) suspension and has a dedicated ECU mapping. Add to that, a larger gas tank and a smaller 18-inch rear tire, and the RX does have the makings for a better trail bike than the "R" model.
Having said that, it is important to note that this is still a race bike. It just so happens to do a lot better in the woods than it's sibling.
History
The Honda CRF450RX years made are from 2017 to 2023 (present).
Here's a nice overview of the 450RX history that I found on the Wikipedia website:
"…built as a CRF-450R that was optimized for hare scramble, hard enduro, GNCC style racing. Essentially the same as the CRF-450R except offered as standard equipment an electric start, larger fuel tank, and an 18-inch rear wheel. This bike is to bridge the gap between the more mild X-model and the closed-course race style R model."
Is it Street Legal?
No, the Honda 450RX is not street legal. There are different lighting kits, headlights, etc. that you can buy, but you'll probably have a difficult time getting made to pass street legal requirements.
Note: I never found a plated 450RX while searching for one on Marketplace or CL, which makes me even more confident that you aren't going to get this "off-road" race bike to be street legal… but I guess it's probably different for each state.
Honda CRF450RX Specs
Here are the Honda CRF450RX specs taken from the Honda Powersports website.
Engine Specifications
| | |
| --- | --- |
| Engine Type | 450cc liquid-cooled single cylinder, four-stroke |
| Bore and Stroke | 96.0mm x 62.1mm |
| Compression Ratio | 13.5:1 |
| Valve Train | Unicam SOHC; four valves per cylinder |
| Induction | Programmed Fuel Injection (PGM-FI); 44mm downdraft throttle body |
| Transmission | Close-ratio, five-speed |
| Final Drive | #520 Chain; 13T/50T |
Chassis Specifications
| | |
| --- | --- |
| Front Suspension | 49mm inverted Showa fork with 13-position rebound and 15-position compression-damping adjustability; 12.2-inch travel |
| Rear Suspension | Pro-Link Showa single shock with adjustable spring preload, 11-position rebound and six-position high- and low-speed compression-damping adjustability; 12.4-inch travel |
| Front Brake | Single 260mm disc with twin-piston caliper |
| Rear Brake | Single 240mm disc |
| Front Tire Size | 90/90-21 |
| Rear Tire Size | 120/90-18 |
| Rake (Caster Angle) | 27.1° |
| Trail | 4.5 inches |
| Wheelbase | 58.1 inches |
| Seat Height | 38 inches |
| Curb Weight | 251 pounds (Includes all standard equipment, required fluids and a full tank of fuel) |
| Fuel Capacity | 2.1 gallos |
| Ground Clearance | 13.2 inches |

Miscellaneous
| | |
| --- | --- |
| Colors | Red |
| Model ID | CRF450RX |

Here are the most important Honda 450RX specifications and a couple that weren't on their list:
Manufacturer: Honda
Model Name: CRF450RX, CRF 450 RX, CRF 450RX, CRF450 RX
Type: Enduro Racebike
Years Made: 2017-2023 (present)
Seat Height: 38" (97cm)
Weight: 251 lbs (full tank of fuel, ready to ride)
Engine size: 450cc
Oil Capacity: 1.43 US qt (1.35 L)
Top Speed: ~90 mph
Horsepower: 53 hp
---
Honda CRF 450cc Engine & Transmission
Honda's are known for being durable, and dependable… and nothing is changing here.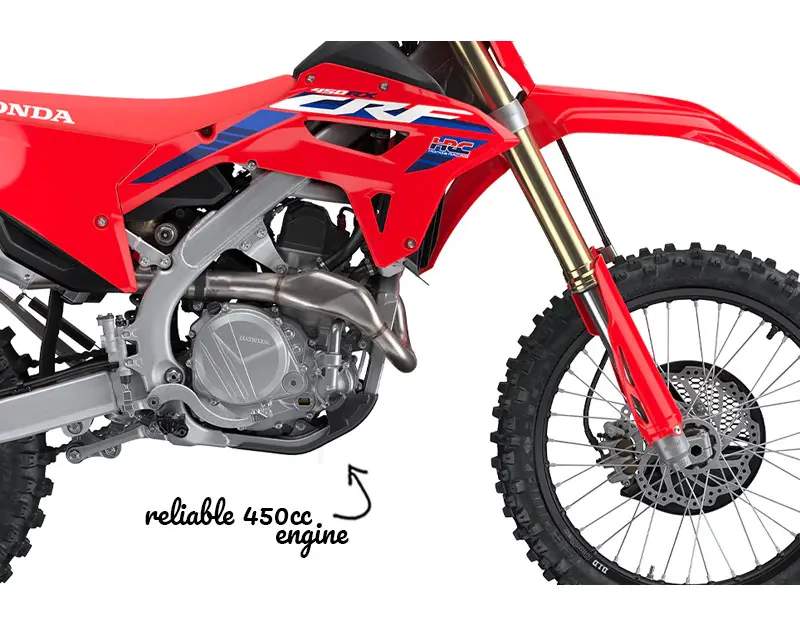 These aren't just well-made and dependable. Honda CRF dirt bikes are always fun to ride. They aren't the fastest dirt bike for their size (or lightest), however they still deliver one of the best overall rides.
With 12+ more horsepower than a CRF450X, the RX boasts 53 hp.
It may be geared and tuned differently than the 450R, but the Honda 450RX is still a beast when it comes to performance.
Horsepower
The Honda CRF450RX horsepower comes in at 53.2 HP.
There are ways to add horsepower to the dirt bike. For example, you add an aftermarket pipe, you might be able to bump it up a few points. But if you're looking at a stock 450RX, you can expect it to have about 53 horsepower.
The snappy, responsive, and powerful engine is one of this bike's selling points. And believe it or not, it's actually a tamed-down version of the R.
Top Speed
What is the top speed of a CRF450RX? There isn't just one answer to that question. Why not?
The size of a rider along with the gearing of the dirt bike plays a significant role. These are competition race bikes and they're designed for jockey's, not 250 pound guys. Also, by simply changing 2 teeth on a sprocket, you can make large difference in the top speed of a dirt bike.
After all of that, a stock 450 RX will go 90 mph, plus or minus a few.
Engine Specs
Engine Size: 450cc
Horsepower: 53 HP
Engine Type: 450cc liquid-cooled single cylinder, four-stroke
Valve Train: Unicam SOHC; four valves per cylinder
Transmission: Close-ratio, 5 speed, manual-clutch
Starting: Electric start
Cooling System: Water-cooled
Fuel Capacity: 2.1 gallons (7.9 Liters)
Induction: Programmed Fuel Injection (PGM-FI)
Fuel Type: Petrol / Gasoline
What motor oil does a Honda CRF450RX use? Honda GN4 10W-30 Oil.
Oil Capacity:
After draining – 1.06 US qt (1.00 L)
After draining & oil change – 1.10 US qt (1.04 L)
After disassembly – 1.43 US qt (1.35 L)
---
Honda CRF450RX Handling
Weight
As noted above, the Honda CRF450RX curb weight is 251 pounds. And while that is a little heavier than the CRF450R's weight of 245 pounds, it is still a light and nimble trail bike. Overall, this enduro is a great handling and fun-to-ride.
What is "curb" weight?
Some dirt bikes are listed with their "dry" weight numbers. The term "dry weight" refers to the the weight of the dirt bike as it was when it was shipped from the factory. This means the bike will weight more once you fill it with gas and top off all fluids.
The term "wet weight" or "curb weight" does include the weight of the dirt bike with a full tank of fuel as well all other necessary fluids.
Seat Height
The Honda CRF450RX seat height is 38 inches. If you buy a used 450RX, it is possible that there were some suspension modifications or adjustments made that could lower the bike slightly. If not, this will give you a good idea on how tall the bike is.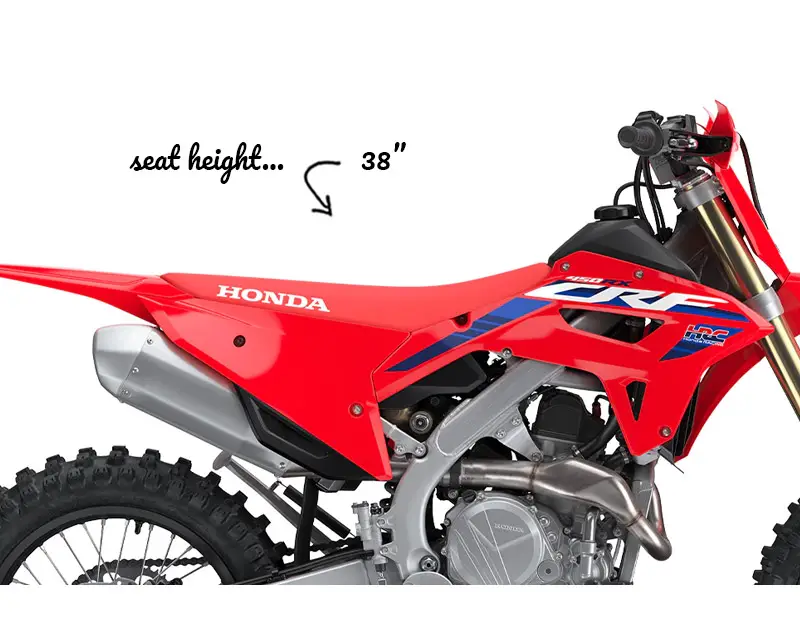 In the end, it is a tall trail bike. If you're on the shorter (and/or light) you may want to consider a smaller bike. The Honda CRF300L, or 300L-Rally are nice dual sports from Honda that are a few inches shorter.
NOTE: There are also a few different CRF450RX lowering link choices out there that will bring the height down. You can check out the lowering link from Devol, or see if there are any others on Amazon. There are also a few choices on crfsonly.com.
Suspension
Although taken from the motocross bike, the suspension on the RX model is softer and more fine-tuned for enduro riding. The front forks have 12.2 inches of travel and the rear shock has 12.4 inches of travel.
Front Suspension: 49mm inverted Showa fork with 13-position rebound and 15-position compression-damping adjustability; 12.2-inch travel
Rear Suspension: Pro-Link Showa single shock with adjustable spring preload, 11-position rebound and six-position high- and low-speed compression-damping adjustability; 12.4-inch travel
Handling Specs
Chasis
Frame Type: Twin-spar aluminum chassis (narrow)
Brakes
Front Brake: Single 260mm disc with twin-piston caliper
Rear Brake: Single 240mm disc
Wheels and Tires
Front Tire: Dunlop Geomax AT81 90/90-21
Rear Tire: Dunlop Geomax AT81 120/90-18
---
Is the Honda CRF450RX a Good Bike?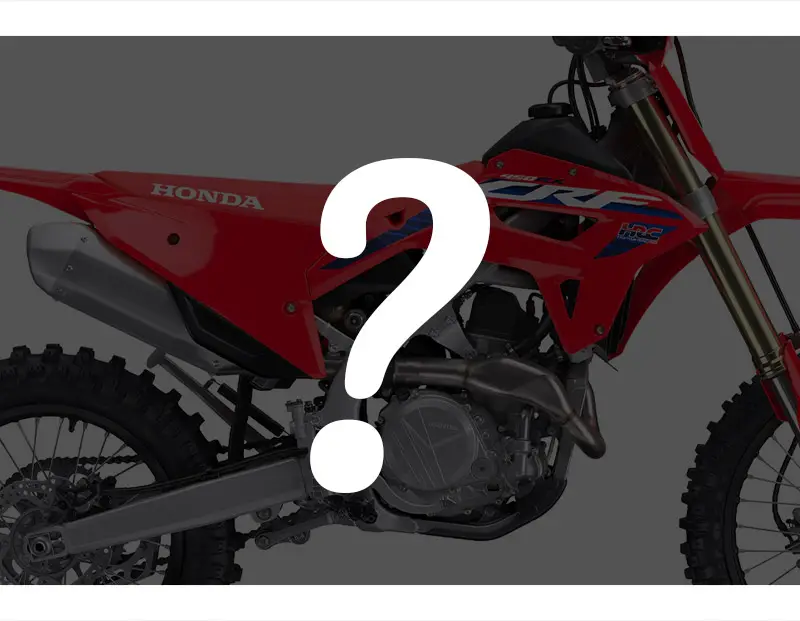 Yes, it is a great dirt bike. It's based on one of Honda's most popular dirt bikes ever, the CRF450R. But, even though this is a fantastic overall dirt bike, they aren't made for everyone, or every type of riding.
As mentioned, these are competition "race" bikes that were fine-tuned to better suite the woods and enduro riding. With that in mind, here are reasons you should, and should not, buy one of these.
YES: If you're looking for a high-performance enduro-race bike.
If you're familiar with riding the 450R or other MX-type race bikes and you'd like a more trail-friendly version, this is your bike. These are extreme in both power and capability, and that makes for an extremely fun ride.

NO: If you're looking for a dual sport, or beginner bike.
Although these hold the "CRF" name, they are not the same bike as the "R" series CRF450R's. If you want a true, motocross track bike, you won't be happy with this setup.

And on the other side of the argument, if you're looking for a beginner trail bike, this is probably not the best choice. Are these capable of being good trail bikes? Yes, but again, they're definitely "race" bikes still.
If you want a 450 dual sport that you can ride on the road, check out the street-legal CRF450RL – it's an awesome "CRF" that isn't actually a race bike. But when it comes to beginner trail bikes, I'd recommend you check out the 300L or the XR250R specs for some other options.
Positive Reviews
Selectable torque control
Honda's proven reliability
Controllable (yet fun!) power output
Great low-mid torque
Smooth hydraulic clutch
Definitely an "R" worthy race bike
Negative Reviews
The price (~$10k)
A little too much of a "race" bike for most of us
Not street legal
High maintenance intervals compared to less extreme bikes
Buyers Guide (Best Year, Value, etc.)
Since you've scrolled this far down the, you may be considering one of these dirt bikes.
Here are the four places I'd look:
Friend-of-a-Friend
There are additional options to find a used Honda CRF 450RX for sale, but I like those. Why?
If you come across a Honda 450 on one of these websites (or through a friend) you'll be able to sit on the bike and see it in person. This is basically a requirement for purchasing a bike.
What is the best year for Honda CRF450RX?
The CRF450RX best year is probably going to be the newest year available, as long as there aren't a lot of major changes. Do major changes automatically equate to a subpar year?
No, but I like to play it safe…
My brother got the first year of the Yamaha Raptor after it had some major changes made to it. And although the quad wasn't a lemon, it did have a few kinks that Yamaha ended up working out.
Having said that, I would say one of the newest CRF450RX would be the best year since there haven't been any MAJOR changes to the bike over the years. Plus, it is based off of the "R" model so most features have been tested and worked out by now.
How much does a Honda CRF450RX cost?
If you're looking at a new CRF450RX, they cost almost $10,000 from the factory. ($9,899 plus misc charges.)
The price of one of these brand new will be close no matter which dealer you buy from. If you don't already know where it is, just check out their website to find a Honda dealer near you.
What is a Honda CRF450RX worth? This depends on from where and who you buy it from. As an example, I searched Marketplace and found a 2017 CRF450RX for $6,000, a 2019 for $6,800, and another 2019 for $8,600.
Here's the ad from the $8,600 bike:
"2019 Honda CRF450RX will entertain reasonable offers 42.8 hours ProCircuit exhaust- US Forest service approved Electric start… Twin Ring Renthal Rear Sprocket X-ring chain Red triple claps and hubs Black rims Registration current through June 2024 Comes with extras: -Owner's Manual -Service Manual -Rekluse Radius CX Clutch (~$1200 new) -Baja Designs Headlight -Aluminum skid plate -Stock seat cover -Stock front hub Will entertain trade plus cash for 2-stroke."
As for Craigslist, I only found two. One 2017, and one 2022. The '22 sounded (and looked) nice, not surprising, but it was expensive ($9,600). Here's the ad for the 2017 CRF for only $5,800:
"2017 CRF450rx. Fuel injected. Electric start. Low mileage. Gpr steering stabilizer. Pastrana renthal bars. Upgraded pegs and rear brake. Desert tank. FMF exhaust. Have all the original parts too. $5800"
Any way, I hope this Honda CRF450RX review has given you a better idea of whether this the type of dirt bike you want. If you're buying new, you should already know what you're going to be paying. However, if you're going to hold out for a used dirt bike, you're going to be looking at a price range within $5,500-$9,500.