Dirt Bike Spoke Skins – Best Covers and Wraps Available?
BraapAcademy.com earns a small commission from qualifying purchases.
This does NOT cost you extra.
When buying dirt bike spoke skins (or wraps, or covers, or sleeves – whatever you want to call them), it can be somewhat difficult to choose from the variety of brands available. The various brands come in different covers and wraps, and offer a wide choice of colors.
You may have been wondering what the best covers and wraps available for dirt bike spokes are. Wonder no more. Kemimoto is the best option, in my opinion. However, there are some things you should consider before you go out and buy a set.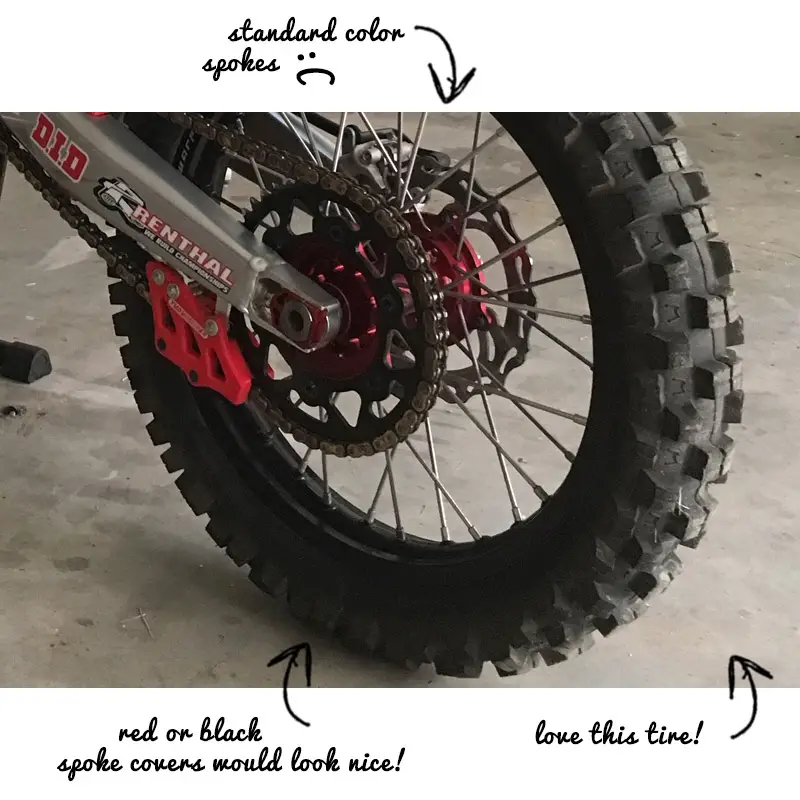 Best Universal Spoke Skins for Dirt Bikes
Lots of brands exist on the market that offer spoke skins for dirt bikes. Most of them are great. Among these brands, however, Kemimoto motorcycle spoke skins are the top choice for most riders.
They produce the best universal spoke skin and they actually stay on while trail riding, and even racing. Also, their products are durable and aesthetically pleasing – win, win.
These spoke skins come in different colors such as red, green, blue, and black, making it possible for individuals to purchase colors that best suit their preferences.
Good quality and value are important elements when choosing a brand. Kemimoto combines high-quality materials with quality construction. The final product comes out resistant to elements like fuel, UV, and high temperature.
Kemimoto Motorcycle Spoke Skins
The Kemimoto spoke skin is very flexible. It is made up of high-quality plastic material with a universally perfect fit for most spoke rims between 8-21 inches. It contains a 72-piece pack, which can be used perfectly for two wheels.
Should You Install Spoke Skins?
In a word, yes. If you're looking to dress up your bike, these covers will do great. However, Kemimoto doesn't fit onto all dirt bikes, and I wouldn't recommend trying to fit these on to training wheels or anything funky. Basically, do not use it if it doesn't fit your dirt bike.
Duh. Check fitment and pricing on Amazon...
If for whatever reason you don't go with the Kemimoto's, just make sure to pick skins that bend easily and recover fast. Look for skins with openings that make them easy to expand and install on the spokes. Also, it's a good idea to check the size of your tires and rims, just to make sure you don't have a weird setup or sizing..
Yes, they are worth buying. They're cheap, look cool, and are easy to install.
Most Popular Dirt Bike Spoke Wraps
Kemimoto's rank as the No. 1 best dirt bike spoke skins seller. Despite being Number 1, it still has a couple negatives…
Pros
Durable and highly resistant to fuel and UV
Easily installed and flexible
Perfect fit for 8-21″ spoke rims
Gives a new look and feel
Variety of colors available
Cons
May not fit all bikes
Not available in all countries
How Do You Change the Color of Your Spokes?
Your spokes' color can be changed by making use of spoke covers. These spoke covers come in different color options such as red, green, blue, white, and black.
You could go for the multi-color or single color spoke covers. To install spoke skins, place each straw and fix it onto the spokes of the bike.
Do not use colors that do not complement the color of your bike. Unless you want to.
Do not use spoke skins if they don't fit the type of your bike. Obvious, right?
Check for spoke cover colors that match the aesthetic of your bike. The length of the spoke skins should also be taken into consideration. When buying, check for flexibility and size, as well as length.
How Do You Put Spoke Covers on a Dirt Bike?
To have a good result, follow the following steps install your motocross skins:
Check and measure the length of the spoke skin against the spokes of the bike.
Use a pair of scissors to trim if too long.
Using the slit on the side of the skin, slide each skin gently onto the spoke.
That's it.
So pretty 😉
Spoke skins, covers, or wraps are ideally used to give your bike a beautiful, clean, and sharp look.
NOTE: they don't actually improve the performance of your bike. Sorry.
Are Spoke Skins from Amazon Worth Buying?
Yes, it is worth it.
Maybe the best place to buy? Easy to send back, low price.
All good stuff.
Do They Fall Off?
A set of motorcycle spoke skins are not likely to fall off. They tend to fit snug and safely on just about all dirt and motocross bikes.
Still interested? Cool. Learn more about these on Amazon...