What Are the Best Dirt Bikes for Kids & Teenagers?
BraapAcademy.com earns a small commission from qualifying purchases.
This does NOT cost you extra.
If you're into riding and you'd like your son or daughter (or grandchild, or neighbor, or niece, or nephew, or…) to get a bike, that's awesome. There are quite a few different options out there. Now, the following motorcycles that I'm going to be talking about are only from the big-brand names. There are TONS of knock-offs and "wannabe" brands out there. Those are fine for what they are, but you certainly aren't getting one of the best dirt bikes for kids if you get one of those. They'll break down quicker and they'll be harder to ride.
So… I'm not even going to get into those. I personally wouldn't buy my kid one. Also, all of these bikes are gas powered. There are some great electric dirt bikes (full list here) out there for the younger ones like the Razor MX350, and others, but again – we'll just look at the gas-powered options here.
In addition to getting a reliable, easy-to-ride bike, you'll also want one geared towards beginners. This means that any starter bike you get must be light enough for a child (or teenager) to handle and powerful enough so that it's not too hard to get up and down a hill or whatever.
We'll consider the following features and aspects of the bikes:
Frame
Seat height
Suspension
Curb weight (weight without gas)
Engine
Depending on how old the rider is, there are many choices to consider. We'll look at a few different options and you can decide which one you think is the best dirt bike for your kid.
Best 50cc Dirt Bikes for (Young) Kids
What Age Is a 50cc Dirt Bike For?
Kids as young as 4 can start learning how to ride a 50cc dirt bike, especially if it is equipped with training wheels. However, since 50cc dirt bikes are on the heavy side, they're best suited for children between the ages of 5 and 8.
Depending on the kid's size, a 50cc bike may not be big enough for some kids. As you'll notice, 50cc is just a popular designation, the actual engine size of most these dirt bikes are actually 49 cubic centimeters… but this goes the same even for the bigger 450's.
Honda CRF50F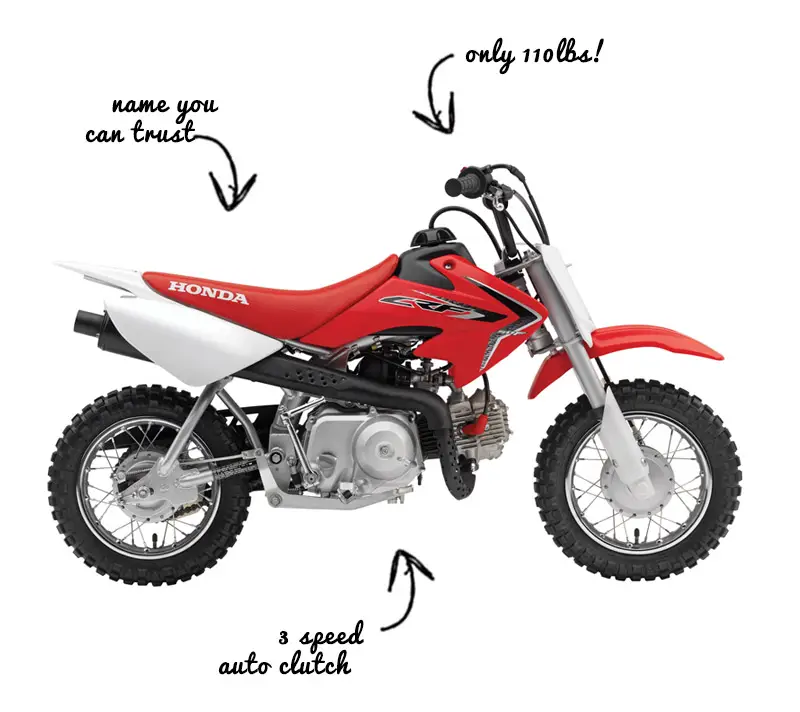 With a starting price of $1,499, the Honda CRF50F is a small-framed 49cc dirt bike engineered for beginners and designed to offer parents total control over the riding difficulty. The 2-valve motor is air-cooled and connected to a 3-speed auto-clutch transmission.
The suspension is tough but also good for beginners. The auto transmission offers ideal learning conditions. Stalling is not an issue here. The parental controls allow you to adjust the throttle based on the kid's skill level.
While the ground clearance sits at just under 6″, the seat height is 21.6″ which allows even taller kids to enjoy riding the CRF50F. The dirt bike's curb weight is an impressive 110lbs. Given the affordable MRSP price, low fuel capacity of 0.7 gallons, and small framework, this is a solid choice.
NOTE: Of all the 50's, this is one of the best dirt bikes for kids to learn on.
Yamaha PW50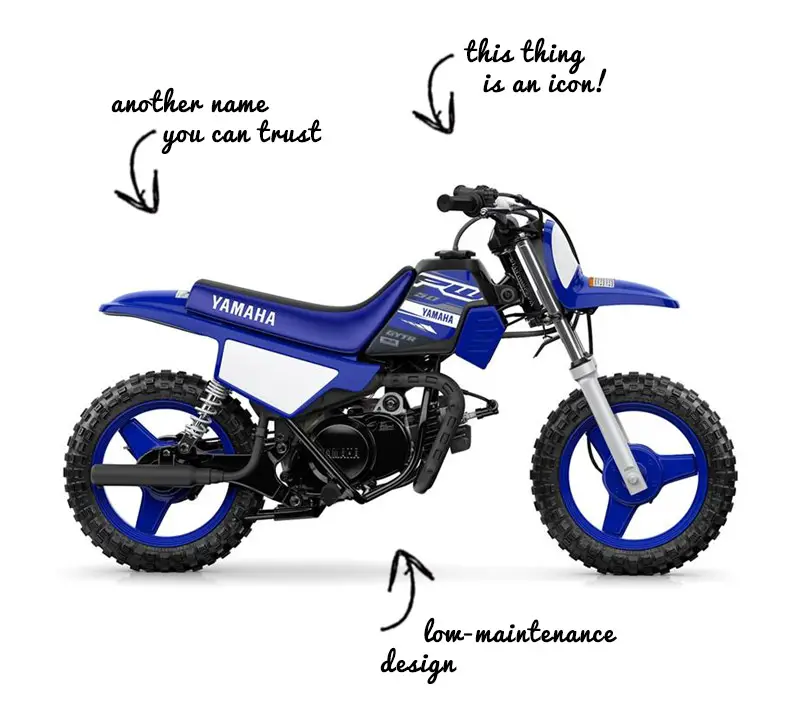 The Yamaha PW50 is a budget-friendly starter dirt bike for kids between 5 and 8 years of age. It has a base price of $1,499 and the base model is already quite complete. The fully automatic transmission makes stalling a non-factor and allows kids to focus on maintaining balance.
The 49cc 2-stroke air-cooled engine is powerful enough but not overly so as to intimidate. The built-in throttle restrictor is a parent's best friend. The level of comfort is off the charts thanks to the thick seat, large folding foot pegs, and rubber grips.
What makes the 49cc Yamaha PW50 totally worth buying is the low maintenance design achieved by Yamaha's auto-lube oil injection and fully enclosed maintenance-free drive shaft.
NOTE: Yamaha dirt bikes are also great. This one is also a tried-and-tested beginner bike.
Yamaha TT-R50E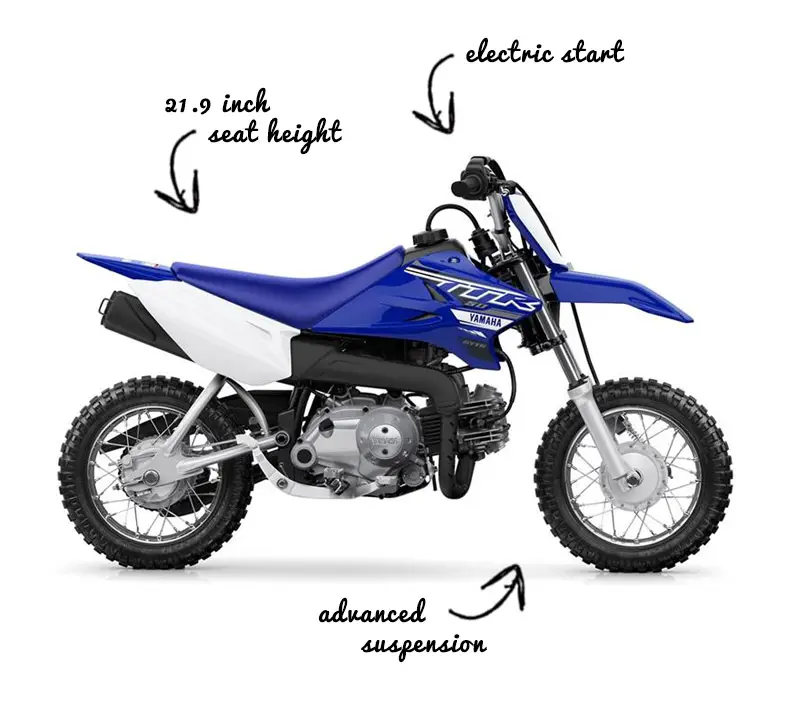 Starting at a base price of $1,699, the TT-R50E is another great option for a kid's beginner dirt bike. It comes with a 49cc air-cooled 4-stroke engine. It's great at giving riders an opportunity to learn balance and shifting gears thanks to the 3-speed automatic clutch transmission.
The electric start is a very nice "quality of life" feature. You'll have a throttle restrictor and all the basic Yamaha ergonomic features – folding cleated foot pegs, thick seat, wide handlebar, etc.
The single-coil suspension evens out rough terrain while the 21.9″ seat height should be low enough for most kids to rest with both feet on the ground – giving them a good feel of the bike when not in motion.
Differences between the PW50 and TT-R50E
Aside for the minor difference in pricing, the PW50 and TT-R50E are quite different in what they offer.
While the PW50 is a very simple bike to master, it doesn't offer young riders a chance to learn how to shift gears and really build on their skill level. In terms of power and comfort, both bikes are the same but learning to ride on the TT-R50E should result in a more complete rider. If you're treating it strictly as a toy, the PW50 with shaft final drive is smoother and there's no chain to maintain.
Suzuki DR-Z50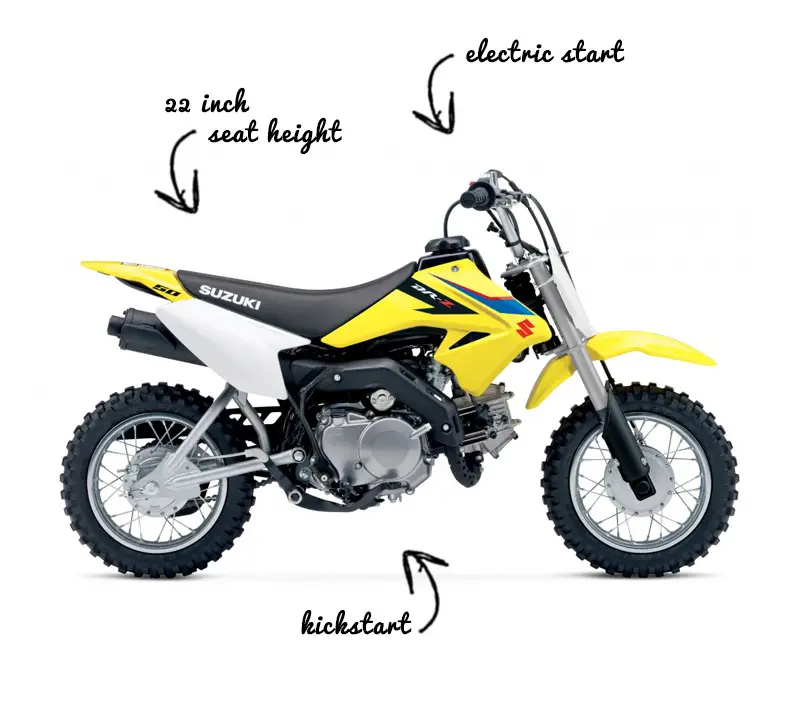 Suzuki put its own spin on kid-friendly starter dirt bikes with the DR-Z50 that boasts a reliable 49cc engine. The frame is rugged and built to last and the automatic clutch is just perfect for young aspiring riders. They can learn how to shift while also looking cool on the racing-inspired bodywork.
Parents have two good things going for them too. The starting price of $1,749 is very fair and the adjustable throttle restrictor gives them total control over how much fun their kids can have.
Another cool feature is the dual-starting system. The DR-Z50 has a Kickstarter as well as a push-button ignition.
Like all kid-friendly dirt bikes, the DR-Z50 comes with an adjustable throttle restrictor which allows parents or instructors to control the maximum speed.
KTM 50 SX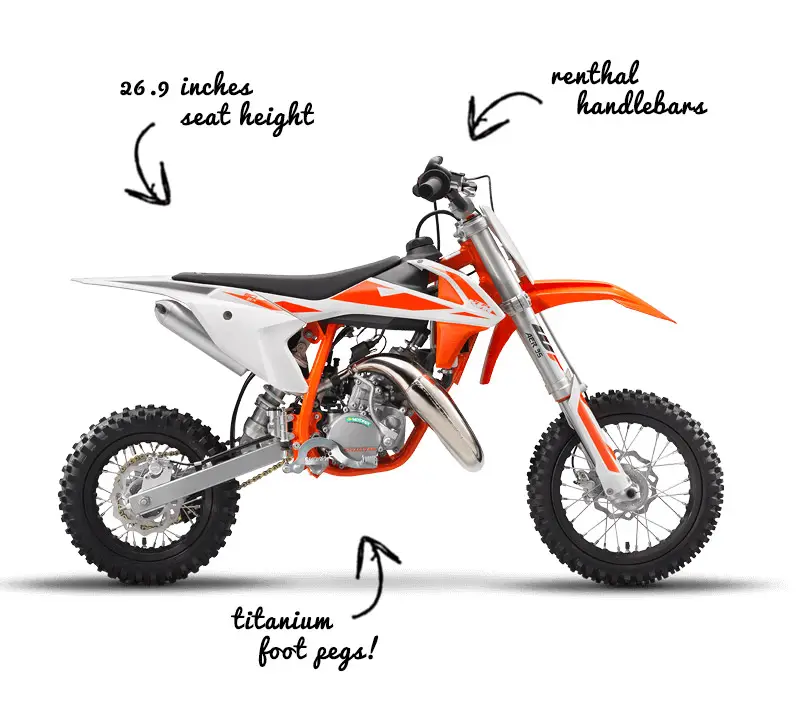 The KTM 50 SX has a base price of $4,299 (there is also a KTM 50 SX Mini for a little less). It features a 49cc motor which is powerful enough for youthful enjoyment and also for learning purposes. It's a Kick-starter dirt bike with colorful graphics and a single-speed transmission.
Everything about the bike has been designed to facilitate learning at a very young age… even for a 2 stroke. Be aware, the 2 stroke engine does kick some butt for a 50 though. Because of this, I usually recommend buying a bike with a 4 stroke engine over a 2 stroke engine for beginners.
The handlebar is ergonomic and the titanium foot pegs are about 33% lighter than the ones found on other bikes in this category.
The bike provides the rider with a durable and very stable structure. Everything from mounting to shock absorption is on point. The fact that the transmission has just one speed isn't going to introduce kids to shifting gears, but it does help the enjoyment factor and riding ease.
Once again, the seat height is 26.9″ seat height. The advanced front fork is going to make things really smooth for the young one and the rear suspension is adjustable.
NOTE: Even though this is without a doubt, one of the best dirt bikes for kids, this one is probably the most extreme. Unless you're kid is naturally good at this type of thing, I'd recommend one of the more easier-to-ride, mellow bikes.
Best Beginner Dirt Bikes for Teenagers
Honda CRF 125F Big Wheel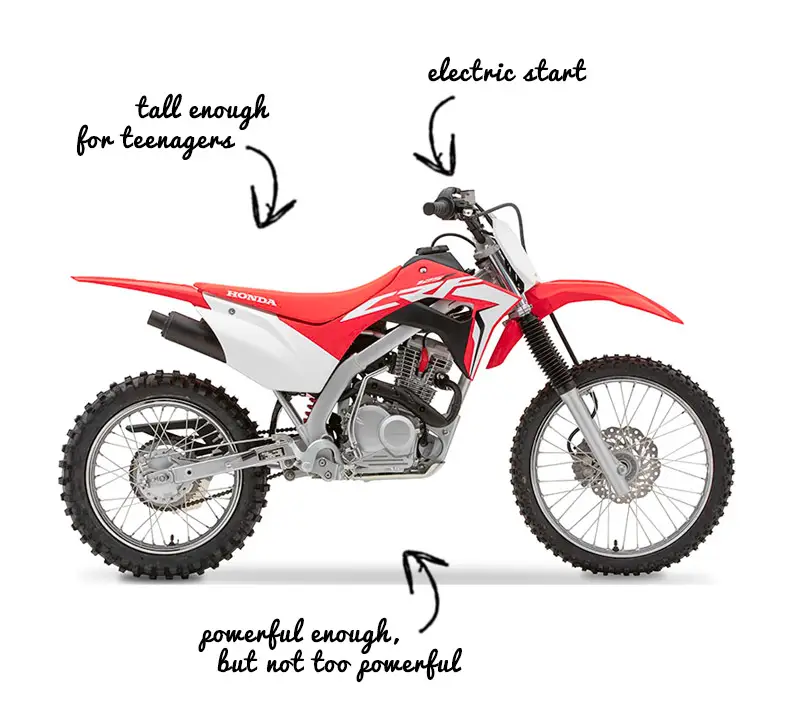 Teenagers need more robust dirt bikes with higher curb weights that can handle more advanced tracks. The Honda CRF 125F Big Wheel starts at $3,499 and boasts a single-cylinder 124.9cc 4-stroke engine. It is driven by a 4-speed transmission and the brakes are a drum brake at the back and a hydraulic disk brake at the front.
The suspension is very good considering that the base model is not a race-ready dirt bike. The curb weight is 199 pounds which the average teenage rider should be able to handle. The 10.3″ ground clearance allows the suspension to have a high travel distance.
The CRF 125 Big Wheel is perfect for less experienced riders. It is a comfortable dirt bike for teenagers that's not too aggressive and has just enough power for the rider to find their stride.
Honda CRF 150R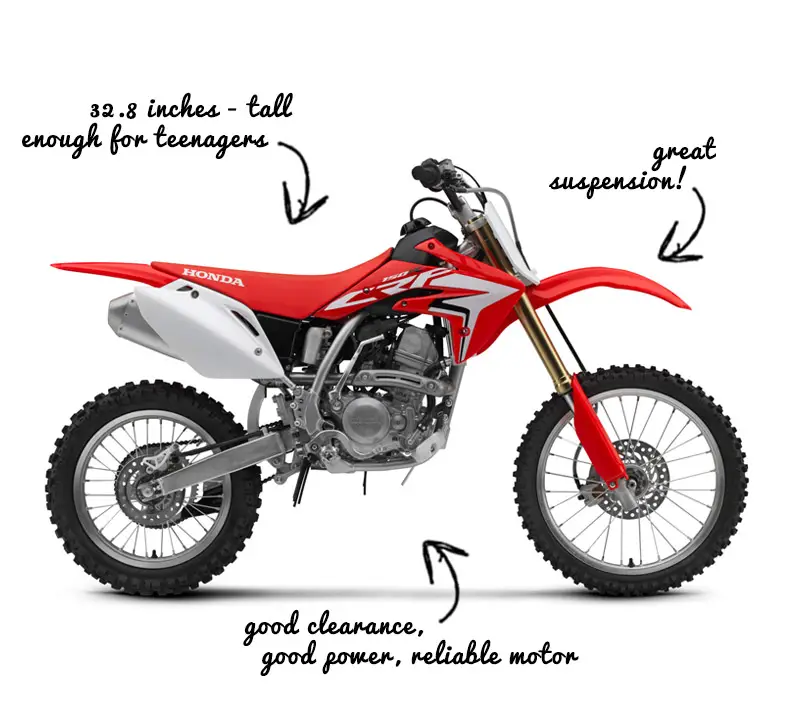 At a base price of $5,099, the CRF 150R is one of Honda's best dirt bikes for young adults. It comes with a compact 149cc four-stroke engine that provides plenty of traction and acceleration.
The bike is somewhat beginner-friendly as it doesn't need kick-starting. It has a 5-speed transmission which requires a bit of a learning curve. But after that, the rider can tell everybody that they've learned how to ride a real motorcycle. The bodywork is race-ready red and white.
The bike has a decent fuel capacity of 1.1 gallons.
As with most Honda dirt bikes, it's designed to handle abuse and keep both experienced and beginner riders feeling comfortable and safe. At a 187lbs curb weight and 32.8″ seat height, this bike is for older teens.
NOTE: IN my opinion, this is the best dirt bike for teenagers to learn on and still have an awesome bike to grow into.
Yamaha TT-R125LE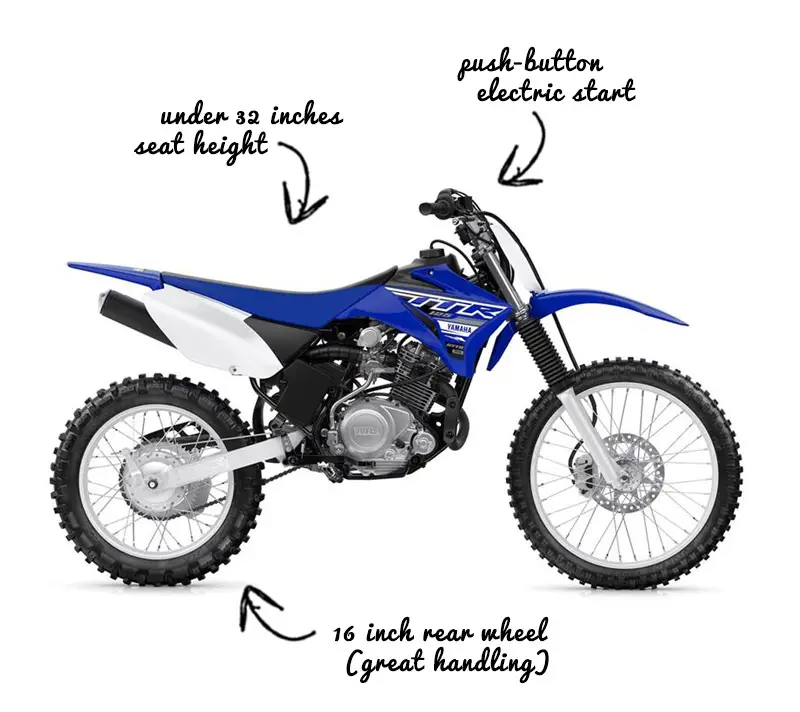 The starting price of $3,299 is not a bad deal for a dirt bike that's fully equipped to satisfy demanding teenage riders. This robust Yamaha TT-R125LE is a serious teens' trail bike with 11″ ground clearance and 32″ tall seat.
The 124cc 4-stroke engine is very reliable if not the most powerful. The 5-speed transmission gives the rider total control over the bike while also providing them with plenty of shifting experience.
The curb weight is at a comfortable 198lbs which makes the bike stable and easy to control. The suspension is factory-calibrated for aggressive riding but it is fully adjustable.
With the amount of information available on the web these days, your teen may not even need you to adjust the suspension for the right stability and comfort for any given track 😉
Suzuki DR-Z125L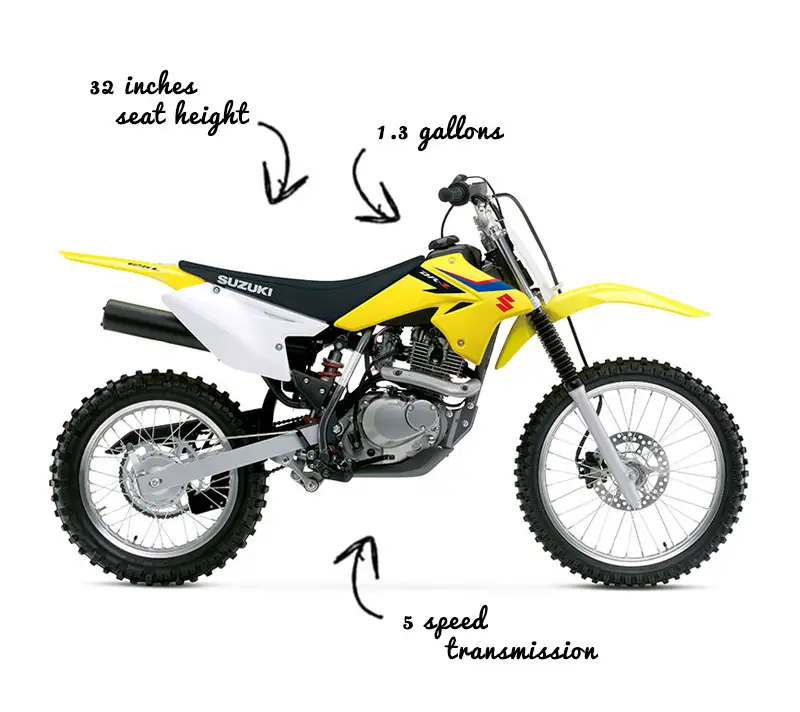 The Suzuki DR-Z125L comes with top-quality bodywork, engine, and frame that belie its base price of just $3,299, which may be a small price to pay for your teen's safety and a few good years of off-roading.
The reliable 4-stroke single-cylinder 124cc engine may not be race-ready but it is very beginner-friendly. The 5-speed transmission shifts quite smoothly and doesn't easily stall. You can lug the bike for quite a while.
The 32″ seat height 196lb curb weight should suit riders of all sizes. The slightly lower fuel capacity of 1.3 gallons shouldn't be an impediment for enthusiastic riders since the engine is fuel-efficient.
Kawasaki KLX 140L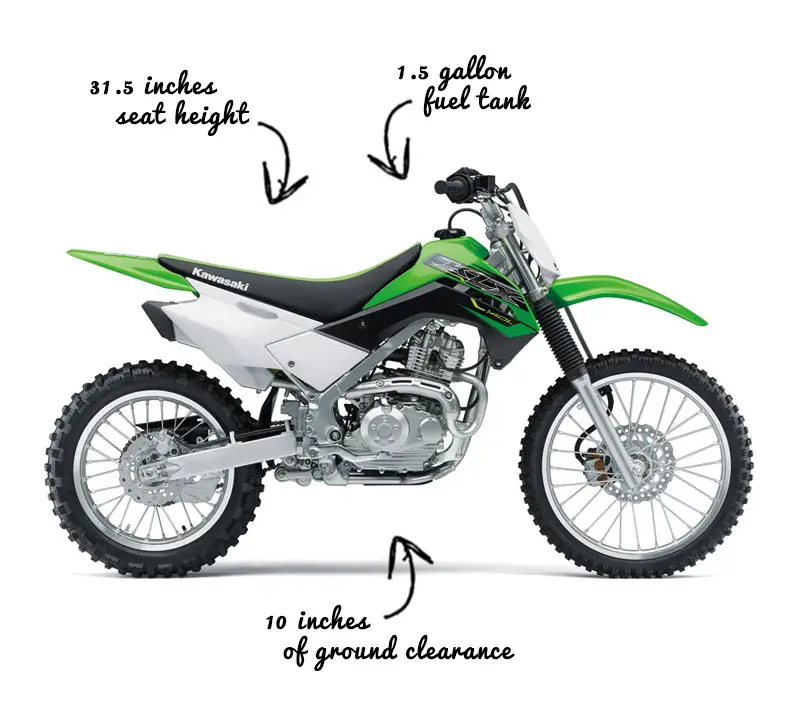 The KLX 140L is somewhat of a beast at its $3,399 MSRP. The high-performance 144cc 4-stroke engine sounds incredibly satisfying and the manual clutch 5-speed transmission is designed for total control and swift response.
The bike comes with tall wheels and a 31.5″ seat to accommodate most riders. The 10″ ground clearance will be nice for a variety of tracks and ground conditions. The front and rear suspensions are high-end but and let you really feel the ground. The front and rear disk brakes provide another layer of control and stability that will benefit young riders.
You get all that at a relatively light curb weight of 209.4 lbs. Given the 1.5-gallon fuel tank and the light frame, the dirt bike is well-equipped for some extended adventure. Equipped with the proper tires, the bike is race-ready and there is an option to extend the factory warranty to 36 months.
Kawasaki KLX 140G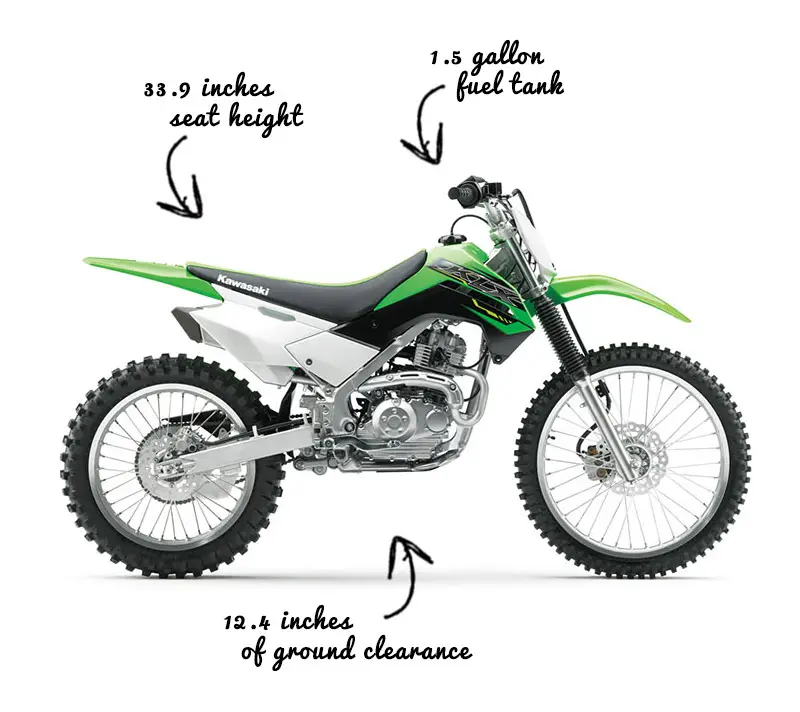 With a starting price of $3,699, the Kawasaki KLX 140G is designed to cater to both younger riders during their learning stages, and more experienced riders eager to take on some demanding tracks. The 144cc 4-stroke engine is the same as the rest of the KLX 140 series.
The 5-speed transmission features a wet multi-disc manual clutch for optimal control. The 33.9″ seat height is well-suited for tall riders. The higher 12.4″ ground clearance is one of the reasons why the KLX 140G is a race-ready dirt bike.
The one thing that doesn't change is the low-maintenance ergonomic design that Kawasaki is known for. The 140G is also one of the lighter KLX despite its full-sized wheels and trail-ready rugged frame.
Difference between 140L and 140G
Although the KLX 140L has bigger wheels, the KLX 140G is heavier and taller, which allows riders of all sizes to have more control over the bike. The 25% higher ground clearance makes the bike more capable on uneven tracks.
The two Kawasaki medium-sized dirt bikes also have somewhat different frames. While the 140G has a semi-double cradle-type frame, the 140L features a box-section perimeter made of high-tensile steel. As the 140G is slightly bigger and better-equipped to handle rougher riding conditions, the price is also about 10% higher.
How to Choose?
When you're sure that you want your kids to start following in your footsteps, you'll be surprised at how many kid – and teenager – dirt bikes there are on the market. Whether you're shopping on a tight budget or you're ready to splurge, finding the perfect balance between comfort, power, and handling is not too hard.
It usually just comes down to sizing or personal preference towards a certain manufacturers.
An argument could be made for any of these top manufactures as to which one offers the best dirt bikes for kids. Again, as long as you buy from one of the big brands, you should be fine.