Best Exhaust for TTR110 (FMF, Pro Circuit, BBR, etc.) – Which One is Worth Buying?
BraapAcademy.com earns a small commission from qualifying purchases.
This does NOT cost you extra.
Are you looking to buy an aftermarket exhaust for your Yamaha TTR110? If so, you've probably noticed that there are quite a few different options. With that, determining the best TTR110 exhaust isn't as cut and dry as one might think.
After going through a ton of research for my next dirtbike (most likely a 110 pit bike), I've put together a list of what I think are the best TTR110 exhaust systems, pipes, and upgrades, in my opinion.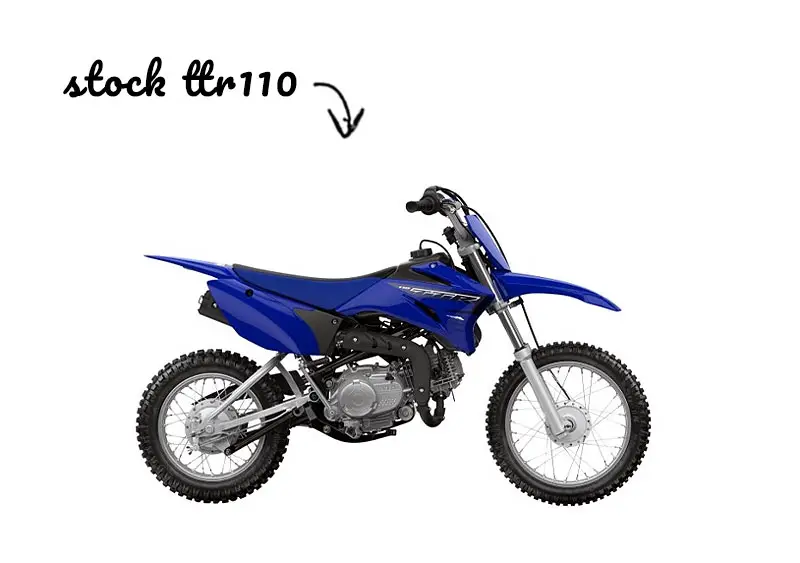 Determining which exhaust is best for your Yamaha TTR110 depends on what you're looking for. For example, the type of performance gains that you are looking for will help you to decide which pipe to get. Some exhaust pipes are better for more low-end, while others are better for more top-end power.
With that said, below are the top TTR110 exhaust systems for each different need. These are the best-performing, loudest, quietest, and most budget-friendly exhausts. Basically, if you're looking for the best TTR 110 aftermarket parts, I've picked out the exhausts and put them below.
NOTE: There are different requirements for a stock TTR110 than a modded 110. Some pipes work better on a stock 110cc motor, and some will perform better on a bike that has been bored out. We'll look at that too.
---
Pro Circuit T6 Exhaust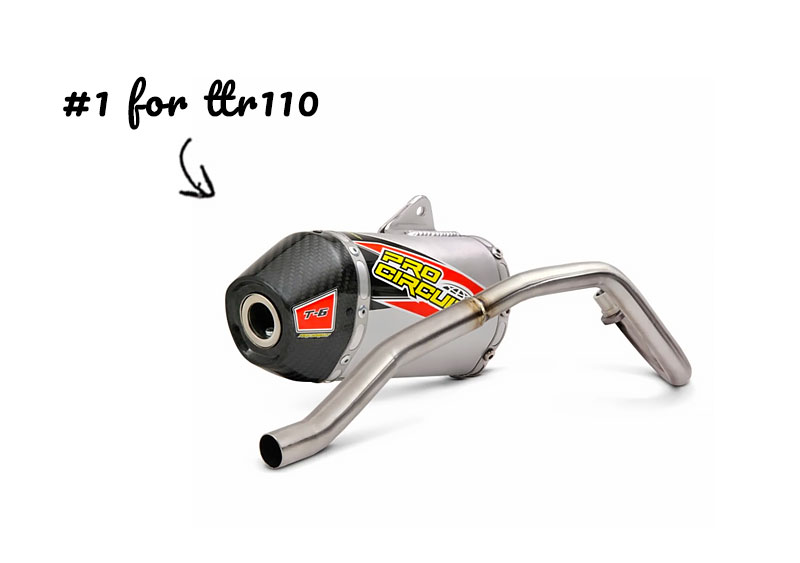 If you're looking for the "best" exhaust system for a TTR110, the Pro Circuit T-6 is the pipe for you. The TTR 110 Pro Circuit exhaust system includes a stainless steel head pipe and mid pipe, a brushed aluminum canister, and a carbon fiber end cap.
Pro Circuit knows how to make a great exhaust system. Not only do these aftermarket pipes make the Yamaha TTR110 sound better, but they are also lighter and look better than stock.
I had a Pro Circuit Works pipe on my YZ250. (It was awesome, hands-down my favorite pipe to date.) Sadly, after a few short weeks, I smashed it flat against a tree. Not my proudest moment. Certainly not my worst though.
Features & Highlights
Improved throttle response throughout RPMs
Works with big bore kit
Lighter than stock
Includes removable USFS-approved spark arrestor
Stainless steel construction throughout the head pipe
Brushed aluminum canister
Carbon fiber end-cap
High-end build
Positive Reviews
Great low-end response
Looks "finished"
Easy to install
Nice sounding pipe
Not too loud (but definitely louder)
Improved performance throughout the RPM range
Better airflow
Improved backpressure
Negative Reviews
Some say it isn't the easiest to install (but, see above for the exact opposite)
Not cheap
May need to re-jet for maximum performance
Not ideal for a TTR110 with a big bore kit
Overall, the Pro Circuit TTR110 exhaust is one of the best options. Whether it is actually the "best" option for you, depends on what you're looking for. As mentioned, Pro Circuit exhausts are very well-built, look killer, and sound great.
But, as we also know, these aftermarket exhausts aren't cheap. If you're not looking to spend quite so much, check out the next option (FMF).
Click here to view pricing and read reviews on faster-minis.com.
---
FMF Powercore 4 Exhaust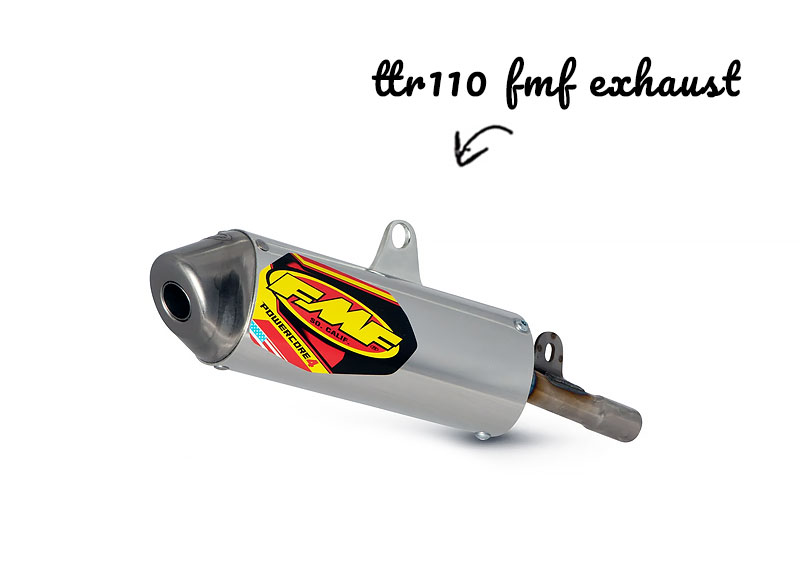 FMF has a name for being one of, if not the, best exhaust for the money. Flying Machine Factory (FMF) is synonymous with high-performance exhausts for dirt bikes.
Even though I wouldn't call this a cheap TTR110 exhaust system, the FMF 4 exhaust is much more affordable than some of the other well-known brands. These don't have the sophisticated look of a Yoshimura pipe or the custom look of a Pro Circuit Works pipe, but that's probably the worst thing they have going for them.
All-in-all, adding an FMF pipe is a great upgrade.
Features & Highlights
Complete exhaust system (header and muffler)
Easy to repack
Lightweight
Works well with a wide range of years
Positive Reviews
Great price
Great sound (deep and throaty)
Improved power performance throughout the RPM range
Improved throttle response
Quicker acceleration
Quality build from a trusted brand
Lightweight
Negative Reviews
Not super easy to install (although some say that it is)
Re-jetting is recommended (but not required)
Not cheap for the amount of HP increase
NOTE: I've never personally owned an FMF exhaust. However, I have been around plenty of them and they sound great.
If you're looking for an inexpensive option to improve your dirt bike's low-end and mid-range power, the FMF Powercore 4 is a solid option.
Click here to No products found. on Amazon.
---
BBR Exhaust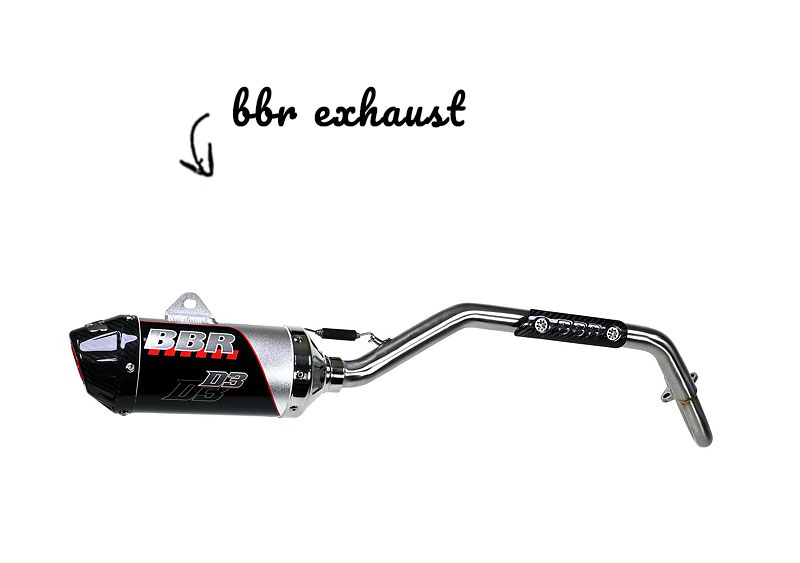 Although BBR Motorsports isn't widely known like Yoshimura, Pro-Circuit, or FMF, they do make good exhausts for TTR110s. Actually, they are becoming more and more known for making quite a few quality parts and upgrades.
What's cool about these exhausts is that not only are they made well (aircraft-quality stainless steel), but they are designed well. Their unique D-shape design allows for more packing volume and more tire clearance.
Features & Highlights
Lightweight 6061 aluminum muffler with carbon fiber end cap
Thin-wall stainless steel header and mid-pipe
Carbon Fiber heat shield
All stainless steel hardware throughout
Includes BBR jet wash end plug, spring puller, decal pack, heat shield tape, and black BBR zipper bag
Positive Reviews
Sounds expensive
Quality build
Looks great
Easy to install
Lightweight
Improved throttle response
Negative Reviews
Expensive
The carbon guard can fall off if not bolted on tight
Some needed to be re-jet for maximum gains
If you're looking for something unique and good, the BBR just might be what you're looking for. They aren't cheap, but they are made right.
Click here to view pricing and read reviews on Faster-Minis.com.
---
Other TTR110 Exhaust Systems
There are a few other aftermarket exhausts for a Yamaha TTR110 that I didn't list above. Unfortunately, there aren't as many options as there are for some of the other 110cc dirt bikes. For example, Yoshimura makes a great CRF110 exhaust but not for the Yamaha. Here are some of the other popular brands, and what each exhaust is known for:
Rocket Chubby

Unique/different option that sounds and looks great

Bill's Pipes RE 13
Big Gun Evo

Cheap exhaust, better than stock
TTR110 Jetting for Aftermarket Exhaust
Most of these exhaust pipes above will recommend that re-jet your dirtbike. (If you're going to upgrade your air filter as well, install it before re-jetting.) Don't worry, if you do need to re-jet your bike, it isn't too difficult. Basically, all of the other brands will require you to as well. Whether you're adding a new TTR, CRF, or KLX110 exhaust, you're probably going to need to re-jet your bike.
In order to get the best jetting for your TTR 110, you should take it one step at a time. First, assess how your dirtbike is running currently. Second, simply adjust the jetting up or down, depending on what you need, one setting at a time.
How will you know which way to adjust? If you've added a new pipe and an upgraded air filter, you're bike is most likely running lean.
If that's the case, simply adjust the jetting one setting richer and then test. Do this until your bike reaches its peak performance.
How to Know if Your TTR 110 Needs Re-Jetted?
Before you adjust the jetting, here are a few reasons you might need to adjust the jetting on your bike:
Poor throttle response
Overheats easily
Idles high
Bogs down
Fouls spark plugs
It's hard to start
Notice a loss of power
The bike sputters easily
If you notice that your bike is showing any of these symptoms, there's a decent chance you need to look at the jetting. On the other hand, if you notice these after upgrading the exhaust, then there's more than a "decent" chance it needs re-jetted.
Is Your Jetting Too Rich?
If you're thinking about changing the jets on your Yamaha TTR 110, here are a few symptoms of it running too rich:
Hard to start when hot
Sputters or hesitates at high RPMs
Poor response on the top-end
Fouled spark plug (or fouls often)
Poor throttle response
Loss of power
Is Your Jetting Too Lean?
Here are a few symptoms of a TTR110 running too lean:
Hard to start when cold
Bogs down when trying to "snap" the throttle
Idles high