Best Yamaha TTR110 Mods (Parts, Accessories, Upgrades)
BraapAcademy.com earns a small commission from qualifying purchases.
This does NOT cost you extra.
Trying to decide which Yamaha TTR110 mods you should do to your bike? There are quite a few out there, but not all are worth doing. Having said that, if you're looking to make your TTR 110 go faster, handle better, or support an adult-sized rider, I've got the list of upgrades and aftermarket parts just for that.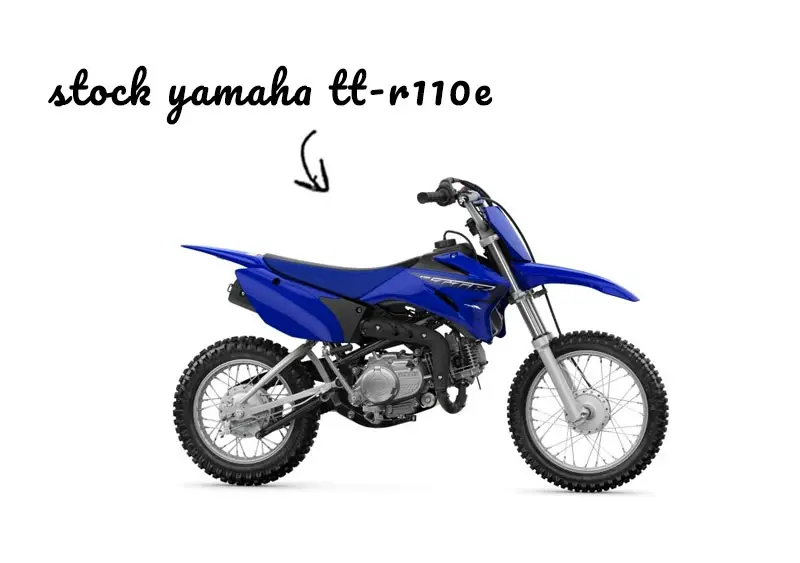 All in all, the Yamaha TTR 110 is a solid dirt bike, but that doesn't mean that it couldn't use some upgrades to make it ride and perform better.
Here are the top Yamaha TTR 110 suspension mods, engine, exhaust, tires, plastics, and more. Overall, these are the best TTR 110 aftermarket parts, and performance mods for the Yamaha 110cc dirt bike. Of course, not all of these are necessary, nor will that all apply to everyone.
---
Best TTR 110 Big Bore Kits
If you're looking to get the most out of your dirt bike, the engine is where you should start.
Although it may sound a little intimidating at first, there are quite a few TTR 110 aftermarket parts for the engine that are "bolt-on" and easy(ish) to install.
One of the best methods to make a TTR 110 go faster is to install a big bore kit. Not only will this increase the TTR 110 top speed, but it will also add significant low-end power.
Since more power is what most are after, these TTR 110 big bore kits are quite popular. Having said that, these TTR110 mods do have a few drawbacks.
Advantages of a Big Bore Kit
Below are some of the top advantages of adding a TTR110 big bore kit:
Power and torque – With an increase in the engine's displacement, it will produce more power and more torque. Not only does this make the dirt bike accelerate faster, but it also adds to its top speed.

Throttle response – With the larger engine displacement, the dirt bike breathes better and responds quickly when you "blip" the throttle. This can actually make the dirt bike easier to ride.

Low-end power – An increase in the engine's low-end power is great all the way around. If you're riding where low-end torque is crucial (hill climbs, trails, races, wheelies, fun, etc.), you'll be glad you've got it.
Disadvantages of a Big Bore Kit
Hard on the engine – If you buy a cheap big bore kit you might be putting more strain on the engine than you should. However, a high-quality kit doesn't mean more wear and tear on the motor. If anything, it may reduce the strain on the engine if you're not keeping the RPMs revved as high.

Maintenance – In some cases, you may need to perform more frequent oil changes, valve adjustments, and other miscellaneous maintenance items.

Fuel economy – Yes, adding a big bore kit can decrease fuel efficiency.

Price – Big bore kits can be expensive, especially if you need to pay someone to install it for you.
Whether you already know you want one, or you're still on the fence, there are a couple of solid options out there. The following are two of the best TTR 110 big bore kits on the market.
---
TTR 110 Big Bore Kit (TB 130)
If you're looking for a quality big bore kit for a TTR 110, Trail Bikes (TB) makes a solid kit. With this kit, your TTR 110cc actually becomes 130cc without any boring work.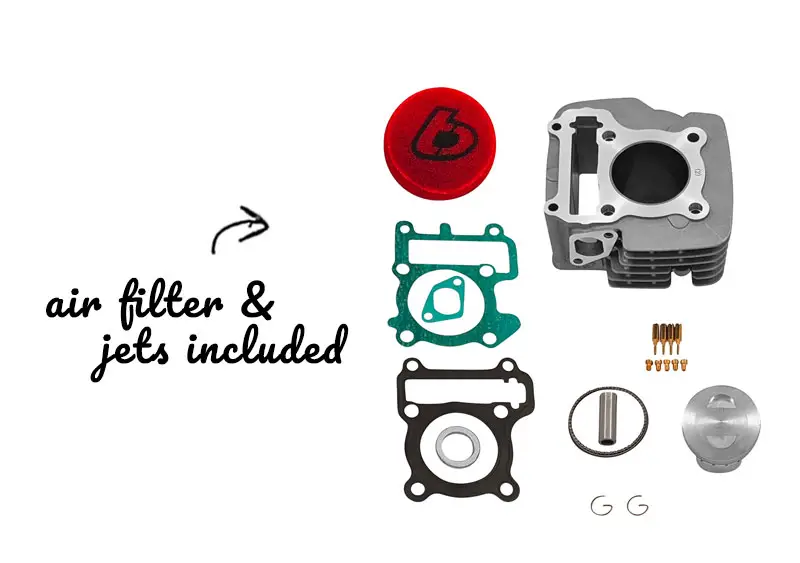 Now, this isn't the only 130cc big bore kit on the market, but it is one of my preferred choices due to how well they're made and the company behind them. I'd be leary about buying an off-brand BB kit from some stranger on eBay, so it's nice to know that TB makes good kits.
Here's everything that is included in this TTR 110 TB 130 big bore kit:
Hight compression, lightweight piston kit
Top-end gasket kit
Aluminum steel sleeve Cylinder
Dual Stage Air Filter
Main Jet kit (95, 100, 105, 110, 115)
Pilot Jet kit (12.5, 15, 17.5, 20)
Note: In order to get the most out of this TB TTR 130 big bore kit, you'll need to re-jet the carburetor. As long as you buy the kit that includes the jets, you should be good to go. If you don't want that full kit, you can always purchase aftermarket jets on Amazon, or somewhere else.
Click here to view pricing and read reviews on TBParts.com.
---
TTR 110 Carburetor Upgrade
If the big bore kit sounded intimidating, don't worry, this carb upgrade is an easy and cheap TTR110 mod that is definitely worth looking into… whether you've got a big bore kit or not.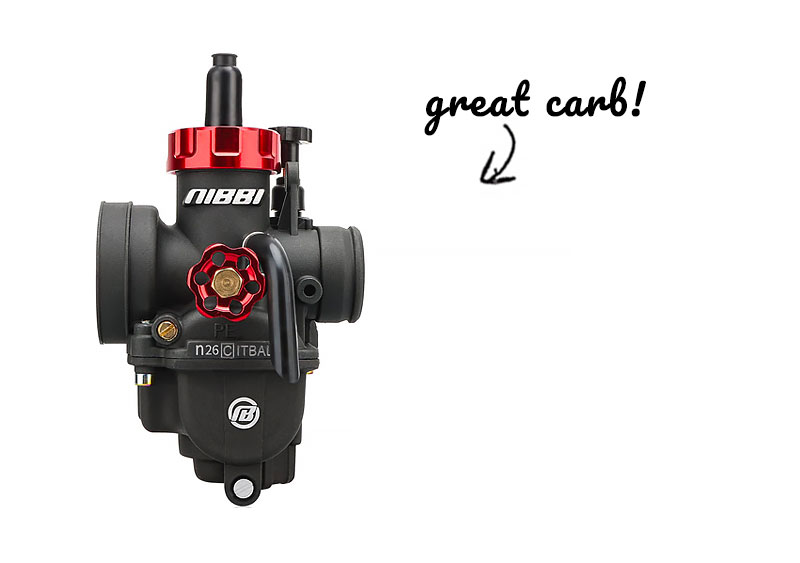 Ever ask yourself how to make your TTR 110 go faster? Here's the answer! This cheap mod will give your dirtbike the fuel it needs to go faster and rip just a little bit more.
To be fair, the more the TTR 110 is modded, the more it will benefit from one of these aftermarket carbs. However, I've even seen where guys with stock 110cc dirt bikes have really gained some "go" from getting one of these 26mm carburetors for their mini.
Click here to view pricing and read reviews on Amazon.
---
TTR 110 Exhaust Mods
Whether you're going to add a BB kit or an aftermarket carb to your bike, adding an aftermarket exhaust is another upgrade that we all love doing.
There really are quite a few different companies that manufacture aftermarket TTR110 exhaust systems, pipes, and mufflers, but that doesn't mean that I'd recommend buying from all of them.
Upgrading your exhaust system generally improves throttle response, increases horsepower, and makes your dirtbike sound better. But, if you buy the cheapest aftermarket exhaust you can find, you probably won't be happy long-term.
Sure, a cheap exhaust may sound and look better, but the cheap pipes don't actually perform any better than stock, nor do they hold up to any type of abuse.
Best Aftermarket Exhaust
When it comes to exhausts, Pro-Circuit is one of the industry's all-around best. The TTR110 Pro Circuit exhaust is one of the best full systems available, which doesn't come as any surprise.
Whether for the mini dirt bikes or their bigger bros, these pipes are always at the front of the pack. In fact, the KLX110 Pro Circuit exhaust, as well as the CRF110 Pro Circuit exhaust systems, are both right there at the top as well.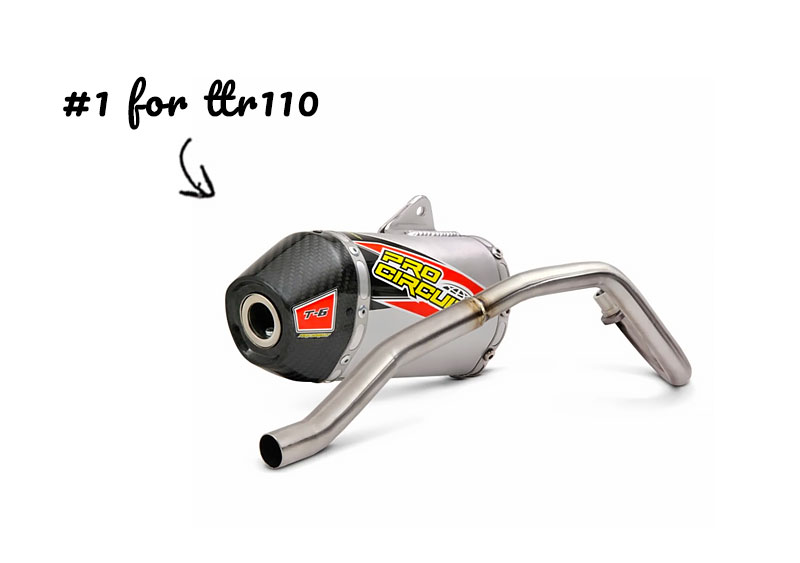 Here are just a few of the positive reviews and features of these exhaust systems:
Improved throttle response throughout RPMs
Great low-end response
Works with big bore kit
Not too expensive (some are more)
Hight-end build
Looks "finished"
Lighter than stock
Easy to install
Not too loud (but definitely louder)
Click here to view pricing and read reviews on faster-minis.com.
---
Stock Exhaust Mod
As long as you're willing to put in a little elbow grease, modding the TTR110 exhaust isn't too difficult. Essentially, you're gutting it and giving it more airflow.
Here's a great video of a guy showing you exactly what he did to his stock exhaust as part of his KLX 110 mods and upgrades.

NOTE: I haven't run a TT-R110E with a gutted exhaust before, but I do "hear" they sound and work better. Not too long ago, I had a Husqvarna SMR510 that had the dual stock exhaust gutted and they sounded, and worked, really well.
---
TTR 110 Air Filter Mod
If improved airflow and increased power are on your list (and they should be), installing an aftermarket air filter on your TTR110 is a must do. Adding an aftermarket air filter is a cheap and easy upgrade that's definitely worth doing.
While adding an aftermarket air filter is hardly a "mod," it is a good upgrade.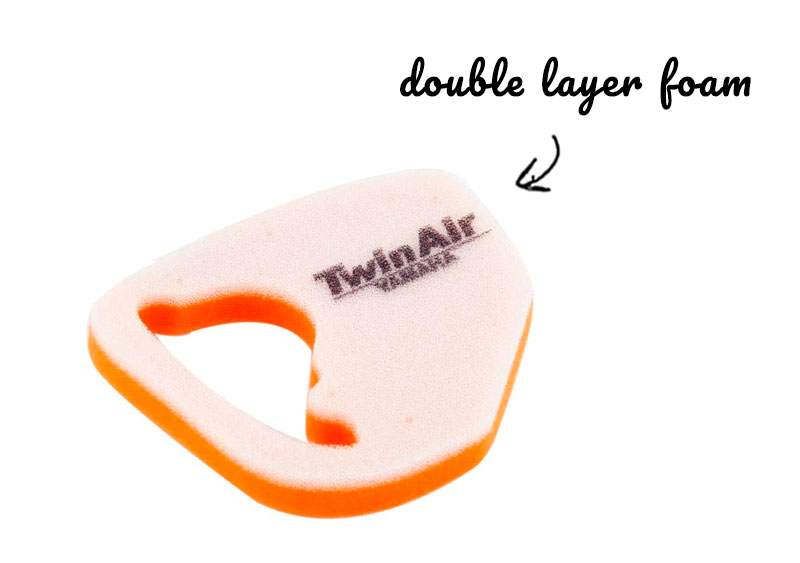 The double-layered foam (not two separate parts) from Twin Air filters out even small particles of dirt and mud, and it does this while still allowing more airflow than stock.
Not surprisingly, the Twin Air brand isn't the only manufacturer of aftermarket air filters for TTR 110s. The GYTR (on amazon) is another popular option, although I've never run one, or know anyone personally who has.
Another option is to buy a pre-oiled filter. I like the idea of having an extra TTR 110 air filter pre-oiled and ready to go. A solid option for a pre-oiled air filter for the Yamaha 110 is the No products found..
Click here to view pricing and read reviews of the Twin Air TTR 110 air filter on Amazon.
---
TTR 110 Suspension Mods
Upgrading the stock TTR110 suspension is one of the best mods that you can do for your Yamaha TTR 110.
Generally, a ttr 110 suspension upgrade includes stiffer front springs and/or a stiffer rear shock. Not only can stiffer springs and shocks make these dirt bikes jump better, but they usually handle better all the way around and don't bottom out after every big bump.
If you're tired of bottoming out your suspension and more stress on your bike than it was designed to handle, the following TTR 110 suspension upgrades are sure to do the job.
Heavy-Duty Fork Springs
Because the stock Yamaha TTR 110 forks are made for a 125-pound rider, they are much too soft for most adult riders. With that in mind, if you weigh 125+ pounds (or so), upgrading to the TTR 110 BBR fork springs will give you MUCH better control and prevent your Yamaha from bottoming so much.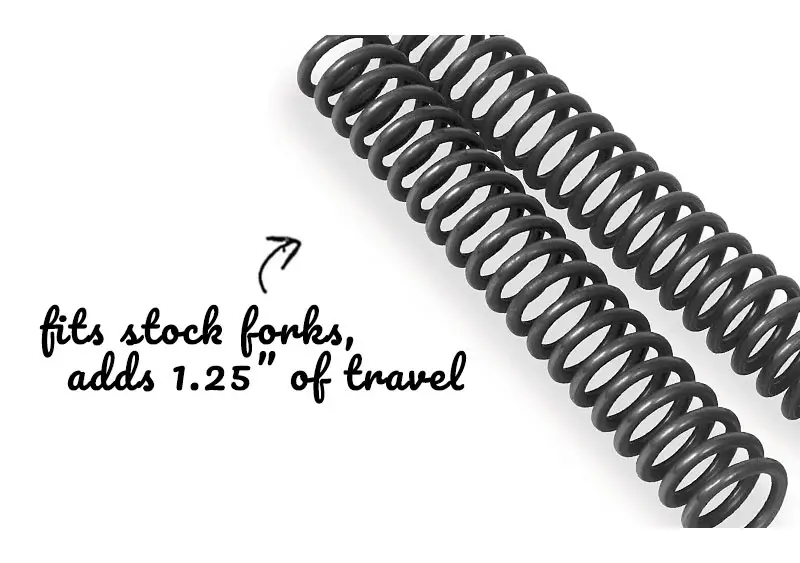 Here are some of the features of these aftermarket front fork springs:
Increased spring rate (for adults)
Preset and stress relieved for long life 
Made front aircraft quality steel
Fits TT-R110E stock forks
If you happen to do this TTR 110 fork springs mod, being able to work with the stock forks is a nice bonus. There are quite a few of the 110 pit bikes that you've got to replace the entire front fork setup if you want to make a difference on the ride and feel. But, with the Yamaha 110, you can keep the stock forks and just add these stiffer springs.
Click here to view pricing and read reviews on Amazon
---
Aftermarket Damping Rods
A great companion to the stiffer front springs, the BBR TTR 110 Damping Rods are also a great addition to your front suspension.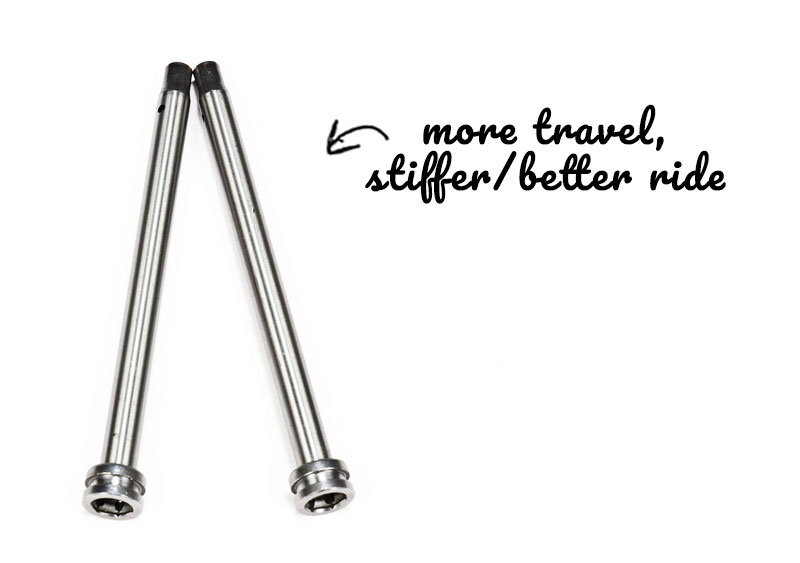 These damping rods replace the stock TTR damping rods to increase travel and damping control. This is a great addition for all adult-sized riders because it creates a more comfortable and controllable ride. The improved ride by slowing the rebound and increasing compression damping for a firmer ride.
Increases travel 1.125″ from stock
Close to 1.5″ of height added
Better damping control
Stiffer springs for adult-sized riders
Solid steel
Click here to view pricing and read reviews on BBRMotorsports.com.
---
ELKA TTR 110 Rear Shock Upgrade
Keeping with suspension mods, a TTR 110 rear shock upgrade can finalize the ultimate ride for one of these pit bikes. And when you think of a good rear shock, Elka should come to mind.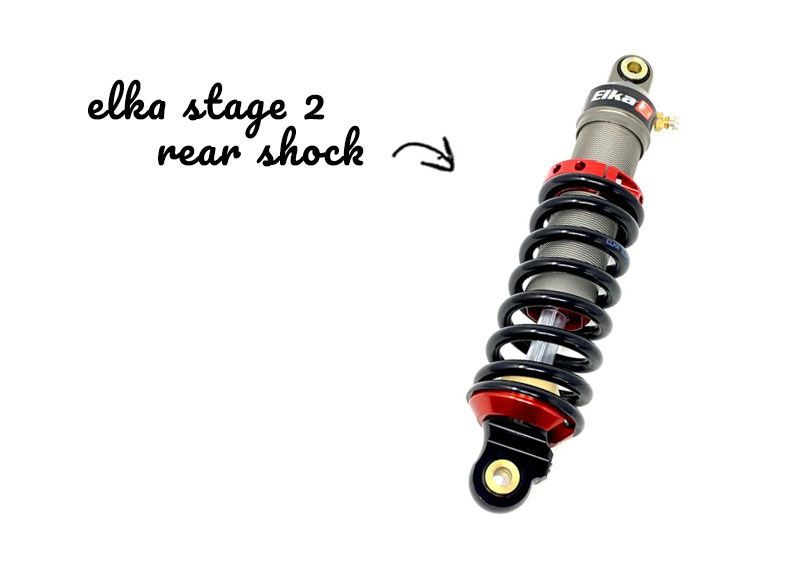 If you want a truly updated rear suspension, an ELKA shock is hard to beat. This aftermarket TTR 110 rear shock is one of the best options on the market. Forget bottoming out on every little jump, these things make mini adult pit bikes feel like the big boy bikes.
With this shock mod, the 110 TTR handles much better and it doesn't feel as clumsy and soft. Here are some of the highlights of this ELKA rear shock:
Adjustable spring preload
Adjustable rebound damping
Light weight hard anodized aluminum body
Large 16mm shock shaft
Low friction internals
Triple sealing seal head design
Click here to view pricing and read reviews on Amazon.
---
DNM Rear Shock
If you're sold on the idea of upgrading your rear shock, but aren't sold on the $500+ price tag that comes with the ELKA, DNM is a good alternative.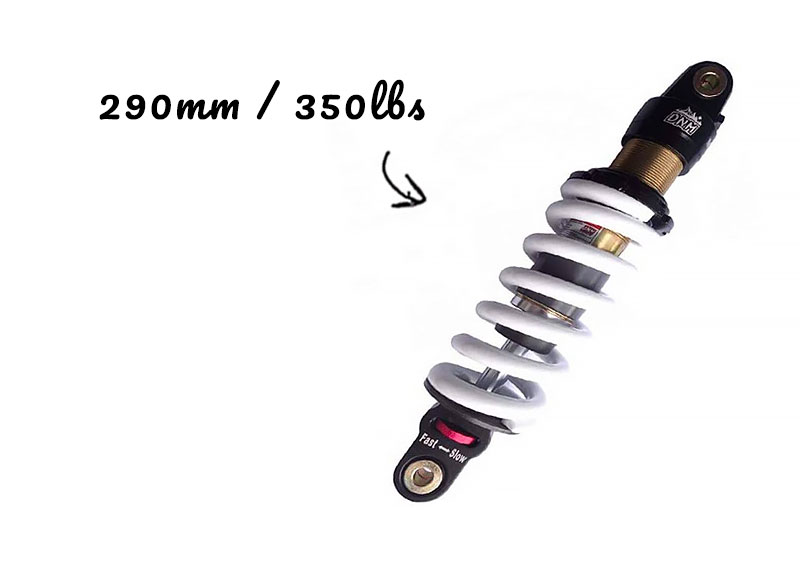 At less than a third of the price of the ELKA shock, the DNM shock provides a surprisingly high-performance ride. In fact, there are even 200+ pound adults who hit jumps and don't bottom out on 290mm.
Here are the main features of this DNM 290mm rear shock:
Adjustable preload
Adjustable rebound
Large shock shaft
Click here to view pricing and read reviews on Amazon.
---
Heavy-Duty Rear Shock
Moving down the line from the ELKA to the DNM, we now come to a heavy-duty BBR shock.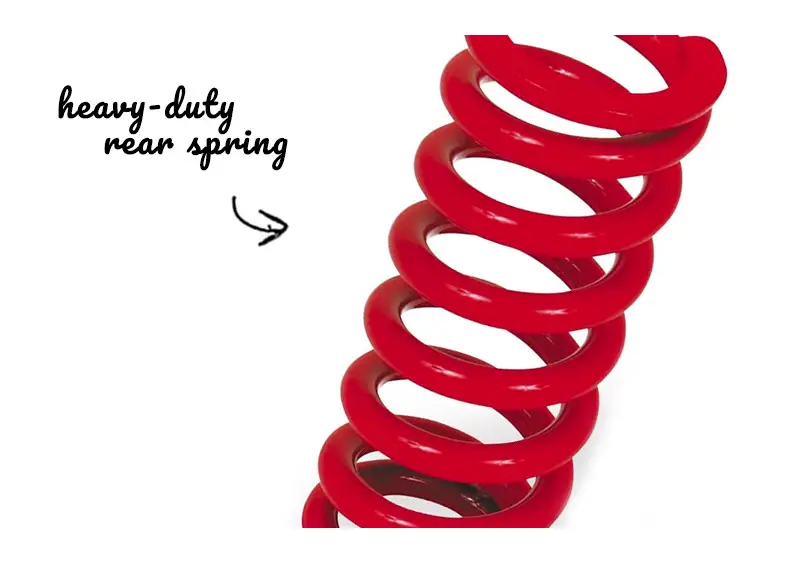 Although I wouldn't consider this to be the absolute best TTR 110 suspension mod you can do, it's definitely a respectable upgrade. Plus, when paired with a swingarm mod and/or other suspension mods, you can actually get a really good ride from these.
They're much stiffer than stock and they're designed for adults.
Here are the main features of this BBR rear shock:
30% Stiffer Than Stock (most models)
Preset and Stress Relieved (lasts longer)
Aircraft Quality Spring Steel
Powder Coated
Click here to view pricing and read reviews on Amazon.
---
Swingarm Conversion Kit
We've saved the best TTR 110 suspension upgrade for last. If you're looking for the ultimate setup for your mini 110 dirtbike, this BBR swingarm is it.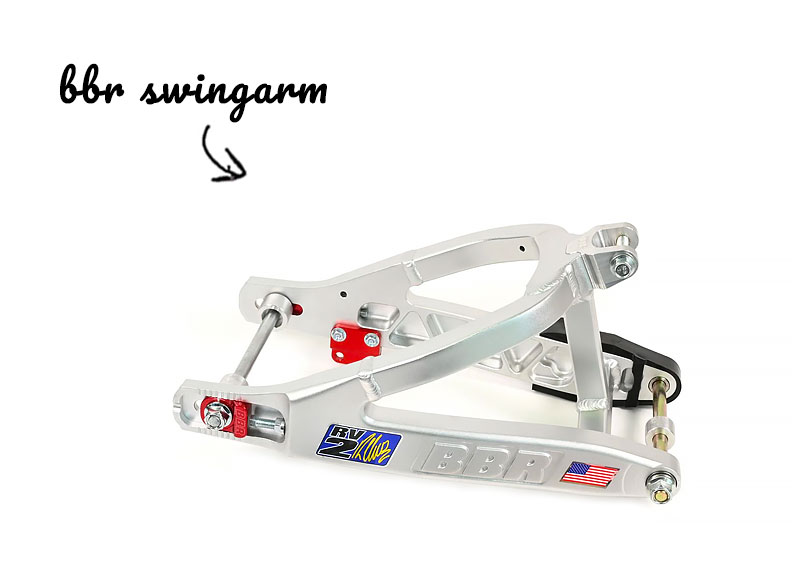 The TTR 110 BBR Swingarm kit is a motocross-style swingarm that bolts right up.
Not only do these perform better than the stock Yamaha swingarms, but they also install easily and look great. Here are some of the main features from this aftermarket BBR swingarm:
Forged 6061 aluminum side spars
TIG welded and heat treated to T6
Nice finished look
Ride height adjustable (standard or +1 inch)
Uses BBR CRF/XR50 chain guide on all models
Adds 1.75″ over stock length
Includes brake rod extender
Click here to view pricing and read reviews of BBRMotorsports.com.
---
TTR 110 Tires
Adding new tires to your Yamaha TTR 110 may not be a "mod," but it can certainly be a good upgrade.
Putting a new set of tires on your dirt bike will make a significant improvement to how well your dirt bike handles, especially if you have an old, worn-out tire front tire.
Obviously, there are a lot of different tire manufacturers out there making dirt bike tires, and there are a lot of good tires to choose from. And while much of this comes down to personal preference, I've listed my personal favorite below.
With that in mind, as long as you match your riding style and terrain to the tire, you ought to be okay. For example, there are some great tires out there like the Dunlop Geomax MX33, Pirelli MX32, etc. that you can choose from, but when it comes to the best TTR 110 tires, I'd have to go with the Michelin Starcross 5.
Although I don't have a TTR 110 (currently), I am running Michelin Starcross 5 dirtbike tires on my Honda. They are great! Are they perfect? Not quite.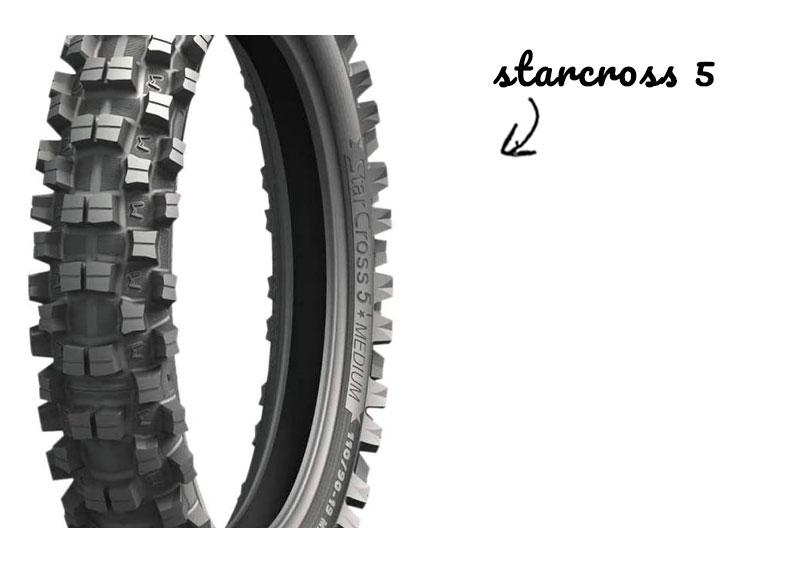 Since you've got to choose what type of riding you want to do, you've got to choose which tire will be best suited for that type of riding. With that said, I feel that a medium terrain tire is ideal for "all" types of riding, although you can choose a tire for hard, soft, or medium terrain. Also, it's important to make sure that you've got the best dirt bike tire pressure settings for each different terrain.
Usually, a medium tire is a good all-around tire and the type I tend to go with.
Click here to view pricing and read views of the Starcross 5 front tire (on Amazon), or click here to see the rear tire (on Amazon).
---
TTR 110 Skid Plate
If you do a lot of trail riding where there are rocks and roots, having a skid plate is nice.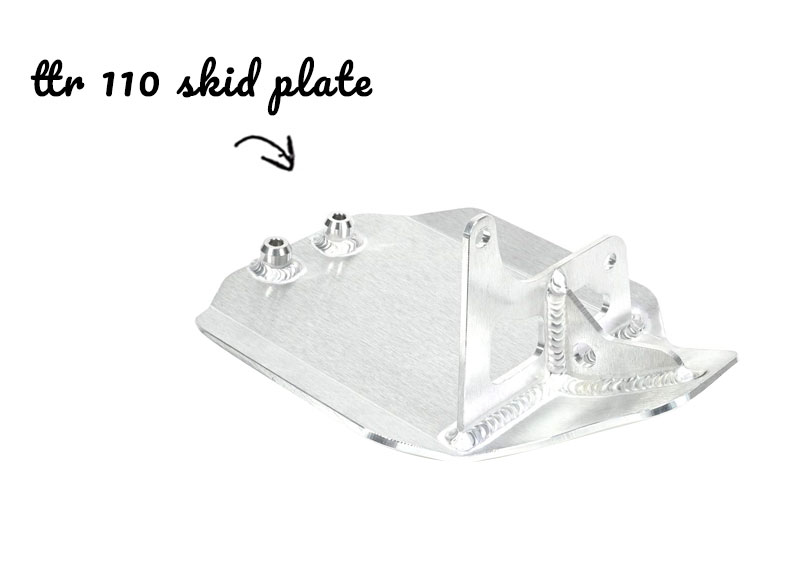 BBR Motorsports makes a solid TTR 110 skid. It isn't the cheapest option out there, but these skid plates are built tough and they install in minutes. These do add a little extra weight, so if you only ride tracks or groomed terrain, you may want to skip this one.
Here are some of the highlights:
6061 aluminum
TIG welded construction
Bolts on in minutes
Click here to view pricing and read reviews on BBR's website.
---
Cheap TTR110 Mods
Not every Yamaha TTR110 mod is expensive. Sure, the engine and suspension mods aren't cheap, but the following TTR110 upgrades shouldn't completely empty the wallet either.
NOTE: some of these seem like "vain" upgrades, but that's not necessarily the case. For example, aftermarket handlebars improve posture and positioning on the bike, wider footpegs improve footing and comfort, and even a set of new plastics isn't a complete waste because not only do they make your dirt bike look better, but it will be worth more (or at least sell easier) with a new set of plastics and graphics.
Wider Footpegs
Putting some aftermarket foot pegs on a TTR110 may not be the first thing that comes to mind, but this is actually one of the more popular 110 mods that you can do.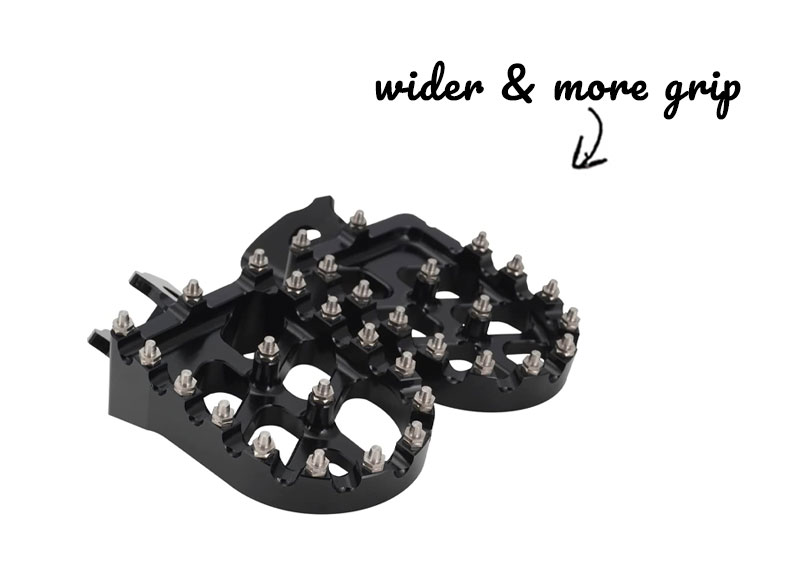 While the Yamaha 110 footpegs aren't the worst, they aren't exactly special either. Quite a few riders say that they don't have the best grip, and they're somewhat narrow.
Now, there are a few different companies that make good foot pegs for a TTR110, but you've got to keep an eye out for the cheap, wannabe sets.
Click here to view pricing and read reviews of a good (and cheap) set on Amazon.
---
Pro Taper Handlebars
Many adults who ride their TTR 110 pit bikes on trails and tracks change out the handlebars. The stock Yamaha bars aren't the strongest or best-performing bars out there, and that's where these Pro Taper handlebars come in.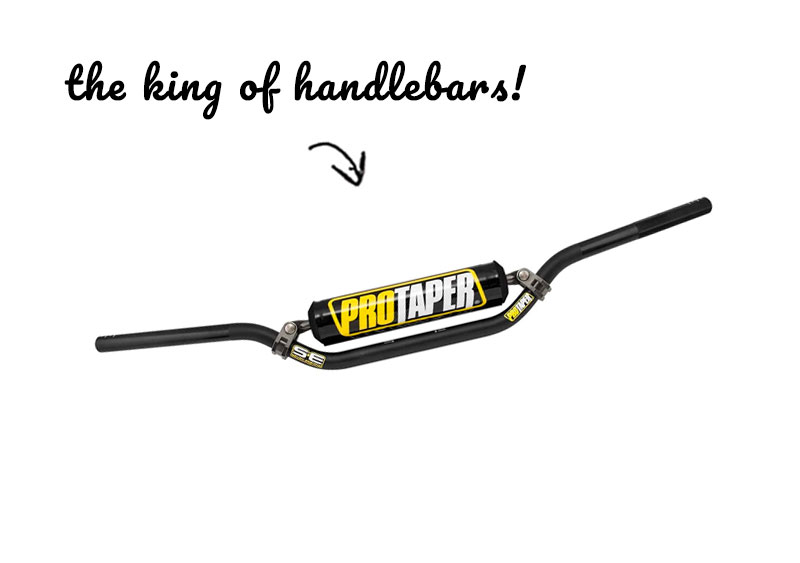 Not only do these Pro Taper handlebars fit nicely on the Yamaha TTR110, but they also give the bike a much nicer feel. They just feel like one of the big-boy bikes.
Note: If you have the stock clamps on your bike, go with the standard 7/8″ size handlebars. If you have aftermarket triple clamps, then you'll need to go with the 1 1/8″ size.
Click here to view pricing and read reviews on Amazon.
---
Aftermarket Plastics
Since having an extra set of TTR 110 plastics is a good idea, I recommend trying to get a new set as soon as possible. The main reason I recommend this is that I basically always buy a full set of plastics and graphics when I get a new bike so that I can have the originals as a backup. Is this necessary? Heck no, but it is nice when it comes time to sell the bike… or when you munch your front fender into a tree.
Okay even though buying a set of new TTR 110 plastics is certainly not necessary, it's something we all end up doing eventually. Whether it's to replace scuffed-up plastics or terrible graphics from the previous owner, or just to make it look "custom" and unique, adding plastics is a fairly cheap TTR 110 mod that can be done with minimal tools and effort.
While I can't say that I've put aftermarket plastics on all of my dirt bikes, I have put them on quite a few. Here's a cool before and after that I found of my 2015 Honda CRF450R.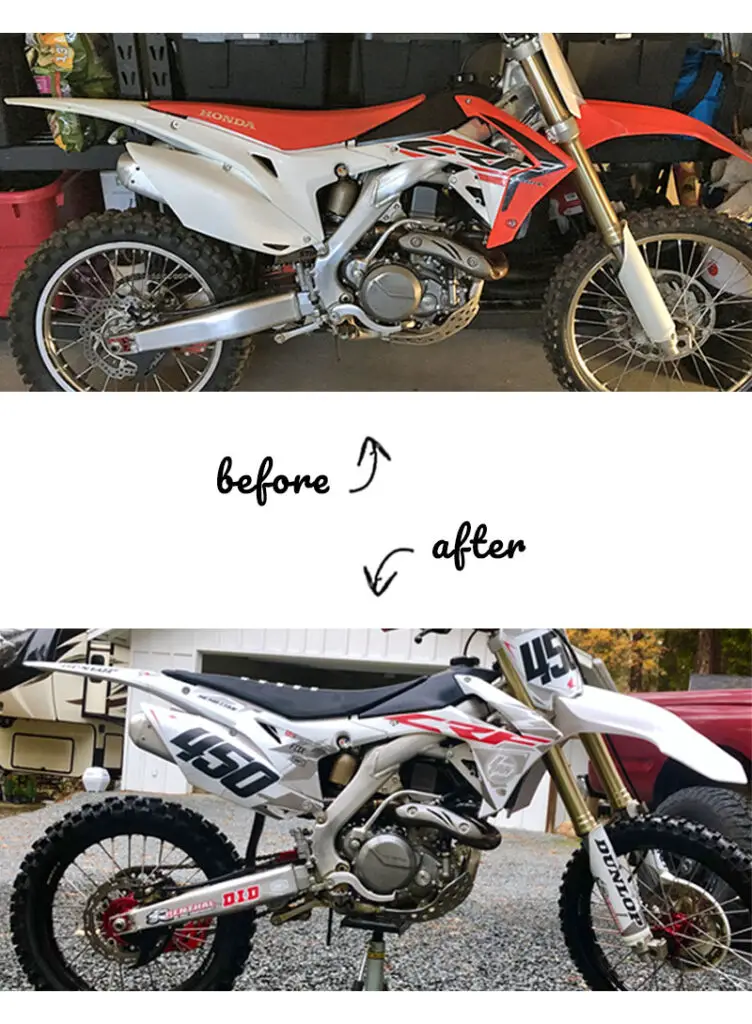 I like most of it, but I would have changed a few items (the number "450" on a 450 is a bit of a cliché and not cool).
Anyway, if you do decide to buy aftermarket plastics for your TTR, there are plenty of affordable options out there. For example, you can get a full set of plastics for less than $100. Even the non-standard "blue" colors like black or white are cheap.
Click here to view pricing and read reviews on Amazon.
After you have bought your plastics, then you can start to look into the graphics. Of course, you'll want to put your new graphics on your fresh plastics to make the job easier, and for best results.