Honda CR85 Review (Specs, Top Speed, Height, Horsepower, etc.) – Worth Buying?
BraapAcademy.com earns a small commission from qualifying purchases.
This does NOT cost you extra.
Are you looking to get a Honda CR85, or do you own one and you need some certain info about it? Either way, I've put together this full review of the dirt bike to cover all of the most important specs like the top speed, weight, height, horsepower, and more.
Overall, these 85cc Honda's are awesome dirt bikes, but they definitely are NOT the right bike for everyone.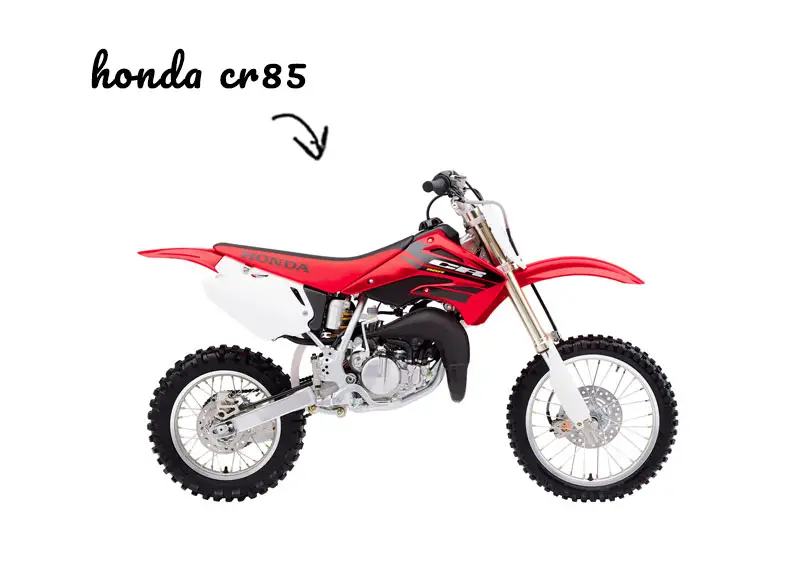 Why would such an iconic two-stroke not be a good choice? It depends on the type of riding you do, and how long you've been riding.
Overall, this IS an awesome race bike, but a terrible beginner's bike. If you're new to riding, I recommend you check out the older Honda CRF 230 or one of the new CRF125F or CRF250F models. No single dirt bike is perfect, but overall, these are cool 85cc dirt bikes.
Whatever the case, this Honda CR85 review will cover all of the dirt bike's specs and characteristics, like top speed, horsepower, weight, seat height, and the maintenance required to keep these running strong.
---
What is a Honda CR85?
A Honda CR85 is a single-cylinder, 2-stroke racing machine.
After a solid run, Honda replaced the CR80 with the CR85R in 2003. Like its predecessor, the CR85 is one of the more extreme racing bikes out there. These small 2-stroke engines are built in a way that makes them an "all or nothing" type of dirt bike when it comes to the powerband.
In short, the Honda CR85 is a race bike and not a trail bike. We'll get into it more.
Who Should Buy?
Warning: The following may be hard to read in anything BUT a Jeff Foxworthy accent, but still true. Here are reasons NOT to buy one of these:
If you are…
a beginner
looking for a dirt bike to learn on
wanting to put around
looking for a dirt bike for trails
don't want to deal with mixing gas
… you should not buy this dirtbike.
While it may sound like I'm coming off harsh, I'm not. I just think it's important to know what type of dirt bike this is and is not. Here are reasons to buy one:
If you are…
Prefer a motocross bike characteristics and feel
You already know how to ride and have experience
Aggressive and fast riding is the plan
… you should consider buying this dirtbike.
Basically, just know that this is not a good dirt bike for beginners or casual riding. Could a beginner ride it and still have fun? Probably, but this is definitely a race bike and it isn't an easy bike to ride.
Honda CR85 Specs
Here are all of the CR 85 specs taken straight out of a 2005 Honda CR85 owner's manual.
Engine Specifications
Chassis Specifications

Miscellaneous
Colors
Red
Model ID
CR85R
CR85RB
Here's a recap of the most important specs:
Manufacturer: Honda
Model Name: CR85, CR85R, CR85RB
Dirt Bike Type: Offroad, Motocross
Years Made: 2003-2007
Seat Height: 32.4 inches (R), and 34 inches (RB)
Dry Weight: 154 pounds (R), and 159 pounds (RB)
Top Speed: ~65 mph
Horsepower: ~20 HP
Sparkplug: NGK BR10EG
---
CR85 cc Engine & Transmission
Honda is one of the best dirt bike brands in the world. And in my opinion, the best. One of the things that makes a Honda dirt bike so good is its engine.
These 85cc engines are well-built and quite durable, but they aren't perfect. These motors are extremely snappy because basically all of their power hits at once. If you're looking for a dirt bike to lug around or to do some put-put trail riding, this is one of the worst dirtbikes for that. However, if you're looking for an adrenaline rush of power that hits all at once, these are a fun option!
Horsepower
A Honda CR85 makes 20 horsepower at 11,000 RPM. At first, 20 HP from an 85cc engine seems pretty cool, and it is. After all, the Honda CRF125F horsepower is only 9 HP. However, a high HP number doesn't always translate to dirt the way you might think.
Being a two-stroke race bike, the CR 85 is a screamer. It lacks low-end torque and doesn't have any "roll-on" power, but once the powerband hits, hold on tight.
Below are the other dirtbikes in this class (one that isn't, but it's a Honda) along with their horsepower numbers:
Honda CRF150R – 23 horsepower (races in "Supermini" but not in the 85cc mod or stock class)
Kawasaki KX85 – 25 horsepower
Yamaha YZ85 – 24 horsepower
Suzuki RM85 – 22 horsepower
Top Speed
If you're wondering exactly how fast a CR85 can go, you'll have to test one yourself. Depending on you, the terrain, and any mods, you should expect a Honda CR85 top speed to max out around 65 MPH.
As mentioned, certain mods and upgrades to the dirt bike can (and do) alter the final top speed. Of course, if the dirtbike has a big bore kit, taller gearing, an aftermarket exhaust, or some other high-performance upgrade, that will make a difference. But overall, 65 MPH is quite fast for a mid-size dirt bike. Compared to the CRF150R top speed of 60 MPH, it's obvious that this 85cc is quite fast.
That said, a stock Honda CR85 will usually max out at 65 MPH.
Maintenance
Because the CR85 Honda dirt bike is a competitive race bike, it does require frequent maintenance, but it isn't overly complicated to do.
As long as you keep up with Honda's maintenance schedule, these bikes should run strong for quite a while.
CR85 Maintenance Schedule
Below is the list of all of the different maintenance items that I grabbed from the 2005 Honda CR85R owner's manual. As you'll see, most of the items require "Inspection" after 2.5 hours.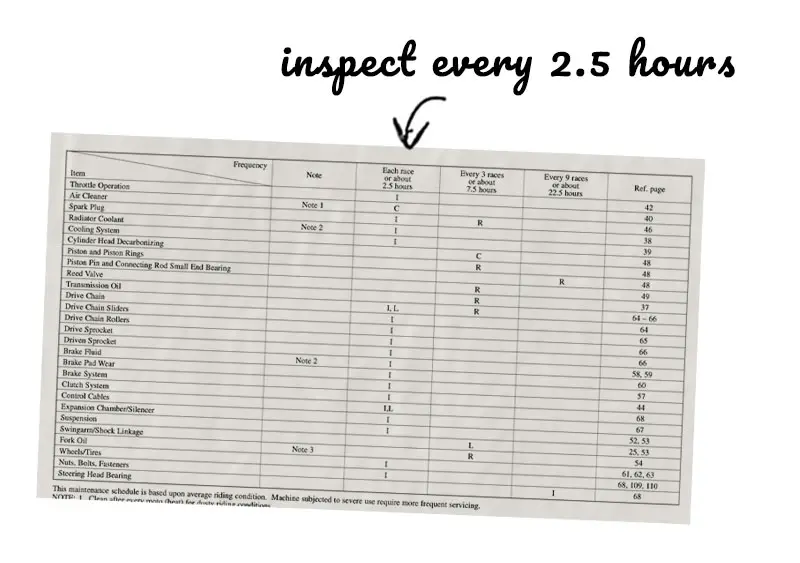 The owner's manual states that the inspection, cleaning, adjusting, lubricating, or replacing (if necessary) of most items is needed after every 2.5 hours, or after each race. Additionally, the manual lists additional items to be looked at after every third race (7.5 hours), after every ninth race (22.5 hours), and/or as required.
This is actually slightly less often than some of the modern race bikes.
After each race (or 2.5 hours)
Throttle Operation
Air Cleaner
Spark Plug
Radiator Coolant
Cooling System
Nuts, Bolts, Fasteners
Wheels/Tires
Drive Chain, Sliders, Rollers
Drive Sprocket
Driven Sprocket
Brake Fluid
Brake Pad Wear
Brake System
Clutch System
Control Cables
Expansion Chamber/Silencer
Suspension
Every 3 races (or 7.5 hours)
Cylinder Head Decarbonizing
Piston and Piston Rings
Spark Plug
Reed Valve
Transmission Oil
Swingarm/Shock Linkage
Fork Oil
Every 9 races (or 22.5 hours)
Piston Pin and Connecting Rod Small End Bearing
Steering Head Bearing
Since you aren't going to be getting your hands on a brand-new CR85, you aren't going to need to worry about the break-in procedure. As stated, most of the items on the list require attention (usually an inspection) after every 2.5 hours, but some are more spread out.
If you don't like maintaining your dirt bike, you'll probably want to consider a different bike with fewer maintenance requirements.
What motor oil does a Honda CR85 use?
The two-stroke CR85 takes the same oil as the majority of their competition dirt bikes: Pro Honda HP Trans oil, Pro Honda GN4 or HP4 (without molybdenum additives) 4-stroke engine oil, or an equivalent.
Transmission oil: SAE 80W/85W
Engine oil: SAE 10W–40
Premix Gas/Oil: PRO Honda HP2, 2-Stroke Oil (32:1)
---
Honda CR85 Handling
The CR85 is a decent-handling motocross bike.
Being a race bike, the suspension is much stiffer than the suspension on a trail bike like the CRF125F. Also, because it is a mid-size race bike, it is fairly short and turns easily, but that makes it not as stable riding in a straight line or at high speeds.
All in all, these Honda 85cc dirt bikes do handle great.
Weight
A Honda CR85R weighs 154 pounds, and the CR85RB weighs 159 pounds.
Compared to their competition's weight, the Honda is competitive. Here are the "wet/curb weights" of the competition:
Kawasaki KX85 weighs 165.3 pounds
Yamaha YZ85 weighs 161 pounds (YZ85LW weighs 165 pounds)
Suzuki RM85 weighs 161 pounds
Does a Honda CR85 have a weight limit?
Yes, the Honda CR85 has a weight limit of 150 pounds. If you are heavier than 150 pounds, you may be able to away with riding one, but you may want to upgrade the suspension.
Seat Height
The Honda CR85 seat height measures 32.4 inches, and the CR85 Big Wheel seat height measures 34 inches.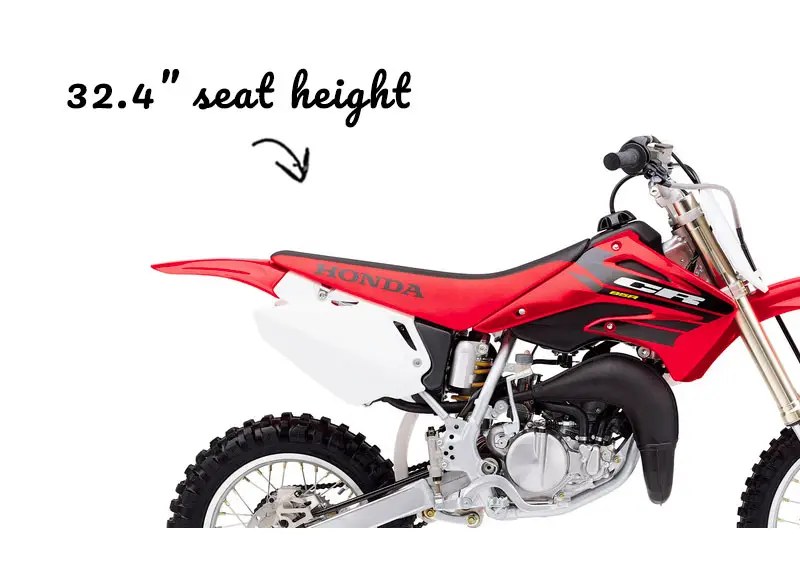 As a rule of thumb, a dirt bike with a seat height of 32.4 inches is good for someone who is approximately 5'2″-5'4″ tall. According to the CDC, the average age of children who are 5'2″-5'4″ is 12 years old. Now, that doesn't mean that these are good dirt bikes for 11-year-olds and 12-year-olds just because the seat is a good height. These are not good for beginners, but as long as your child has experience riding, and wants an extreme dirt bike, this is a good choice.
On the other hand, if you (or your child) are around 5'4″-5'6″ tall, then the CR85RB's seat height of 34 inches may be a better fit.
Compared to other dirt bikes in the same class, the CR85's seat height is right in there. For instance, the KX85 and the YZ85 have a seat height of 33.1 inches, while the RM85 has a seat height of 33.5 inches.
Suspension
These 85 Honda dirt bikes come equipped with solid racing suspension. Although the suspension may not be as good as some aftermarket options, it is adjustable and performs well for what it was intended.
The front forks and the rear shock are both adjustable, with adjustable compression and rebound damping.
But just because the suspension is adjustable, doesn't mean that these are good put-put bikes. These are built to go fast. That means they handle and perform better at higher speeds than at lower speeds.
The suspension is stiff and designed for jumps, whoops, and high speeds. With that, the suspension is not great for slow trail riding where you need it to be softer to get traction.
Front suspension: Telescopic fork (R and RB – 9.6 inches of travel)
Rear suspension: Pro-link (R-10.8 inches of travel, RB-11.4 inches of travel)
---
Is the Honda CR85 a Good Dirt Bike?
The Honda CR85 is a solid dirt bike that is made by a great dirt bike company. However, it is not a good dirt bike for everyone or every type of riding. In fact, it's a terrible trail and woods bike. If that's what you're looking for, this isn't it.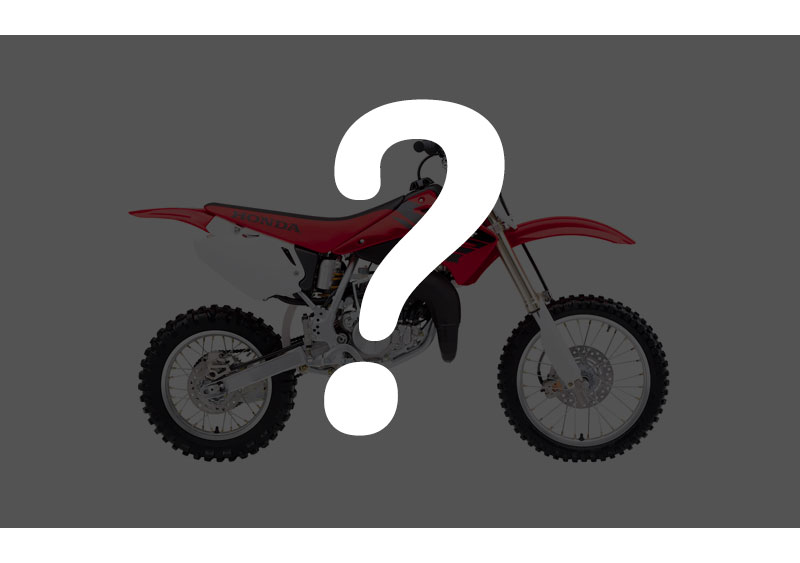 Designed to be a competitive motocross dirt bike, the CR85 has specific characteristics that are either "good" or "bad" depending on what you're looking for.
For example, this 2-stroke engine seriously rips. But, although it pulls on the top end, it has virtually zero low-end power. It's basically an "all or nothing" type of motor.
While a screaming 2-stroke is fun on a track or at the dunes, it's not the type of power that you would want for a trail bike or a beginner dirt bike. Here are some of the pros and cons of these 85cc dirt bikes.
Positive Reviews
Nice, adjustable suspension
Honda quality and reliability
Fairly cheap to rebuild
Fast and fun to ride!
Light and easy to "throw around"
Negative Reviews
Not good for learning how to ride
No electric start
Abrupt, hard-to-control power
Not stable at low speeds
Buyers Guide (Best Year, Pricing, etc.)
Okay, now that we've looked at the specs, positives, and negatives, here are a few things to consider if you're thinking about buying one:
Where to buy
Who to buy from
Best year
Value
Where to Buy?
Since Honda is no longer producing these, you're going to have to find a used one.
Finding a used CR 85 isn't easy as it used to be, but it is doable.
The top three places that I've found for buying used dirt bikes are Facebook Marketplace, Craigslist, and Cycle Trader, but there are a handful of others as well.
As long as you can see the dirt bike in person, sit on it, start it up, inspect it, and hopefully, give it a short test ride, you should be good to go. I can't imagine buying a used dirt bike without checking it out in person… although I did buy a Husqvarna SMR510 without seeing it in person. Risky, I know! But, it worked out okay.
Best Year
Since the CR85 was only made from 2003-2007, there were not too many significant changes from year to year. Yes, there were some changes to the graphics and plastics each year, but not always performance updates.
In 2005, Honda did change the exhaust port (manifold) as well as the ignition.
If you are planning to buy one, you really can't go wrong buying one year instead of another. Although, if you can get an '05-07 that would be ideal.
How much does a Honda CR85 cost?
Sadly, Honda is no longer producing the 2-stroke, CR series. The last year of the Honda CR85 was 2007 and here is the MSRP price for what they cost brand new:
BASE MSRP: $5,790*
*Destination Charge: I'm sorry… I don't know!
*Freight Surcharge: Again, I'm sorry… I don't know.
Most likely, you would have ended up paying around $6,000 for a 2007 Honda CR85R after the dealer added the price of the destination and freight charges.
How much is a used Honda CR85 worth?
Assuming that you are thinking about buying a used CR 85 and you aren't sure what to pay, here's what I (and probably you) would do: Track down as many CR85 listings as I could find and compare pricing.
Assuming that you will be able to find a few different Honda 85 dirtbikes for sale, you can get a solid idea of what you should expect to pay in your area. To do this, I recommend starting off by looking up the value of Kelley Blue Book and/or JD Power.
According to the JD Power price, a used 2004 Honda CR85R is worth $2,899.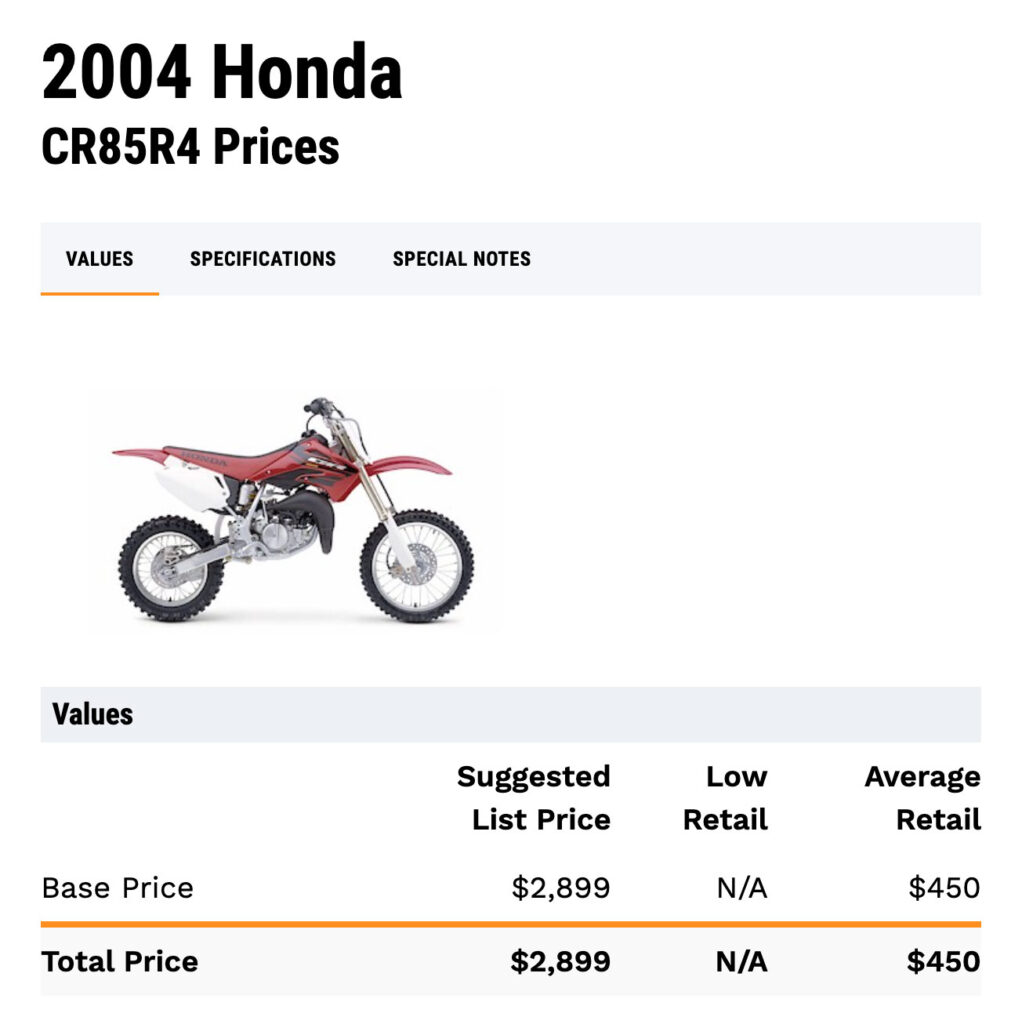 Generally, the JD Power value will be very similar to the Kelly Blue Book value, but KBB doesn't list a value of a CR85R or CR85RB.
Is the JD Power price accurate?
Since JD Power values a Honda CR85 at around $3,000, let's see if that's really what these dirt bikes cost. (SPOILER: you should be able to find one cheaper than $2,900.)
After searching Facebook Marketplace and Craigslist to see how many used Honda CR85 dirt bikes I could find, I was able to get an idea of how much you should expect to pay. Not too surprisingly, there weren't very many for sale, and I did have to search in locations that were more than 100 miles away. (not ideal!)
Anyway, after expanding my search radius beyond what I would prefer, I was able to find a few Honda 85cc dirt bikes for sale. Here's what I found:
2002 Honda CR85 – $1,800 (looks really nice!)
2004 Honda CR85R – $1,000 (looks a bit dirty and rough)
2005 Honda CR 85 – $3,500 (supermoto kit, looks nice, but not my jam)
Of the three used dirtbikes that I did find, the 2002 CR85 looked like a serious option!
Here's the ad:
2002 Honda CR85– $1,800
"2002 cr80. Title in hand, Green sticker, Tags up to date, Bike runs great, Top end recently rebuilt, posting it for brother he's looking to get a quad. Will provide more pictures if wanted. $1,800 firm or trade for quad, must have title."
After looking at these dirt bikes on FB, CL, and Cycle Trader, it seems like JD Power's value of $2,899 is a bit high. However, they are hard to find!
Not only was it difficult to find a used Honda CR85, but when I did they were actually cheaper than the estimated value (which seems backward).
Therefore, you should expect to pay somewhere between $1,500-2,500 for a nice used CR 85.