Honda CRF150R Review (Price, Top Speed, Height, Weight, Horsepower… All the Specs)
BraapAcademy.com earns a small commission from qualifying purchases.
This does NOT cost you extra.
Are you considering a Honda CRF150R dirt bike? If so, great… its a solid bike. That being said, it is good to know all of the pros and cons that come with owning (and riding) one of these dirt bikes.
It's also nice to know what type of riding this dirt bike is designed to do, and what types of riding it's not designed to do.
In addition, this Honda CRF 150R review will cover all of the specs and need-to-know items like the seat height, top speed, horsepower, and more. Also, we'll look at the overall characteristics this Honda 150R CRF dirt bike.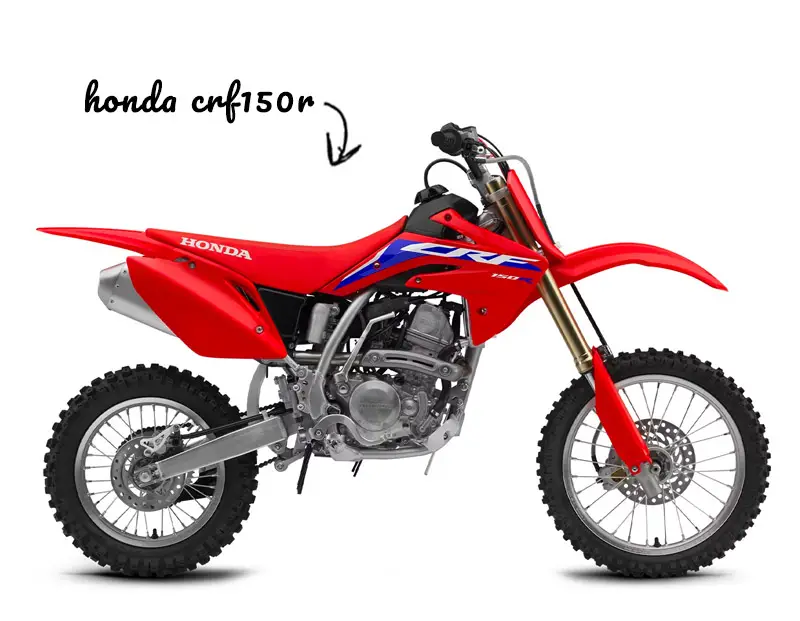 DISCLAIMER: This review contains my personal opinions about this bike. I try to keep things as unbiased as I can… but at the end of the day I am a fan of most Honda dirt bikes. Also (just as important) I am no expert racer, trail rider, or any other type of paid professional. Basically, my 35+ years riding has consisted of trial-by-error and learn-as-you-go.
But hey… I had fun learning! 🙂
Anyway… here are all of the Honda CRF 150 R height and weight, and other, specs including the maintenance schedule, handling characteristics, and some of the nuances of this Honda CRF150R dirt bike.
---
What is a Honda CRF150R?
When it comes to the Honda CRF150R (and the CRF 150R Expert), this is one of the best dirt bikes for 12 year olds and beyond, but it's not necessarily the right choice for every rider.
Why not for every rider? The Honda CRF 150R is a race bike. If you are looking for a "beginner" bike that will be easy to learn on and easy to build confidence on… I really do think there are better choices. However, this isn't the worst bike for beginners either. In fact, it did make the list as one of the best Honda dirt bikes for kids that I could find.
Overall, this is an ideal bike for a young (or smaller) rider who has interest in racing, or at least likes to ride tracks and go off jumps, pounds whoops, ride long wheelies, etc.
History
Honda made the CRF 150 R dirt bike from 2007 to 2023 (present day). Here's a little more background from Wikipedia:
The Honda CRF150R is a racing dirtbike that was released in 2006 for the 2007 model year. It competes in the Mini Class against many 85 cc (5.2 cu in) two-stroke bikes; however, it cannot race in the 85cc mod. or stock class. It must race in the Supermini class.
As far as any big changes or major overhauls go, the Honda CRF 150R history is fairly steady… as in, not much on dirt bike has changed throughout the years.
If you're looking to purchase a used CRF150R, check out the buyers guide below for a good price range and any of the pros and cons that you need to take into consideration before buying one.
Is it Street Legal?
Is a Honda CRF150R street legal? The short answer: no… There is a longer answer, but it might still end with a "no" unless you're living in a state that has more lenient laws and/or requirements.
If your state's laws and regulations allow it, you may be able to make your 150 street legal if you put a lighting kit, blinkers, and other any other required mods on the bike. But to be fair – I'm not 100% familiar with each state's laws on this. Long story short, you're going to have to do some more if this is a "must" for you.
However, if you really do need a street legal dirt bike, there are some other good street legal Honda dirt bikes that you could look into.
Honda CRF150R Specs
Here are the CRF 150 R specs that I got from Honda, so if something looks off, you'll have to blame them. 😉
Engine Specifications
| | |
| --- | --- |
| Engine Type | 150cc liquid-cooled single cylinder |
| Bore and Stroke | 66mm x 43.8mm |
| Compression Ratio | 11.7:1 |
| Valve Train | Unicam SOHC; four valves per cylinder |
| Induction | 32mm Keihin flat-slide carburetor with Throttle Position Sensor (TPS) |
| Transmission | Close-ratio five-speed |
| Final Drive | #420 chain; 15T/50T |
Chassis Specifications
| | |
| --- | --- |
| Front Suspension | 37mm leading-axle inverted Showa cartridge fork with rebound- and compression-damping adjustability; 10.8-inch travel |
| Rear Suspension | Pro-Link Showa single shock with spring-preload, rebound- and compression-damping adjustability; 10.7-inch travel |
| Front Brake | Single 220mm disc |
| Rear Brake | Single 190mm disc |
| Front Tire Size | 70/100-17 |
| Rear Tire Size | 90/100-14 |
| Rake (Caster Angle) | 27° |
| Trail | 3.1 inches (78mm) |
| Wheelbase | 49.6 inches |
| Seat Height | 32.8 inches |
| Curb Weight | 185 pounds (Includes all standard equipment, required fluids and a full tank of fuel) |
| Fuel Capacity | 1.1 gallons |

Miscellaneous

In summary, the main Honda CRF 150R specifications, as well as a few other important "things to know" that weren't included in that press release from Honda:
Manufacturer: Honda
Model Name: CRF150R, CRF 150 F, CRF 150R, CRF150 R
Type: Off-road, Trail Bike
Years Made: 2007-2023 (present)
Seat Height: 32.8" (83cm)
Weight: 185 lbs (full tank of fuel, ready to ride)
Top Speed: 60 mph
Horsepower: 23 hp
---
Honda CRF 150cc Engine & Transmission
It comes as no surprise that the CRF 150R dirt bikes are well-known for being durable and dependable.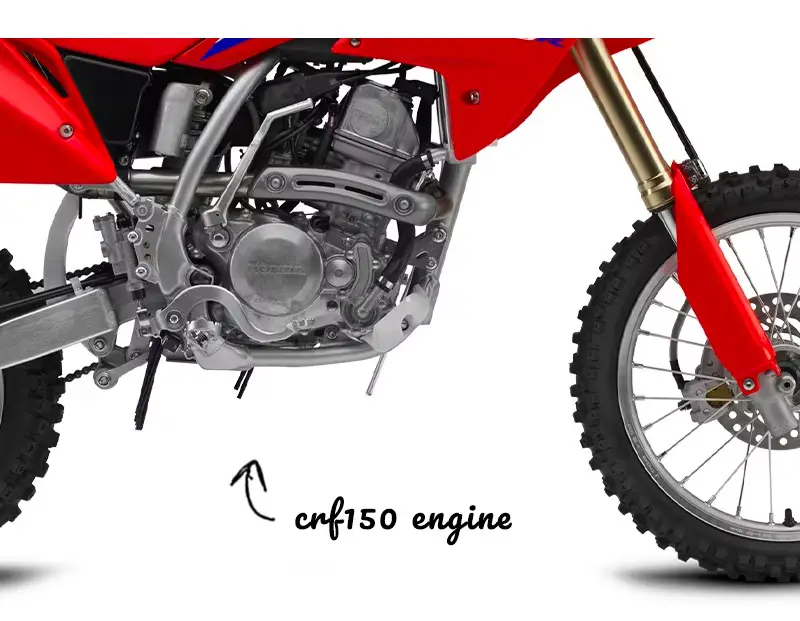 Honda has cemented themselves into one of the top positions for best dirt bike brands. And because of their easy-to-maintain, "run-forever" engines, the CRF150R maintenance is usually quick and simple to preform.
In addition to being built strong, the CRF150R Honda is a snappy, fun-to-ride race bike. However, these dirt bikes aren't the best choice for beginner riders.
Horsepower
The Honda CRF150R puts out 23 horsepower and 10.4 ft.lbs.
Depending on the dirt bikes that you're comparing that to, 23 HP is a fairly impressive number considering it's only a 150cc engine. For example, the TTR 125 horsepower power is only rated at 9 HP, while the TTR 225 hp is 16.
To be fair, the TTR is a beginner trail bike, where as the 150R is a full-on race bike. With that in mind, these engines give the CRF150R great torque and horsepower for racing and riding.
Still want more? There are some effective CRF 150 mods that you can do to increase the horsepower, however, the stock 150 cc engine is solid straight from the factory.
Top Speed
The top speed for a Honda CRF 150R is about 60 mph.
Apparently, we all want to know just how fast a Honda CRF 150R will go… Here's a short video I grabbed off of YouTube that shows a 150 lb, 5'7″ man reaching a top speed of 61 mph.
Depending on your size and weight, the final top speed may be slightly different for you. For instance, a guy 250 lb man is probably not going to be able to get the bike up to the same speed as 150 lb man. But that's okay, because having a faster top speed doesn't necessarily mean that you're going to be winning races… you've still got to be able to ride.
So after all of that, the Honda 150R will go anywhere from 55-65 MPH, stock. But remember, something as simple as a different sized sprocket can impact the top speed of a motorcycle significantly.
Engine Specs
Engine Size: 150cc
Horsepower: 23 HP
Engine Type: 150cc liquid-cooled single cylinder
Fuel Capacity: 1.1 gallons
Fuel Type: Petrol / Gasoline
Induction: 32mm Keihin flat-slide carburetor with Throttle Position Sensor (TPS)
Spark Plug: CR8EH-9 (NGK), U24FER9 (DENSO)
Maintenance
Although this race bike is a Honda, it's still a race bike and does need regular maintenance. The 150R maintenance schedule requires you to inspect, change, or make adjustments to the bike on the following time table:
after 1 race or about 2.5 hours
every 3 races or about 7.5 hours
after 6 races or about 15.0 hours
every 9 races or about 22.5 hours
Yes… these bikes do require regular maintenance to keep them race-ready.
If you go with a race bike like this, it's important to have things like a dirt bike lift stand, a good digital torque wrench, some dirt bike tire changing tools, and everything in between, to help keep the bike maintained easier.
What motor oil does a Honda CRF150R take? Honda GN4 10W-30
Oil Capacity:
After draining & oil filter change: 0.62 US qt (0.59 l)
After draining: 0.59 US qt (0.56 l)
Honda CRF 150R Handling
When it comes to handling, these motocross bikes do great on the track and in aggressive riding situations, however they aren't the best choice for trail riding.
Although they have a short seat height and great (adjustable) suspension, the high-RPM power delivery and lack of low-end torque is not good for tight and slow trail riding situations.
Here are a few of the different characteristics that will determine how well a bike handles:
Seat height
Suspension
Weight
Width
Wheelbase
Engine
Transmission
Tires (size and type)
Yeah… basically everything! So depending on the type of riding you want to do, this MX should handle good, but it's still designed to be a track bike.
Weight
Since the CRF150R weight is only 185 pounds (wet), this Honda motocross bike is light weight. Of course, it's going to be lighter than most trail bikes, but what's impressive is that it weighs close to the same as the weight of a XR 100.
Overall, it's not a full-size dirt bike, but it's not a small dirt bike either.
Seat Height
The seat height of a Honda CRF150R is 32.8 inches off of the ground.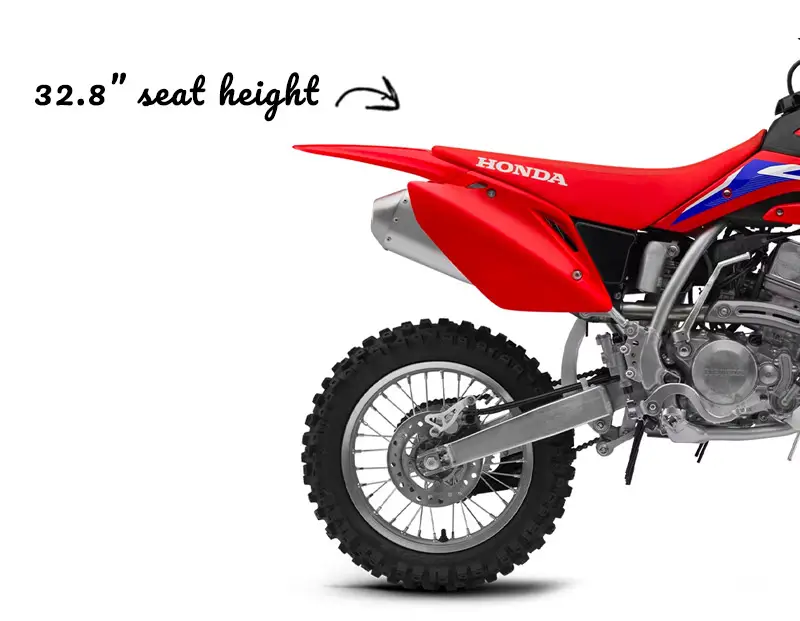 This is a good height for riders who are about 5′ and taller… although this can depend on the rider as well.
Suspension
The suspension on these CRF 150R Honda motocross bikes is quite good. Again, these are race bikes so the front and rear suspension is going to perform best on tracks and track-like riding. Think jumps, whoops, accelerating out of tight turns, etc.
Here is an easy way to look at what (and who) the suspension is good for, and what it's not good for:
The suspension is Good for…
Light weight riders, aggressive riding, jumps, whoops, braking, accelerating.

The suspension is Bad for…
Heavy riders, putting around with low RPMs, slow and tight-radius turns in the woods.
The front forks on these bikes have 10.8 inches of travel, while the rear shock is basically the same with 10.7 inches travel.
Front Suspension: 37mm leading-axle inverted Showa cartridge fork with rebound- and compression-damping adjustability

Rear Suspension: Pro-Link Showa single shock with spring-preload, rebound- and compression-damping adjustability
Handling Specs
Chasis
Rake (Caster Angle): 27°
Trail: 3.1 inches (78mm)
Brakes
Front Brake: Single 220mm disc
Rear Brake: Single 190mm disc
Wheels and Tires
Front Tire: Dunlop MX51 (70/100-17)
Rear Tire: Dunlop MX51 (90/100-14)
---
Is the CRF150R Good?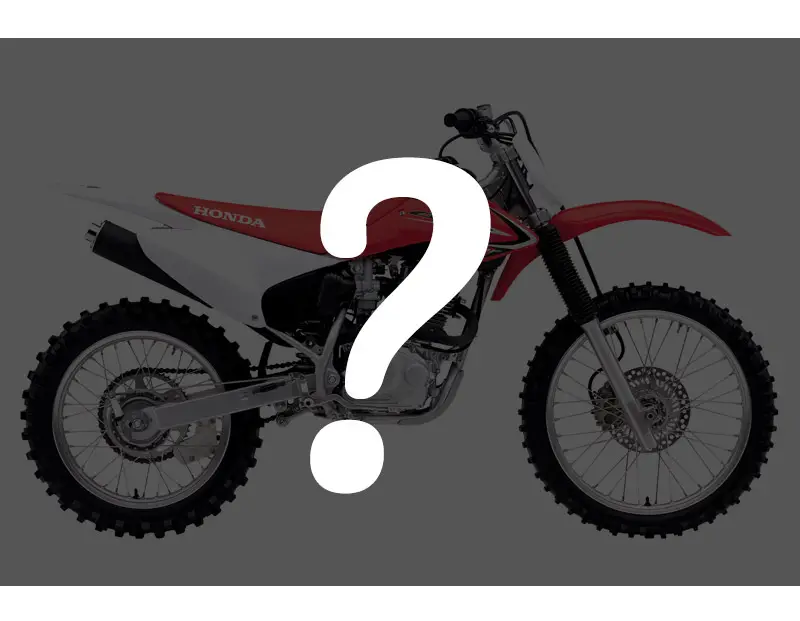 Yes, a Honda CRF 150R is great dirt bike.
The 150cc engine makes for a fun and snappy high-performance race bike, while the suspension, chassis, and even the Dunlop mx tires allow a rider to handle the bike confidently.
Having said that, this is not the right bike for everyone – even if you are the right size. In fact, I would say that the Honda CRF150R is not a good bike for beginners.
Generally, I recommend a trail bike for learning on because the horsepower and torque delivery is much more controllable. But, if you're buying a bike to get into racing (and not just trail riding), then this would be a fine bike to learn how to race on.
Reasons to buy:
Overall, these are fun-to-ride and easy to maintain for a motocross bike, which makes them a good choice for the following reasons:
Low(ish) maintenance
When it comes to race bikes, you can't escape shorter maintenance intervals, but these are well built machines that aren't too difficult to maintain.

Light weight
Are you looking for a dirt bike that you can "man" handle? The overall 185 lbs feels light and nimble, giving the rider confidence.

Good for learning (to race)
Although this is a race bike, it's quite controllable and easy to ride. If you're eyes are set on the track, this is a solid choice for the right sized rider.
Reasons not to buy:
As we've established, these are high-performance race bikes, which means they aren't the right bike for every type of ride or rider. Here are a few of the main reasons NOT to buy one of these:
High performance race bike
Competition race bikes are finicky. Performance comes at a cost, and in this case it's in the form of increased maintenance and harder ride-ability.

Bad for learning (to ride)
If you're a true beginner who's never ridden, this is a tough bike to learn on. It's a race bike and it will stall more often, be more difficult to start, and have less low-end power for riding at slower speeds than a trail bike.
Overall, the 150R is a great dirt bike for the right rider, in the right circumstances.
Positive Reviews
Honda dependability
Great suspension for lighter riders
Low seat height
Easy to maintain
No mixing gas
Lightweight
Negative Reviews
No electric start
Requires mods to be a good trail bike
Not meant for riders over 150 lbs
Buyers Guide (Best Year, Pricing, etc.)
Well, you've read (maybe just scrolled) all the way down to here, so you must be considering one of these. If so, here are the first places that I'd look.
Of course, there are several other places to find a used Honda CRF150R for sale like on Cycle Trader, Moto Hunt, MX Locket, etc., but I generally just stick to these.
Why these? If you find a CRF 150R from one of these four, you will have the opportunity to see the bike in-person. You'll be able to sit on it, start it up, and give it a little test ride (depending on the dealer).
I think you'd agree that sitting on and riding around a little is a "must-do" before buying a dirt bike.
What is the best year for a Honda CRF150R?
Choosing the "best year" for a CRF150R isn't too critical, or too complicated.
Is there a year that's better than others? Yes, technically the newer ones are better, although only slightly.
However, if you are planning to buy a used 150R, I'd recommend looking for a 2012 or newer. I've read that in 2012 Honda updated the cylinder head, piston, camshaft, and accelerator pump circuit. These newer editions are more dependable and reliable.
Other than that, it's basically just a different set of graphics and sometimes plastics. In the end, as long as it is nice and well taken care of, you won't miss out on any big changes after 2012.
How much does a Honda CRF 150R cost?
A brand new 2023 Honda CRF150R has a base MSRP price of $5,299 with additional destination and freight charges.
With that in mind, you might be thinking that a used 150R should be around $2,500-$3,500… but that's not always the case.
These used MX dirt bikes do hold their value, which makes sense considering they're Honda's. At the end of the day, that is a good thing if you own one and are going to sell it, and that's a bummer if you don't have one yet.
What is a used Honda CRF150R worth?
Determining the value of a used Honda CRF 150R requires taking into consideration a few different conditions. You'll need to take into account the following:
Where you buy it
Who you buy it from
The year and condition
Going back to that list of the first four places I'd look, I did some searching and I was able to find a handful of used bikes.
On FB Marketplace, I found two 2007's, two 2008's, one 2017, one 2018, and two 2022 Honda CRF150R dirt bikes for sale. The prices ranged from $3,200 – $5,500. Not surprisingly, the 2022 was the most expensive, listed for $5,500.
Of the eight bikes I found on Marketplace, the 2018 CRF150R is the bike I'd like to look at first, if I was buying one. Here's the ad, short and sweet:
"1 owner. About 6 hrs. Got it for my little brother who never used it. $3,500 obo. Need space."
The pictures of the bike look very nice. There were no rub marks on the clutch case or frame (means basically no hours on the bike), and the plastics looked brand new.
By contrast, the 2008 sounds like it could be a good bike or it could be a headache:
"Honda 2008 Crf150r. Great condition, and brand new engine. Rebuilt top and bottom end with all OEM. Brand new Dunlop tires. Mileage is incorrect – we have put only around 5 hours on the new engine."
The negative about these types of bikes (rebuilt, new engine, etc.) is that you're at the mercy of the mechanic's abilities (or the DIY dad who doesn't know what he's doing) to install and setup correctly.
I usually steer clear of rebuilds just because of the unknowns.
After looking at the pictures of the rebuilt 2008, you can tell that the owner slapped on some new plastics to make it look nicer, but the crank case, clutch case, and the frame all have a significant amount of rub marks. This isn't the worst thing in the world, but it does give us an idea that the bike has been ridden.
In the end, a good price for a used CRF150R sits between $3,000-$4,500, unless you want an almost-new bike, then you're looking at $5k and up.
I hope this Honda CRF150R review has provided you with the info you were looking for.