Review of the Honda CRF230F (Height, Speed, Price, Specs, Horsepower, Weight)
BraapAcademy.com earns a small commission from qualifying purchases.
This does NOT cost you extra.
Are you considering a Honda CRF230F trail bike? If you are, rest assured; it is a solid dirt bike. However, it is important that you look at all of the positives and negatives to owning and riding one of these dirt bikes. It also helps to know what type of riding this dirt bike is designed to do best.
In addition to that, this Honda CRF230F review will cover all of the specs and specific "need-to-knows" like the top speed, seat height, horsepower, etc., as well as the overall characteristics this Honda 230 dirt bike.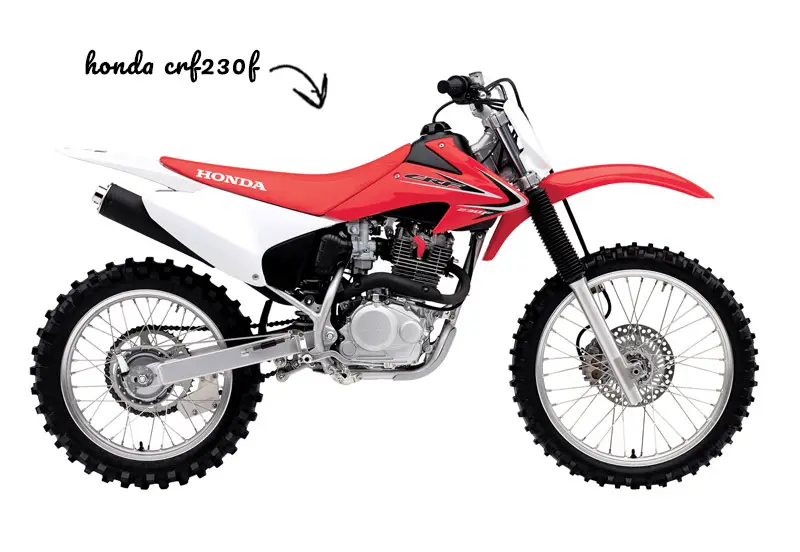 But before you read on, here's my fair warning… this review contains my personal opinions. I try to keep things unbiased, but I must say… I'm a fan of Honda dirt bikes. Also, I'm no expert. I consider my 35+ years riding as mostly trial-by-error and learn-as-you-go. Certainly not an ideal way to learn how to ride, nor is it a quick way to learn.
But I had fun learning 🙂
Anyway… below is all of the Honda CRF 230 height and weight and other specs including the Honda maintenance schedule, handling characteristics, and individual nuances of this Honda CRF230 dirt bike.
---
What is a Honda CRF 230F?
The Honda CRF 230F is a four-stroke dirt bike designed to take trail riding and to the woods. It is definitely not a motocross bike.
And because this is not your typical MX bike (that's a good thing), it is a great option for beginners and it is much better suited for trails. The power-delivery is easy-to-control and provides excellent low end torque and a smooth throttle control.
History
Honda made the CRF230 dirt bike from 2003 to 2019. However, this CRF 230 Honda dirt bike was eventually replaced by the the 2019 Honda CRF 250 F ( in 2019, of course).
As far as any big changes or major overhauls go, the Honda CRF230F history is fairly flat. Meaning, not much on the 230 dirt bike changed throughout the years. Other than a slight change to the seat and tank, the most noticeable changes were the different CRF230 graphics and plastics.
Is it Street Legal?
Is a Honda CRF230F street legal? The short answer: no.
However, there is a longer answer… though it might still end with a "no" depending on your state.
If your state's laws and regulations allow it, you may be able to make your 230 street legal if you put a lighting kit, blinkers, and other mods on the bike. I'm not familiar 100% familiar with all of the different state's laws on this, so I'm sorry, but you'll have to research some more if this is a "must" for you.
Alternatively, there are some other great Honda dual sports that you could look into. Namely, the CRF250L.
Honda CRF230F Specs
Here are the CRF 230 specs that I got from Honda:
Engine Specifications
Chassis Specifications

Miscellaneous

In summary, the main Honda CRF230F specifications, as well as a few other important "things to know" that weren't included in that press release from Honda:
Manufacturer: Honda
Model Name: CRF230F, CRF 230 F, CRF 230F, CRF230 F
Engine size: 223cc (considered a 230cc)
Type: Off-road, Trail Bike
Years Made: 2003-2019
Seat Height: 34.6" (88cm)
Weight: 248 lbs (full tank of fuel, ready to ride)
Top Speed: 60 mph
Horsepower: 18 hp
---
Honda CRF 230cc Engine & Transmission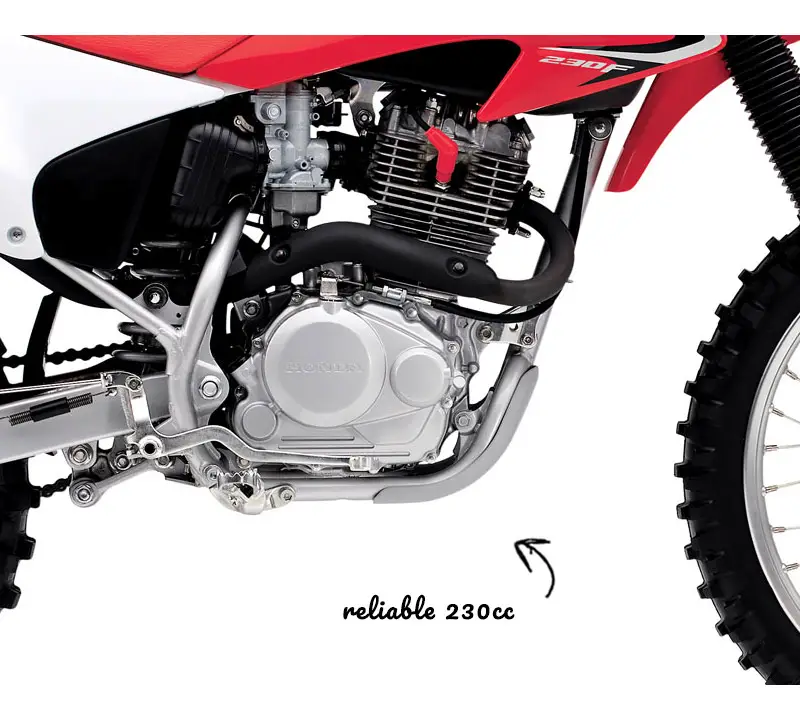 Honda CRF 230 dirt bikes are well-known for being dependable and easy to ride. With these easy-to-maintain, "run-forever" engines, maintenance is usually quick and simple.
Much like the Honda XR line up, the 230 Honda has a very controllable powerband that makes for a smooth delivery.
These dirt bikes aren't the highest performers out there, but due to the easy-to-ride characteristics, they are one of best overall trail bikes for beginners… in my opinion.
Horsepower
The Honda CRF230 horsepower rating is approximately 18 HP, putting it right in line with the 250F horsepower. And while this doesn't sound like a whole lot of power, it still beats out the 15 horsepower Yamaha TTR230 by a bit.
But what is more important than beating out the competition (at least to us) is that these bikes make a very useable power. The engine delivers a superb low-end torque, and the power is very user-friendly.
Still not enough? There are a handful of mods that you can do to bump that number up, but in the end, the stock 230 cc engine is great.
Top Speed
The top speed for a Honda CRF 230 is about 60 mph.
And while the exact top-speed number isn't all that important for a trail bike, there are ways to make it faster… but I don't think that will be too much of an issue.
Depending on each individual rider, the speed will be different. If you have a guy that weighs 240 pounds racing a guy who weight 125 pounds, it's pretty obvious which one will be able to reach a faster top speed. But then again… just having a faster top speed doesn't guarantee a win – you've still got to be able to ride!
So after all of that, and taking into account that altered gearing could play a role, we know that the Honda 230 will go anywhere from 55-65 MPH, stock.
Engine Specs
Engine Size: 223cc
Horsepower: 18 HP
Engine Type: 223cc air-cooled single-cylinder four-stroke
Fuel Capacity: 1.9 gallons (includes 0.4 gallon reserve)
Fuel Type: Petrol / Gasoline
Induction: 28mm piston-valve carburetor
Spark Plug: DPR8EA-9 (NGK)
Maintenance
What motor oil does a Honda CRF230F take? Honda GN4 10W-30 or HP4 (without molybdenum additives)
Oil Capacity:
After draining: 1.1 US qt (1 L)
After disassembly: 1.3 US qt (1.2 L)
---
Honda CRF 230 Handling
The CRF230's are not only good beginner bikes because of their power delivery, but they are also good beginner bikes because of their handling. Despite not having the best suspension setup on the market, the overall design and size of these bikes make them good trail bikes for woods.
There are a few different items that will determine how well a bike handles. Here are the main ones:
Seat height
Weight
Width
Wheelbase
Suspension
Transmission and
When a dirt bike has a low seat-height and short wheelbase, they tend to handle great at low speeds and in tight areas. Think trail riding.
With this setup, they're typically easier to learn on and handle.
Weight
Wirth a curb weight of 248 pounds, the Honda CRF 230 is sized well for many riders. It's not quite a full size bike, but it's certainly not a small bike either.
Compared to the dry 265 pounds TTR225, and the wet 251 pounds TTR230, the Honda 230 is actually quite light – especially since the CRF's 248 lbs. is "curb" weight.
What is curb weight, wet weight, and dry weight on a dirt bike? I'll keep this short and simple.
Curb weight = The weight of the dirt bike will ALL fluids and fuels, ready-to-ride.
Wet weight = This is the same as "curb" weight. Think of it as waiting curbside, ready for you to take riding.
Dry weight = Naturally, this is the opposite of the wet weight. This is how the bike comes shipped from the factory to the dealer… it still may need some fluids topped off, and it still needs a full tank of gas. (I only run non-oxygenated, premium gas in all my bikes).
Seat Height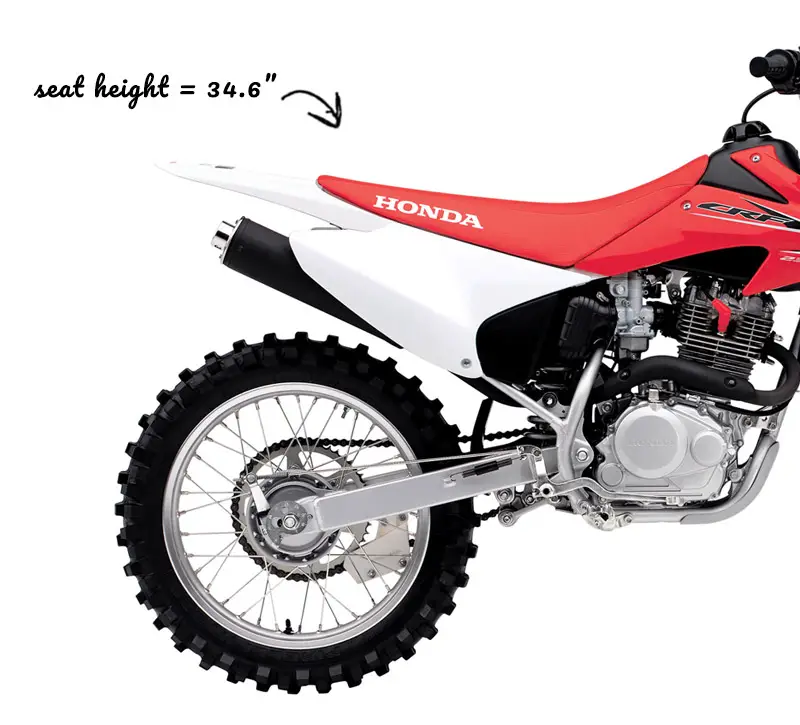 Okay, back to the seat height. The Honda CRF230F seat height is 34.6 inches off of the ground. This is a really good thing for beginners and shorter riders.
For a trail bike, 34.6 inches is a great height because it lowers the center of gravity for the bike, making it more stable and easier to control on slower, tighter trails.
Why do I recommend shorter bikes for beginners? Not only does a short dirt bike make it easier to learn and ride on, but its typically safer. With a shorter seat height, there is less of a chance of you needing to put your leg down while riding, reducing the chance of you tearing your ACL… like I did. Believe it or not, knee injuries are a fairly common injury for dirt biker riders… which is why I recommend looking into knee braces, whether it's the POD K4 knee brace, or the Mobius X8 knee brace, or any other.
Suspension
The suspension on these Honda CRF 230 trail bikes is adequate. It gets the job done on trails, as long as you aren't going to any extremes.
Here's what type of riding and riders the suspension will work for:
Good
Light weight people, riding on trails, woods, and putting around.

Bad
Heavy people, jumping, high speeds, and whoops.
The front forks on these bikes have 9.4 inches travel, while the rear shock has exactly 9 inches.
Front Suspension: 37mm leading-axle Showa fork (9.4 inches travel)
Rear Suspension: Pro-Link Showa single shock w/ spring preload adjustability (9.0 in. travel)
Handling Specs
Chasis
Rake (Caster Angle): 26°45'
Trail: 4.4 inches (111mm)
Brakes
Front Brake: Single 240mm disc
Rear Brake: Drum
Wheels and Tires
Front Tire: 80/100-21
Rear Tire: 100/100-18
---
Is the CRF230F a Good Trail Bike?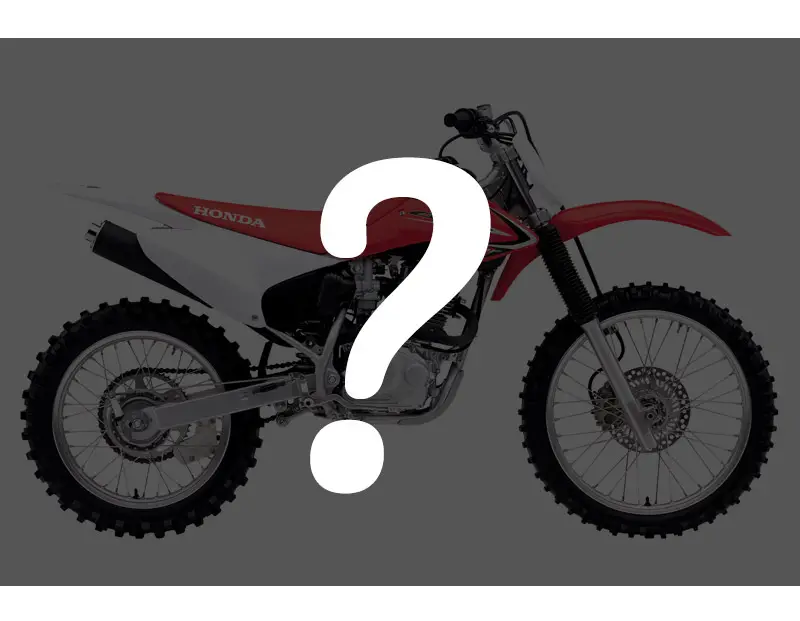 Yes, a Honda CRF 230 is a great trail bike… especially for beginner to intermediate-level riders.
The 230cc delivers a manageable low-mid range power that makes riding on trails easier and more enjoyable than a temperamental, high-performance race bike.
And although this should be a good trail bike for most, it isn't ideal for every type of rider or terrain.
Reasons you should buy one:
Overall, these are easy-to-ride and maintain trail bikes, which makes them a solid option for the following reasons:
Low maintenance
Do you want a dirt bike to ride, not work on? Keep gas in the tank and oil in the case, and you're good-to-go (for the most part).

Affordable
Are you looking for a trail bike that isn't outrageously priced like some of the new "race" bikes? These are affordable new and even more budget-friendly used.

Good for learning
This is not an extreme competition bike, and because it has less power, it provides riders with a bit more forgiveness. Too much power can be a bad thing. This bike is controllable and easy to ride.
Reasons you should not buy one:
As we've established, these aren't high-performance race bikes, which makes them a poor option if you want a bike for these reasons:
Not a high performance dirt bike
Again, this is not a competition-level race bike. If you want the lightest, fastest, and/or best race bike, you'll need to look elsewhere.

Need a dual sport
Although it might be possible to plate these bikes in your state, it still wouldn't be the best choice. These are not made for the road. If you're looking for a dual sport, check out these Honda dual sport bikes for more suitable options.
Overall, the 230 is a great trail bike.
Positive Reviews
Affordable
Honda dependability
Good gearing and tuning for trail riding
Great low-mid power for trails
Low seat height and center of gravity
Easy to maintain
Electric start
Negative Reviews
No kick start
Lacks "R" performance
Limited uses (basically, only for trails)
Buyers Guide (Pricing & Where to Buy)
So, you've read (or just scrolled) all the way to here, so this bike must be peaking your interest still, yes? Either way, let's look at some of the specifics to buying one of these. (spoiler alert: nothing revolutionary here, just common sense and probably stuff you know)
First of all, you're going to have to buy a used 230 since they aren't being made anymore. Here are the top three places I'd look:
From a friend
Of course, there are plenty of more options to find a used Honda CRF230F for sale like on Cycle Trader, Moto Hunt, MX Locket, etc., but I generally just stick to these.
Why just these three? If you find a used CRF 230 on one of these two websites, or from a (local) friend, you will have the opportunity to give the bike a good look-over in person. Also, you can sit on it, start it up, and give it a little test ride. I think you'd agree with me that this is a "must-do" before buying a dirt bike.
What is the best year for Honda CRF230F?
Choosing the "best" year for a CRF230F isn't too critical.
Is there a year that's better than others? Yes, technically the newer ones are better, although only slightly.
I recommend choosing a 2008 or newer because Honda made the gas tank slightly smaller and made the seat slightly narrower. Other than that, it's basically just a different set of graphics and possible different plastics.
In the end, as long as it is nice and well taken care of, you won't miss out on any HUGE changes.
How much does a Honda CRF230F cost?
In 2019, the price of a new CRF230F was $4,349 MSRP. With that in mind, you might be thinking that a used 230 should be around $1,500-$2,000… but that's not the case.
These used trail bikes hold their value quite well, which makes sense considering that they're Honda's and are known for their durability.
What is a used Honda CRF230F worth?
The value of a used Honda CRF 230F depends on a few different conditions. You'll need to take into account the following:
Where you buy it
Who you buy it from
The year and condition
Going back to the first places to look for one, I found a handful of used examples on FB Marketplace. With this, I was able to look at pricing and the condition of quite a few. I found a 2005 CRF 230 for $2,700, a 2003 for $3,100, and a 2006 for $3,500. Sadly, I was unable to find one anywhere around me on CL.
All that said, the 2006 Honda CRF 230 for $3,500 was the nicest looking bike that I came across. Here's the short ad, if you're interested in the context (I'm sure it's sold by now):
Clean CRF 230 runs and starts great. Light works awesome, super bright! The shocks have all been redone. New bars and the valves were recently adjusted. I just cleaned the air filter. Flexible on price Thanks for looking, let me know if you're interested. I'm open to other dirt bike trades, but mostly looking for a 125 2 stroke, but let me know what you got!
The pictures of the bike did look nice. As comparison, I also found a 2003 for close to the same price. Here's that ad:
2003 CRF230F. Pro Circuit pipe, Pro Taper bars, custom grip seat cover, runs strong and starts right up every time! Great beginner or trail bike. $3100 OBO. No trades.
And although this ad might sound better, the pictures of the bike tell a completely different story. The bike wasn't clean and looked like it had been ridden hard. Still, this guy is asking $3,100. Compare that to the CLEAN 2006 and it's a no-brainer which the better bike is.
In the end, we can see that a good price for a used CRF230F falls between $2,500-$3,500, but I'd try to pay closer to $3k for a nice one.
I hope this Honda CRF230 review has given you some of the details about this trail bike that you were looking for.