Honda CRF250RX Review (Top Speed, Height, Weight, Specs) – Is it Worth Buying?
BraapAcademy.com earns a small commission from qualifying purchases.
This does NOT cost you extra.
Are you considering a Honda CRF250RX enduro? Did you already buy one and would like more information about about, like maintenance schedule, pros and cons, etc.? Good, because here is full Honda CRF250RX review that I put together that should address any info you need.
Of course, this review is just a personal opinion. I'm more than positive that some will find certain points agreeable, while others will not… and that's okay (I hope).
Either way, I've included all the details you should know. In the end, if you're looking for info on the horsepower, handling, weight, specs, characteristics, and nuances of this Honda enduro dirt bike, stick around because that's what we're going over here.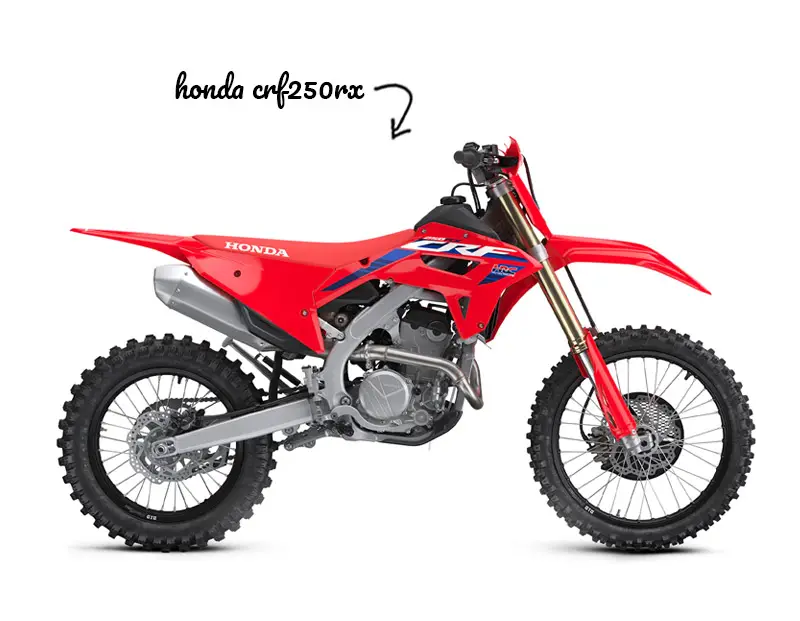 ---
What is a Honda CRF250RX?
Honda set their sights high when they created the CRF250RX. They created the best of both worlds (trail and track) by taking Honda's high-performance motocross bike and turning it into an enduro racing machine. If you are into riding deserts, enduros, or trails, this is a solid option.
This may not be a pure-motocross bike (and that's a good thing), however, it still offers all of the cutting-edge tech and advancements that the Honda race bikes have paved the way for. Oh yeah… this IS a race bike! For trails and enduro.
Although the 250RX isn't a street-legal dual sport, it is killer out on the desert and riding through trails.
History
Here's a short recap of the 250RX history I snagged from Wikipedia. You'll notice it references the "450R" model, however, this is talking about the 250cc as well, since it came from its bigger brother, the 450RX.
"… This machine was built as a CRF-450R that was optimized for hare scramble, hard enduro, GNCC style racing. Essentially the same as the CRF-450R except offered as standard equipment an electric start, larger fuel tank, and an 18-inch rear wheel. This bike is to bridge the gap between the more mild X-model and the closed-course race style R model…"
Is it Street Legal?
Unfortunately, no, the Honda CRF250RX is not street-legal.
This is a question that gets asked a lot, but there really isn't an easy way to make this happen. There are, however, some great options from street legal Honda motorcycles like the CRF300L.
Also, I realize that this won't be easy to read, but… you could look at other dirt bike brands as well. If you're against that, I completely understand. Bottom line, if you're not up to throwing your bike in the back of your truck and tying it down correctly (or at all), you're going to need to find a different bike.
Honda CRF250RX Specs
I got the following Honda CRF250RX specs from Honda's website.
Engine Specifications
| | |
| --- | --- |
| Engine Type | 249cc liquid-cooled single-cylinder |
| Bore and Stroke | 79.0mm x 50.9mm |
| Compression Ratio | 13.9:1 |
| Valve Train | DOHC, four valves per cylinder |
| Induction | Programmed Fuel-Injection system (PGM-FI); 44mm throttle bore |
| Transmission | Five-speed |
| Final Drive | #520 Chain; 13T/50T |
Chassis Specifications
| | |
| --- | --- |
| Front Suspension | 49mm leading-axle inverted Showa® SPG coil-spring fork with rebound- and compression-damping adjustability; 12.2-inch travel |
| Rear Suspension | Pro-Link Showa single shock with spring preload, rebound- and compression-damping adjustability; 12.3-inch travel |
| Front Brake | Single 260mm disc |
| Rear Brake | Single 240mm disc |
| Front Tire Size | 90/90-21 |
| Rear Tire Size | 110/100-18 |
| Rake (Caster Angle) | 27.2° |
| Trail | 4.5 inches |
| Wheelbase | 51.8 inches |
| Seat Height | 38 inches |
| Curb Weight | 238 pounds (Includes all standard equipment, required fluids and a full tank of fuel) |
| Fuel Capacity | 2.1 gallons |
| Ground Clearance | 13.2 inches |

Miscellaneous
| | |
| --- | --- |
| Colors | Red |
| Model ID | CRF250RX |

Here are the main Honda 250RX specifications, as well as a few items that weren't on their website:
Manufacturer: Honda
Model Name: CRF250RX, CRF 250 RX, CRF 250RX, CRF250 RX
Type: Enduro
Years Made: 2018-2023 (present)
Seat Height: 38" (97cm)
Weight: 238 lbs (full tank of fuel, ready to ride)
Engine size: 249cc (considered 250cc)
Oil Capacity: 1.18 US qt (1.12 l)
Top Speed: ~85 mph
Horsepower: 37 hp
---
Honda CRF 250cc Engine & Transmission
The Honda CRF 250RX dirt bikes are known for being durable, dependable, and easy to maintain. Yes, I know, no news there.
With an almost bulletproof engine, maintenance is simple and manageable. However, when compared to many other full-on race bikes, the type (and amount) of maintenance requirements for this bike is quite similar. For more information, click here to get a good idea of what a Honda CRF250RX maintenance checklist looks like.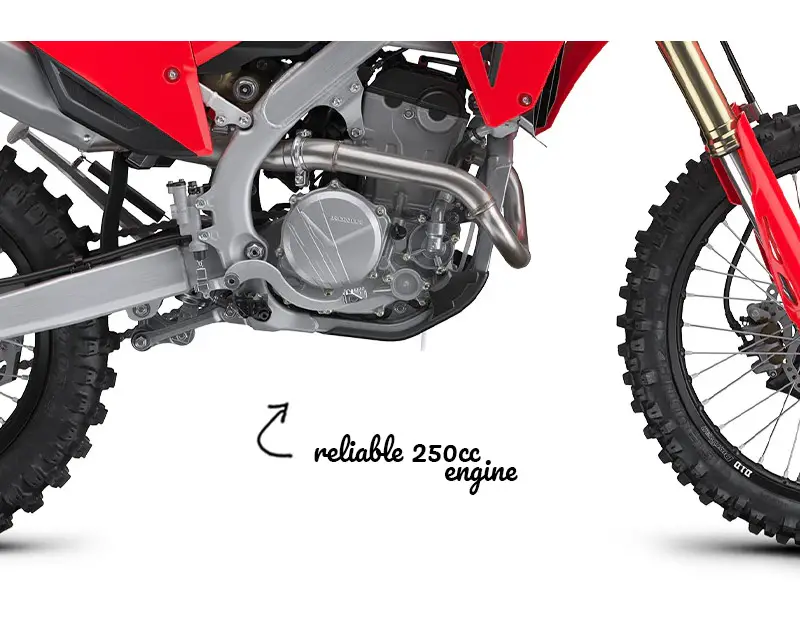 Not only are these enduros dependable, Honda CRF dirt bikes are just downright fun-to-ride. They aren't the fastest for their size, or lightest, however, they still deliver one of the best overall rides.
Similar to Honda's XR lineup, the CRF250RX has a very controllable power and a smooth delivery, thanks to the engine and transmission mods that Honda made. Although the dirt bike comes from Honda with just 37 horsepower, this is the kind of power and delivery that makes the Honda 250cc really shine.
Horsepower
Granted, the Honda CRF250RX horsepower rating 37 HP doesn't look too impressive at first. However, that 37 HP isn't the entire story. You may not be able to throw the same roost as a CRF250R motocross race bike, but you should be able to ride this bike just as fast, if not faster, due to its handling and output.
There are a few engine mods that can bump up that HP number. For example, you can put an aftermarket pipe, and get a little more horsepower and/or torque out of the 250cc engine. But at the end of the day, the stock engine is great.
The powerband and controllability of these bikes are one of their strong selling points. The Honda CRF250RX enduro is able to make 17.7 ft. lbs of torque… which, when paired with its handling characteristics and lightweight chassis, make for a fun and enjoyable dirt bike to ride basically anywhere off-road.
Top Speed
The approximate top speed for a Honda CRF250RX is about 85 mph.
Why the "approximate" top speed? The actual top speed for each rider will differ to some degree. Some riders might weigh 250+ pounds, while some be "a buck fifteen" on the scale. On this bike, that WILL make a difference.
In addition to the rider's weight, the gearing plays a significant role. And since changing the gearing is so easy, it is one of the first modifications many people make.
If we just assume it has stock gearing, again, the Honda CRF250RX top speed is 80-90 MPH.
Engine Specs
Engine Size:249cc
Horsepower: 37 HP
Engine Type: 249cc liquid-cooled single-cylinder
Valve Train: DOHC, four valves per cylinder
Transmission: 5-speed, manual-clutch
Starting: Electric start
Cooling System: Water-cooled
Fuel Capacity: 2.1 gallons (7.9 Liters)
Fuel Type: Petrol / Gasoline
Induction: Programmed Fuel-Injection system (PGM-FI); 44mm throttle bore
Oil Capacity: 1.18 US qt (1.12 l) – After draining & oil change
What motor oil does a Honda CRF250RX take? Honda GN4 10W-30 Oil.
---
Honda CRF250RX Handling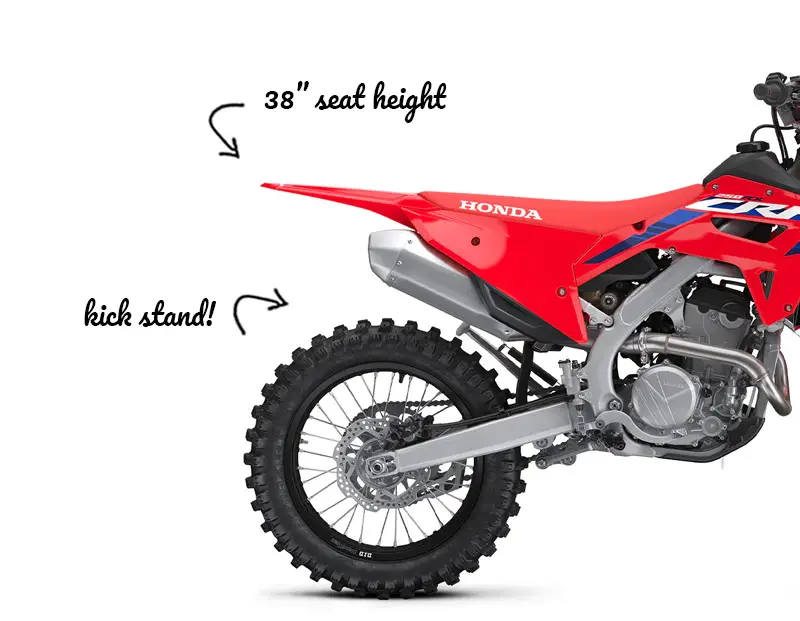 Weight
As noted above, the Honda CRF250RX weight is 238 pounds. While that might seem like a lot compared to the 229 pounds of the 250R, it is more than respectable for a trail bike.
Obviously, this isn't a motocross bike. That's a good thing.
The 9 pounds increase is the result of some very nice features including an electric start, hand guards, a kickstand, and more.
What is curb weight on a dirt bike?
Most dirt bikes are listed with their "curb" weight, which includes the weight of the dirt bike with a full tank of fuel as well as all other necessary fluids, etc. This is also referred to as "wet" weight.
Some, however, are listed with their "dry" weight. The term "dry weight" refers to the weight of the dirt bike from the way it was shipped from the factory to the dealer. (no fuel)
Seat Height
The Honda CRF250RX seat height is 38 inches.
Similar to the top speed, this could be different if you buy a used Honda 250RX. If a previous owner made any suspension modifications or adjustments, it could be slightly shorter or taller.
For a trail bike, it is a bit tall. If you're on the short (and/or light) end of the spectrum, you may want to consider a different bike. From Honda, you may want to check out the CRF 300L, or 300 L-Rally enduro since they are a few inches shorter. Also, if you're up for owning a little older dirt bike, the seat height of XR250R is a few inches shorter, and they are great trail bikes.
Why do I recommend shorter riders get a smaller bike? Because you will probably have more fun on a smaller bike and you'll be able to control it better. Not only that, it's safer. You've got less of a chance of putting your leg down and tearing your ACL (like I did) if you can handle and balance your bike adequately.
Suspension
The suspension on the front and rear of this Honda 250 enduro bike is quite nice. The front forks have 12.2 inches of travel and the rear shock has 12.3 inches of travel.
Front Suspension: 49mm leading-axle inverted Showa® SPG coil-spring fork with rebound- and compression-damping adjustability; 12.2-inch travel
Rear Suspension: Pro-Link Showa single shock with spring preload, rebound- and compression-damping adjustability; 12.3-inch travel
Handling Specs
Chasis
Frame Type: Twin-spar aluminum chassis. (Light and stiff)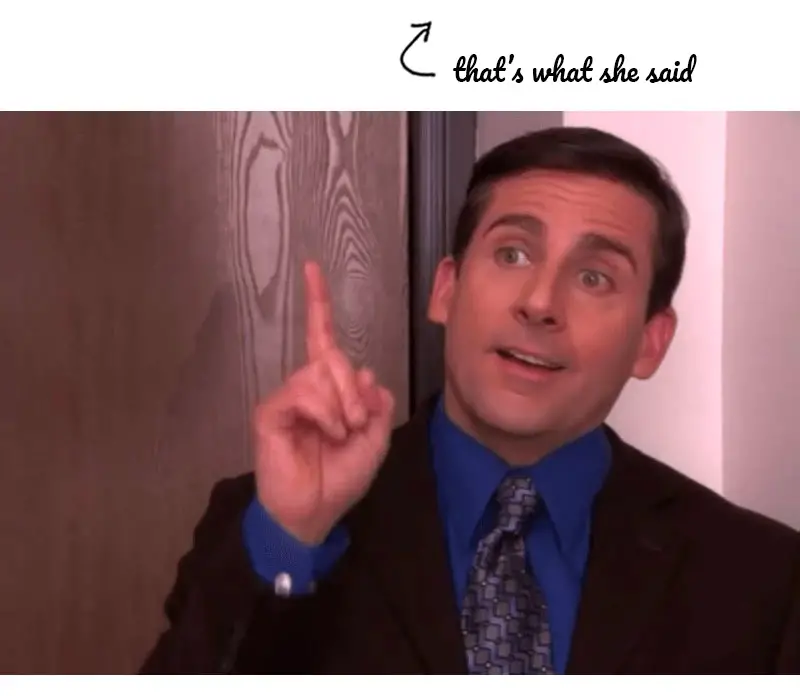 Brakes
Front Brake: Single 260mm disc
Rear Brake: Single 240mm disc
Wheels and Tires
Front Tire: Dunlop Geomax AT81; 90/90-21
Rear Tire: Dunlop Geomax AT81; 110/100-18
---
Is the CRF250RX a Good Trail Bike?
Yes, it is.
With low-end torque and smooth, roll-on mid-range power, the CRF250RX is a solid trail bike. It is lightweight and controllable, however, it is a little too tall for some riders.
Even though this is such a good trail bike, it still isn't perfect, and it still isn't for everyone.
People who should buy one:
If you're looking for a lightweight, multi-purpose trail bike (or dessert riding, or similar), this is a great choice.

People who should NOT buy one:
If you're looking for a nice, tame cruiser to put around on, this may not be the best choice. This is a high-performance race bike. Yes, it is designed for trail riding and enduro racing, so it is more than capable… it just might be a bit too much. Your call.
Overall, the 250RX is a great trail bike, but if you want a motocross bike or a street-legal dual sport, there are much better-suited options.
Positive Reviews
2.1 gallon gas tank
Stock skid plate
Honda dependability
Good gearing and tuning for trail riding
Light and nimble
Great power range
Electric start
Negative Reviews
Not street legal
Hard to find used in good condition
Expensive new (close to $9k)
High seat for a 250cc
No kick start
Buyers Guide (Best Year, Value, etc.)
Well, now that you've read (or scrolled) this far down the page, it seems you may be considering one of these dirt bikes.
Here are the four places I'd look:
There are many more options to find a used Honda CRF 250RX for sale, but I like those.
Why? If you do happen to find a 250 you'd like to look at from one of these options, you'll be able to go see the bike in person. I think you'd agree with me that this is a "must-do" before buying one.
Generally, I try to buy used ones. Whether it's a car, truck, ATV, or motorcycle, I look for good deals on very nice, used items. Notice how I said "try" to buy used. I have bought a new 2003 CRF450R, a new 2001 YZ426F, and a new YZ250. Sometimes, new bikes are nice to buy because you know it's been taken care of… or you know you can take care of it.
What is the best year for Honda CRF250RX?
With these being based on cutting-edge handling and performance, the CRF250RX's "best" year is going to probably be the newest, right? You get the most updates and testing done on the bike. However, I have one caveat to the "newest is the best" rule:
There are times when a model gets COMPLETELY revamped or redesigned. I'm not too fond of being the guinea pig for untested (by us general folk) changes if they're too big.
What is a Honda CRF250RX worth?
The pricing for a new CRF 250RX is pretty cut and dry. Go to your dealer, order it, and pay sticker. Currently, here is what these bikes cost:
MSRP: $8,599
Destination Charge: $400
Freight Surcharge: $100
The value of a used Honda CRF250RX depends on a few different things.
Where you buy
Who you buy from
The year and condition
As an example, I searched Facebook Marketplace and found only one of these used. It was a 2020 CRF250RX for sale for $7,000, but it was in great condition.
"2020 Honda CRF250rx. Purchased new in 2020, has literally 4 hours or less on the bike. I didn't ride it like I thought I would. Very clean bike has minor scratches."
That sounds like a nice bike.
Since there was only one result from Facebook, I tried my local Craigslist. The results weren't any better. Again, just one bike, but this one had two more hours (still ridiculously low hours – 6hrs total), and they were asking $1,600 more, at $8,600.
"2022 Honda crf250rx and 2022 Honda crf450rx they have 6 hours on each of them. Like new and look it. The crf250rx is 8600.00 and the crf450rx is 9600.00 these are nice bike's."
Again, both sound nice. They might be a little pricey, but then again, they ARE hard to find used.
I hope this Honda CRF250RX review has given you a better idea of whether this is the type of dirt bike you want, and I hope you found all of the info you were looking for.