Honda XR250R Review – Is the Dirt Bike Worth Buying?
BraapAcademy.com earns a small commission from qualifying purchases.
This does NOT cost you extra.
Are you looking to buy a Honda XR250R or do you already have one and you'd like some more info on it? Yes? Good. Here's a full Honda XR250R review that will cover all of the important specs, reviews, strengths, and weaknesses of this legendary dirt bike.
By the end, you should have a good idea of whether this is the right dirt bike for you.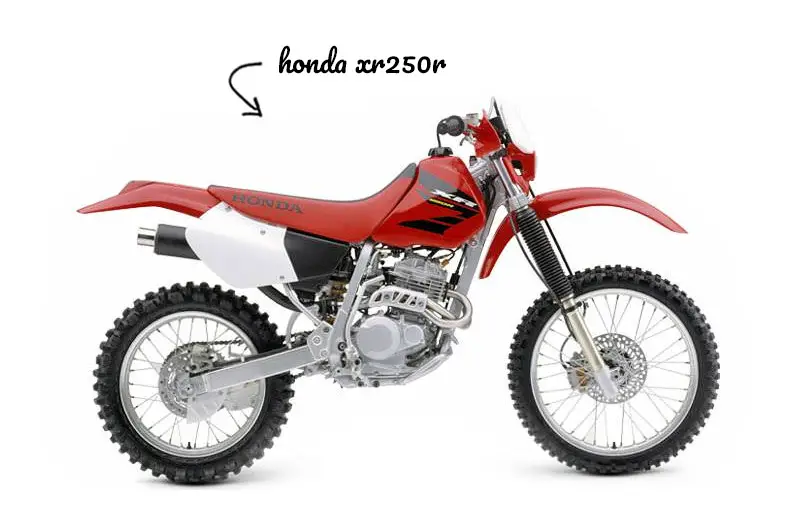 Sadly, the Honda XR250R is no longer in production and has been replaced by a more high-performance line… the Honda CRF lineup. Namely, the CRF230F.
However, In my (personal) opinion, if you find a used Honda XR250R in good condition (and they sound like the kind of dirt bike you want), BUY it. It's definitely a solid dirt bike, and no Honda doesn't pay me to say that (unfortunately).
The Honda XR250R was the first dirt bike that I REALLY rode. I started riding smaller ATV's and XR's, but once I "borrowed" my dad's Honda 1995 XR250R and started riding it as my "go-to" bike, I was able to get a lot better at riding. It was a GREAT bike, and it was fun because my buddy had a 1996 Honda XR250R. (I liked his a lot more because it was black and red instead of blue (looked purple) and red, like mine.
---
What is a Honda XR250R?
Overall, the XR250R is a great trail riding dirt bike and is one of the best beginner dirt bikes for adults when it comes to these "older" bikes. If you want a good bike to learn on that you can grow into, this is a good choice.
The XR250R is great for putting around the farm, going on adventures in the woods, and even tight, tough trails. In the end, the bike was discontinued because it lacked the superior suspension, performance, lightweight handling, and appeal of the newer generation of dirt bikes.
But don't let that scare you off. Where it obviously lacks in modern tech, it makes up for its rideability, personality, and good-ole Honda durability and reliability.
History
Honda XR250R dirt bikes came out in 1981, went through a few modifications, and then became a mainstay from 1984 to 2004 when it was discontinued.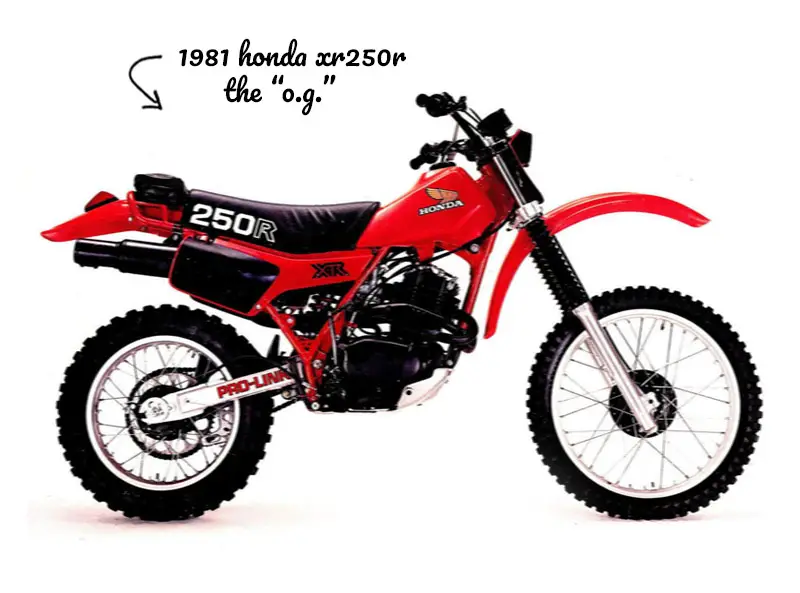 Here's a great snippet I grabbed from Wikipedia.com:
"The XR250R was introduced pre 1981… came back in 1984 with a completely new engine… changed in 1986… also saw the adoption of a large, single carburetor… In 1996 the engine of the XR 250R… was updated and now produced 19 hp… Although the XR250R was always quite heavy compared to its 2 stroke competition and both front and rear suspension were rather basic, it proved reliable and likable and was successful as an entry-level off-road machine…"
Honda XR250R Specs
Model
XR250R
Engine Type
249 cc, 4-Stroke, Air Cooled, Single
Bore and Stroke
73mm x 59.5mm
Compression Ratio
10.2:1
Valve Train
Single cylinder SOHC; four-valve
Carburetion
PD30 carburetion
Ignition
CDI type magnetic ignition system
Transmission
Five-speed
Final Drive
O-ring-sealed chain
Suspension
Front: 41mm air assisted telescopic forks
Rear: Pro-Link, adjustable compression and rebound
Brakes
Front: Single 240mm disc, 2 piston caliper
Rear: Single 220mm disc, 1 piston caliper
Tires
Front: 80/100-21
Rear: 110/100-18
Wheelbase
55.1 inches (1400mm)
Rake (Caster Angle)
26.5°
Trail
4.1 inches (105mm)
Seat Height
36.2 inches (920mm)
Ground Clearance
12.5 inches (315mm)
Dry Weight
229.3 pounds (104kg)
Fuel Capacity
2.4 gallons
Color
Red
I've picked out the main specs that most of us are looking for and added a few categories of my own. Here they are:
Manufacturer: Honda
Model Name: XR250R, XR 250 R, XR 250
Dirt Bike Name: Honda XR250R
Dirt Bike Type: Offroad, Trail dirt bike
Years Made: 1981-2004
Seat Height: 36.2"
Dry Weight: 229.3 lbs. (no gas)
Top Speed: 66 mph
Horsepower: 19 hp
---
Honda XR250R Engine & Transmission
Honda dirt bikes are well-known for being durable, dependable, and easy to maintain. No news there.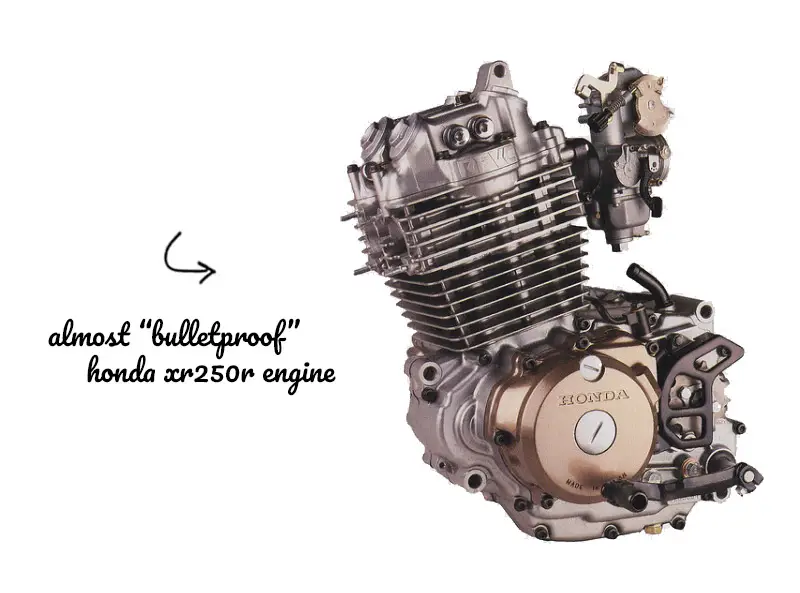 Th XR250R dirt bike's maintenance schedule (CRF450R example) isn't anywhere near as involved as an MX dirt bike. In addition, having an engine oil capacity of 1.3l, you'll be able to hold about double the amount of a CRF450R race bike.
When it comes to maintenance, that means keeping your Honda XR250R running strong and reliably isn't too much work.
In addition to it being long-lasting and dependable, the Honda XR250R dirt bikes are an absolute joy to ride. As soon as I jumped on my brothers' Honda XR80R (he soon after got the XR100R) I knew these bikes were going to be fun.
Don't get me wrong, XR dirt bikes aren't the fastest, lightest, or most agile trail bikes, but they've got plenty of power and can go basically anywhere.
Horsepower
The Honda XR250R has 19 horsepower. With only 19 hp, you might be wondering if it's enough. Surprisingly, it probably is.
Let me assure you, the power goes straight to your woods tires and it hooks up MUCH easier than a race bike.
The XR definitely won't send the same roost as a Honda CRF450R (or even a Honda XR400R), but you'll be able to roll the throttle on and control every bit of power the bike does have.
Top Speed
The Honda XR250R top speed is 66 mph. However, If you or the previous owner geared the dirt bike down for trails, it won't be as fast. On the other hand, if you (or they) geared it for the road or dessert, then it could easily go faster.
Gearing plays a significant role in the delivery of your bike's power.
So assuming the bike has stock gearing, a Honda XR250R dirt bike should go around 55-75 mph… which is plenty fast for a dirt bike made for the trails.
Engine Specs
Engine Size: 249cc (considered a 250cc)
Horsepower: 34.3 HP
Engine Type: 249cc, 4-Stroke, Air Cooled, Single
Valve Train: Single cylinder SOHC; four-valve
Transmission: 6-speed, manual-clutch
Starting: Kickstart
Cooling System: Air-cooled
Fuel Capacity: 2.4 Gallons
Fuel Type: Petrol / Gasoline
Fuel Supply: Carburetor
Oil Capacity: 1.3l
What motor oil does a Honda XR250R use? Honda GN4 10W-40 Oil
---
Honda XR250R Handling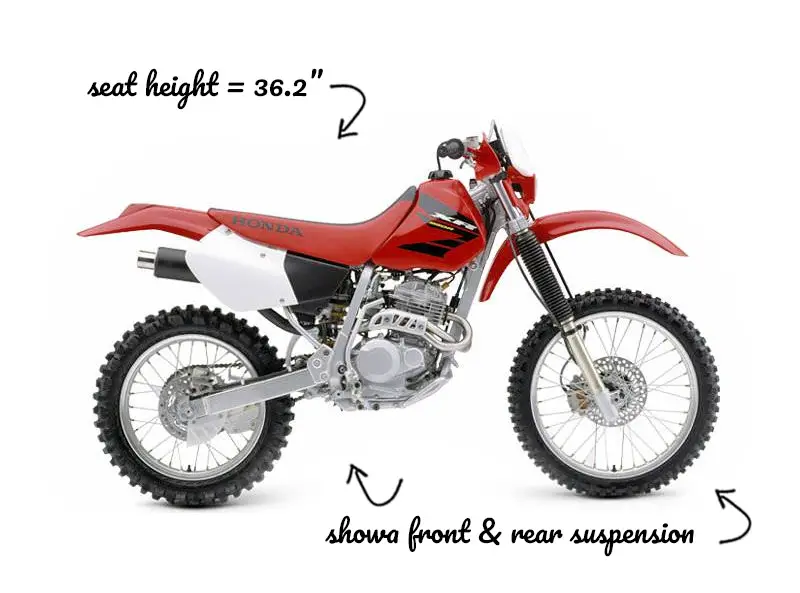 Weight
The Honda XR250R dry weight is 245 pounds. However, the wet weight would be more. How much more? However much a full tank of gas and whatever other oils and fluids they don't count… probably putting it around 278 pounds. Not a light dirt bike for being a Honda 250cc.
What's the difference between weight wet and dry weight on a dirt bike?
The difference between wet weight and dry weight is straightforward once you know it. The phrase "dry weight" refers to the dirt bike's weight as it was when it was shipped from the factory. (It doesn't take into account the weight of a tank of fuel.)
The phrase "wet weight" does take into account a full tank of fuel, as well as all other fluids.
It doesn't matter which weight you're using to compare to another dirt bike. Just make sure to compare dry-to-dry or wet-to-wet.
Also, you may want to keep in mind that if you buy a used bike, you may want to empty the tank, grab your gas can (these are the best), and fill the tank up with your own good (non-ethanol) gasoline.
Seat Height
The Honda XR250 seat height measures exactly 36.2 inches off of the ground.
As long as the previous owner (or you) didn't make any adjustments to the suspension, this will give you an idea on what size rider would fit a XR250R.
NOTE: The seat height, along with the mild and controllable powerband of this dirt bike does make it more rideable than the heavyweight suggests. I started riding my dad's Honda 250cc dirt bike when I was 15 y/o and I was able to handle it just fine.
Suspension
Front Suspension: 27mm leading-axle Showa fork
Rear Suspension: pro-link Showa single-shock
Handling Specs
Chasis
Frame Type: Diamond-type pipe frame
Brakes
Front Brake: 240mm disc, 2 piston caliper
Rear Brake: 220mm disc, 1 piston caliper
Wheels and Tires
Front Tire Size: 80/100-21
Rear Tire Size: 110/100-18
---
Are Honda XR250R Dirt Bikes Good?
Of course, Honda XR250R's are good… they are Honda dirt bikes, after all.
A Honda XR250cc dirt bike is a great bike overall, however, it isn't the right pick for everyone.
Do you want a good dirt bike for trail dirt riding? Then yes, they're a great choice.
I've grown up with Honda XR dirt bikes and they're probably one of the best dirt bikes for beginners and intermediate riders on the planet. If you're looking for a dirt bike to go trail riding or just cruising around on your property, the XR250R is a great choice.

However, If you're a fairly small person you'll just have to sit on one and put around on it a bit to see if you like it. My guess is that you'll do fine on it, but it's definitely a good reason to test ride first.

Are you looking for a motocross dirt bike? No, this is not the bike for you.
If you want a dirt bike that will do good on trails and tracks, this isn't your dirt bike. Trails, yes… Track, no! It's too heavy and lacks the "snap" of power in the powerband to do well on the track. Here's a list of dirt bikes for trail riding that has some solid choices.
Positives
Honda's proven reliability
Beginner-friendly power and handling
Good power and torque for beginner to intermediate riders
Simple to work on and maintain
Smooth, controllable power from the Honda 250cc engine
Negatives
Does not have an electric start
It's heavy (it's an older bike now)
You can find these used (and in good shape)
Buyers Guide (Best Year, etc.)
I hope this Honda XR250R review has provided you with the info you were looking for.
Now that you've done your research and you're (probably) as convinced as I am about how good of a choice these older XR dirt bikes are, where do you find one for sale?
Whenever looking to buy a used dirt bike (a Honda XR250R, in this case) I stick to these three options:
Yes, there are dozens of more places to find a used Honda XR250R for sale, but I like those.
I like those three because I can see the dirt bike in person and start it up, ride it, inspect it, and ask whatever questions I need to… all without having to travel. If you're planning to buy a used dirt bike, you always want to see it in person before you buy it.
What is the best year to buy a Honda XR250R dirt bike? Any year from 1996-2004 (when they discontinued producing them). For the 1996 Honda XR250R's, they updated the frame, chassis, suspension, and a few other minor items. From then on, there were no significant changes… except for the color.
So the best years for Honda XR250R were 1996-2004, however, the 1986-1996 editions weren't lemons. If you find a used bike in the 86-96 range, just make sure you like the feel, make sure it's been well cared for, and you should have a decent dirt bike for not a lot of money.