Honda CRF450X Review (Top Speed, Weight, Specs) – Is it Worth Buying?
BraapAcademy.com earns a small commission from qualifying purchases.
This does NOT cost you extra.
Are you looking at buying a Honda CRF450X enduro dirt bike? Did you already buy one and would like more information about about, like maintenance schedule, pros and cons, whether I'd buy one, or not, etc.? Good thing, because here's as complete Honda CRF450X review that I can put together that should address any info you need.
Of course, this review is just my opinion. I'm more than positive other people will both agree (and disagree) with most of the points I bring up. After all, this is the internet!
Either way, I've included all the items you'll want to know before buying. Really, the goal here is to provide you with all of the horsepower, handling, weight, specs, characteristics, and nuances of this Honda enduro dirt bike that you should know.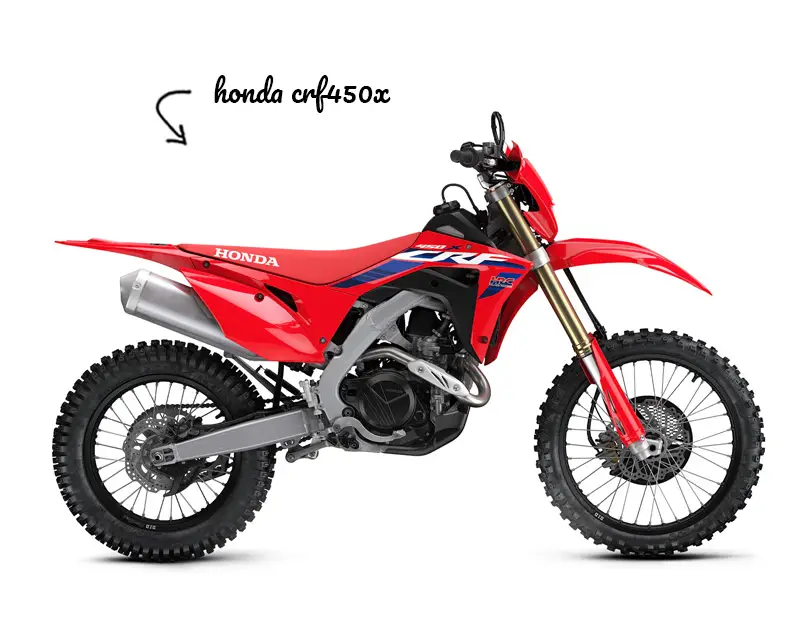 Although you can go buy a new Honda CRF450X, these enduros have been around for a few of years, and they haven't changed a whole lot. While at first that might sound like a negative (which it can be labeled as such), it can also be a good thing.
Honda knows what works for this bike and they're sticking with it. Hard to blame them there.
Having said that, I always try to buy used. Cars, trucks, ATVs, motorcycles, and even my houses, have all been "used." Notice how I said "try" to buy used. I have bought a new 2003 CRF450R, a new 2001 YZ426F, and a new YZ250 (my dad bought that one for a type of graduation gift… that's what he said it was for. Don't hate me because I was spoiled. I buy my own now.)
Either way, if you're in the market for a Honda 450cc enduro, the CRF 450X is a solid choice… new or used.
---
What is a Honda CRF450X?
The Honda CRF450X came out a "long time ago" now, although it may not seem too long ago for many. The bike was first released in 2005 to replace the Honda XR400R dirt bike and has been selling well since.
Although the 450x isn't a street legal dual sport, it is a beast on the dessert and trails.
History
Here's a short recap of the 450x history copied from Wikipedia:
"The Honda CRF450X is an off-road motorcycle… has a 450 cc (27 cu in) liquid-cooled single-cylinder engine. First offered in 2005… has seen massive success in the Baja 1000, seeing 11 victories and another 5 wins in the Baja 500…"
Is it Street Legal?
Only because I see this questions ALL the time… I've included it here.
Sadly, no. The 450X is not street legal coming off the showroom floor. There are different Honda CRF450X lighting kits that include turn signals, etc., however these kits won't make the bike street legal in all 50 states.
I have seen a number that are street legal and plated, however, I'm not sure if you will be able to make that happen in YOUR state.
Honda CRF450X Specs
I got the following Honda CRF450X specs from Honda's website.
Engine Specifications
| | |
| --- | --- |
| Engine Type | 449cc liquid-cooled single-cylinder four-stroke |
| Bore and Stroke | 96.0mm x 62.1mm |
| Compression Ratio | 12.0:1 |
| Valve Train | Unicam® SOHC, four-valves per cylinder |
| Induction | Programmed Fuel Injection (PGM-FI), 46mm downdraft throttle body |
| Ignition | ???? |
| Transmission | Wide-ratio six-speed |
| Final Drive | #520 Chain; 13T/51T |
Chassis Specifications
| | |
| --- | --- |
| Front Suspension | 49mm leading-axle inverted telescopic Showa coil-spring fork with rebound- and compression-damping adjustability; 12.0-inch travel |
| Rear Suspension | Pro-Link® Showa single shock with spring-preload, rebound- and compression-damping adjustability; 11.8-inch travel |
| Front Brake | Single 260mm disc with twin-piston caliper |
| Rear Brake | Single 240mm disc |
| Front Tire Size | 80/100-21 |
| Rear Tire Size | 110/100-18 |
| Rake (Caster Angle) | 27.6° |
| Trail | 5.6 inches |
| Wheelbase | 58.7 inches |
| Seat Height | 37.9 inches |
| Curb Weight | 275 pounds (Includes all standard equipment, required fluids and a full tank of fuel) |
| Fuel Capacity | 2.0 gallos |
| Ground Clearance | 13.1 inches |
| MPH | 52 MPG |

Miscellaneous

Here's a recap of the most important Honda 450X specifications, as well as a few items that weren't on their website:
Manufacturer: Honda
Model Name: CRF450X, CRF 450 X, CRF 450X, CRF450 X
Type: Enduro
Years Made: 2005-2023 (present)
Seat Height: 37.9" (97cm)
Weight: 275 lbs (full tank of fuel, ready to ride)
Engine size: 449cc (considered 450cc)
Oil Capacity: 700 ml in the crank case, 670 ml in the transmission
Top Speed: ~90 mph
Horsepower: 41 hp
---
Honda CRF 450cc Engine & Transmission
Honda's are known for being durable, dependable, and easy to maintain, and there is nothing different about the 450X.
With an almost bulletproof engine, maintenance is simple and minimal. When compared to MX bikes, the type (and amount) of maintenance requirements for a CRF450X are less than a 450R, however, still a bit more than an electric dirt bike.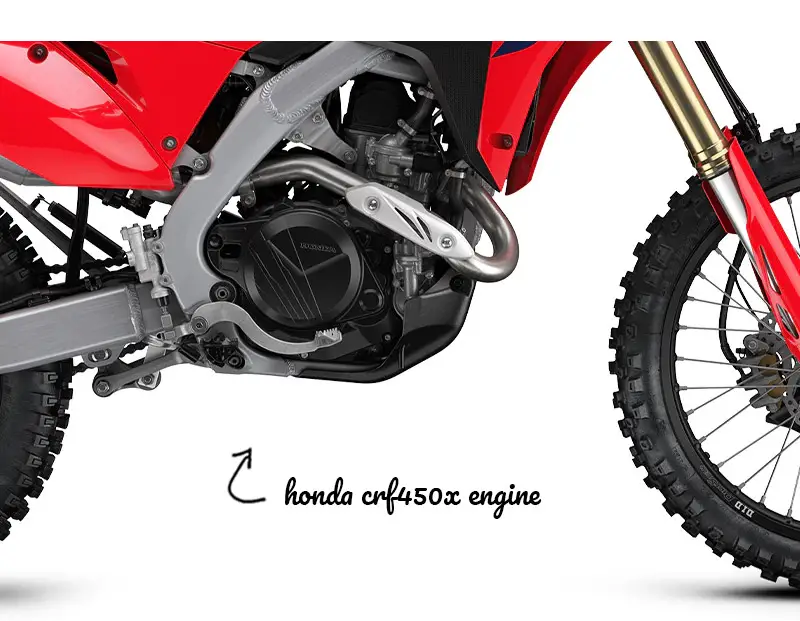 In addition to being well-made and dependable, Honda CRF dirt bikes are always fun to ride. They aren't the fastest for their size, or lightest, however they still deliver one of the better overall rides.
Similar to Honda's XR line up, the CRF450X has a very controllable power and a smooth delivery. Even though the bike comes stock with "only" 41 horsepower, the power is delivered efficiently and makes for superb traction.
You may not be able to throw the same roost as a 450-R, but instead you will be sinking your rear tire into the dirt (or pavement) and hooking up at just about every angle.
Horsepower
Yes, the Honda CRF450X horsepower rating of doesn't look too impressive at first glance. However, that 41 HP number isn't the entire story.
Depending on whether you put an aftermarket pipe, carb and/or jetting (for the pre-fuel injection years), the motor may put out a little more horsepower and/or torque. But again, the stock engine actually solid.
The powerband, or power curve, of the engine is a strong selling point. The Honda CRF450X enduro is able to make 30.2 ft. lbs of torque… which, when compared to the handling characteristics and fairly light-weight of this bike, make for a great all-around fun and enjoyable dirt bike to ride.
Top Speed
This one isn't as cut-and-dry as you would think. I've seen some CRF450-X bikes top out at 92 mph, and some even slight faster.
A good assumption for a stock 450X is about 90 mph. Sure, the 450 cc could easily go faster or not even be able to hit 88 mph (great Scott!), depending on the gearing and setup of the bike.
Re-gearing a dirt bike is very easy. Depending on the gearing ratio you're looking for, you'll want to change the back (or front) sprocket, and possibly replace the chain.
Assuming it has stock gearing, a Honda CRF450X motorcycle should go around 85-95 MPH.
Engine Specs
Engine Size: 449cc
Horsepower: 41 HP
Engine Type: 449cc liquid-cooled single-cylinder four-stroke
Valve Train: Unicam® SOHC, four-valves per cylinder
Transmission: Wide-ratio, 6-speed, manual-clutch
Starting: Electric start
Cooling System: Water-cooled
Fuel Capacity: 2 gallons (7.5 Liters)
Fuel Type: Petrol / Gasoline
Fuel Supply: Programmed Fuel Injection (PGM-FI)
What motor oil does a Honda CRF450X use? Honda GN4 10W-30 Oil.
Oil Capacity:
After draining – 1.16 US qt (1.10 L)
After draining & oil change – 1.22 US qt (1.15 L)
After disassembly – 1.53 US qt (1.45 L)
---
Honda CRF450X Handling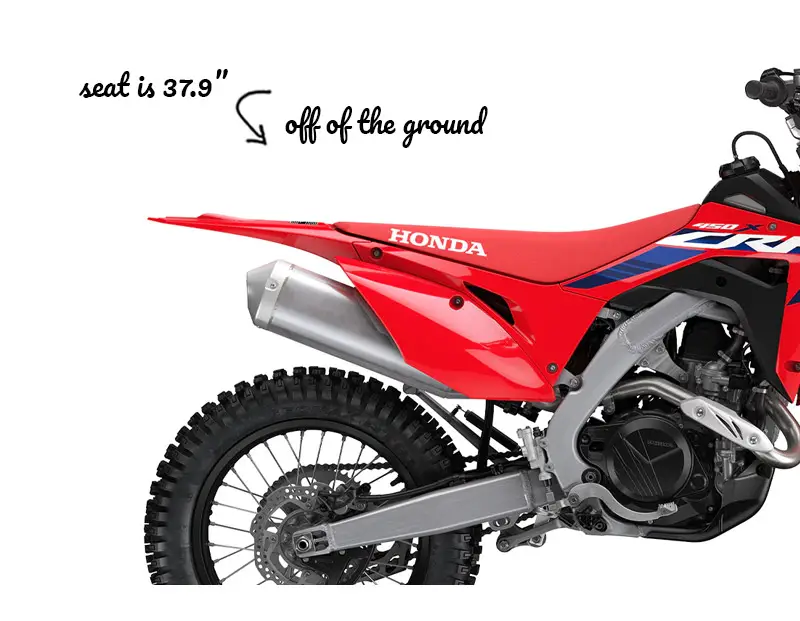 Weight
As noted above, the Honda CRF450X wet weight is 275 pounds, ready to ride. And while that is quite a bit heavier than the CRF450R's weight of 245 pounds, it's only one pound heavier than the XR400R that it replaced, and isn't close the weight of a Honda XR650L dual sport, which is 346 pounds. Overall, this enduro is a great handling and fun-to-ride dirt bike.
Obviously, this isn't a motocross bike. That's a good thing!
What's the difference between wet and dry weight?
Some dirt bikes are listed with their "dry" weight numbers. The term "dry weight" refers to the the weight of the dirt bike the way it was shipped from the factory to the dealer. (no fuel)
The term "wet weight" does include the weight of the dirt bike with a full tank of fuel as well all other necessary fluids, etc. This is also referred to as "curb" weight.
Seat Height
The Honda CRF450X seat height measures exactly 37.9″ stock. If you buy a used 450X, the previous owner(s) may have done some suspension mods or adjustments. If not, this will give you a good idea on how tall the bike is.
In the end, it is a fairly tall dirt bike. If you're on the shorter (and/or lighter side) you may want to consider the Honda CRF300L, or 300L-Rally since they are a few inches shorter.
NOTE: There are quite a few lowering links available if you know you want this bike, but it's still too tall for you. Check out amazon.com as well as crfsonly.com for options.
Suspension
The front and rear suspension on these dual sport motorcycles is actually quite nice. The front forks have 11.6 inches of travel and the rear shock has 11 inches of travel.
Front Suspension: 49mm leading-axle inverted telescopic Showa coil-spring fork with rebound- and compression-damping adjustability; 12.0-inch travel
Rear Suspension: Pro-Link® Showa single shock with spring-preload, rebound- and compression-damping adjustability; 11.8-inch travel
Handling Specs
Chasis
Frame Type: Twin-spar aluminum chassis. Light and stiff!
Brakes
Front Brake: Single 260mm disc with twin-piston caliper
Rear Brake: Single 240mm disc
Wheels and Tires
Front Tire: Dunlop MX52 80/100-21
Rear Tire: Dunlop MX52 110/100-18
---
Is the Honda CRF450X a Good Bike?
YES! After all, it is one of Honda's most popular enduro dirt bikes. But, even though this is a fantastic overall dirt bike, they aren't made for everyone, or every type of riding.
If you're looking for an enduro bike for trail riding (or dessert riding, or similar): This is a SOLID pick… probably my #1 pick over all for a trail dirt bike.

I grew up riding XR's and they've proven to be some of the best dirt bikes on the planet. Heck, both of our Honda TRX 70cc quad and Honda 200 three wheeler were basically indestructible. I am SOLD on Honda's for life.

This thing replaced the XR400R and then some.

If you're looking for a dual sport, or motocross bike: This is NOT a good pick.
Although these hold the "CRF" name, they are not the same bike as the "R" series CRF450R's. If you want a true, motocross track bike, you won't be happy with this setup.

Also, even though I have seen a few guys on forums say they got their's plated, I doubt you'll be able to make that happen now-days. So unfortunately, these are not street legal from Honda, and you probably won't be able to get one there.
If you want a true dual sport that you can ride on the road, check out the street-legal CRF450RL – it's another awesome "CRF" that isn't actually a race bike.
Positive Reviews
2 gallon gas tank
Stock skid plate
Honda dependability
Wide range 6 speed is great for (basically) any setting
All the 450 cc fun but more controllable than the "R"
Negative Reviews
No back up kick start
Not street legal
Fairly hard to find used and in good condition
Expensive new (close to $10k)
Buyers Guide (Best Year, Value, etc.)
Since you've made it this far down the page (sure, I guess you probably did at least a little skimming and skipping… I'd do the same), you may be considering one of these dirt bikes.
Here are the four places I'd look:
There are many more options to find a used Honda CRF 450X for sale, but I like those.
Why?
If you come across a 450 on one of these websites (or through a friend) you'll be able to go see the bike in person. Basically a must-do for me.
What is the best year for Honda CRF450X?
Okay, cool… so you want one! The CRF450X's "best" year is going to probably be the newest, right? I mean, you get the most up-to-date tech available. Okay, in truth, the year-before might be better if the newer model has unproven "features" or additions that have not had all the kinks worked out.
Having said that, I would say one of the third generation CRF450X's would be the best, but the second generation bikes would still be great. Here are the updates and changes through the years from the first 450X to the present-day bikes:
2005-2007 (1st Edition)
A wide-ratio transmission, electric start, and 18-inch rear wheel.

2008-2018 (2nd Edition)
A new a steering damper, smaller fuel tank, and updated accelerator pump.

2019-2023/present (3rd Edition)
All new design, fuel injection, new motor (updated crank & piston) and chassis.
What is a Honda CRF450X worth?
Going back to the "four" options we have for buying a CRF450X, the value depends on whether you buy new or used.
Of course, the price for a new bike will be fairly close no matter which dealer you buy it from. So again, just check out Honda's website to find a dealer near you, if you don't already know where it is.
The price for a used Honda CRF450X also depends on from where, and from whom, you buy it from. For example, I did a quick search on FB Marketplace and found a 2005 CRF450X for sale for $3,000, and three 2006 models from $3,750-$4,200. Unfortunately, there were no second or third gens for sale.
As for Craigslist, I only found two. One 2005, and one 2008. The '08 sounded (and looked) like a nice bike. Oh yeah… it's plated!
"2008 plated Honda CRF 450X. this bike is plated and I just had it professionally serviced. New battery, new fork seals, had the valves adjusted, newer piston, lots of extras. Great bike. Title in hand"
I hope this Honda CRF450X review has given you a better idea of whether this the type of dirt bike you want.