Best Trail Dirt Bike (450, 250, Used, New) – 2023 Edition
BraapAcademy.com earns a small commission from qualifying purchases.
This does NOT cost you extra.
While I'm certainly no expert, I have ridden quite a few dirt bikes over the years. I've ridden MX bikes on trails, and I've ridden trail bikes on the track. I think it's obvious that any bike performs best on the terrain it was designed for, however, you can ride a motocross dirt bike on trails… it's just not as enjoyable as it would be if you had a specific dirt bike for trail riding.
My very first dirt bike was a 1974 Honda XL175. NOT a good trail dirt bike! Not even a good beginner dirt bike now that we have such better options.
From there, I took over riding my Dad's XR200 (I think it was a 1983. It had a red, metal tank but at least it had a mono-shock!) because I was able to convince him that he needed a new bike.
He bought a brand new trail dirt bike for himself – a 1995 Honda XR250 and let me have his XR200. Needless to say, I was happy.
Here's a list of the dirt bikes that I've "owned" or at least called mine:
1983 Honda XR200
1999 Yamaha YZ250
2001 Yamaha YZ426F
2003 Honda CRF450R
2009 Husqvarna 510SMR
2015 Honda CRF450R
I took each one of these riding in the woods. Yes, even the Supermoto. (Once. It was a terrible dirt bike for riding trails, obviously. But, it was a fun and a good looking bike!)
Any way, strap on your trail riding boots because here is the list of what I feel are some of the best trail dirt bikes you can buy.
---
Overall Best Dirt Bike for Trail Riding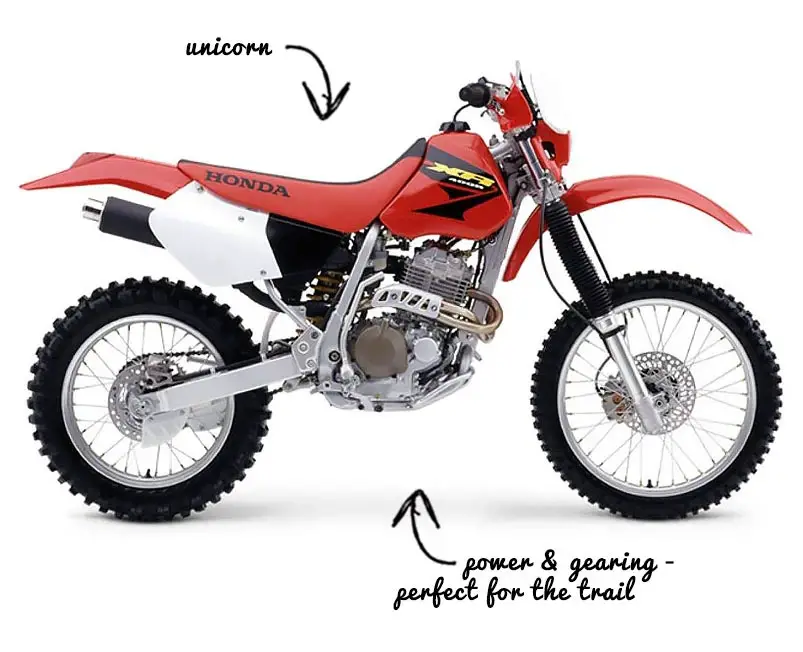 Honda XR400 (or XR250)
Not only does the Honda XR come in as the top pick overall, it's also the best 4 stroke dirt bike for trail riding on the list… my list, anyway.
XR250's are fairly easy to find used and they are a fantastic beginner dirt bikes for adults. In fact, the 1995 Honda XR250 was "my" (borrowed from my dad… a recurring theme here) third dirt bike. It was really the one I learned to ride on. It's got an easy-to-ride stance, balance, and power delivery.
The bigger brother (Honda XR400 enduro) isn't as easy to find used. Not impossible to find, and I do see them pop up for sale. If you're a bigger guy, more experienced, or just want a bit more power, go with the 400 over the 250.
If you're a beginner, I recommend you look for a used XR250 on Craigslist or Marketplace. At least where I live, they're usually not too hard to find on there and they're usually reasonably priced as well.
Positives
Room to grow (good for beginner to intermediate)
Great handling and suspension for trails
Roll on power hooks up in all terrain
Affordable
Honda dependability (and easy to maintain)
Negatives
Not the most powerful
Not good on MX tracks
---
Best 2 Stroke Dirt Bike for Trail Riding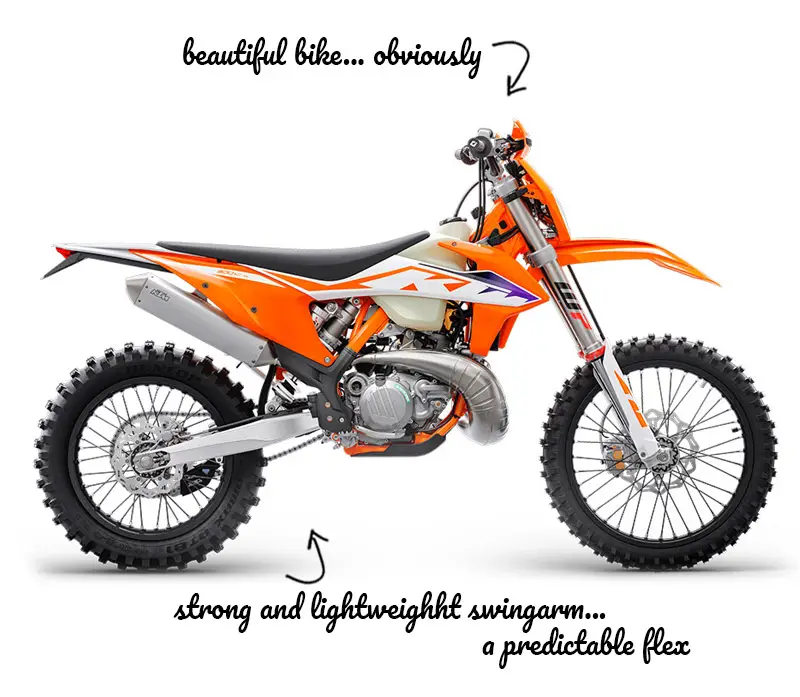 KTM 300 XC-W
When it comes to enduro, the KTM 300 XC-W is one of the best trail dirt bikes you can buy. KTM is always known for their well built, powerful motors, and this 300's 2-stroke engine produces incredible low-end torque. Oh yeah, the chassis, suspension and even the frame are all dialed in on this one.
Positives
Lightweight and strong KTM motor
Ultra light frame
Exceptionally strong (and light) swing arm
Race-ready, fully adjustable suspension
Negatives
---
Best 250 Dirt Bike for Trail Riding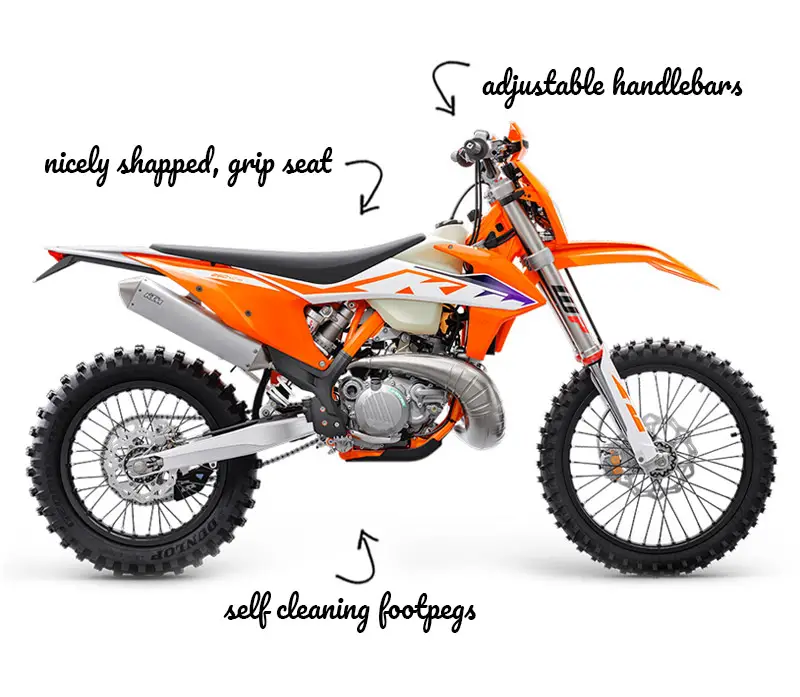 KTM 250 XC-W
The KTM 250 XC-W is the touted as the "ultimate combination" of power, handling and riding-ability. What really makes this the best 250 dirt bike for trail riding is it's suspension. KTM's WP suspension allows the rider to really feel the terrain and stay in control.
Positives
Light and powerful 250cc two stroke motor
The crankcase design creates a balanced center of gravity for riding
Exceptionally strong (and light) swingarm
Lightweight frame, providing exceptional rider feedback
WP XLOR suspension (traction, adjustability, performance)
Negatives
Expensive
Hard to find used
---
Best 450 Dirt Bike for Trail Riding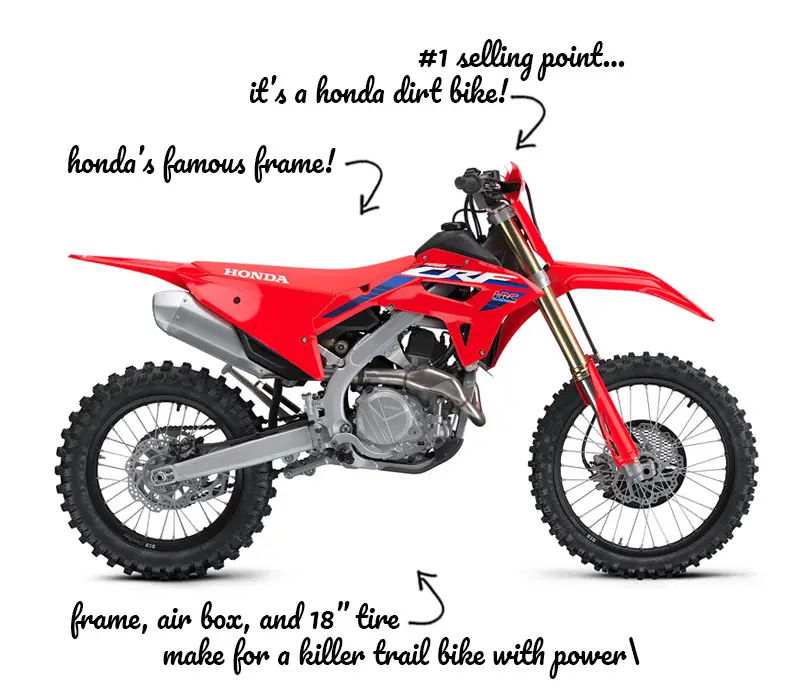 Honda CRF450RX
Here's the king of the list. The Honda CRF450RX has all the power you'll ever need (and then some), is light weight, and boasts the exceptional handling of a motocross bike, while also being setup to excel on the trails. If there's one thing that I love about Honda four strokes, it's got to be the smooth, roll-on torque.
Positives
Lightweight and narrow frame makes for incredible handling
Advanced air box design and shape (More torque and less mess while cleaning the air filter seal)
Electric start (I'm super jealous my CRF450R doesn't have this)
18″ wheel/tire
Negatives
Not as much power as some of the other competitors
Hard to find used (most people buy a 450R… and then sell those)
All in all, the Honda CRF450RX is a beast of a machine, and absolutely awesome. That being said, it's probably not the best choice for a beginner. I would love to own one of these (maybe someday), but if you're not an experienced rider, this probably isn't best dirt bike for trail riding for you. Instead, look for a used bike… I'd try and XR first.
That being said, any one of these modern versions of a trail riding / motocross dirt bikes would be a great track and trail bike:
Honda CRF450RX
KTM 450XCF
Yamaha YZ450FX
Kawasaki KX450XC (so I've heard… I'm not a fan of Suzuki or Kawasaki dirt bikes, or ATVs. Sorry.)
---
Best Dirt Bike for Track and Trail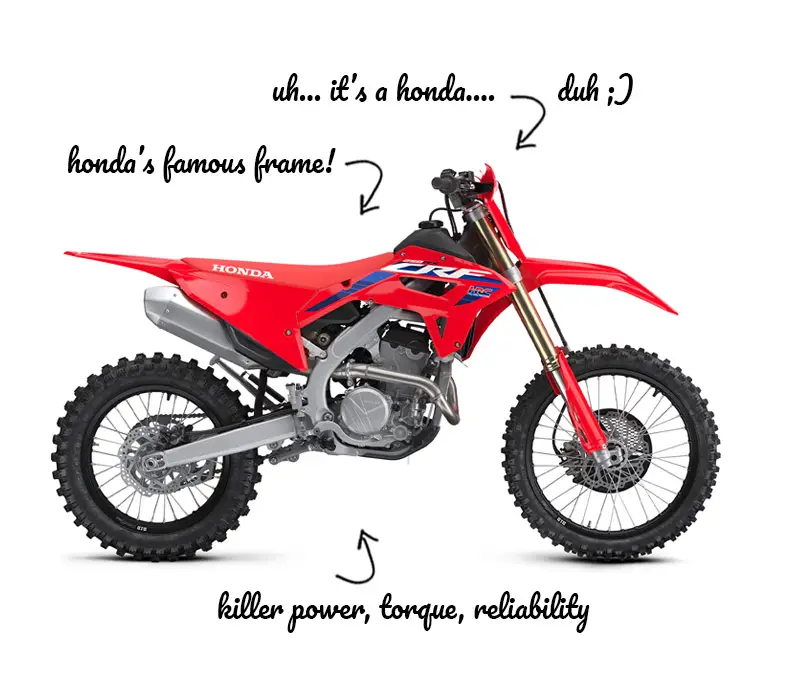 Honda CRF250RX
I almost always recommend at 250 4 stroke for track riding… and they'd be a kick-in-the-bootie for trail riding as well. As mentioned before, I've ridden a handful of these modern style 250 four strokes, and they are a.w.s.o.m.e.
With a Honda CRF250RX trail dirt bike, you get all of the motocross performance in a bike that's designed and setup for desert races, enduros, and trail riding. Heck, it's even got some killer tires for riding on tight trails already installed. From the gearbox, 18-inch rear wheel, engine settings, handguards, an actual kickstand, and a larger fuel tank… this is an incredible setup and dirt bike for trail riding.
Positives
Double-overhead-cam makes for more power AND higher RPMs
Launch control
Electric start (again, VERY jealous)
POWER (impressive from a 250 4 stroke)
Honda's well-known frame (unmatched handling, lightweight, strong)
Negatives
Expensive… recurring theme (why I like buying used)
Not as much low end torque as a 450 (but more controllable)
Previously raced (and hard ridden) CRF250's usually need rebuilt (expensive)
Again, I don't have one, but I'd LOVE to own one. They're super fun bikes, plenty of low end torque, and light enough that you can throw them around.
---
Are These Trail Dirt Bikes Worth Buying?
Yes, I would say so! While almost all "best of" lists are subjective, any one of these bikes is a solid choice. And that being said… you may end up with a dirt bike not even on this list. And that's okay.
If you've read many of my other articles you probably noticed that Honda's are usually my top pick.
Are there other bikes more known for their engines, suspension, handling? Yes. But year-after-year Honda produces some of the best trail dirt bikes on the market.
Why is that? I personally believe it is because they are so well built.
However, there were also some KTM's on this list and some Yamaha's I wouldn't mind owning. You may already know, but if not, KTM is well known for building solid bikes. Their trail and enduro bikes consistently rank towards the top of their respective classes.
You can't go wrong with any of these dirt bikes.